Zion National Park In One Day (but you'll need more)
We have been driving all the way from Phoenix to Zion National Park, stopping in Sedona and Grand Canyon National Park on our way up to Southern Utah to visit Zion Canyon.
So we've visited a few different (epic) places for just one day each.
This is our Zion National park itinerary, plus some more info for you to plan your own day in Zion National Park.
The good news about Zion is:
you can enter on foot through the main park entrance
you can get a map at the Zion visitor center and map out all of the things you want to do
the most popular part of Zion National Park is a canyon with a great shuttle system, making it easy easy to explore a lot of things in the park easily
While we only did a handful of things this time, but I've been here before so I'll include some info and pics from both trips so you can get an idea of what each thing offers.
The information I'll share with you here will help you plan your perfect day in Zion National Park 🙂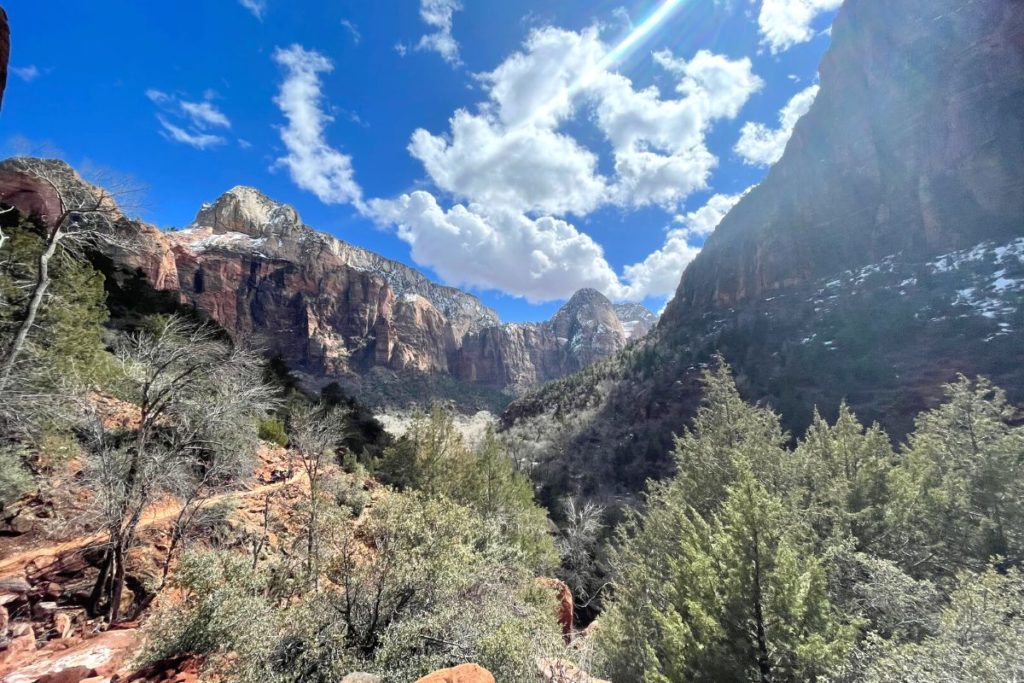 Planning your Visit
If you're planning to visit Zion National Park for just one day, it's important to plan ahead so that you can make the most of your time and see as much as possible during a day trip. Here are some tips to help you plan your visit:
Arrive Early: One of the best ways to make the most of your one-day visit is to arrive early. Zion National Park can get crowded, especially during peak season, so arriving early in the morning will allow you to beat the crowds and have more time to explore the park.
Prioritize Must-See Attractions: Another way to make the most of your time in the park is to prioritize the must-see attractions. Some of the top attractions in the park include The Narrows, Angels Landing, Emerald Pools, and Zion Canyon Scenic Drive. Consider making a list of the attractions you most want to see and plan your day around those.
Parking Options: If you arrive early, you may be able to park in the main lot at the Zion Canyon Visitor Center. If that lot is full, you can park in the overflow lot or take the Zion Canyon shuttle from Springdale. You can pay for parking at a nearby meter via a QR code. It was $30 for the day in the lot just outside the park entrance. Note that parking can be limited during peak season, so it's important to plan accordingly.
Entrance Fees and Permits: The entrance fee for Zion National Park is $35 per vehicle, $30 per motorcycle, and $20 per person for those entering on foot or bicycle. If you plan to hike The Narrows or Angels Landing, then you will need a permit, which can be obtained at the Zion Canyon Visitor Center or online. Other hikes may also require permits, so be sure to check before you go. You can get your Zion permits here. PRO TIP: I recommend having everyone in your party apply for permits for the group to increase your chances of getting a spot in the lottery!
Peak Season and Off Season: Zion National Park is busiest during the summer months, from May through September. During this time, the park can be crowded and temperatures can be hot, so it's important to plan accordingly. If you prefer a quieter visit, consider visiting during the off season, from November through March. During this time, temperatures can be cooler, but the park is less crowded and you may even see some snow.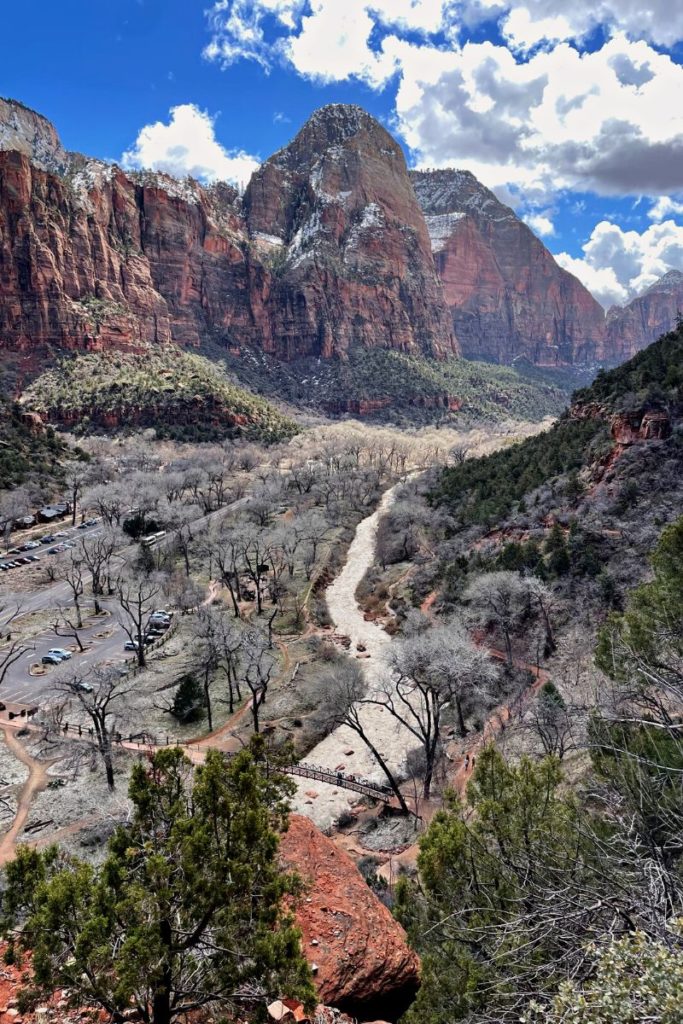 If you're planning to visit other national parks during your trip (Grand Canyon and Bryce Canyon National Park are nearby!), then I recommend getting the National Parks Pass to save cash on entrance fees.
We snagged a spot in Zion Canyon Village and then entered by foot through the south entrance. You can do the same from pretty far back, all the way in Springdale. The Springdale Line from the shuttle service will take you to the entrance. Once you pay and enter, you can hop on the Canyon line and get off at whichever stop you want to visit first!
Must-See Attractions
Zion National Park offers a range of breathtaking natural wonders that can be explored in just over one day in Zion itself. The best part about this national park is that you don't even have to do any of the hikes to enjoy the beauty of it all.
Upon entering the park, you drive down Zion Canyon Scenic Drive. Whether in your own car, on the shuttle or by foot, this 6-mile drive offers stunning views of the park's towering sandstone cliffs and winding Virgin River. Along the way, there are plenty of opportunities to pull over and take photos.
Once you enter the park, these are some of the best attractions that I recommend:
The Narrows (Permit Required)
The Narrows is a stunning slot canyon that is carved by the Virgin River. It's a popular destination for hikers and offers breathtaking views of the park's stunning red rock formations. To hike the Narrows, you will need to wear special hiking boots that can withstand the river's currents.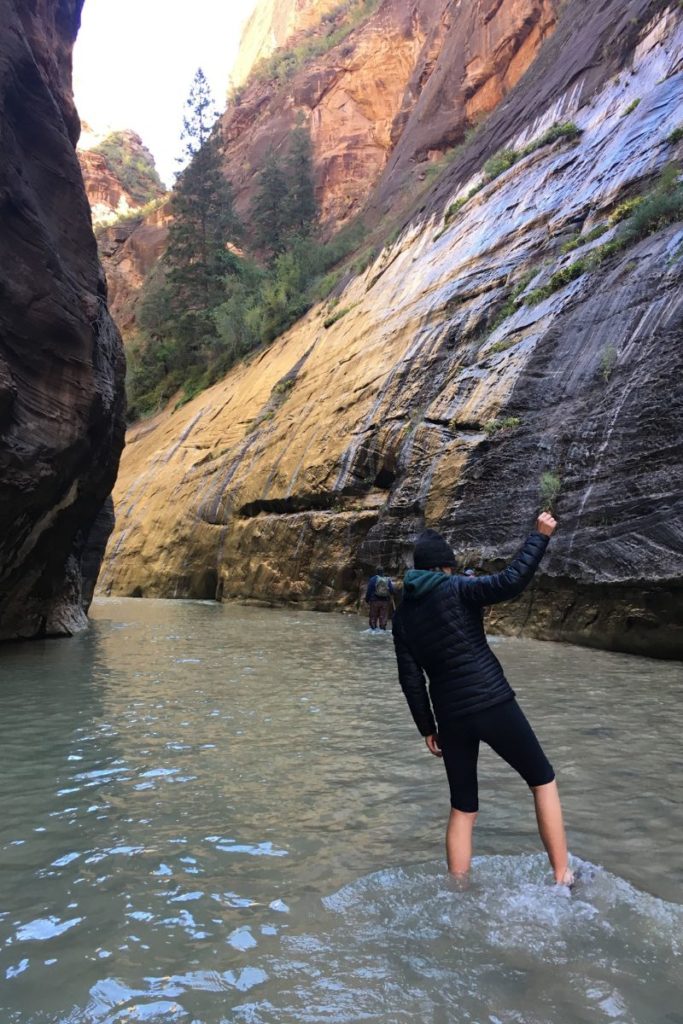 You will need a Wilderness Permit, which is booked in advance via a reservation system. If the permits are fully booked, then you can apply for a Last-Minute Drawing 7 to 2 days in advance. Any spots that become available will be given to those who are drawn. (You can see why planning ahead is important at Zion!) You can get a permit here.
There are two trails through the Narrows:
16-Mile Virgin River Narrows: Can be done in one epic day (for very fit people) or overnight, both of which you'll need to reserve a permit for.
Narrows Bottom-Up: This option is only 9.4 miles and can take anywhere from 1-8 hours, depending on your pace. You'll also need a permit for this.
Angels Landing (Permit Required)
Angels Landing is one of the most iconic hikes in Zion National Park. This trail offers stunning views of the park and a thrilling experience for those who aren't afraid of heights (not me). The trail can be challenging, and hikers should be prepared for steep drop-offs and strenuous climbs. It takes about 4-5 hours to complete this hike.
You will need a permit to hike Angels Landing. We applied for a permit via the lottery system and unfortunately didn't get one. If you're flexible with your dates and have multiple people in your party, then I recommend having everyone in your group apply for group permits for multiple days. This will increase your chances of getting a permit. You can get a permit here.
Emerald Pools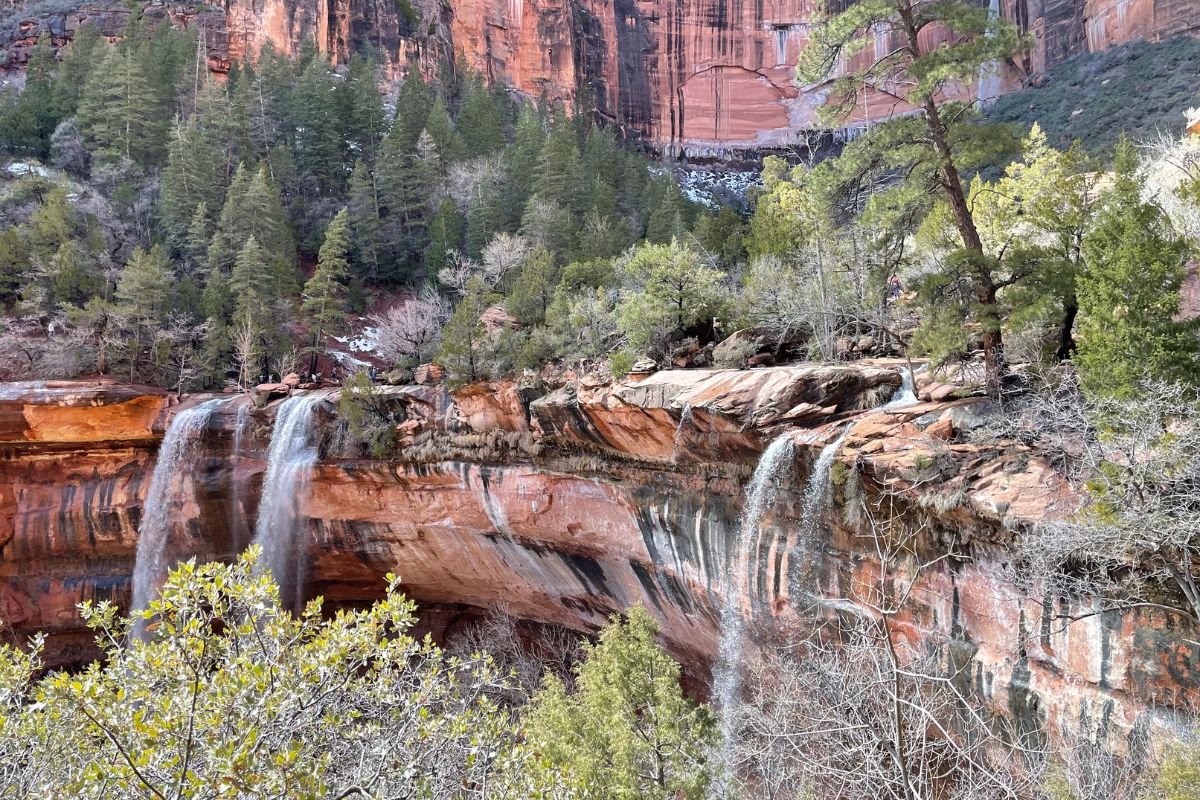 The Emerald Pools are a series of three beautiful pools that offer a refreshing respite from the desert heat. The Lower Pool is an easy half-mile walk, while the Upper Pool and Middle Pool require more strenuous hikes. Visitors can expect to spend 1-3 hours exploring the Emerald Pools.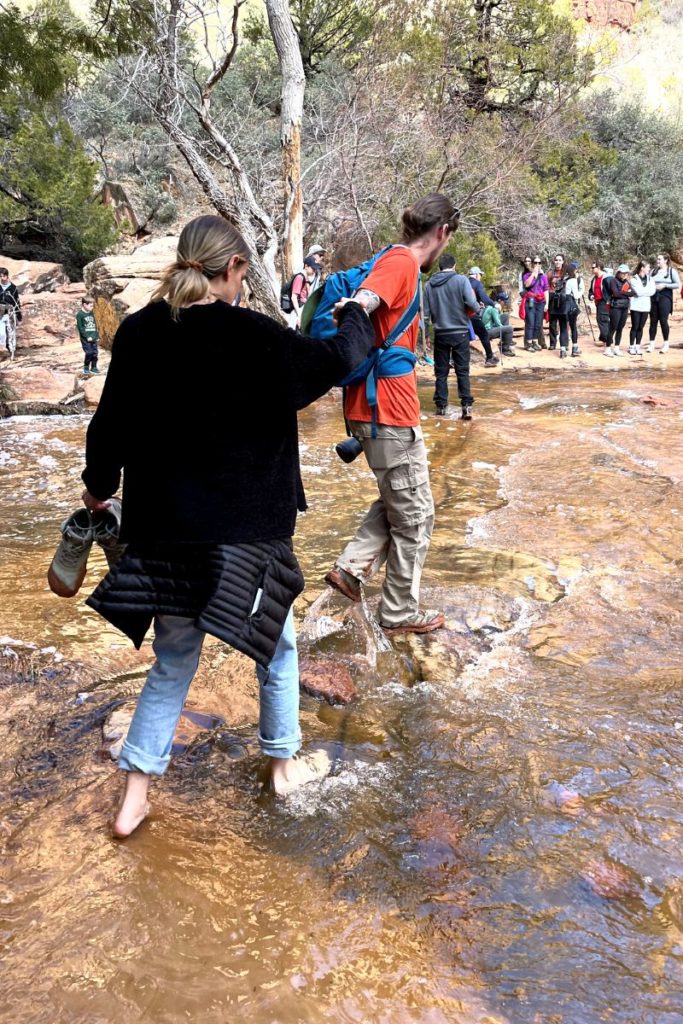 The Lower Emerald Pool trail was closed because of the mud from the recent storms. So we took the Emerald Pools Trail up to the Middle Emerald Pool and Upper Emerald Pool, and then hiked back along the Grotto trail.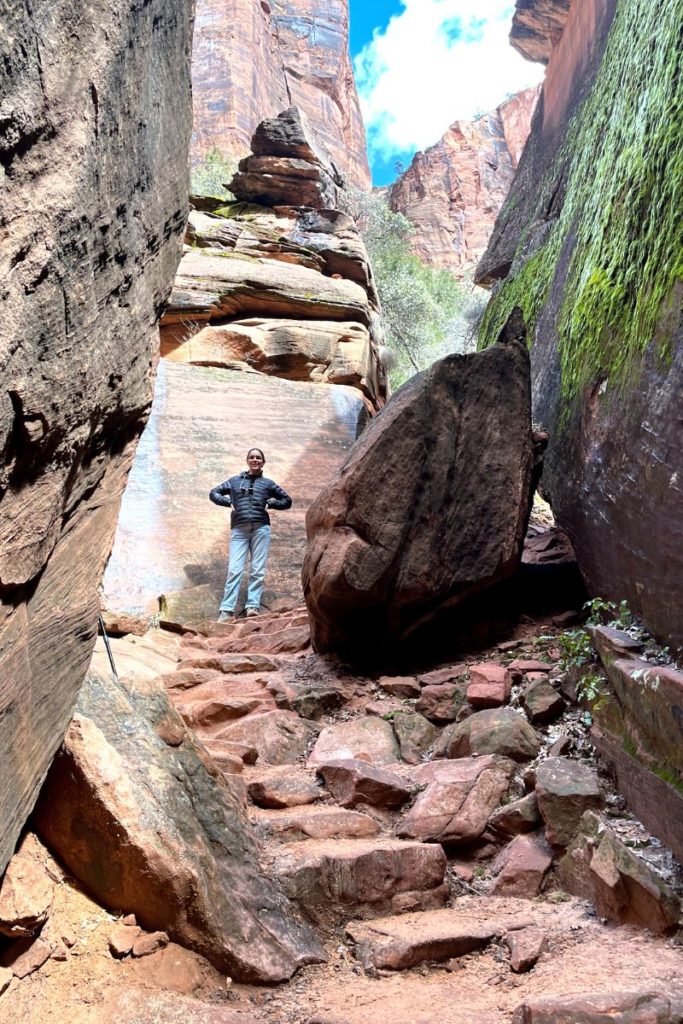 I definitely recommend the Emerald Pools Trail for a decent day hike with beautiful views.
Pa'rus Trail Zion National Park
The Pa'rus Trail is a paved trail that runs for 3.5 miles along the Virgin River in Zion National Park. It's a popular trail for visitors who want a leisurely walk or bike ride through the park.
Here are some key things to know about the Pa'rus Trail:
Accessibility: The Pa'rus Trail is one of the most accessible trails in the park, as it is paved and has minimal elevation gain. It is wheelchair accessible and stroller-friendly, making it a great option for visitors of all ages and abilities.
Scenery: The trail offers stunning views of the surrounding mountains and canyons, as well as the Virgin River. It's a great way to get a sense of the park's natural beauty and take in some of the iconic Zion vistas.
Wildlife: The Pa'rus Trail is also a great place to spot wildlife, particularly in the early morning or late afternoon. Keep an eye out for deer, squirrels, birds, and other critters that call Zion home.
Regulations: Bicycles are allowed on the Pa'rus Trail, but pets are not. Additionally, visitors are reminded to stay on the trail and refrain from venturing into the river or surrounding wilderness areas.
Overall, the Pa'rus Trail is a great way to experience the beauty of Zion National Park at a leisurely pace. Whether you're looking for a quick stroll or a longer bike ride, this trail is great for any visitor to the park.
Zion Human History Museum
The Zion Human History Museum is a great way to learn about the park's human history and the indigenous people who called the area home. The museum features exhibits on the geological and ecological history of the park, as well as displays on the native cultures of the region. Visitors can see artifacts from the Ancestral Puebloans, as well as historic items from the Mormon pioneers who settled in the area.
I love museums and would have loved to visit this one, but we were pretty hungry by the time we thought about the museum so we just went to eat instead.
I do recommend visiting the museum on your way out of the park, though. It's the last stop before the exit on the Zion Down Canyon shuttle line, making it a natural closure to an epic day.
Hiking Options
Zion National Park offers a range of hiking options suitable for visitors of all ages and abilities. If you only have one day to explore the park, it's important to prioritize the hikes that best fit your interests and fitness level.
After all, Zion Canyon is a canyon. So it's basically a 90 degree angle from the canyon floor, making literally every trail a steep trail at some point.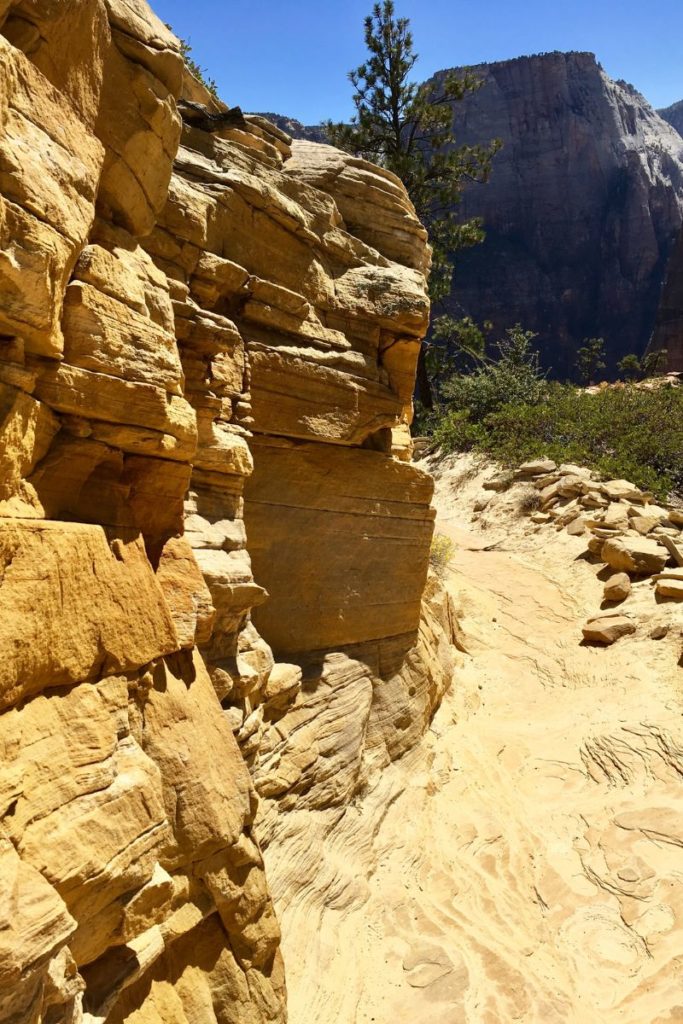 Here are some hiking options that can be done in a one day in Zion National Park: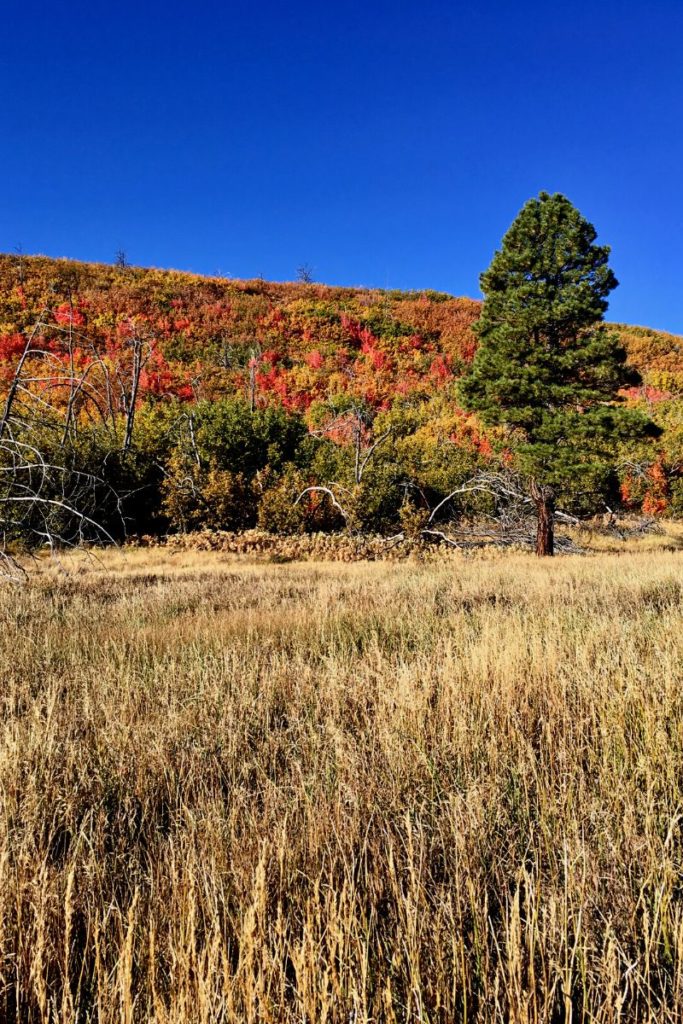 Before heading out on any hike, be sure to check the difficulty level and length of the trail, as well as any necessary permits or gear needed. Here are some additional tips for hiking in Zion National Park:
Wear sunscreen and a hat to protect yourself from the sun. Check the weather forecast before you head out and be prepared for changing conditions. It hailed a few times while we were visiting the area over the course of 5 days. It was also so sunny that I got a little sunburnt even with zinc!
Dress in layers, as temperatures can vary throughout the day. I had three layers and took them on and off all throughout the day. I recommend wearing a down jacket like my Patagonia jacket. It's lightweight, good against cold and wind, and packs down tight.
Wear comfortable shoes with good traction. I also generally recommend waterproof boots. I didn't have waterproof boots because I only had my summer hiking boots. Because of the recent storms, the ground was really wet and muddy in some parts. I had to remove my boots to cross the river because I didn't want to be wet for the rest of the day! If you need some, then check out my top recommended hiking boots for ideas.
Bring plenty of water and snacks. We decided to eat lunch at the car at the end of the day and eat snacks while inside the park. Big mistake. Bring more food than you think you'll need. While a lot of the trails and sites are "short" and "quick", the nature of the park just takes a long time and leaves you hungry.
Follow Leave No Trace principles and stay on designated trails to protect the park's fragile ecosystem.
With a variety of hiking options to choose from, Zion National Park is the perfect destination for outdoor enthusiasts of all levels. Just remember to plan ahead, take necessary precautions, and enjoy the stunning natural beauty that surrounds you.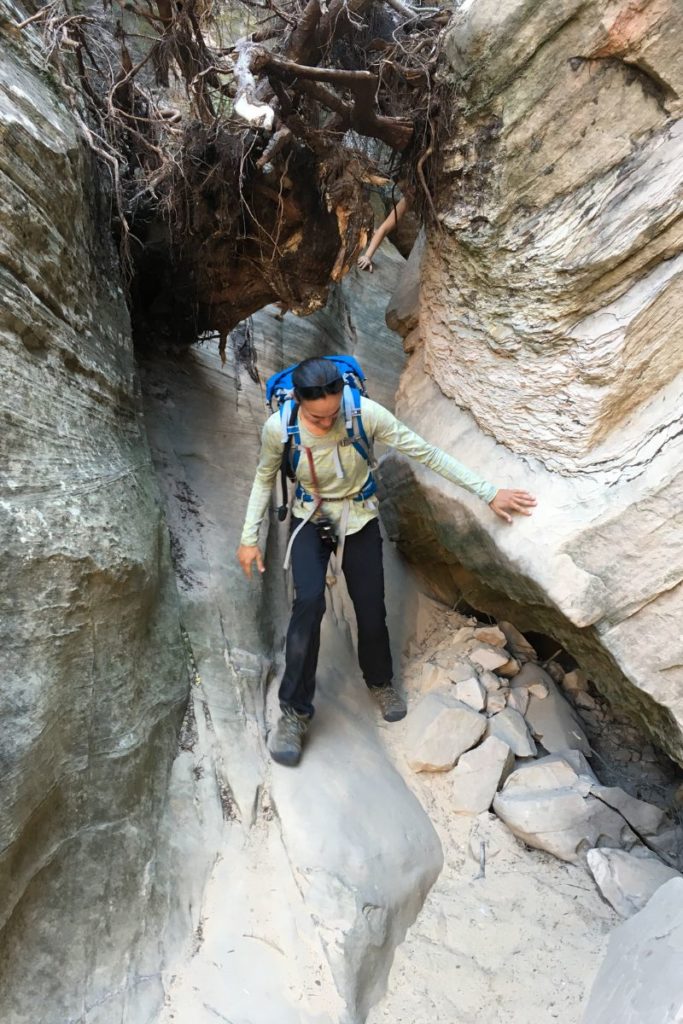 Wildlife and Nature
Zion National Park is home to a diverse range of wildlife and plant life, making it an exciting destination for nature enthusiasts. From towering red rock formations to verdant valleys, the park offers a unique opportunity to experience the beauty of nature in its many forms.
Plant Life
Zion National Park is known for its unique plant life, including its famous cottonwood and juniper trees.
Cottonwoods are a deciduous tree species that grow up to 100 feet tall and can be seen throughout the park. These trees are particularly striking in the fall when their leaves turn a vibrant shade of yellow.
Junipers are evergreen trees that can be seen throughout the park as well, offering a sharp contrast to the red rock formations.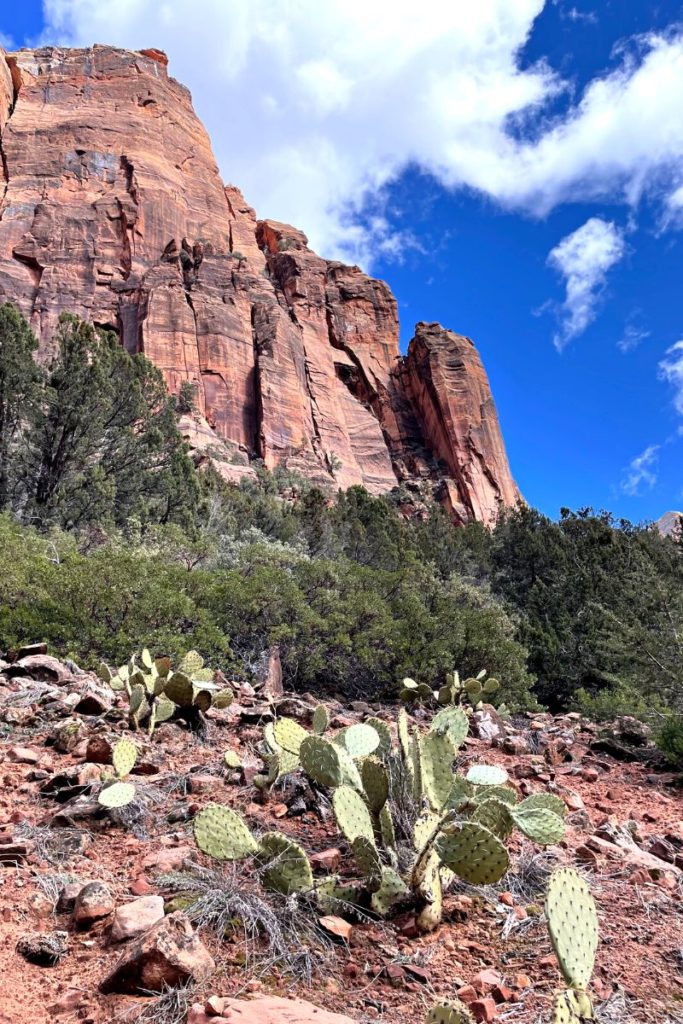 Visitors to the park can also spot a variety of wildflowers and other plant species, depending on the season. Wildflowers usually appear once the snow melt begins, usually starting around March and going through September.
Wildlife
The park is home to a variety of animal species, both large and small. Visitors to the park can spot mule deer, bighorn sheep, and even the occasional mountain lion. Smaller animals, such as squirrels, chipmunks, blue jays, and rabbits, can also be seen throughout the park. Visitors should be aware that while the animals in the park are accustomed to human presence, they should be observed from a distance and not approached or fed.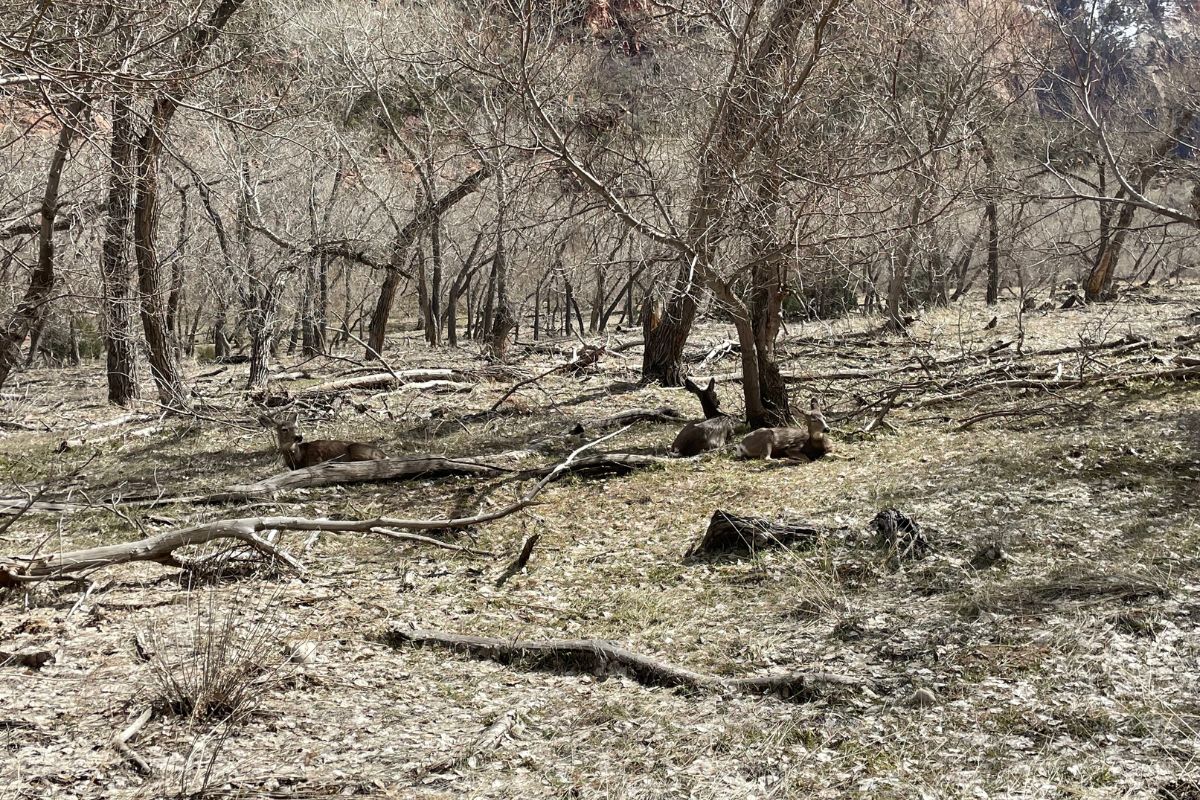 We had fun walking along Virgin River and seeing all of the birds and mule deer.
Tips for Observing Wildlife
To observe wildlife in a responsible and respectful manner, visitors to national parks should follow a few simple tips:
Keep a safe distance: While it can be tempting to get up close to animals, visitors should keep a safe distance to avoid causing them stress or disturbing their natural behavior. As a rule of thumb, visitors should stay at least 100 yards away from large animals like bighorn sheep and mountain lions.
Use binoculars: To get a closer look at wildlife, visitors can use binoculars or a spotting scope instead of getting too close.
Avoid feeding animals: Feeding wildlife can cause them to become too accustomed to human presence, which can lead to aggressive behavior and potential danger.
Observe quietly: Visitors should keep noise to a minimum and observe wildlife quietly to avoid disturbing their natural behavior.
Visitors can enjoy the beauty of the park's landscapes, as well as observe the animals that call the park home, while also being respectful and responsible stewards of the park's natural resources.
Food and Lodging
When visiting Zion National Park, there are quite a few options for food and lodging to suit all budgets and preferences.
Whether you plan to stay overnight or extend your visit, here are some options to consider:
Campgrounds
For those who want to fully immerse themselves in nature, camping is a great option. Zion National Park has three campgrounds: South, Watchman, and Lava Point. The campgrounds are open year-round and offer a range of amenities, such as restrooms, picnic tables, and fire pits. Prices start at $20 per night for a tent site, and reservations are strongly recommended, especially during peak season.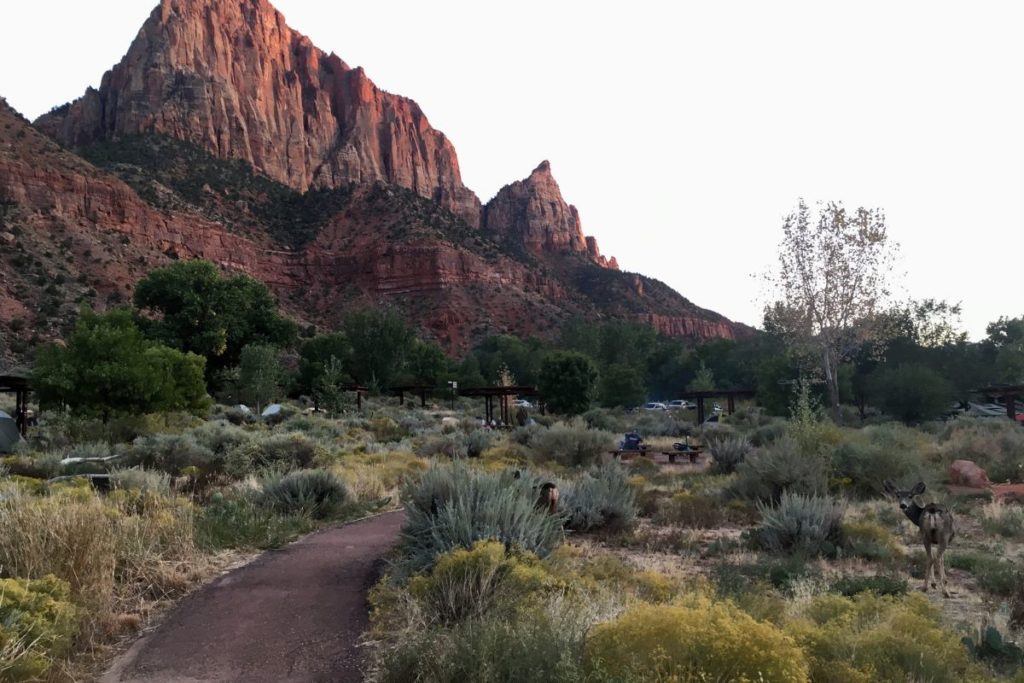 You can get more information here: Campgrounds in Zion
Otherwise, there are free campsites on the public lands just 15 minutes up the road. We drove through this BLM land on our way to the park and it was absolutely beautiful.
You can get more information here: The Best Free Dispersed Campsites Near Zion National Park – Campnado
Airbnb Options
For those who prefer a more comfortable and private accommodation, Airbnb options near Zion National Park are plentiful. St. George, Springdale, and Hurricane are some nearby towns with various Airbnb listings. Prices for a private room start at around $60 per night, while entire homes or cabins can range from $100 to $300 per night. Some Airbnb hosts offer amenities such as a hot tub or a fully equipped kitchen.
Find the perfect home rental for your upcoming trip here 🏠
We stayed in Apple Valley, just south of Zion, and I highly recommend this area. We had epic views of Zion from the outskirts and Bee's Marketplace was just down the road. This grocery store had plenty of vegan options and even gluten free pizza dough! Unfortunately, there was no gluten free beer to be found.
This shortcut from Apply Valley took us through a great BLM area with nice campsites surrounded by views of Zion.
Staying in Apple Valley also allowed us to scope out a few other trails. We hiked the Wire Mesa Trail and had unobstructed views of Zion plus no people on the trail.
We stopped and had a snack on this ledge with a 360 degree view of everything around us.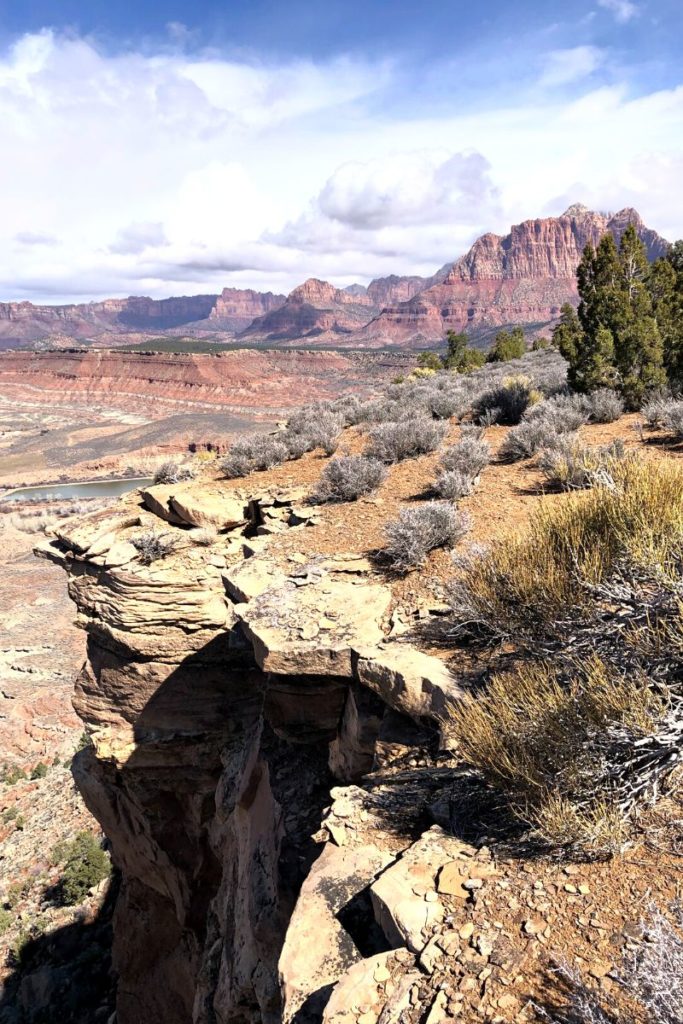 It was a super flat trail (relatively speaking) and honestly was even better than being in the park itself. You could see so much and we only passed one other person while we were there. We stopped and enjoyed the views without a single person to share the space with.
Even if you don't stay in Apple Valley, it's still worth checking out if you're passing through the area.
Find the perfect home rental for your upcoming trip here 🏠
Official Zion Options
If you want to stay within the park, there are two official lodging options: Zion Lodge and the Zion Campground.
The Zion Lodge is located in the heart of the park and offers hotel-style rooms and cabins with stunning views of the surroundings. Prices start at around $200 per night.
The Zion Campground is located near the south entrance of the park and offers RV and tent sites. Prices start at $30 per night.
Other Nearby Accommodations
There are also plenty of hotels and motels in nearby towns such as Springdale, which is only a short drive from the first park entrance. Prices vary depending on the level of comfort and amenities provided. Some recommended options in Springdale include the Cliffrose Lodge & Gardens and the Desert Pearl Inn.
Find the perfect accommodations for your upcoming trip here ✈️
When it comes to food, there are several options within and near Zion National Park. The Zion Lodge Dining Room offers a variety of dishes using locally sourced ingredients, including vegetarian and gluten-free options. The Red Rock Grill is another option for those who want a quick and casual meal.
For those who prefer to bring their own food, there are picnic areas throughout the park. You can also find various dining options in nearby towns such as Springdale, including vegan and gluten-free options at places like Oscar's Cafe and MeMe's Cafe.
As for us, we packed supplies from Bee's Marketplace in Colorado City (AZ) and made veggies sandwiches in the parking lot after our hike to the Emerald Pools.
Best. Sandwich. Ever.
Other Tips For Visiting Zion National Park
While it is definitely possible to visit Zion National Park in one day, it's also a pretty short time to see all of the amazing things the park has to offer. Here are a few tips for making the most of your trip:
Use the Zion shuttle bus and save your energy for the hiking trails.
There are TONS of hiking trails around the area that are completely free, empty, and have epic views that you just can't get inside Zion Canyon.
Expect crowds. This is one of the most popular national parks in the US, so even during the "off" seasons, it has been crowded for me.