How To Spend One Day in Sedona (Vegan nomad Travel Tips)
I'm currently on a week-long road trip from Phoenix to Zion and back. We stopped in Flagstaff on the first day after spending one day in Sedona.
Since my grandma lives in Phoenix, I've made a day trip to Sedona a few times.
While I could easily spend an entire week exploring all of the great hikes through the breathtaking red rocks of Sedona, spending just one day to explore Sedona still gets you pretty damn far.
So here's everything I recommend for one day in Sedona, after taking many day trips to this red, magical place.
The perfect Sedona itinerary for 24 hours
Here is the perfect one day itinerary for visiting Sedona for just one day.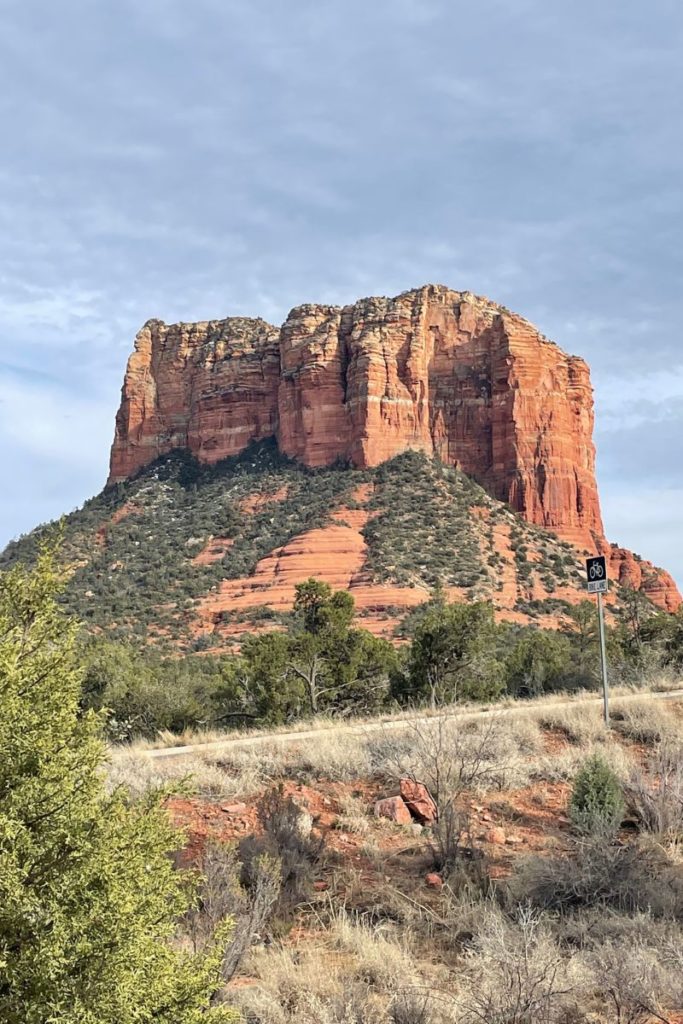 Morning (3-5 hours): Red Rock Scenic Byway
Wake up early to catch the sunrise and start the day on a high note! Drive along the Red Rock Scenic Byway and enjoy the stunning views. Stop at the various viewpoints and take in the beauty of the red rock formations.
We went for the Courthouse Butte Loop Trail, which was a perfectly mild hike with spectacular views.
If you choose to do a hike, then you'll need to pay $5 for parking at one of these machines.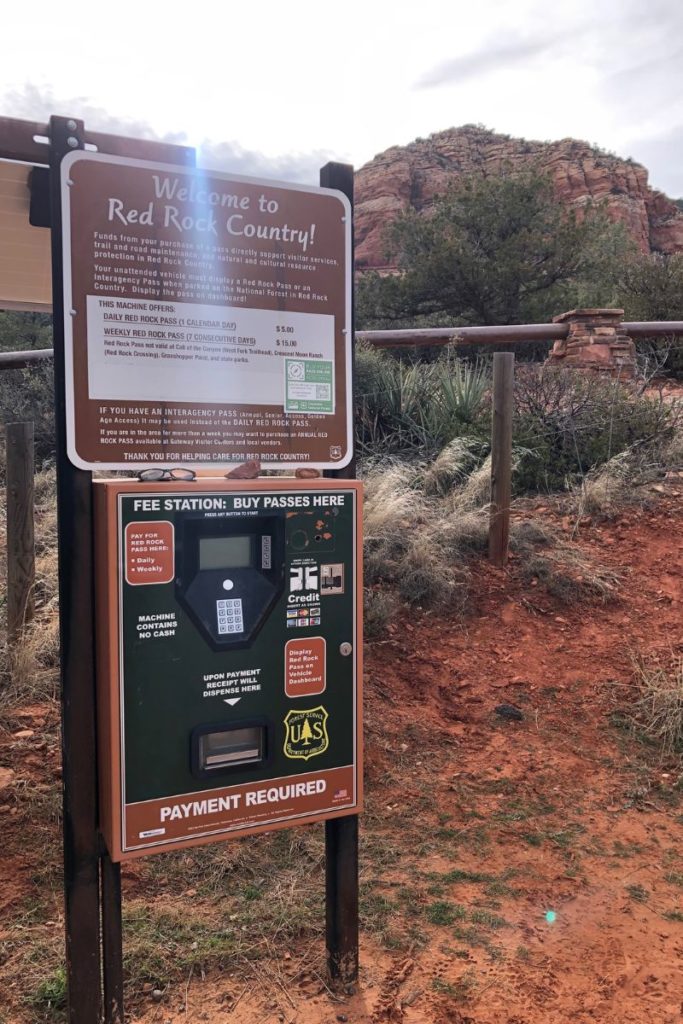 Here are some of the most popular viewpoints along the byway and the best hiking trails to see them:
The Red Rock Scenic Byway is a must-see destination in Sedona and with a few hours you can see some of Sedona's most incredible natural wonders. Even if you're not up for getting your hiking shoes onto the 100s of Sedona's hiking trails, you'll still see all of these epic views along the drive.
If you're more of the adventurous type, then you can book a jeep tour for a few hours to explore Dry Creek Basin.
I would have LOVED to do a jeep tour on my day trip but we still had a lot on the docket for us and I didn't really want the sand-swept vibe for the rest of our car ride.
We opted for a relaxing day in Sedona instead!
Early Afternoon (1-2 hours): Feast on a vegan lunch (gluten free options too!)
One thing about Sedona is that it certainly caters to the new age type and as a (mostly) vegan, I appreciate this. I was surprised by all of the gluten free options too.
There are many popular vegan restaurants in Sedona that offer great brunch and lunch options. Here are a few:
Where to park in Sedona
Parking can be a bit tricky in Sedona, especially in the more popular areas like Uptown and the Tlaquepaque Arts & Crafts Village. Sedona can be extremely busy during peak tourist season (Spring and Fall months).
I recommend looking into the FREE Sedona Shuttle that takes you all throughout Sedona and to nearby trailheads.
The Sedona trolley is hands down the easiest and most affordable way to get around Sedona. It's also way less stressful than circling lot after lot, looking for somewhere to park for the day.
If you want to brave it park more in the hub, then you'll need a few options up your sleeve. Here are some tips on where to park while visiting the shops of Sedona:
Uptown Sedona: This area is home to a variety of shops and restaurants, and can get quite crowded during peak tourist season. There are several public parking lots in the area, including the Sedona Art Center lot on Art Barn Road and the lot at the corner of Jordan Road and Schnebly Hill Road. Street parking is also available, but be sure to read the signs carefully as some areas have time limits.
Tlaquepaque Arts & Crafts Village (View On Map): This charming shopping district is modeled after a traditional Mexican village, with cobbled walkways and a central courtyard. There is a small parking lot on-site, but it can fill up quickly. Additional parking is available at the Sedona Municipal Parking Lot on Brewer Road, with a free shuttle that runs between the lot and Tlaquepaque.
Hillside Sedona (View On Map): This newer shopping area is located on the hillside overlooking Uptown Sedona, with stunning views of the red rocks. There is a large parking lot on-site, but it can be quite steep and difficult to navigate for some visitors. There is also street parking available, but be sure to read the signs carefully as some areas have time limits.
Overall, be sure to give yourself plenty of time to find parking to visit sedona, especially during peak tourist season. Many of the shops and galleries in Sedona are within walking distance of each other, so consider parking in one location and exploring on foot.
Late Afternoon (2-3 hours): Shop the local arts and crafts
After a morning spent hiking and enjoying the stunning natural beauty of Sedona, an afternoon spent exploring the local souvenir shops and art scene is the perfect way to continue your one day in Sedona!
One of the most popular areas to shop in Sedona is the Tlaquepaque Arts and Crafts Village. This charming outdoor shopping center is designed to look like a traditional Mexican village, with winding paths, fountains, and beautiful courtyards.
Fun side note: the Tlaquepaque arts and crafts village is named after the pueblo magico "Tlaquepaque" on the outskirts of Guadalajara… where I lived for the last year!
The village is home to more than 40 boutique shops and galleries, selling everything from handcrafted pottery and jewelry to fine art and fashion. There are also several restaurants and cafes in the village, offering a variety of dining options.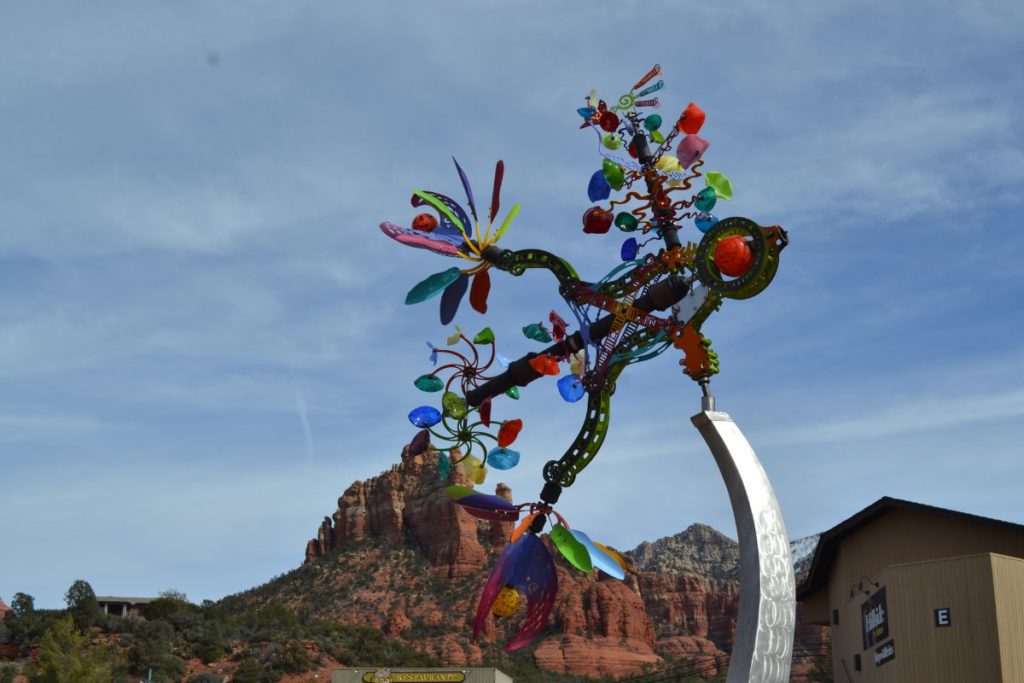 Another popular shopping destination in Sedona is the Hillside Sedona shopping center. This center is home to a variety of upscale shops, including art galleries, jewelry stores, and fashion boutiques. The center is also home to a number of restaurants and cafes, offering a variety of dining options.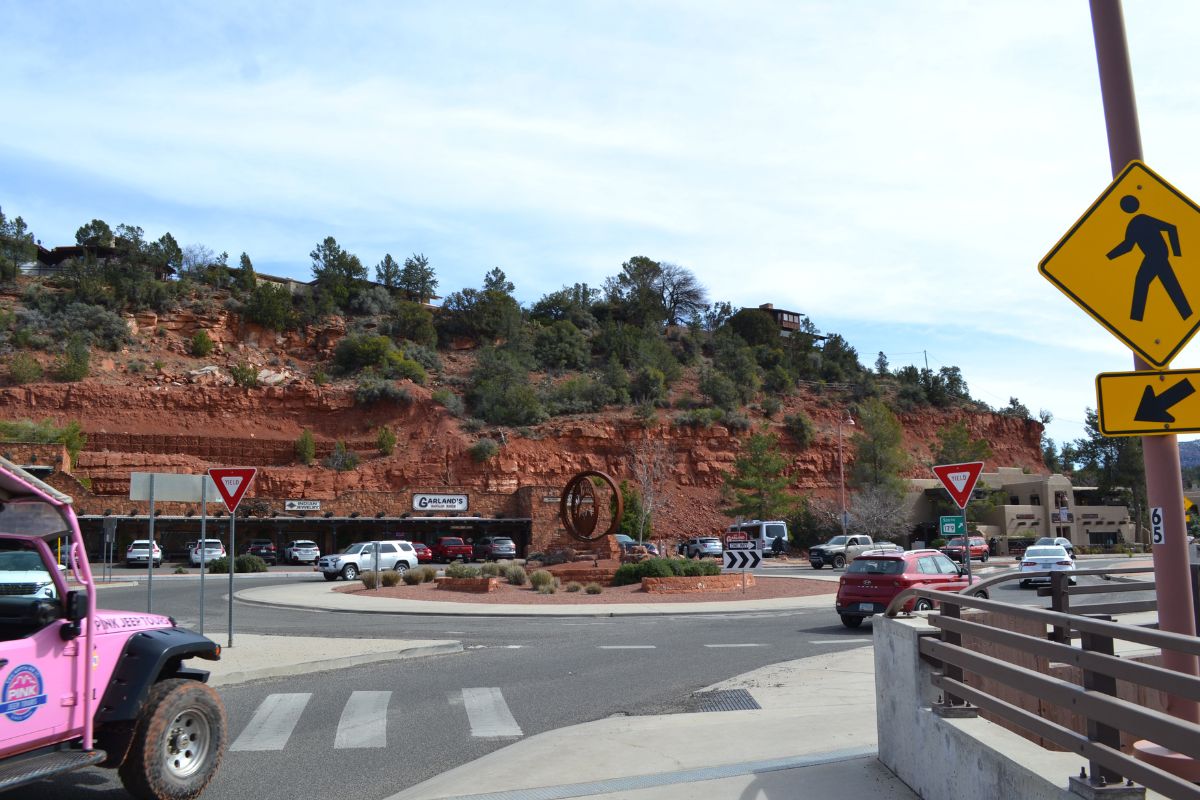 In addition to these shopping centers, Sedona is known for its vibrant art scene. The town is home to dozens of art galleries, showcasing the work of both local and national artists. Many of these galleries specialize in Native American art, which is an important part of Sedona's cultural heritage.
Sedona is also home to several local Native American group markets, where visitors can shop for authentic Native American crafts and goods. These markets are often operated by Native American tribes or individual artists, and offer a unique opportunity to learn about the local culture and support local businesses.
The significance of Native American culture in Sedona cannot be overstated. The town is located in the heart of Navajo and Hopi country, and the Native American people have lived in the area for thousands of years. The landscape, with its towering red rock formations and deep canyons, holds immense spiritual significance for many Native American tribes. By supporting local Native American businesses, visitors can help preserve this important cultural heritage and support the local economy.
Evening (2-4 hours): Enjoy the sunset and dinner
Watching the sunset in Sedona is a must-do experience, and fortunately, there are plenty of spots to take in the stunning views. Here are some of the best spots for a spectacular sunset view in Sedona:
No matter which spot you choose, be sure to arrive early to secure a spot and enjoy the stunning sunset views in Sedona.
Find the perfect home rental for your upcoming trip here 🏠
Where to stay
Sedona is bougie as, meaning that it might be difficult to snag something affordable for one night. BUT ohmigod it would be such a magical experience!
Here are 5 popular places to stay in Sedona, with a range of prices:
Sedona is also known for its spiritual healing "energy" because of some vortex nearby. If that's you're kinda thing, then I recommend booking a retreat in Sedona.
As for us, we stayed in Flagstaff, which is about an hour away and much more affordable. It's super cute too!
Find the perfect accommodations for your upcoming trip here ✈️
The best time to visit Sedona
The best time to visit Sedona for hiking is generally in the spring (March to May) and fall (September to November) when the temperatures are mild and the crowds are smaller. During these seasons, the weather is usually clear and comfortable for hiking, with daytime temperatures ranging from the mid-60s to mid-70s Fahrenheit (around 18-24°C).
In the summer months (June to August), temperatures in Sedona can soar into the 90s and even 100s Fahrenheit (32-38°C), making hiking less enjoyable and potentially dangerous due to the risk of heat exhaustion and dehydration. However, early morning and evening hikes may still be possible during the summer months.
Winter (December to February) can also be a good time for hiking in Sedona, as long as you are prepared for colder temperatures and possibly snow and ice on some of the trails. Winter hikes can offer beautiful views of snow-capped red rocks and quiet trails with fewer crowds.
Overall, the best time to visit Sedona for hiking depends on your personal preferences and tolerance for heat or cold. But, for most hikers, the spring and fall months offer the most comfortable and enjoyable hiking conditions.
We are here in March just after the massive snow storms that dumped on the entire West Coast. So there was still a dusting on all of the red rocks, giving this northern Arizona desert town a seriously magical feel.
Maybe the vortex is real, after all.
Where we're headed next
Today we settled in Flagstaff to catch up on some work (and to catch our breaths after so much recent travel).
Tomorrow we leave for Utah with a stop at the Grand Canyon, which is just an hour and a half away.
In the meantime, I'm still reminiscing my one day in Sedona.