How to explore Cholula, Puebla as a Vegan Digital Nomad
This charming Mexican town is one of my favorite places I've been to in the entire country so far.
I recommend getting a walking tour that includes all of these places mentioned here, that way you can get a lot more of the history and cultural significance while in San Andres Cholula.
I loved waking to the church bells in the morning and exploring the local food in the trendy food scene.
This tiny magical town is sprinkled with ornate churches and has a sort of happy-go-lucky vibe.
I recommend you visit Cholula the next time you're coming through Mexico City. You won't regret it 😊
What Makes Cholula Puebla Interesting?
Cholula is a small city located in the state of Puebla, in central Mexico. The city is known for its rich history, archaeological sites, and unique blend of indigenous and colonial influences.
The history of Cholula dates back more than 2,000 years, when it was founded as a pre-Columbian city by the ancient civilization of the Olmecs. Over the centuries, the city was inhabited by various indigenous groups, including the Toltecs and the Chichimecas.
In the 16th century, Cholula was conquered by the Spanish, and the colonial city became an important center of religious and cultural exchange between the Spanish and the indigenous people. Today, the city's colonial era architecture and art are a testament to this unique blend of cultures.
One of the most famous landmarks in Cholula is the Great Pyramid, which is one of the largest pyramids in the world by volume. The archeological site was built by the indigenous people of Cholula and was later repurposed by the Spanish as the base of a church. Today, the pyramid can be visited as a major tourist attraction and archaeological site. (more on that below)
Cholula is also known for its vibrant arts and cultural scene, with numerous galleries, museums, and festivals celebrating the city's rich history and traditions. The city is also renowned for its cuisine, which blends indigenous and colonial flavors to create unique and delicious dishes.
Best Things to Do in Cholula
If you book a walking tour, then you could probably do all of this in a single day. Otherwise, I recommend you explore this magical town at your own pace. That's what we did and these are the things we liked best.
Visit the Great Pyramid of Cholula
The Pyramid in Cholula, also known as the Great Pyramid of Cholula or Tlachihualtepetl (meaning "artificial mountain" in Nahuatl), is an ancient Mesoamerican archaeological site located in the city of Cholula, Puebla, Mexico. It is one of the largest pyramids in the world, with a base covering an area of over 4 acres (16,000 square meters) and a height of about 217 feet (66 meters).
Like many others, we first heard about it on Graham Hancock's Netflix series Ancient Apocalypse.
While we found him to be a whiny sook, we were intrigued by this ancient great pyramid of Cholula.
The Cholula Pyramid was built by the ancient inhabitants of the region, the Toltecs, around the 3rd or 4th century BCE. Over the centuries, the pyramid was expanded and rebuilt by subsequent civilizations, including the Olmecs, Xicalancas, and Aztecs, who each left their own architectural and cultural imprint on the structure.
Today, the Pyramid in Cholula is partially covered by vegetation and the Iglesia de Nuestra Señora de los Remedios (Church of Our Lady of the Remedies), which was built by the Spanish conquistadors on top of the pyramid in the 16th century.
However, visitors can still explore the archeological site and view the intricate murals and artifacts that have been uncovered over the years, providing a fascinating glimpse into the rich cultural history of the region.
PRO TIP: Check ahead to see if the tunnels underneath are open to visitors. When we visited, they were closed due to poor ventilation during the pandemic.
After stomping around the perimeter of this amazing archaeological zone that was mostly off-limits, we stomped up the steep path to check out the Iglesia de Nuestra Señora de los Remedios.
I was surprised by how difficult this was for me. San Andres Cholula Puebla sits up at 2,150 m (7053 f) above sea level, making the high elevation a bit of a problem when all I wanted to do was enjoy myself.
Add to that, the air pollution in Cholula was seriously so thick that you could hardly see the awe-inspiring active volcano most days. So when my asthmatic lungs sucked down the dry smoke-filled, PFAS-holding air, it was not good.
I had a hoarse throat and coughed up phlegm for the rest of the week.
And that is nothing compared to Mexico City. 🤮
Wander around the Historic Center of Cholula
The historic center of Cholula is a charming area with colorful colonial architecture and bustling markets. You can explore the streets, browse the shops, and try some of the local vegan cuisine.
We walked around the main square and watched people feed the squirrels. 🐿️ To each their own, I guess.
The historic city center of Cholula is full of beautiful colonial architecture, with colorful buildings and ornate facades that showcase the city's Spanish influences. Many of the buildings are constructed with volcanic rock, which adds to the unique character of the area.
The streets of the historic center are mostly cobblestone, which adds to the charm of the area but can make walking a bit challenging. You'll want to wear comfortable shoes to explore the area and take your time to enjoy the sights.
There are several beautiful churches in the historic center, including the Iglesia de Nuestra Señora de los Remedios I mentioned earlier, which sits atop the Great Pyramid. Here are a few other beautiful churches worth checking out:
The churches are a testament to the city's religious history and offer a unique glimpse into the blend of indigenous and colonial cultures.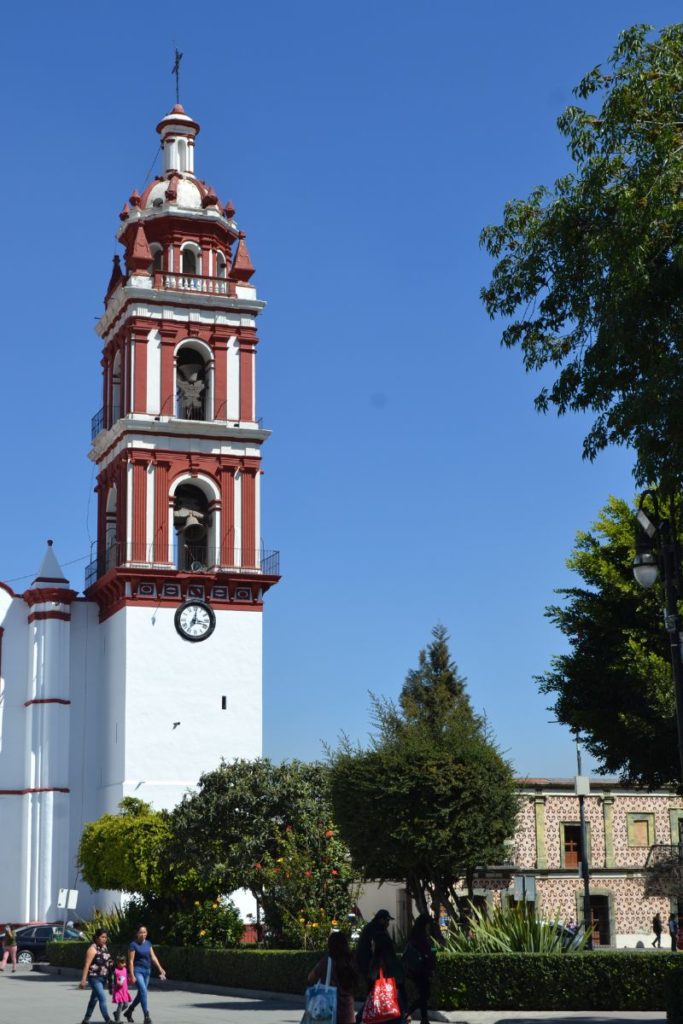 Cholula is also known for its vibrant cultural scene, and the historic center is a hub for festivals and celebrations throughout the year. From traditional dances to music performances, there's always something going on in the area.
When we were there, there was a big tamale festival and different families from around the entire country came and sold food. It was like an epic food fair tour of Mexico and I was very excited to be there for it. I went for some taquitos.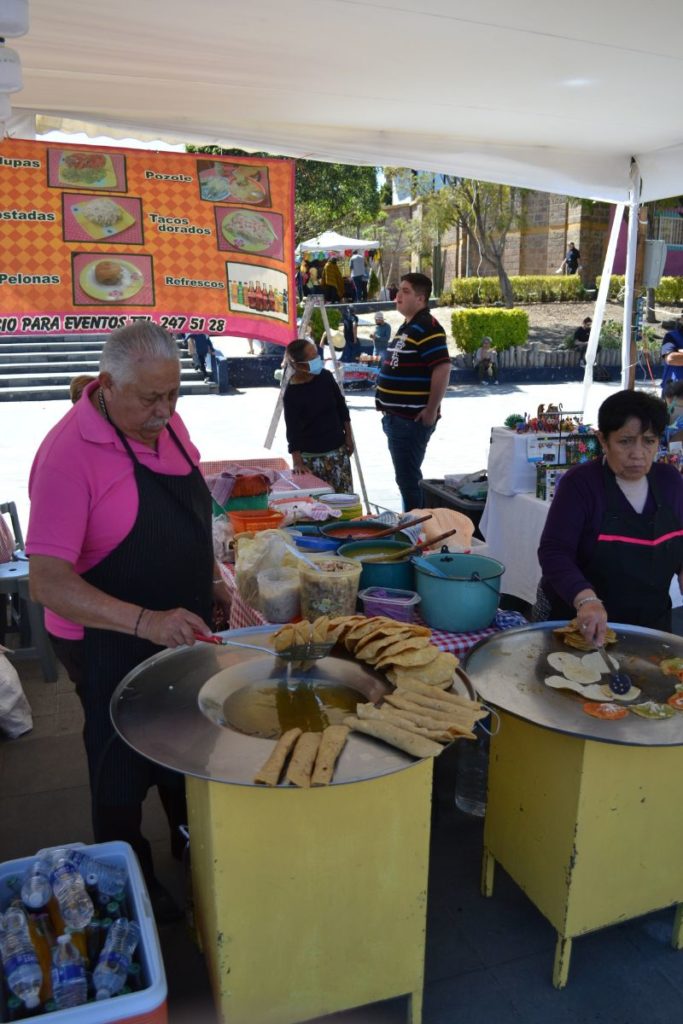 Also, it's worth mentioning that there are a few universities in the area, so it has a vibrant energy that young and eager learners tend to bring to an area (without the crowds).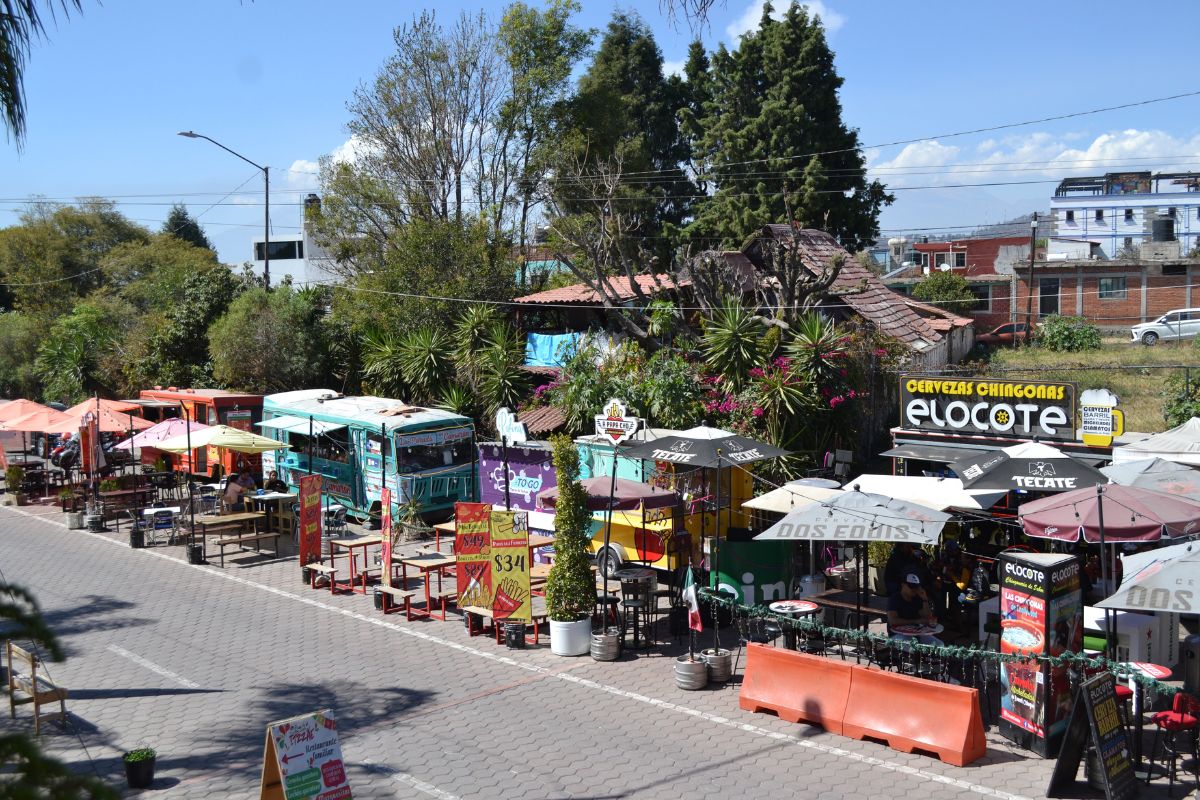 We found it easy to be vegan here!
Eat At The Best Vegan Places to Eat in Cholula
Puebla is known for its delicious street food, and there are many vegan options available. Try some vegan tacos or tamales from one of the food stands or restaurants in the area.
Café & Tocino – Café & Tocino is a popular breakfast and brunch spot in Cholula, Puebla, known for its delicious and hearty meals. The restaurant's specialty is bacon, and it offers a variety of bacon-based dishes, as well as vegetarian and vegan options. This was seriously the most delicious avo toast (with an egg, not vegan!) I've had in a long while. My bf is vegan (and GF!) and he happily found food as well. The soy lattes were 👌 and the vibe was the coolest.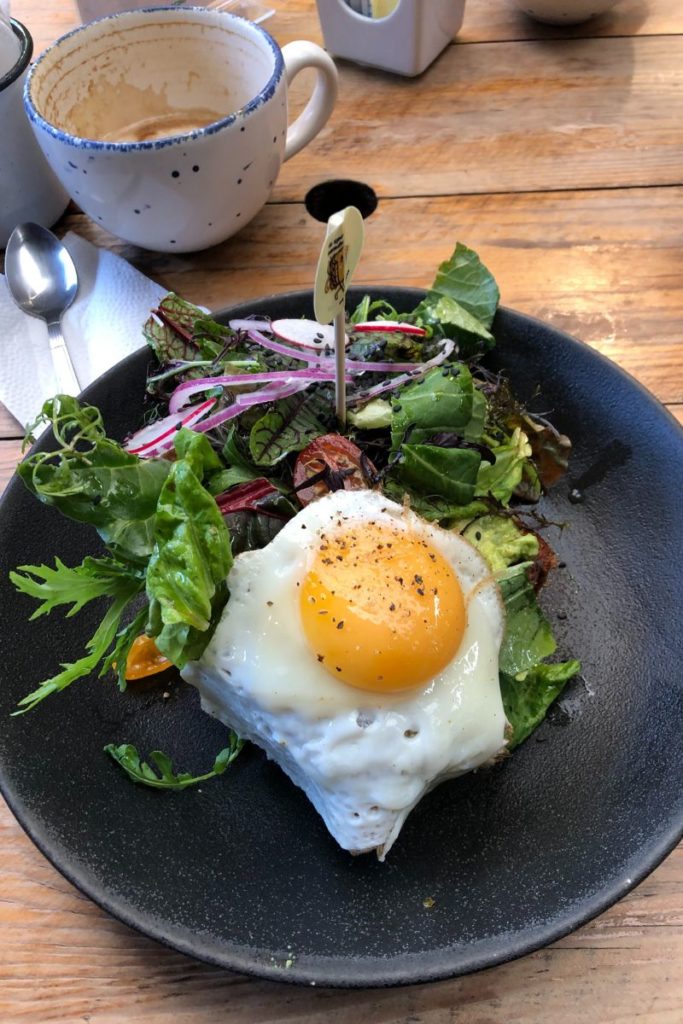 LA COLMENA – La Colmena is a historic and iconic restaurant in Cholula, Puebla, with roots dating back to the 19th century. The restaurant is known for its traditional Poblano cuisine, including dishes such as chiles en nogada, mole poblano, and cemitas, and for its charming and colorful décor.
VERSIÓN VEGANA – VERSIÓN VEGANA is a cozy and charming vegan restaurant in Cholula, Puebla. The restaurant offers a variety of vegan dishes, including salads, tacos, sandwiches, and pizzas, that are made with fresh and locally sourced ingredients.
Like I mentioned, there are lots of young people here with vegan and hip tastes. All of that comes together in Container City.
This area is made up of basically massive storage containers, hence its name. It is a lively and colorful dining and entertainment complex that features several restaurants and food trucks. While not all of the dining options are exclusively vegan, there are several vegan-friendly restaurants that offer a variety of plant-based options.
The vibe at Container City is fun and lively, with a variety of colorful and eclectic decorations and a diverse range of dining options. Customers can enjoy their meals at communal tables or outdoor seating areas and enjoy the vibrant and energetic atmosphere. The complex also features several bars and entertainment options, making it a popular destination for both locals and tourists.
I live near one in Guadalajara and am not much of a night owl, so I skipped this while visiting. But it's worth mentioning for those of you looking for something fun and safe to do at night.
Find the perfect accommodations for your upcoming trip here ✈️
Visit the Museo Regional de Cholula
The Museo Regional de Cholula (Regional Museum of Cholula) houses a collection of artifacts and exhibits related to the history and culture of Cholula. You can learn about the indigenous peoples who lived in the area before the arrival of the Spanish.
Location: View on map.
Address: C. 14 Pte. 307, San Juan Aquiahuac, 72810 San Andrés Cholula, Pue.
Hours: F-Sun – 10 a.m. to 6 p.m. and T-Th – 10 a.m. to 5 p.m. (Closed Mondays)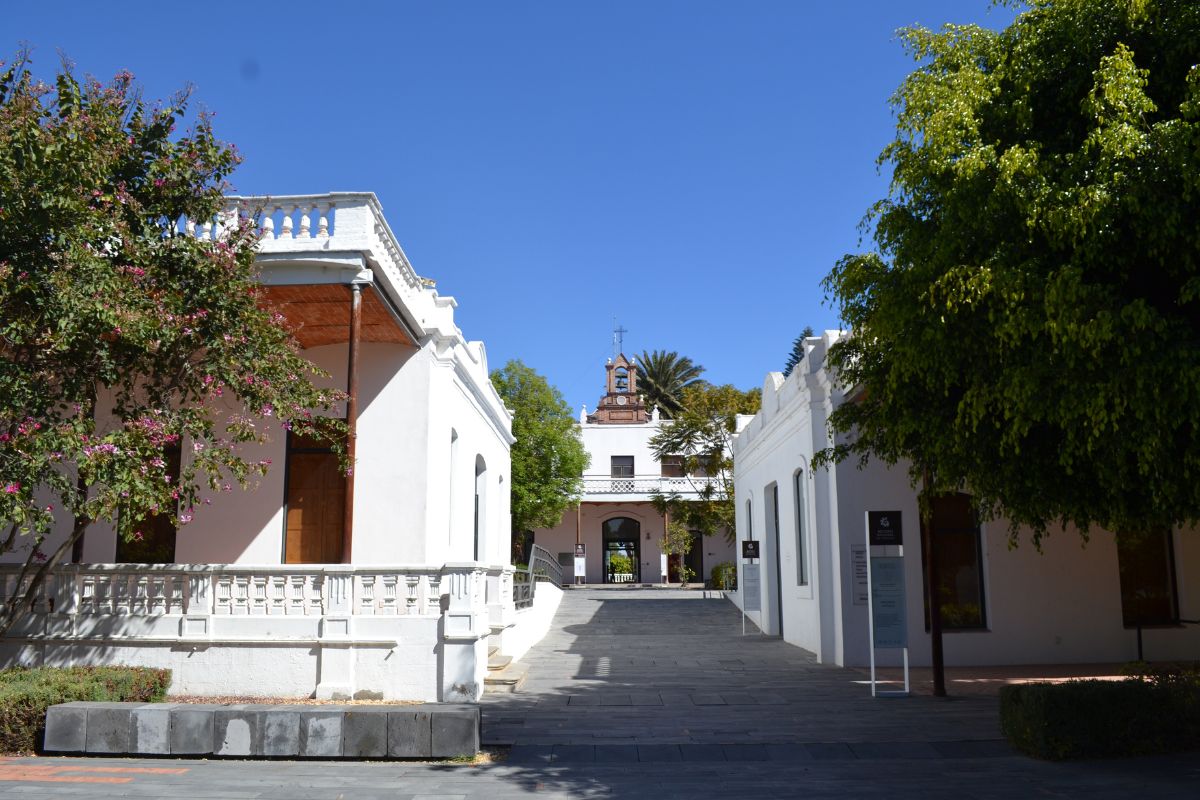 I quite liked the museum. It had a few different buildings, each from a different time period. Walking through the buildings felt a bit like walking through time.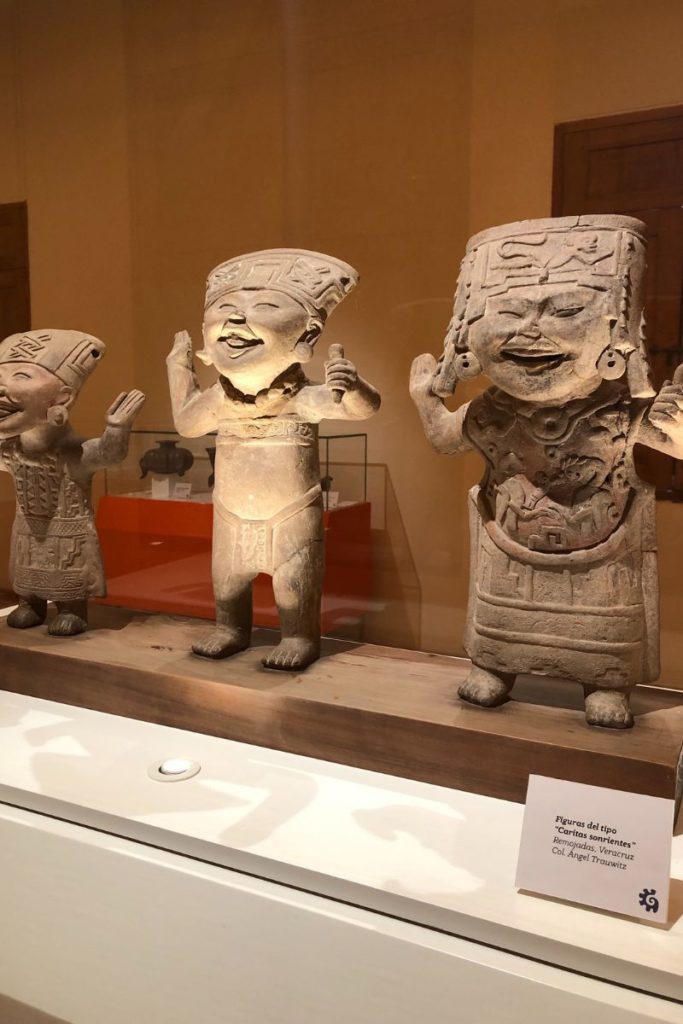 It's a small museum just a stone's throw away from the pyramid complex and it's the perfect way to get to know more about Pre Hispanic times and the Spanish conquest that led to the elegant colonial buildings that Cholula is known for.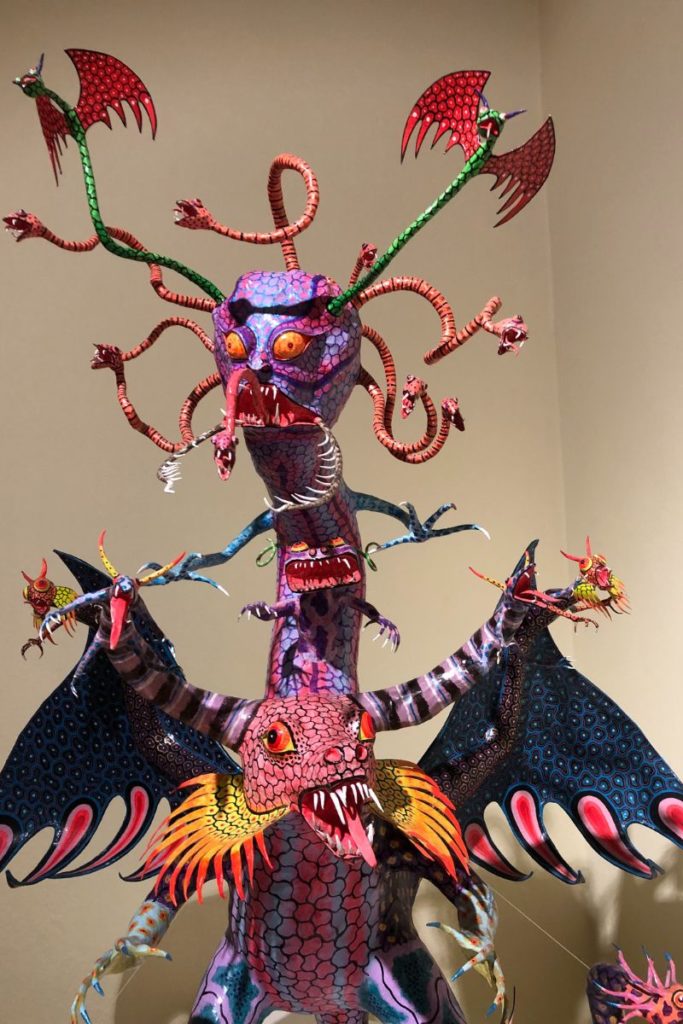 The grounds were beautiful with plants and trees with flowers. It made the perfect quiet getaway for us before heading to the Zona Arqueológica de Cholula.
Get Coffee At The Best Cafes in Cholula
I read on this blog that Barbarista was the best coffee in Cholula and the author said he would know because she used to be a barista.
That was all I needed to go check it out. After my time in Australia, where Australians take coffee very seriously, I have been a bit disappointed to return to the coffee of the rest of the world.
Now, I seek out the perfect cup of coffee before I visit anything else.
Greg from The Present Perspective was right about the coffee at Barbarista.
In fact, he was so right that when I asked the guys working at the café how they learned to make such a good cup of coffee, they said they took an AUSTRALIAN COURSE ONLINE.
Anyway, I went back there a few more times during my short visit to Cholula.
Address: C. 8 Pte. 103, San Miguel, San Juan Aquiahuac, 72810 San Andrés Cholula, Pue.
Hours: M-S open 8:30 a.m. to 9 pm. and Sunday open from 4 p.m. to 9 p.m.
Although the coffee was certainly very Australian, those hours were not. We were out of luck on Sunday when we rocked up at 8:30 a.m. for a delicious soy latte.
How to Get to Cholula
Cholula is located in the state of Puebla, in central Mexico. It's pretty close to Mexico City, making it super easy to get to.
We flew into Mexico City and then took a local bus right from the airport to Puebla. It took about 2.5 hours and was around $300MXN (~$15 USD). It was a great bus, honestly, and super secure. I highly recommend this option.
Overall, the best way to get to Cholula will depend on your starting point, but here are some options:
By plane: The nearest major airport to Cholula is the Puebla International Airport (PBC), located about 30 minutes away by car. Several airlines offer flights to Puebla from destinations within Mexico, as well as from the United States and Canada. Mexico City is the next closest airport about 2.5 hours away by bus.
By bus: Cholula is easily accessible by bus from several major cities in Mexico, including Mexico City, Puebla, Oaxaca, and Veracruz. Bus services are reliable and frequent, and several companies, such as ADO and Estrella Roja, offer comfortable and air-conditioned coaches. We took Estrella Roja.
By train: There is no direct train service to Cholula, but you can take the train to the nearby city of Puebla and then take a bus or taxi to Cholula.
By car: If you're traveling within Mexico, driving to Cholula is a good option. The city is located just off the main highway between Mexico City and Puebla, and there are several well-maintained roads leading to the city. Just be aware that traffic in and around major cities in Mexico can be heavy, and driving in unfamiliar areas can be challenging.
How to Get Around Cholula
Cholula is a relatively small city, and most of the main attractions are located within walking distance of each other.
We stayed on the outskirts of the city with an epic view of the active volcano right out the window.
We walked to city center a lot but also took an Uber just as often. It was about a 30 minute walk which is either a pleasure or torture, depending on the mood.
However, there are also several other transportation options available for getting around Cholula:
Taxis: Taxis are a convenient way to get around Cholula and are readily available throughout the city. Make sure to use only licensed taxis with meters, or agree on a fare before beginning your journey. We only used Uber since it was the easiest.
Buses: Local buses are a cheap way to get around Cholula, with fares typically ranging from 5 to 10 pesos. However, the bus system can be confusing for visitors who are not familiar with the routes and schedules.
Bike rentals: There are several bike rental shops in Cholula that offer rentals by the hour or by the day. Biking is a great way to explore the city at your own pace, and many of the main attractions are easily accessible by bike.
Walking: As mentioned, walking is a great way to explore the city and get some exercise at the same time. Most of the main attractions in Cholula are located within a few blocks of each other, and the city's pedestrian-friendly streets make it easy to get around on foot. The people are super friendly too, so it's kinda fun saying hi to everyone as you pass by.
Is Cholula, Mexico Safe?
Cholula, Mexico is generally considered to be a safe destination for travelers. The city has a low crime rate compared to other major urban areas in Mexico, and incidents of violence or serious crime against tourists are relatively rare.
We felt very safe there after living in Guadalajara for a year.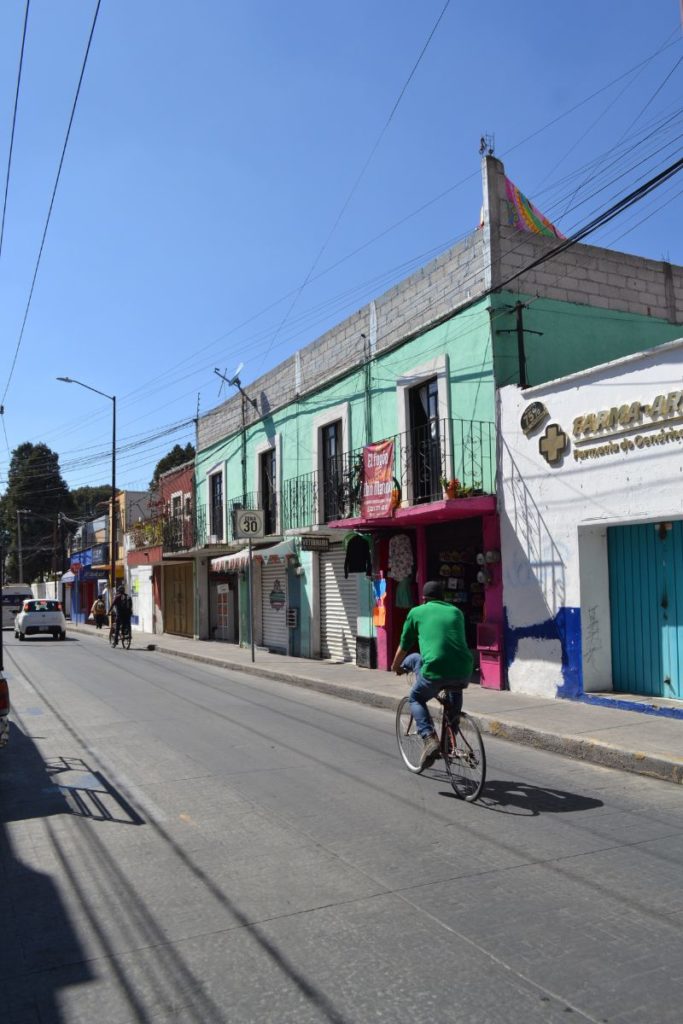 However, as with any destination, it's important to exercise common sense and take precautions to ensure your safety while traveling.
Here are some tips for staying safe in Cholula:
Be aware of your surroundings: Always be aware of your surroundings and avoid walking alone at night, particularly in areas that are unfamiliar or poorly lit.
Use trusted transportation: Use only trusted taxi services or ride-sharing apps, particularly at night. Avoid hailing taxis on the street, as there have been reports of fraudulent drivers.
Keep valuables secure: Keep your valuables, such as your passport, money, and electronics, in a secure location, such as a hotel safe or a hidden money belt. Avoid wearing expensive jewelry or flashing cash in public.
Follow local customs: Be respectful of local customs and dress appropriately for the culture. Avoid discussing controversial topics, such as politics or religion, with strangers.
Stay informed: Stay informed about current events and potential risks, such as natural disasters or public protests. Check the news and travel advisories before and during your trip.
Generally speaking, following these tips and exercising common sense makes a safe and enjoyable visit to Cholula, Mexico.
How Is Cholula Weather?
Cholula has a temperate and humid climate, with average temperatures ranging from 10 to 25 degrees Celsius (50 to 77 degrees Fahrenheit) throughout the year. However, there can be significant temperature variations between day and night, as well as during different seasons.
Here are some tips for how to dress during different times of the year in Cholula:
Spring (March to May): The spring season is characterized by mild temperatures and occasional rainfall. It's a good idea to bring a light jacket or sweater for the cooler evenings, as well as a rain jacket or umbrella in case of showers.
Summer (June to August): Summer is the warmest time of year in Cholula, with temperatures sometimes reaching up to 30 degrees Celsius (86 degrees Fahrenheit). Lightweight, breathable clothing is recommended, such as cotton t-shirts, shorts, and dresses. It's also a good idea to bring sunscreen and a hat to protect yourself from the strong sun.
Fall (September to November): Fall is a pleasant time of year in Cholula, with cooler temperatures and less rainfall. A light jacket or sweater is recommended for the evenings, as well as comfortable walking shoes for exploring the city.
Winter (December to February): Winter in Cholula can be chilly, with temperatures sometimes dropping below 10 degrees Celsius (50 degrees Fahrenheit) at night. It's a good idea to bring warm layers, such as a sweater, jacket, and scarf, as well as a hat and gloves for extra warmth. We went in January and while it was warm during the day, we were pretty cold at night.

Overall, it's a good idea to pack clothing that can be layered, as the temperature can vary significantly throughout the day. Additionally, comfortable walking shoes are a must for exploring the city's historic sites and markets.
Final thoughts on San Andres Cholula
Go visit Cholula and see the unpolished Mexico. Not rugged, but not fake. Happily bustling along without the impending sense of urgency that has crept out of the US and into northern Mexico. And if you can go inside the tunnels underneath the great pyramid of Cholula, then even more the reason to go! But if you are asthmatic, then bring your inhaler.
Read more about Mexico