One Day In Tucson: 30 Things To Do In Tucson For Solo Travelers
I recently got my hair done at a cute little shop in Scottsdale. I'm new to the area and haven't really explored much yet, so I asked my hairdresser if she recommends anything.
"You look like you would like Tucson." We both smiled. I asked, "in what way?"
"Your whole vibe, you would like it. It's eclectic and there are a ton of trails to explore."
Enough said. So when my best childhood friend came to visit me in Phoenix, I knew exactly what we would do together.
From stunning national parks to quirky thrift stores, Tucson made the perfect place for us to spend the day. Let me share the highlights of our trip and other activities that you could enjoy on your own visit to Tucson.
1. Hike at Saguaro National Park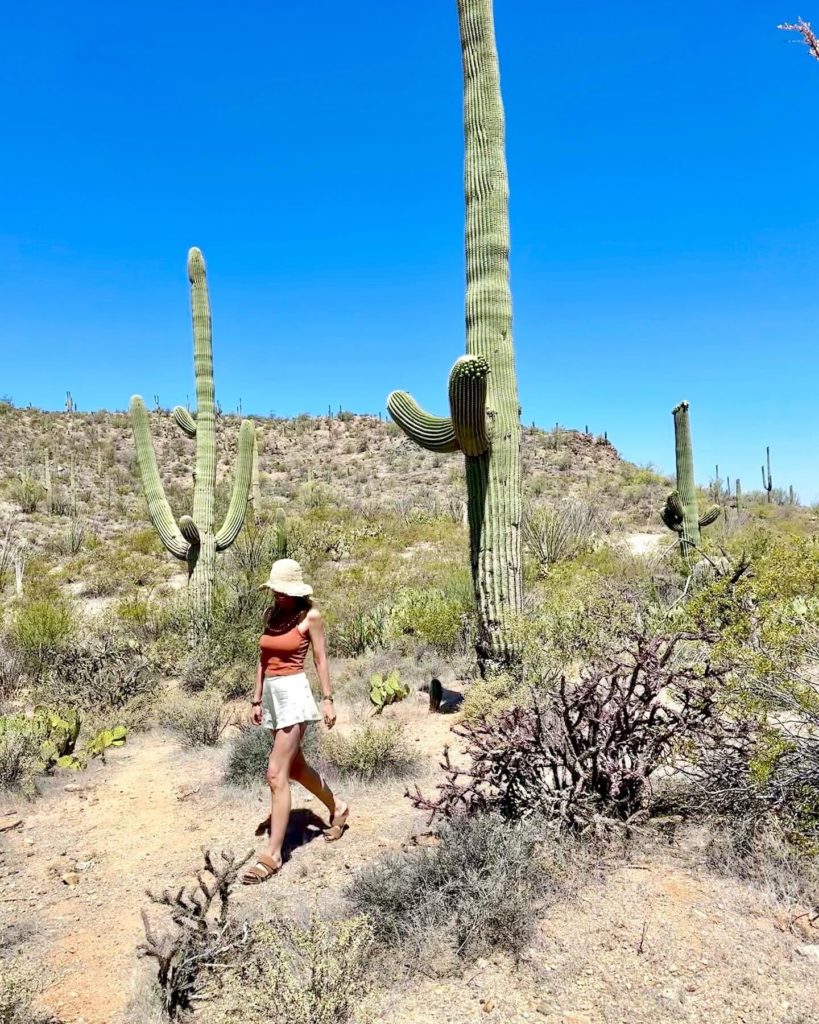 Location: Saguaro National Park, Tucson, AZ
Cost: $25 for a 7-day vehicle pass (More information here)
Best Time of Year: April to June (flowering season)
Duration: 2 hours to full day
Suited for: Nature lovers, outdoor enthusiasts, hikers, photographers
Saguaro National Park, just one of 11 national parks in the Sonoran Desert, was an absolute highlight of our trip. We timed our visit during the flowering season, which made the hike even more special.
We learned that it takes at least 75 years for a single arm of a cactus to grow, meaning that some of these cacti were 300-500 years old 🤯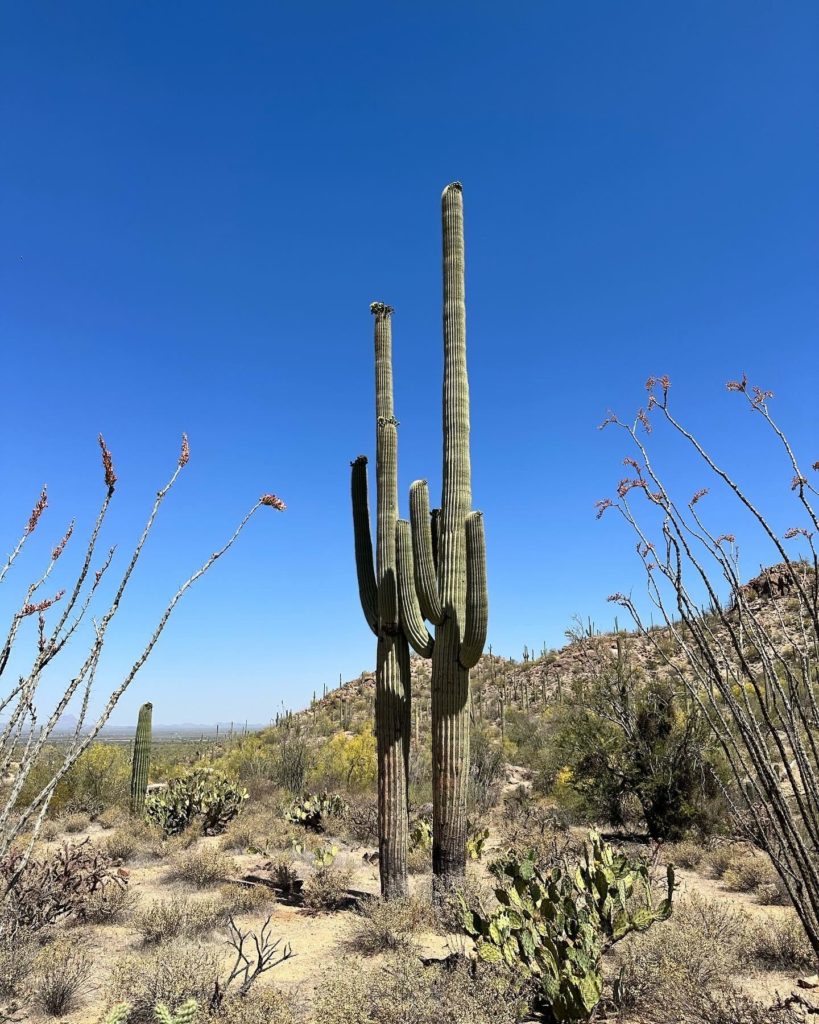 These tall, iconic cacti adorned with white flowers was a sight to behold. These bad boys are sprinkled all throughout the Arizona desert and, in fact, the Sonoran Desert is the only place in the world where they grow!
There were so many hiking trails all throughout the two districts (East and West) and we stuck to the West on this trip. We drove around Bajada Loop Drive and stopped off at a few hiking trails along the way.
We were there mid-morning so it was still fairly good weather before it got too hot. I definitely recommend going early to avoid the heat and to bring plenty of water.
I also think you could get some epic sunsets if you stick around until then. Just plan your hike so that you are facing West, toward the sunset, at least a portion of the way.
The Tucson mountains make for beautiful desert scenery that is reminiscent of the Wild West, minus the chaos. Take a look at how Sagurao National Park is split into two regions, each tucked into impressive mountainous desert landscapes.
No matter your ability level, this is a must-see Tucson attraction that everyone can see when visiting Tucson, thanks to the well-marked and maintained roads throughout Saguaro National Park.
Watch our adventure on YouTube 🥰
🎥 Come along with me on my adventures! Subscribe to my YouTube Channel
More outdoor areas to explore near Tucson
Tucson is located in the heart of the Sonoran Desert, but it's also surrounded by diverse ecosystems and landscapes, each with its own unique characteristics. The "regions" around Tucson can be described as follows:
Sonoran Desert: This is the dominant ecosystem in and around Tucson. It's known for its iconic saguaro cacti, desert wildlife, and rugged mountain ranges, such as the Tucson Mountains and the Rincon Mountains.
Santa Catalina Mountains/Mount Lemmon: To the north of Tucson, the Santa Catalina Mountains, including Mount Lemmon, offer a sky island ecosystem with forests of pine, fir, and aspen, and a dramatic change in flora and fauna as the elevation increases. The most notable landmarks in the Santa Catalina Mountains include Mount Lemmon, Sabino Canyon, Pusch Ridge, Romero Pools, and the Mount Lemmon Ski Valley.
Saguaro National Park: Divided into two sections, the Rincon Mountain District to the east of Tucson and the Tucson Mountain District to the west, this national park is dedicated to showcasing the Sonoran Desert ecosystem, particularly the saguaro cacti.
San Pedro River Valley: To the east of Tucson, the San Pedro River Valley is a vital migratory bird corridor and a lush riparian ecosystem. It contrasts sharply with the surrounding desert landscape.
Avra Valley and Altar Valley: West of Tucson, these broad, flat valleys feature classic Sonoran Desert scenery and are home to a variety of wildlife.
Oracle and the High Desert: North of Tucson, near the town of Oracle, the landscape transitions into a high desert ecosystem with a mix of desert scrub and woodland species.
Green Valley/Sahuarita and the Santa Cruz Valley: South of Tucson, this area blends desert with areas of agriculture and vineyards. It's also home to the historic Tumacácori National Historical Park and the Titan Missile Museum.
Chiricahua Mountains: Further to the east, the Chiricahua Mountains provide another sky island ecosystem, famous for its rock formations and a variety of wildlife.
I just spent a day in the area so I didn't get a chance to explore much… but my god am I ready to go back later this year when it cools down!
2. Thrift Shopping in Downtown Tucson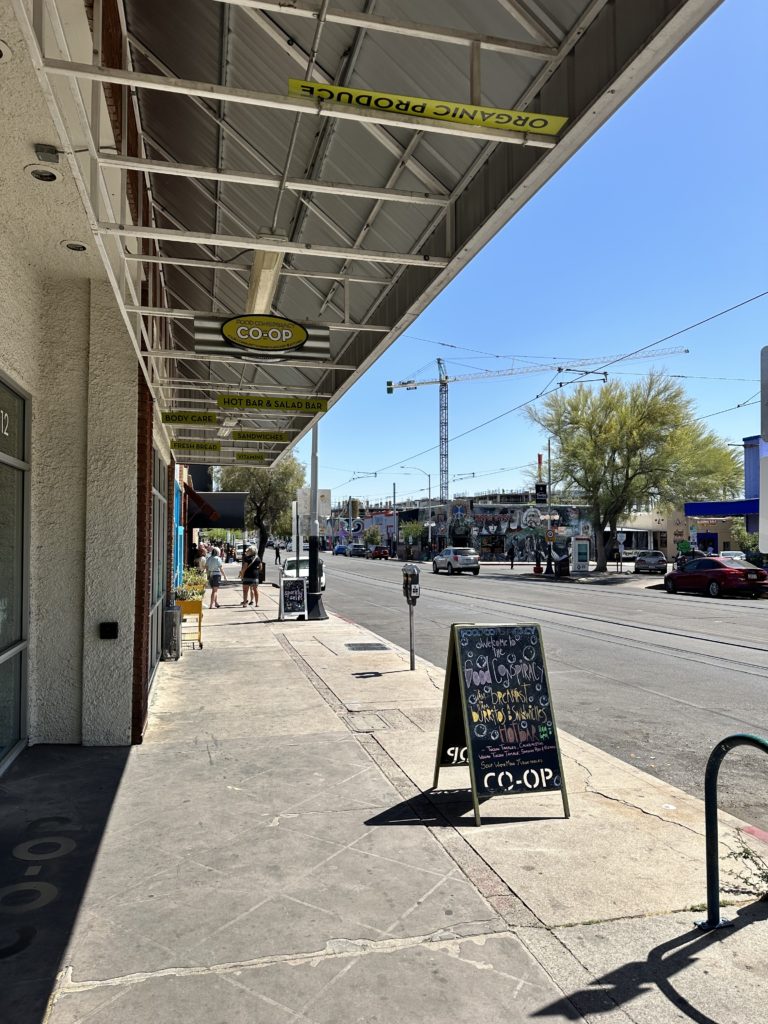 Location: 4th Avenue, Tucson, AZ
Cost: Varies (I snagged a lovely black leather purse from the 80s for $30!)
Best Time of Year: Year-round
Duration: 2-4 hours
Suited for: People who like shopping, bargain hunters
Listen, thrift shopping in downtown Tucson is one of the top Tucson attractions IMHO.
Walking into a Tucson thrift store is like stepping into a time machine, each one offering a nostalgic trip through various eras of fashion, culture, and history. Tucson's thrift stores are a reflection of the city itself, a charming mix of the old and the new, the traditional and the trendy.
These thrift stores are a treasure trove of Southwestern style – think vintage cowboy boots, turquoise jewelry, and denim jackets – mixed with unique finds from every decade. It's not uncommon to find an 80s leather purse nestled next to a classic western flannel shirt.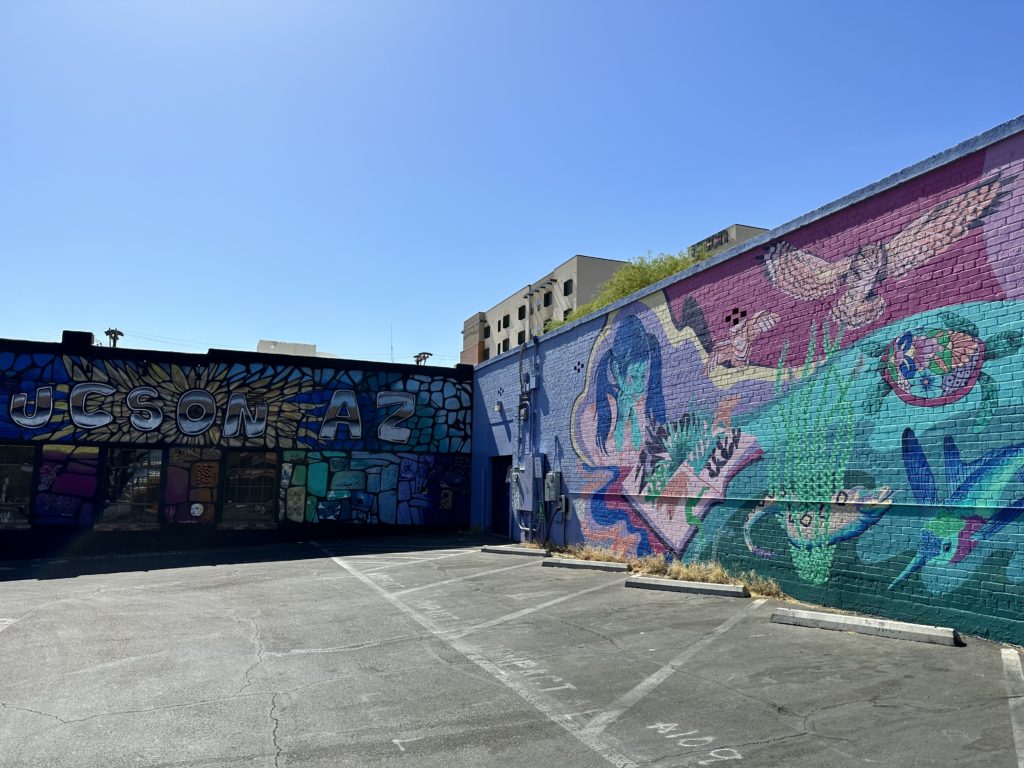 The style in Tucson is influenced heavily by its Southwestern roots, but also by its burgeoning arts scene, resulting in a unique fusion of traditional and hipster. This is mirrored in the thrift shops, where you can find everything from vintage concert tees, retro records, to locally-made artisan crafts.
It's this blend of cultures and styles that sets Tucson apart from other cities. Each thrift shop is a microcosm of Tucson's wider culture – a little bit country, a little bit rock 'n roll, and a whole lot of charm.
I walked away with a cute black leather purse from the 80s, a crop top/peasant top, and a loose and light denim button-up shirt perfect for my upcoming car camping road trip.
Here are the top spots for thrift shopping:
If thrift shopping is not your thing, then there are also incredible art galleries, shops, and pubs in downtown Tucson to explore.
3. Lunch and Happy Hour Beer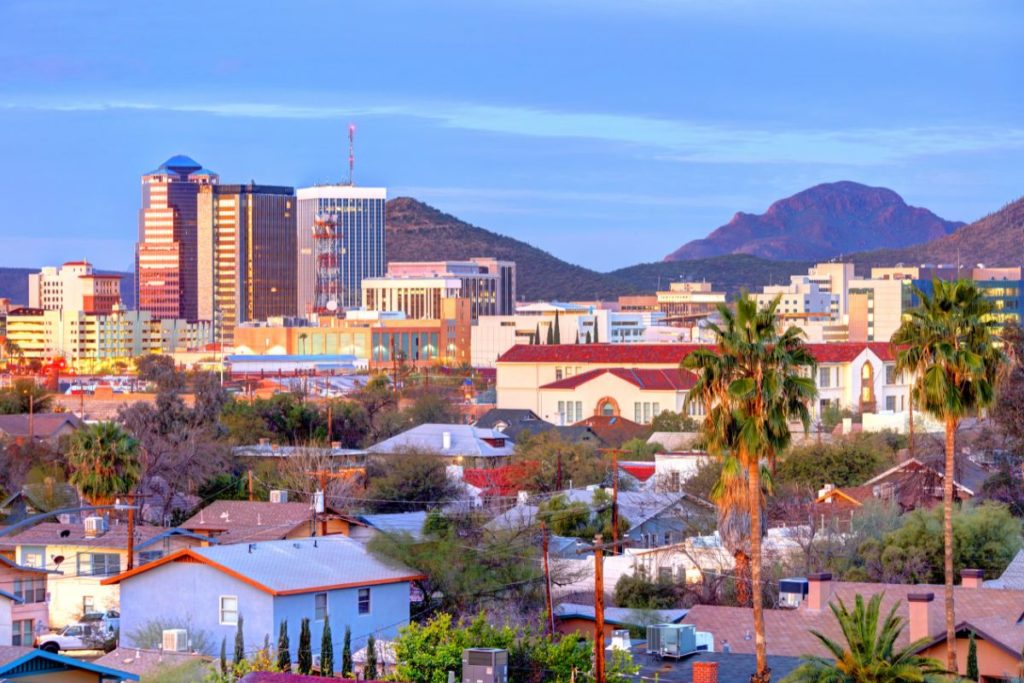 By the time we had lunch, we were starving (and really thirsty! bring extra water!). We were so hungry that we just picked the closest restaurant to us and made do with the menu.
While there are veggie options, it's worth noting that Tucson is a foodie place with a meat-heavy culture. I ended up with a really delicious kale salad and a draft hazy IPA that was $1 off.
I recommend exploring the restaurants around Fourth Avenue, which seems to be the cool street. It's a very cool town so there are lots of outdoor patios and IPAs wherever you go.
Find the perfect home rental for your upcoming trip here 🏠
Here are some of the places I noticed with the best places to eat:
These are just a few highlights. Tucson is a UNESCO City of Gastronomy, so it's definitely a fun place to explore with a rumbling stomach.
4. Visit the Arizona-Sonora Desert Museum
Location: Arizona-Sonora Desert Museum, 2021 N Kinney Rd, Tucson, AZ 85743Z
Cost: $29.95 for adults (Get info here)
Best Time of Year: Year-round, but cooler in fall and winter
Duration: 2-3 hours
Suited for: Nature enthusiasts, families, photographers
One place we didn't get to but is high on my list for the next trip is the Arizona-Sonora Desert Museum. It's a zoo, botanical garden, art gallery, and natural history museum all rolled into one!
It seems like a great place to learn about the Sonoran Desert's diverse ecosystem, which I have SO many questions about now after exploring a bit more of Saguaro National Park.
But if that museum isn't up your alley, then you'll find some kind of museum to tickle your fancy. Seriously. Tucson is BIG on museums with 16 museums to choose from!
Here are the top museums in Tucson:
5. Explore the Tucson Botanical Gardens
Location: Tucson Botanical Garden, 2150 N Alvernon Way, Tucson, AZ 85712
Cost: $15 for adults (Get info here)
Best Time of Year: October to April
Duration: 1-2 hours
Suited for: Nature lovers, families, photographers
Tucson Botanical Garden is a green oasis in the heart of the city. If you don't have a chance to make it out to the desert landscape to see the local flora in the wild, then this is the perfect little stop for you in your Tucson trip.
With sixteen individual gardens, it's a great place to appreciate the diverse flora of the region. They even have a butterfly garden! It's especially beautiful from October to April, when the weather is cooler.
6. Visit the Mission San Xavier del Bac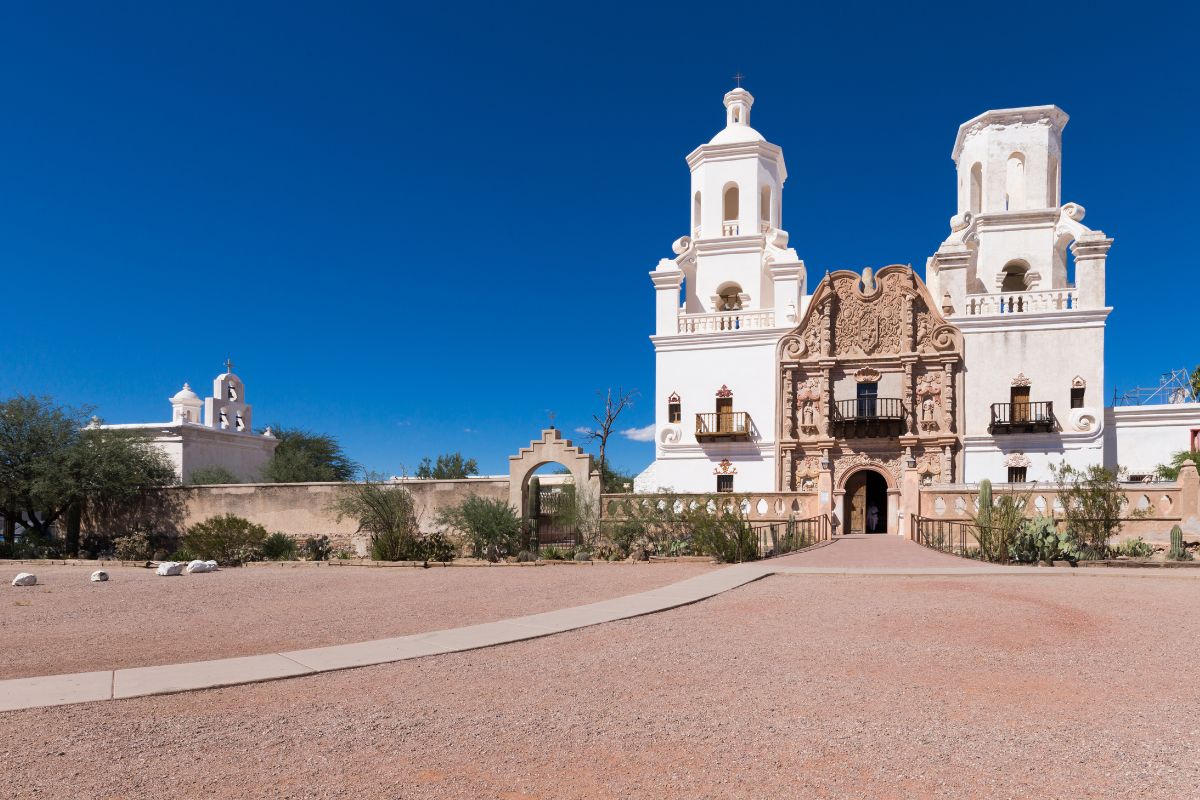 Location: Mission San Xavier del Bac, 1950 W San Xavier Rd, Tucson, AZ 85746
Cost: Free, but donations are appreciated
Best Time of Year: Year-round
Duration: 1-2 hours
Suited for: History buffs, architecture enthusiasts
Mission San Xavier del Bac, also known as the "White Dove of the Desert," is a historic Spanish Catholic mission located about 10 miles south of downtown Tucson, Arizona, on the Tohono O'odham San Xavier Indian Reservation. It was founded in 1700 by Father Eusebio Kino, an Italian Jesuit missionary, and the current church building was constructed between 1783 and 1797, making it one of the oldest European structures in Arizona.
The Mission features beautiful Spanish Colonial architecture, including intricate carvings and frescoes, and it's considered a masterpiece of Spanish mission architecture in the United States. Despite the harsh desert environment, the Mission has been well-preserved, undergoing several restorations to maintain its original beauty. It remains an active parish church serving the Tohono O'odham people and continues to be a significant pilgrimage site attracting visitors from around the world for its cultural, historical, and architectural significance.
7. Hike Mount Lemmon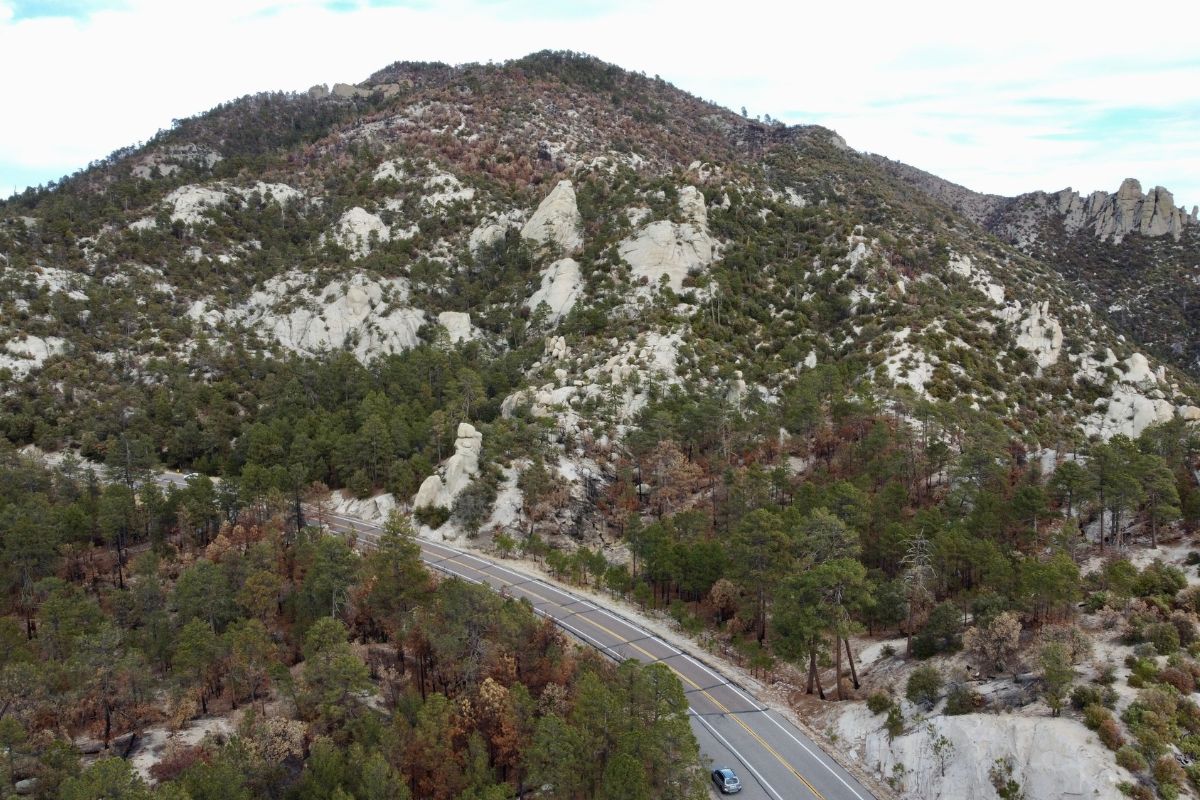 Location: Mount Lemmon, Santa Catalina Mountains, Tucson, AZ (See 10 best trails at Mount Lemmon)
Cost: Free
Best Time of Year: May to October
Duration: Full day
Suited for: Adventure seekers, hikers, nature lovers
Mount Lemmon offers some of the best hiking trails in Tucson. It's cooler than the city, making it a perfect summer getaway. The Sky Ride to the summit offers amazing views, but hiking up is even more rewarding.
So what makes Mount Lemmon so popular for outdoor enthusiasts?
Mount Lemmon, located in the Santa Catalina Mountains of Arizona, provides a stark contrast to the arid landscape of the Sonoran Desert that surrounds Tucson. Rising over 9,000 feet above sea level, Mount Lemmon's higher elevations host a sky island ecosystem rich with pine, fir, and aspen forests, a stark contrast to the cacti and desert shrubs that typify the Sonoran Desert below.
This varied topography results in a significant temperature drop as one ascends the mountain, often by as much as 30 degrees Fahrenheit, providing a cool, forested retreat from the desert heat.
Mount Lemmon's unique geological features, including the notable 'hoodoos' rock formations, and the vibrant biodiversity, ranging from black bears to over 200 species of birds, set it apart from the classic Sonoran Desert environment.
8. Experience the Nightlife at Congress Street
Location: Congress Street, Tucson, AZ
Cost: Varies
Best Time of Year: Year-round
Duration: Evening
Suited for: Night owls, music lovers, foodies
Congress Street is the heart of Tucson's nightlife. With tons of bars, clubs, and restaurants, there's something for everyone. Many venues feature live music, and there's always something going on. It's a great place to meet locals and fellow travelers and tourists alike!
22 More Fun Things To Do in Tucson
Take a guided tour of the historic Arizona Inn.
Visit the Tucson Museum of Art and Historic Block.
Enjoy the beauty of Tohono Chul, a botanical garden and art gallery.
Explore the DeGrazia Gallery in the Sun, an iconic Tucson art landmark.
Attend a yoga class at a local studio.
Take a scenic drive on the Mount Lemmon Scenic Byway.
Visit the Reid Park Zoo.
Discover local history at the Presidio San Agustín del Tucson Museum.
Take a self-guided tour of the murals in downtown Tucson.
Explore the Catalina State Park and its beautiful hiking trails.
Visit the Farmer's Market at Rillito Park for local produce and artisan goods.
Explore Biosphere 2, an Earth systems science research facility.
Attend a pottery class or workshop.
Check out the Center for Creative Photography.
Visit the Gaslight Theatre for a fun and interactive show.
Enjoy a spa day at one of Tucson's resort spas.
Learn about stars and planets at Kitt Peak National Observatory.
Try your hand at a cooking class featuring local ingredients.
Visit the Hacienda Del Sol Guest Ranch Resort for dinner and views.
Discover Native American history at the Arizona State Museum.
Explore the Madera Canyon for bird-watching and picnicking.
Walk around the University of Arizona campus.
Common Questions About Your Trip To Tucson
As I was prepping for this day trip, there were a few things I wanted to know. So here are some common questions and answers about visiting Tucson, Arizona.
How do I get to Tucson?
Getting to Tucson, Arizona, typically involves air or road travel. Tucson International Airport (TUS) serves as the city's primary airport, offering numerous direct flights to various major cities in the United States.
Check for cheapest flights to Tucson here.
If you prefer to drive, Tucson is conveniently located off Interstate 10, which runs from California through Arizona to Florida. Alternatively, Amtrak's Sunset Limited and Texas Eagle lines provide rail service to Tucson from major cities like Los Angeles and New Orleans.
What is the best time of year to visit Tucson?
The best times to visit Tucson are from November to April when the weather is comfortable and there are numerous festivals and events taking place. Springtime is when all of the cacti flowers are in bloom.
What should I pack for a trip to Tucson?
Packing for Tucson should include lightweight clothing for the summer months and warmer attire for the winter. Don't forget essentials for outdoor activities such as hiking boots, sunscreen, a wide-brimmed hat, and sunglasses.
How do I get around Tucson?
I was pretty surprised to find that Tucson has a bustling little public transit system. Tucson has a variety of transportation options including public buses, streetcars, bike rentals, taxis, and rideshare services like Uber and Lyft. Many travelers also choose to rent a car for more flexibility.
What are some good day trips from Tucson?
There are several great day trips from Tucson, including the historic town of Tombstone, the artsy town of Bisbee, and Kartchner Caverns State Park.
This is all thanks to the epic Sonoran Desert region and
Here are a few that I have my eyes on for my next road trip down to Tucson:
Colossal Cave Mountain Park
Location: 16721 E. Old Spanish Trail, Vail, AZ 85641
Cost: Cave Tours from $23 for adults, $13 for children aged 5-12, children 4 and under are free, $21 for active Military Adult with ID1
Best Time of Year: Open year-round, but less crowded during fall and spring.
Time Required: 2-3 hours for a cave tour, more if you plan to do additional activities.
Suited for: Solo travelers who love adventure and natural wonders.
Colossal Cave Mountain Park, located just a half-hour drive southeast of Tucson, offers a distinct contrast to the city's desert landscape. This massive limestone cave is steeped in both natural splendor and local lore. Visitors can explore the cave's vast network of tunnels, filled with impressive stalactites and stalagmites, on guided tours that range from easy, well-lit paths to more adventurous, off-trail explorations.
Though the cave maintains a cool temperature year-round, making it a pleasant escape from the summer heat, the park is less crowded during the fall and spring. Apart from the cave tours, the park also offers opportunities for hiking, picnicking, and horseback riding. The on-site museum gives a glimpse into the cave's history and geology, and the gift shop offers unique, locally made souvenirs. Whether you're an adventure enthusiast or a nature lover, Colossal Cave Mountain Park is a must-visit when in Tucson.
Sabino Canyon Recreation Area
Sabino Canyon Recreation Area, situated in the northeastern part of Tucson, is a natural jewel nestled in the Santa Catalina Mountains. This desert oasis, part of the Coronado National Forest, displays the lushness and diversity of the Sonoran Desert ecosystem. Sabino Creek, a life-giving water source that flows through the canyon, allows for the thriving of both desert vegetation and a wide range of wildlife.
Visitors can wander along trails lined with saguaro cacti, mesquite trees, and rocky outcrops, and may spot creatures like roadrunners, bobcats, or even a Gila monster. The landscape dramatically transforms with the changing elevations, revealing towering canyon walls, waterfalls, and swimming holes, particularly after the summer monsoon rains.
With the Sabino Canyon tram service that stops at various points in the canyon, visitors have the option to hike as much or as little as they want, making Sabino Canyon an accessible and versatile natural attraction.
Madera Canyon
Madera Canyon, nestled in the northern slopes of the Santa Rita Mountains, is a gem for nature enthusiasts visiting Tucson. The canyon is a premier birdwatching destination, boasting over 250 species of birds, including the rare Elegant Trogon. The area is also crisscrossed with hiking trails of varying difficulty levels, including a portion of the Arizona Trail.
For those seeking a more leisurely visit, picnic areas and campsites are scattered throughout the canyon, and several comfortable lodges are available for overnight stays. With its rich biodiversity and majestic scenery, Madera Canyon offers a tranquil retreat from the desert heat and a unique chance to explore the sky island ecosystems of Southern Arizona.
Ready For A Solo Trip To Tucson?
The unusual desert vegetation and quirky Tucson beauty was such a pleasant surprise. There's nowhere in the world quite like it and it has me eager to get out to explore more! Let me know if you end up going and what you like about Tucson 🙂