Car Camping 101: Everything You Need To Get Started
I started car camping earlier this year as I've made my way through Arizona, New Mexico, Colorado, Wyoming, and now Montana.
Though this is my first car camping trip, I've been a nomad for YEARS so I'm used to packing light and living on the road. Car campers and nomads have a lot of overlapping qualities 😉
I've gotten my car camping essentials down to a T and I'm happy to share it all with you so that you can start your own car camping trips this year!
What is Car Camping?
Car camping is a unique blend of traditional camping and road tripping. It's about transforming your vehicle into a mobile campsite, allowing you to explore the great outdoors with the added convenience and safety of having your car nearby. Unlike traditional camping where you carry your gear to a remote site, a car camping setup lets you bring more comfort items, like larger tents, cooking equipment, and even your favorite pillow, right in your vehicle.
Car camping is not just about sleeping in your car, although that's certainly an option. It's about using your car as a base camp for outdoor adventures. You can set up a tent next to your vehicle, cook meals on a camp stove, and enjoy the same activities you would on a traditional camping trip, like hiking, fishing, and stargazing.
These car camping tips that I'll share with you in this post are based on my own car camping road trip, where I slept inside of my car with an SUV tent attached to the back.
Car camping is particularly popular among solo travelers and those who value flexibility. It's a great way to see the country, with the freedom to change your plans as you go. Plus, it can be a more comfortable option than tent camping for those new to camping, as you can bring more amenities and have a secure, familiar vehicle close at hand.
Why Choose Car Camping?
Car camping is an adventure that combines the thrill of the great outdoors with the comfort and convenience of your own vehicle. It's a unique way to experience nature, offering a blend of freedom, flexibility, and fun that traditional camping can't match.
Based on my first car camping trip (and years of experience as a nomad in general!), these are the most attractive things about car camping.
The Freedom to Explore
One of the greatest benefits of car camping is the freedom it provides. With your car as your basecamp, you're not tied to a single location. You can explore different areas, visit multiple national parks, or even travel across the country, all while carrying all your gear and "home" with you. This freedom to roam and explore is a liberating experience that traditional camping can't offer.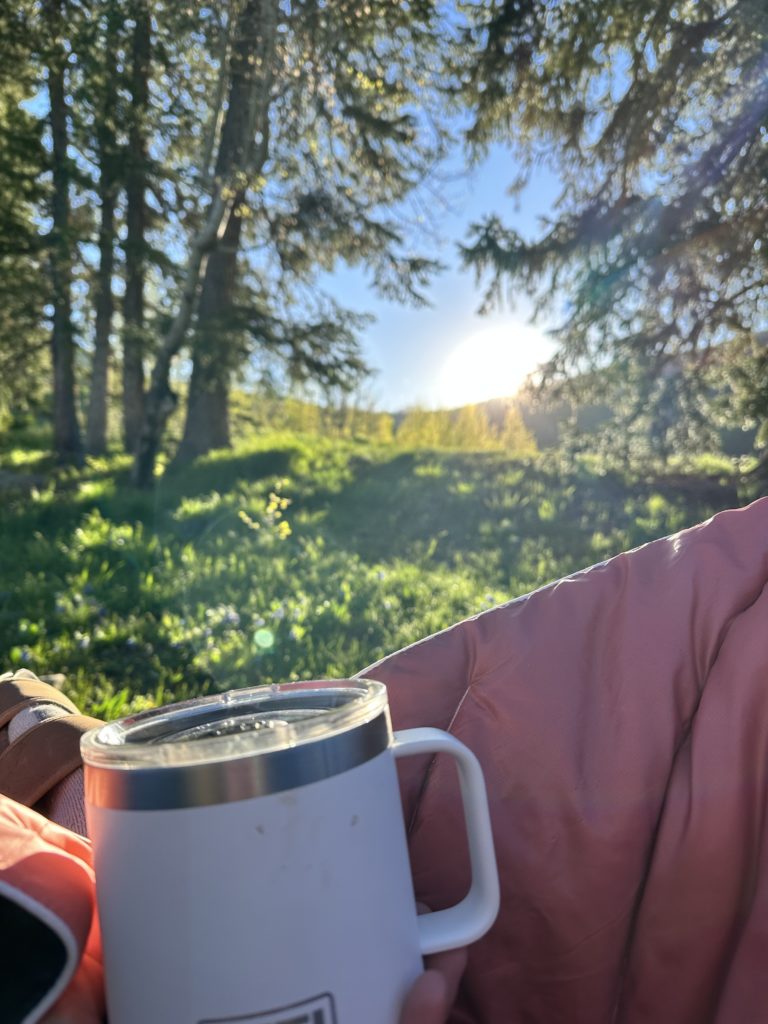 Comfort and Convenience
Car camping also offers a level of comfort and convenience that's hard to beat. Your car provides a secure and weatherproof shelter, protecting you from the elements… which is especially appreciated on cold nights. It also allows you to bring along more gear and supplies than you could carry on a backpacking trip.
An important factor as a woman is how safe I feel sleeping inside of my car, whether when camping in bear country or in a crowded, rowdy campsite. From comfortable bedding to cooking equipment, you can pack your car with all the comforts of home.
Cost-Effective Adventure
Car camping is a cost-effective way to travel and explore. You save on accommodation costs, and you can prepare your own meals, further reducing your expenses. It's a budget-friendly option that opens up a world of travel possibilities. I really like using The Dyrt to scope out free places to car camp.
Types of car camping
Car camping is a versatile and adventurous way to explore the great outdoors. It's not just about sleeping in your car at a campsite; there are several ways to experience car camping, each with its unique charm and challenges. Here are some types of car camping you might want to consider for your next adventure:
Campgrounds
Campgrounds are the most common and accessible type of car camping. They offer a variety of amenities such as restrooms, showers, picnic tables, fire pits, and sometimes even Wi-Fi. Campgrounds are great for beginners or those who prefer a bit more comfort and convenience in their camping experience. They are usually located in scenic areas and provide a safe and structured environment for camping.
However, keep in mind that campgrounds can get crowded, especially during peak season, and it's always a good idea to make a reservation in advance. For this reason, I generally avoid them and opt for free campsites instead.
Dispersed Camping
For those seeking solitude and a deeper connection with nature, dispersed camping is the way to go. This type of camping involves setting up camp outside of designated campgrounds, usually in national forests or on other public lands. The beauty of dispersed camping is the freedom it offers – you can find a spot that suits you, away from the crowds.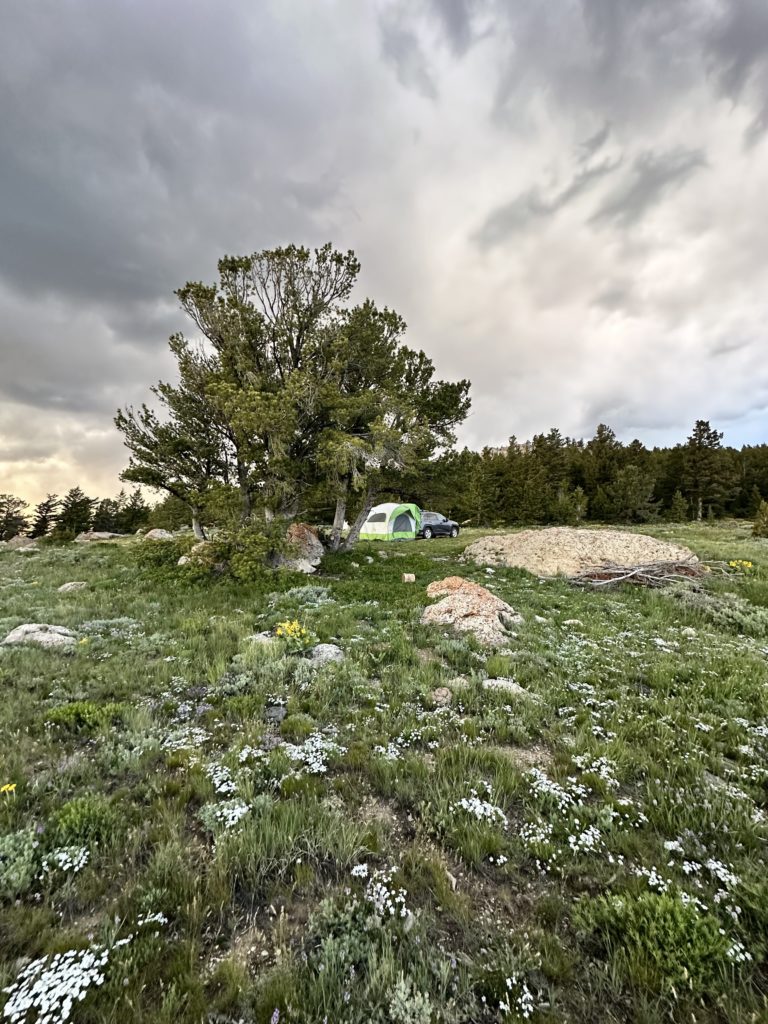 However, with great freedom comes great responsibility. There are no amenities in the wild, so you'll need to be entirely self-sufficient. Remember to follow the principles of Leave No Trace, ensuring you leave the environment as you found it.
Stealth Camping
Stealth camping is for the adventurous souls who love a bit of thrill. It involves camping in areas where it's not explicitly permitted but also not explicitly prohibited. The goal is to camp "under the radar", without drawing attention to yourself. This could be in urban areas, rest stops, a gas station parking lot, or even some public lands.
Stealth camping requires a high level of discretion and respect for the environment and private property. Always remember to camp responsibly and move on if asked.
Overlanding
Overlanding is a more intense form of car camping that involves long-distance travel to remote destinations where the journey is the primary goal. Overlanding trips can last from a few days to several months and require a well-equipped vehicle capable of handling off-road conditions. It's about self-reliance, exploration, and adventure in the truest sense.
SUV Camping
SUV camping is a comfortable and convenient form of car camping. With the right setup, your SUV can become a mini RV. My personal experience with RAV4 camping has been nothing short of amazing. With a bit of creativity, you can convert your SUV into a cozy sleeping area, complete with window covers for privacy and a camping stove for cooking up a hot meal. Check out my RAV4 camping conversion setup for some inspiration.
How to find campsites
When it comes to car camping, finding the perfect campsite can make all the difference. Here are some ways to find the best spots:
Use The Dyrt PRO
The Dyrt Pro offers comprehensive campground information, reviews from a community of campers, and trip planning tools. It also offers offline access to campground details, which can be a lifesaver when you're in areas with limited internet connectivity. This app includes all types of campsites, from RV parks to established campgrounds, BLM land and random spots off forest service roads.
Finding Campgrounds at National Parks, National Forests, State Parks, etc.
When it comes to finding campgrounds in your favorite National Park, National Forest, or State Park, the National Park Service website is a fantastic resource. You can find a national park either by selecting from a list or choosing a state on the map. Once you've selected a park, you can find information about campgrounds, amenities, and reservation details.
Private Campgrounds in Cities/Towns Near Parks
For private campgrounds near parks, Recreation.gov is a great tool. This site allows you to reserve experiences at over 3,600 facilities and 103,000 individual sites across the country. You can search by state, or explore popular locations. The site also provides tools and resources to help you plan your trip, including gear rental options.
Dispersed Camping
If you're interested in dispersed camping, which is camping outside of designated campgrounds, FreeCampsites.net is a valuable resource. This community-driven site provides a map-based search engine to find free and cheap camping areas. It focuses on public lands like Forest Service land, BLM areas, and county or city parks. The site also encourages users to share their own favorite free camping spots and reviews.
Remember, each of these resources may have different reservation systems, so be sure to check how far in advance you need to book your spot, especially during peak camping season. Also check local regulations so that you can be respectful of the area where you're camping. If there are no fire rings at your campsite, for example, then it's best not to build a fire.
Essential Car Camping Gear
When it comes to car camping, the gear you bring can make or break your experience. That being said, this really comes down to your car camping needs. I prioritize mobility, comfort, and the ability to work while on the road.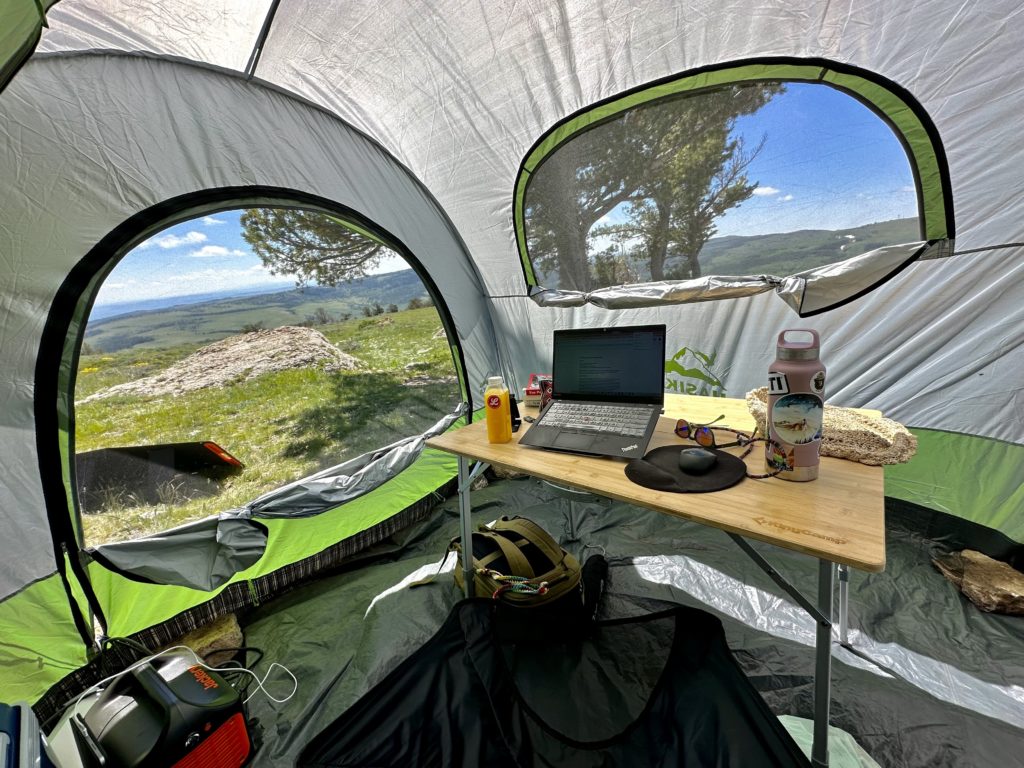 Here's a list of car camping essentials that I've found invaluable during my car camping trips and adventures in my RAV4.
Read all of my car camping tips here: 51 Car Camping Tips For A Safe And Easy Road Trip
How to Set Up Your Car for Camping
Turning your car into a comfortable sleeping area can be a fun and rewarding experience. Here's a step-by-step guide on how to convert your car, specifically a RAV4, into a comfortable car camping haven.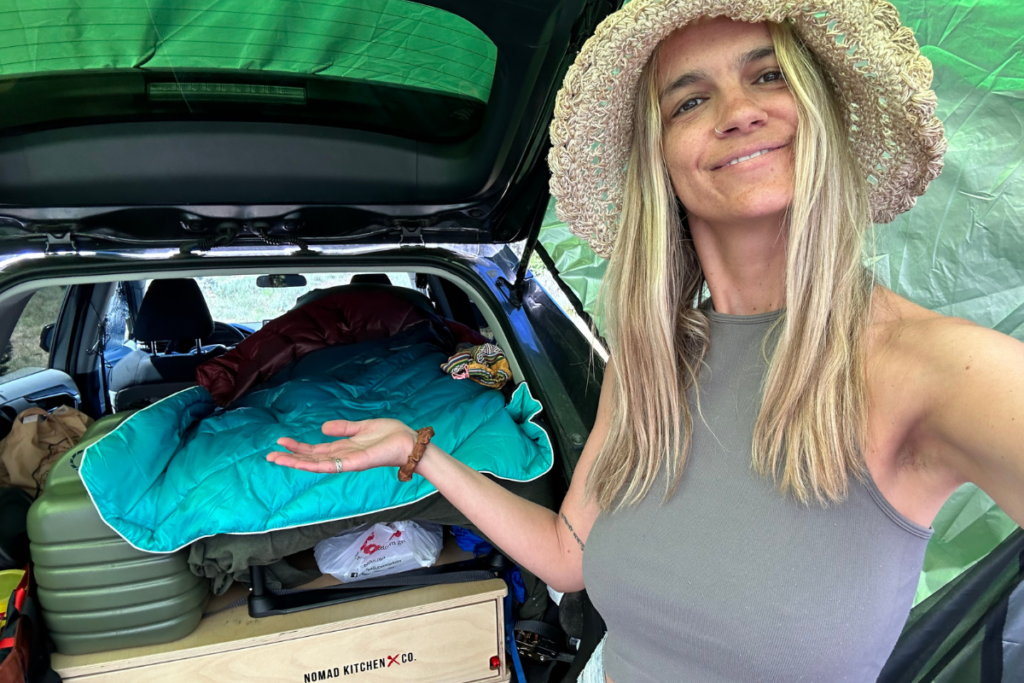 This is all based on my personal experience and the products I've used and recommended on my blog all about my exact RAV4 car camping setup. Here are my exact steps:
Fold Down the Back Seats: The first step is to create more room. You can do this by folding down the rear seats of your RAV4. Having the seats folded will provide you with ample space for your sleeping platform and additional storage. Alternatively, you can take the seats out completely to maximize space!
Install a Storage System: For my RAV4 camping setup, I used a kitchen drawer set by Nomad Kitchen Co. This system stores a lot of my kitchen stuff and leaves room on the sides for even more storage space.
Set Up Your Sleeping Platform: I used a simple single person adjustable cot from REI. Any sleeping platform will work, but I found the cot to be easy to fold up and store when not in use. I later upgraded to a HEST Foamy mattress pad for added comfort. Sleeping bags work best for staying warm.
Cut Out Your Privacy Window Coverings: I made my own window coverings using a roll of Reflectix BP48010 Double Pack Insulation. These coverings provide privacy and insulation for cooler nights.
Install Mosquito Nets for Car Windows: I used these nifty mosquito nets designed for car windows. They allow you to crack the windows a bit to let fresh air in while keeping the bugs out.
Set Up Your Power Source: As a digital nomad, I use a lot of devices. I opted for the Jackery Explorer 1000 to power all of my devices, including my Starlink. I also got two solar panels with it to ensure I have enough power.
Sort Your Data and Internet: I use Starlink for reliable internet service and a WeBoost Drive Reach to ensure I always have service while driving.
Plan for Storms and Bad Weather: I purchased a Hasika SUV Tent that connects to the back door. This makes it easy to use the kitchen and crawl into bed without having to go out into the rain.
Get Your Camping Gear Setup: Making a nice living space for yourself will feel really good! Think: picnic table, camping chairs, and protection from the elements. A few camping gear items that I keep with me are a foldable KingCamp table, a stargazing chair, a hammock, and a few other lightweight seating options for chilling at the campsite. I also have a Thule Overcast awning for shade when the weather is good.
Grab Things That Will Make Your Life Easier: I recommend getting a large water container that's easy to pour, bathroom necessities like a foldable shovel and RV toilet paper, food storage and prep items, comfortable bedding, clothing storage and organization solutions, and a mini fan for those stuffy nights.
What to eat while car camping
Car camping allows for a more diverse menu than backpacking. You can bring along your favorite foods and some kitchen gadgets. Here are some tips:
Prep Meals Ahead: Prepare meals at home to save time at the campsite. For instance, make overnight oats in mason jars or pre-mix dressings and store in a squeeze bottle.
Pack a Cooler: Invest in a high-quality cooler to keep your perishables fresh. Yeti, Pelican, and Canyon Coolers offer options that can keep ice for days.
Waste Disposal: Always leave no trace, meaning that you need to collect your trash (even food scraps!) and dispose of them in an appropriate garbage container. I usually drop mine off at gas stations 🙂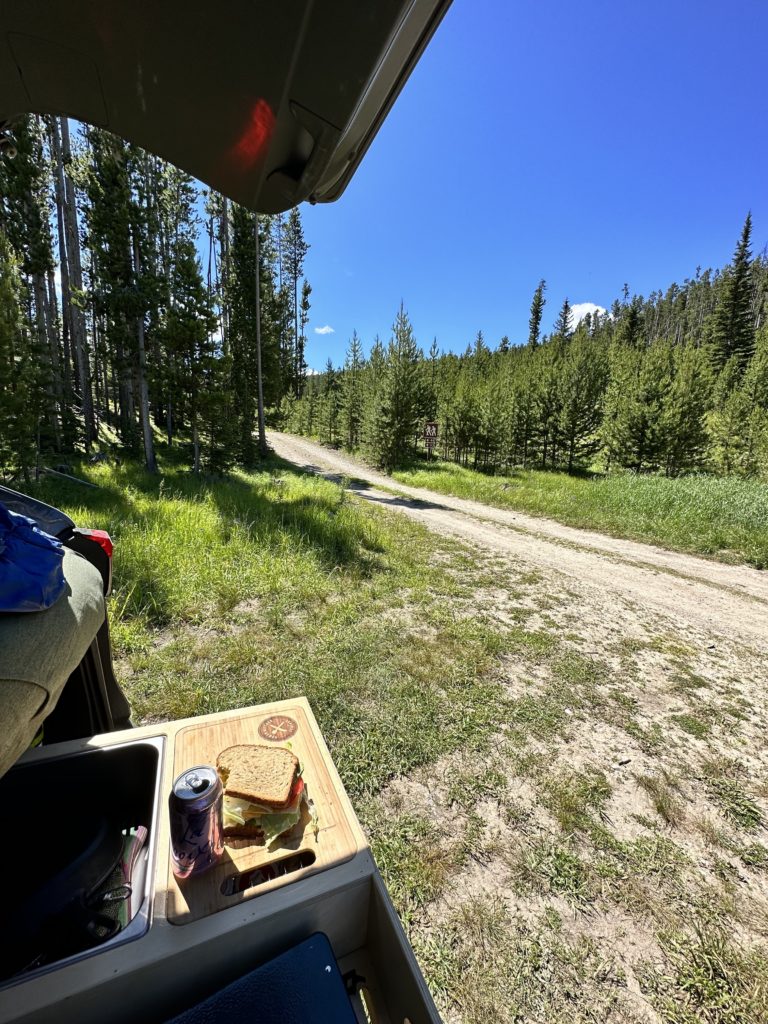 Tips for Camp Cooking
After stocking up at grocery stores, the next step is storing it so that everything stays fresh and doesn't take up too much space. Here's how I do it and what I use:
Stay Organized: Use inexpensive bins or reusable grocery bags to separate your kitchen supplies, toiletries, clothing, outdoor gear, and other belongings.
Choose the Right Stove: A classic two burner stove is a reliable choice for car camping. It's affordable and provides enough cooking space for most meals. If you're traveling solo or want to save space, a backpacking stove like the JetBoil is a compact alternative.
Essential Kitchen Gear: I love a good a cast iron skillet for versatile cooking, a sharp knife set for food prep, a collapsible camp sink for washing up, and a folding table for extra prep space.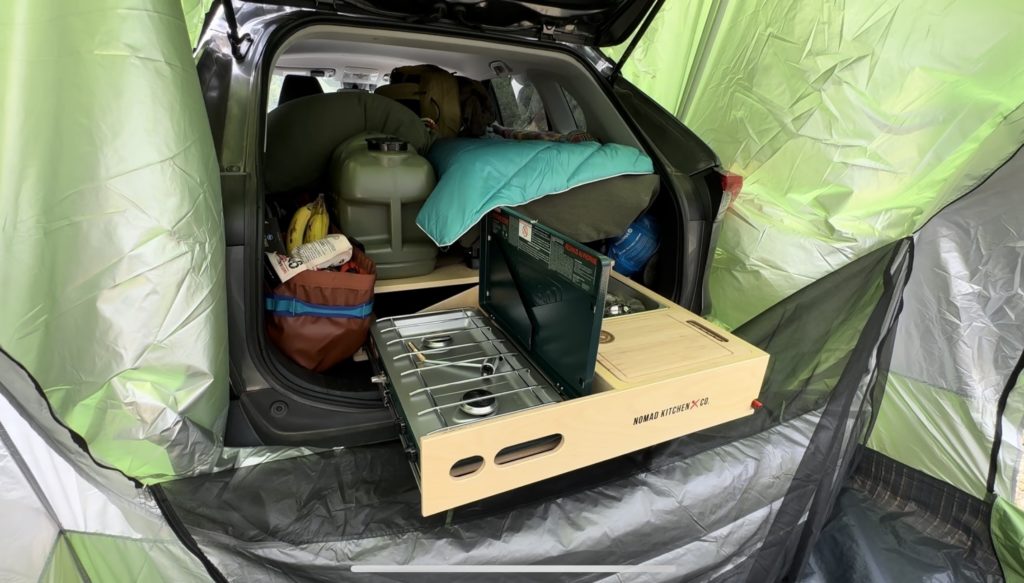 Wildlife and Food Storage
When camping, it's crucial to store your food properly to avoid attracting wildlife. If you don't have access to any bear boxes, then here are my recommendations.
Use Airtight Containers: Store all food and scented items in airtight containers to avoid attracting wildlife. If you're in bear country, then you will still need to store food away from bears.
Bear-Proof Containers: In bear-prone areas, use bear-resistant food containers or with a bear bag tossed over a tall branch. Remember, a fed bear is a dead bear.
Vegan Eating While Car Camping
Being vegan doesn't limit your camping menu. Here are some ideas:
Veggie Skewers: Pack a variety of vegetables like bell peppers, zucchini, and cherry tomatoes. Skewer them and cook over the campfire or on your camp stove.
Vegan Sausages: Brands like Beyond Meat offer vegan sausages that are perfect for grilling.
Beans and Rice: A classic camping meal. You can prepare the rice at home and bring canned beans for an easy meal.
Snacks: Fresh fruits, trail mix, and vegan jerky are all great options. See all of my road trip snacks!
Hydrate: Always have plenty of water in a storage container. If you know you will be camping near water sources, consider investing in a water filter.
Staying Connected While Car Camping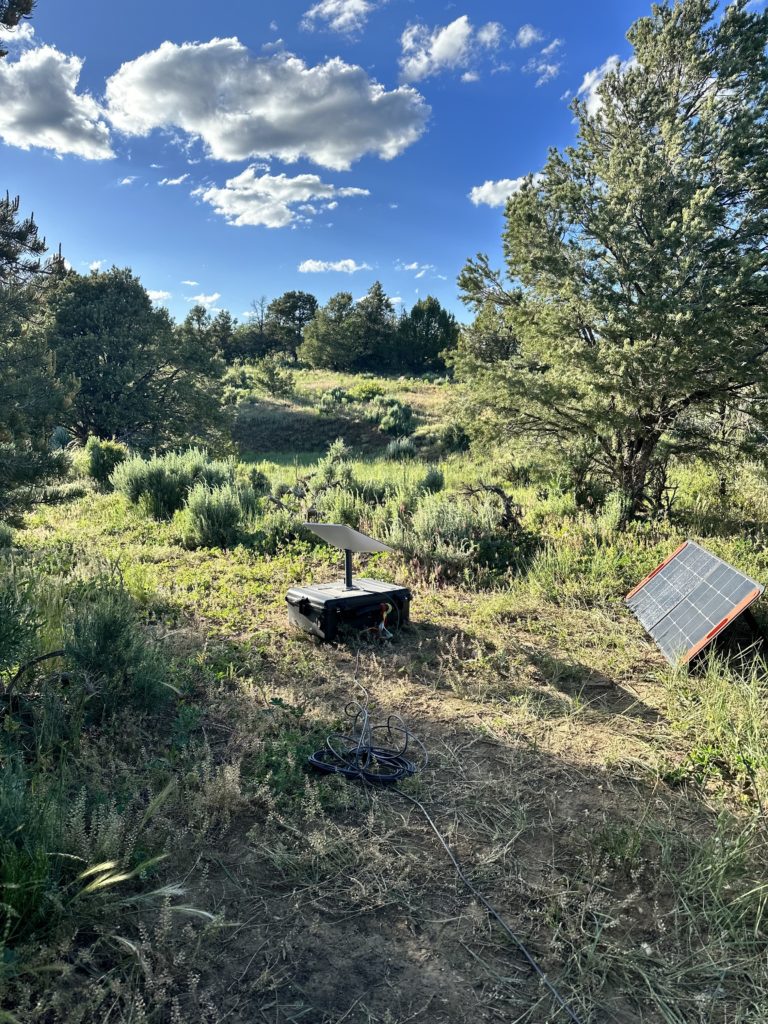 I wrote an entire post all about how to get internet for camping, so definitely check that out for a list of every kind of device or service option available. Here's a summary to get you started:
Portable Hotspot Devices: These devices allow you to connect to the internet via cellular networks. A recommended product for this would be the Netgear Nighthawk M6 Mobile Hotspot. It's a reliable device with fast speeds and a long battery life. The only catch is that you actually need cell service for it to work.
WiFi Boosters/Extenders: These devices can help you get a stronger signal when there's a WiFi network nearby. A recommended product for this is the Securifi Almond RV WiFi Booster. It's easy to set up and can significantly improve your WiFi signal strength.
Satellite Internet: This is a good option when you're camping in remote areas without cellular coverage. These brands offer high-speed satellite internet that works well even in remote locations: Starlink, HughesNet, Viasat, FreedomSat, Network Innovations (MobilSat), Expedition Communications, and Outfitter Satellite
Campground WiFi: Many campgrounds offer WiFi, but the quality can vary. To improve your connection, you could use a WiFi booster/extender like the one mentioned above.
Local Businesses or Libraries: If you're near a town or city, you might be able to use WiFi at a local business or library.
Common Questions
Still not sure if you're ready for your car camping trip? Here are a few questions I had when I started my first trip:
Where can I sleep in my car legally?
You can legally sleep in your car in designated campgrounds, some rest stops, visitor centers, and certain businesses that allow overnight parking. Bureau of Land Management (BLM) lands and U.S. Forest Service sites are also options. Apps like The Dyrt Pro, Overnight RV Parking, and iOverlander can help you find legal car camping spots. Always remember to respect local laws and ordinances, and when in doubt, ask for permission.
How can I keep my car cool while camping?
Keeping your car cool while camping can be a challenge, especially during the summer months. Here are a few tips to help you stay cool:
Use insulation shades or window covers: These can help block out the sun and keep the interior of your car cooler. You can purchase these or make your own using Reflectix insulation material.
Ventilation: Crack open opposite windows to create a cross breeze. This can help circulate air and reduce the temperature inside your car.
Park in the shade: If possible, try to park your car in a shaded area. This can significantly reduce the amount of heat your car absorbs.
Use a battery-powered fan: This can help circulate air and make the interior of your car more comfortable.
How do you cover a window sleeping in a car?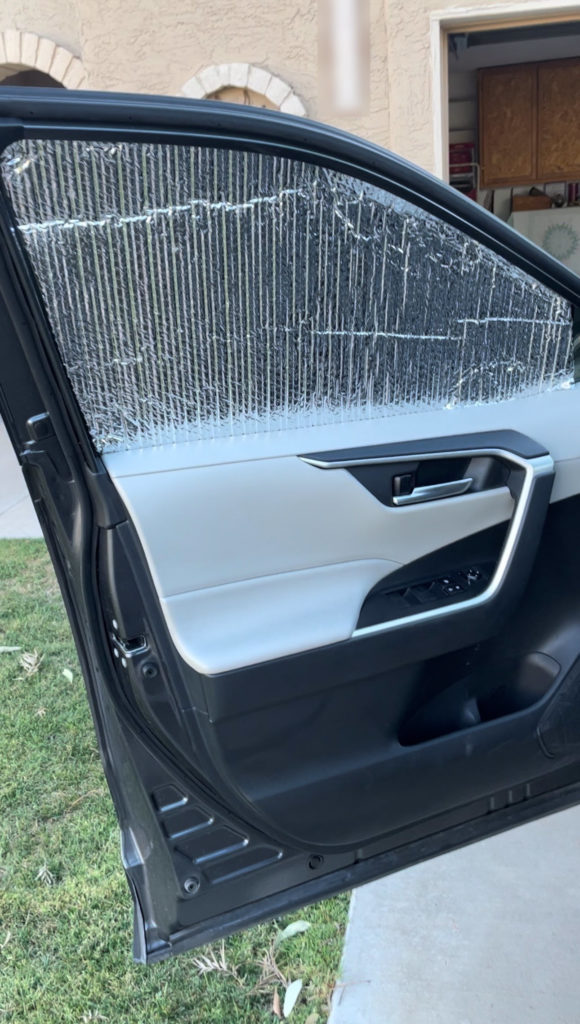 Covering your car windows can provide privacy and help regulate the temperature inside your car. Read my step-by-step instructions for DIY window covers made with Reflectix insulation to get yourself started. Here are a few methods:
Window covers or curtains: These can be purchased specifically for your car model or you can make your own. They can be attached using suction cups or Velcro. I couldn't find any pre-made window coverings that would fit my car, so I opted for this second option…
Reflectix insulation: This material can be cut to fit your windows. It not only provides privacy but also helps keep your car cool in the summer and warm in the winter. This is what I used.
Dark fabric or blankets: These can be hung up inside your windows for a quick and easy solution. However, they may not provide as much insulation as other methods.
Ready for your car camping adventure?
Whether sleeping in your car or tent camping, your car camping adventure awaits. I personally like getting all of my camping gear from Amazon because returns are crazy easy… I tested out quite a few car camp setups before settling on the one I have now! Other campers might prefer other things, like an air mattress or rooftop tent. Whatever works for you is best! As long as you can begin your road trip 🙂