9 Best Travel Kettles For The Solo Traveler
Ever since living in Australia, I've been a lot more keen on tea. As a part of the commonwealth, Aussies sure are tea lovers. Ever since, I've had to find ways to boil hot water in a pinch, wherever I go. I've used tons of different types of travel tea kettles in lots of different settings, from hostels to campsites to everything in between.
Here my list of the absolute best travel kettle options for the solo travelers. May you find an easy way to enjoy a cuppa wherever you are in the world with one of these portable kettles.
9 Best Travel Kettles For The Solo Traveler
Finding the best travel kettle really comes down to your own travel style and what you pack. I'll share with you all of my favorite travel kettle options based on my experiences.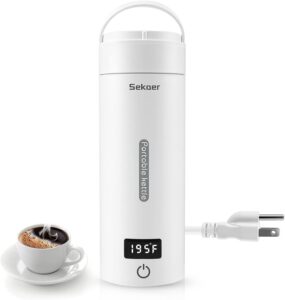 The Electric Kettle Portable Variable Temperature Stainless Steel Tea Kettle is a must-have for any tea or coffee lover. Its precise temperature control lets you brew everything from green tea to French press coffee perfectly, while the stainless steel design ensures lasting durability and pure taste.
I love how it is so portable; you can tuck the cord into the canister while traveling. Fast boiling and energy-efficient, it's ideal for quick morning routines or a busy lifestyle. Compact and portable, it fits easily in small spaces and is safe to use with auto shut-off and boil-dry protection. It's also really damn cute.
The only drawback is that you need 120V and at least 300W worth of power, so it could be tricky while camping or traveling abroad. For US travel in places with easy power access, this is a perfect little travel kettle.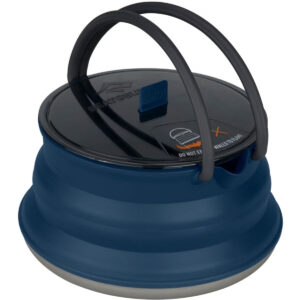 The Sea to Summit X Pot/Kettle is an innovative solution for outdoor enthusiasts who don't want to sacrifice their love for hot beverages or meals while exploring the great outdoors. This kettle's standout feature is its collapsible design, which, combined with a minimal weight of just 7.2 ounces, makes it hardly noticeable in your pack. It boasts a 1.5L capacity, enough to cater to a group, and is made from heat-resistant silicone, ensuring reliable performance in various outdoor conditions. The wide, stable base prevents spills at campsites, and reinforced handles make for easy carrying and use. The translucent lid aids in trapping heat for faster boiling, making it an efficient tool for quickly preparing hot drinks or meals. Whether you're hiking, camping, or enjoying a picnic, the Sea to Summit X Pot/Kettle is a practical and space-saving addition to your outdoor gear.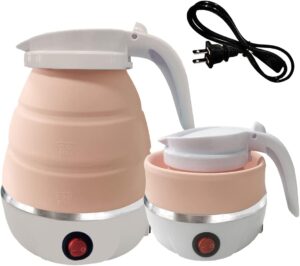 This innovative kettle is designed for travel convenience, featuring a collapsible design that makes it compact and easy to store. It's made from food-grade silicone, ensuring safety and durability. The kettle has a dual voltage capability (110V/220V), making it suitable for international travel. Additionally, it is equipped with a food grade stainless steel bottom, detachable power cord, and a separable design for easy cleaning. This electric kettle is an ideal choice for those who need a portable and convenient solution for boiling water while traveling.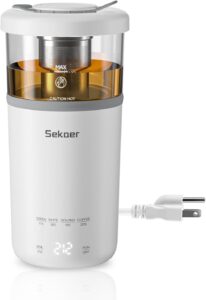 If you're super into tea-on-the-go, then this is a pretty nifty little kettle with an infuser basket built right in. The Sekaer Electric Kettle is a portable and personal-sized appliance designed for convenience and ease of use. It features a 350ml capacity, making it ideal for personal servings. The kettle is crafted from food-grade 304 stainless steel and BPA-free materials, ensuring safety and durability. It operates at a power of 300 watts, allowing for rapid heating of water. The kettle's compact and lightweight design makes it perfect for travel, office, hotel rooms or home use. Additionally, it includes a detachable power cord and a 360-degree swivel base for added convenience. The product also emphasizes its suitability for making baby formula, coffee, tea, or instant soup, catering to a variety of needs.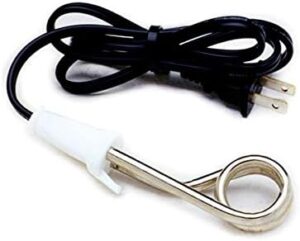 I'm lowkey obsessed with this little immersion heater. If you are tight on space (either on a road trip or backpacking around), then this is the most compact "kettle" you'll find.
The Instant Immersion Heater Coffee/Tea/Soup Electric Water Portable Reheater is a versatile and convenient tool for heating liquids. This lightweight and portable immersion heater is ideal for travelers, office workers, or anyone who enjoys hot beverages or soups. It works by being immersed directly into a cup or container of water or other liquids, quickly heating them to the desired temperature. The product is designed for ease of use, featuring a simple plug-in operation and a compact design that makes it easy to carry in a bag or suitcase. It's an efficient solution for enjoying hot drinks or meals on the go, in a hotel room, the office, or at home.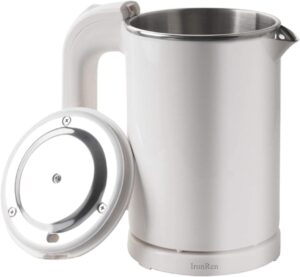 If you're into the traditional experience of boiling liquids, then this stainless steel travel hot water kettle is perfect. It's small and portable, yet shaped like an actual (modern) kettle. The Portable Electric Kettle – Travel Stainless Steel Kettle, available on Amazon, is a convenient and efficient solution for those who need hot water on the go. This compact and lightweight stainless steel travel kettle is designed for travel, making it ideal for use in hotels, offices, or while camping. It features a stainless steel construction, ensuring durability and easy cleaning. The kettle has a capacity of 0.5 liters, perfect for personal use or for small servings. It also boasts rapid boiling technology, allowing you to quickly heat water for coffee, tea, or instant meals. With its simple operation and safety features, including automatic shut-off and boil-dry protection, this portable electric kettle combines functionality and safety, making it a practical choice for travelers and busy individuals alike.
The Kompoll Travel Electric Kettle combines functionality and convenience, making it an excellent choice for travelers. Its fast boiling capability ensures you can quickly prepare hot beverages like tea, coffee, or even instant noodles and soup, saving precious time on the go. The stainless steel construction of this mini electric kettle not only adds to its durability but also maintains the purity of water's taste. Safety features like automatic shut-off and boil-dry protection provide peace of mind, especially when you're in a hurry or multitasking. Additionally, its separable power cord and compact size make it easy to pack and carry, fitting snugly in any travel bag. This mini travel kettle is ideal for those who want the comforts of a hot drink while traveling, without the bulk and hassle of larger appliances.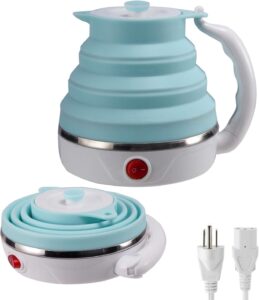 Another collapsible travel tea kettle makes the list with tons of raving reviews. The kettle is made from food-grade silicone, ensuring safety and durability. It has a dual voltage capability (100-120V and 220-240V), making it suitable for international travel. With a capacity of 600ml, it can quickly boil water for coffee, tea, or instant meals. The kettle also includes safety features like boil-dry protection and an automatic shut-off mechanism, ensuring safe usage. Its sleek and modern design, combined with practical functionality, makes it an ideal travel accessory for those who want the convenience of hot beverages or meals while on the move.
I just really love this design and it seems like all of the reviewers do too. This portable electric kettle is made from stainless steel, ensuring durability and a clean taste. It features a 350ml capacity, which is ideal for personal use. The kettle operates at a power of 500 watts, allowing for quick heating of water. Its compact size makes it easy to pack and carry, fitting comfortably in luggage or backpacks. The kettle also includes safety features like auto shut-off and boil-dry protection, making it a reliable and safe choice for travel. This product is particularly suitable for those who frequently travel and desire the comfort of a hot drink without the need to rely on external facilities.
How To Choose The Best Portable Kettle For Travel
When you're on the move, having the right portable kettle can make all the difference in enjoying your favorite hot beverage or quick meal. Here's what to consider to find the perfect travel companion:
Size and Capacity: Choose a kettle that's compact enough for easy packing, yet has sufficient capacity for your needs. A 0.5 to 1-liter kettle usually strikes a good balance.
Weight: Opt for lightweight designs, especially if you're backpacking or have limited space.
Material: Stainless steel kettles are durable and maintain heat well, but may be heavier. Silicone or plastic kettles are lighter and often collapsible, ideal for saving space.
Boiling Speed: Look for a kettle that boils water quickly to save time, particularly important when you're on a tight schedule.
Temperature Control: If you're particular about your tea or coffee, consider a kettle with variable temperature settings.
Safety Features: Essential features include automatic shut-off and boil-dry protection to prevent accidents.
Power Source: Electric kettles are convenient but require a power source. For off-grid adventures, consider a kettle that can be used on a stove or campfire.
Dual Voltage: If traveling internationally, a dual voltage kettle is a must to accommodate different electrical systems.
Ease of Cleaning: A kettle with a wide opening is easier to clean, a crucial factor for maintaining hygiene while traveling.
Types Of Travel Kettles
Travel kettles come in various types to suit different travel needs and preferences. Understanding these types can help you choose the right one for your adventures:
Electric Travel Kettles
Electric travel kettles are ideal for travelers staying in hotels or locations with guaranteed electricity. They are a great choice for those who prioritize convenience and specific beverage temperatures, but not as suitable for off-grid adventures or lightweight packing.
Pros:
Many electric travel kettles offer automatic shut-off and temperature control, enhancing safety and convenience.
Temperature control allows for heating water to the precise temperature needed, perfect for different types of teas and coffees.
Cons:
These kettles require access to a power source, limiting their use in areas without reliable electricity.
They tend to be bulkier and less convenient for lightweight or compact travel.
Collapsible Kettles
A collapsible kettle is ideal for travelers who need to save space and reduce weight in their luggage, such as backpackers or those traveling with carry-on only. They are less suited for travelers who prefer more durable, feature-rich kettles.
Pros:
Made from flexible materials like silicone, these kettles can collapse down, making them highly space-efficient. This feature is particularly beneficial for backpackers or travelers with limited luggage space.
Generally, collapsible kettles are lighter than other types, adding minimal weight to your travel gear.
Cons:
The flexible materials might not be as durable as the hard materials used in traditional kettles.
They often lack advanced features like temperature control or automatic shut-off.
Dual Voltage Kettles
Dual voltage kettles are ideal for frequent international travelers who move between countries with different electrical systems. They are less necessary for travelers staying within regions that have a standard voltage system.
Pros:
These kettles are designed with the international traveler in mind. They can switch between different voltage standards (typically 110v and 220v), making them suitable for use in various countries without the need for a separate voltage converter.
This feature provides peace of mind and convenience, as you can use the same kettle in multiple destinations.
Cons:
The versatility of dual voltage kettles often comes at a higher price point compared to standard kettles.
Some models may require manual switching between voltages, which can be a bit more complex to handle for some users.
Stovetop Kettles
These kettles are ideal for camping, hiking, or off-grid travel where electricity is not an option. They are less convenient for travelers who prefer quick, efficient boiling and have access to electricity.
Pros:
Stovetop kettles are perfect for environments without electrical access. They can be used on a camp stove or open flame, making them highly versatile in various outdoor settings.
Often made from durable materials, these kettles are designed to withstand the rigors of outdoor use.
Cons:
They may take longer to boil water compared to electric kettles, especially in windy or cold outdoor conditions.
Stovetop kettles can be bulkier and heavier, which might be a consideration for those needing to pack light.
Car Kettles
Car kettles are ideal for road trippers and campers who spend a lot of time in or near their vehicles. They are less practical for travelers without access to a car or those who need to boil water quickly.
Pros:
Car kettles are designed to plug into a car's cigarette lighter socket, making them a convenient option for brewing hot beverages on the go.
They offer the flexibility to make hot drinks anytime during road trips or when camping near your vehicle.
Cons:
Their usability is confined to the car, as they rely on the vehicle's power system.
These kettles typically have lower power output, resulting in slower water boiling times compared to standard electric kettles.
Mini/Compact Kettles
These kettles are ideal for solo travelers or those who prioritize space-saving gear. They are less suited for travelers who need to boil larger quantities of water or prefer more robust, feature-rich kettles.
Pros:
Mini or compact kettles are smaller in size and capacity, making them a perfect choice for solo travelers or those with minimal packing space.
Their small size translates to easy packing and handling, making them highly convenient for on-the-go use.
Cons:
The smaller size means a lower water capacity, which might not be suitable for making multiple beverages at once.
They may not have the same power as larger kettles, potentially leading to longer boiling times.
Stainless Steel Kettles
Stainless steel kettles are a great choice for travelers who value durability and heat retention over portability. They are less ideal for those who are backpacking or need to minimize their travel gear weight.
Pros:
Stainless steel kettles are known for their robustness and longevity. They can withstand frequent use and are less prone to damage compared to kettles made from other materials.
These kettles are excellent at maintaining water temperature, keeping your water hot for longer periods.
Cons:
Stainless steel kettles are generally heavier, which might be a consideration for travelers who need to keep their luggage light.
The material can get quite hot to the touch, requiring careful handling when boiling water.
Final Thoughts
Finding the best travel kettle comes down to how much space you have and your power source. I personally like the immersion heater and travel electric tea kettles. These suit my lifestyle the best. Most hotels have some way to boil hot water, anyway, so I haven't found a need for a travel kettle when in hotels. If I were to travel often with a suitcase, versus a backpack on on a road trip, then I'd probably opt for a collapsible kettle to save space in my luggage. So what's the best travel tea kettle for you?? Lemme know in the comments 🙂