The 5 Absolute Best Hiking Shoes for Beginners
I'm almost six feet tall and have wide feet, so finding the right hiking footwear can be somewhat challenging at times.
But I'm so relieved to say that I have finally found the perfect lightweight hiking shoe with a wide toe box.
And because I have a lot of experience testing women's hiking boots, I know exactly what makes them a pain in the ass when it's not quite the right fit.
Finding the best hiking shoes for beginners starts with understanding what will fit and not rub away at your feet. Here's my guide to finding the right hiking shoes for beginners!
Why the Right Hiking Shoes Matter
The right fit and features in hiking shoes are paramount not just for comfort, but for safety and optimal trail performance. This is especially important if you love solo hiking like I do.
Selecting hiking shoes that are too tight can compress your toes, leading to painful blisters, corns, or even subungual hematoma, where toenails turn black from constant pressure. That's usually on long hikes, but I have had this happen to me on a steep hike where the descent jammed my toes in the toe box for a couple of hours. My toenail split and has never been normal since. 🥴 Be forewarned.
Shoes that are too loose or lack proper arch support can cause your feet to slide inside, resulting in friction blisters or straining the plantar fascia, potentially leading to plantar fasciitis.
Venturing on uneven terrain without adequate ankle support increases the risk of sprains.
Shoes with poor traction can turn mossy trails or dew-slicked paths into slip hazards. This is why I really like the Keen and Vibram brands. They have great traction that's great for tackling challenging terrain and you can find Vibram soles on many types of hiking boots.
Key Features to Look for in Beginner Hiking Shoes
Picking the right shoe can make or break your experience. While you don't need to splurge on the most expensive pair, double checking that your hiking footwear has certain key features can save you from blisters, discomfort, and potential injuries. 🥴
Let's dive into the essentials that every beginner's hiking shoe should possess.
Support and stability
When you're out on the trail, uneven terrain is a given. That's where the support and stability of your hiking shoes come into play.
A shoe with good arch support and a firm midsole can prevent foot fatigue and provide the necessary stability to tackle rocky paths. Especially for beginners, a shoe that offers ankle support can be helpful, reducing the risk of twists and sprains.
A stable shoe doesn't mean it has to be stiff, though; it should comfortably flex with your foot's natural movement. That's why I really love my Altras, which I'll review a little lower in this blog post. They are secure and provide me gentle support and stability all while allowing free movement in rocky terrain.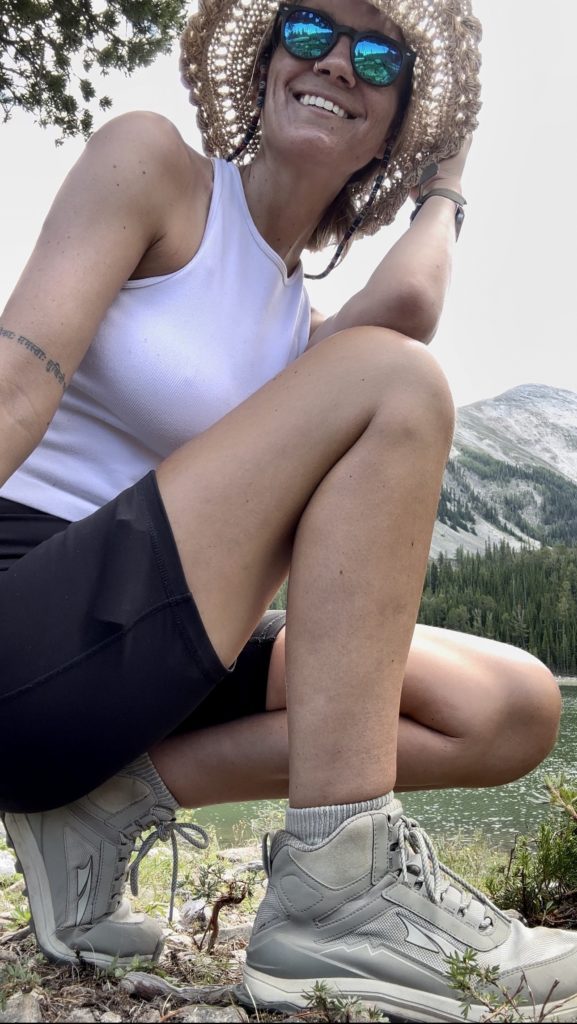 Waterproofing
Mother Nature is unpredictable. One moment it's sunny, and the next, you could be caught in a downpour. Snow can hang onto the trails far into summer and the snow melt can flood rivers and creeks along lower trails.
Waterproof shoes can be a lifesaver in these situations, keeping your feet dry and preventing blisters. Look for shoes with waterproof membranes like Gore-Tex.
However, if you're hiking in a warm and dry climate, it's not really worth it. Waterproof hiking boots can make your feet really hot and uncomfortable. In this case, consider opting for a shoe that dries quickly instead of a waterproof one. It's all about matching your shoe to the environment.
One way to circumvent that waterproof-or-lightweight hiking shoe debacle is to use waterproof spray on your breathable mesh lining. I've never done this myself, I haven't really felt that I needed to. But keep it in mind as you're shopping and out on the trails.
Breathability
While waterproofing is helpful, so is breathability. In fact, I'm leaning more towards breathability these days. Your feet can get pretty sweaty during a hike, and shoes that allow for adequate air circulation can prevent discomfort and fungal infections. Mesh panels are a common feature in breathable shoes.
If you're opting for a waterproof shoe, check that it doesn't compromise on breathability. I got the Altra waterproof hiking boots as well and while they are still great lightweight hiking boots, my feet did get a little warm.
Traction
The last thing you want on a hike is to slip on a wet rock or loose gravel. A shoe with a solid grip can be your best ally on the trail. Look for outsoles made of durable rubber with deep lugs. The pattern and depth of these lugs can provide the necessary traction, whether you're ascending a steep hill or navigating a slippery path. This is where Keen and Vibram (the soles on Chacos) really shine.
Durability
Hiking can be tough on shoes. From muddy trails to rocky terrains, your footwear will face various challenges. Investing in a durable pair means you won't be shopping for new shoes anytime soon. Look for shoes with reinforced toe caps and high-abrasion rubber outsoles. A durable shoe is an investment in many future adventures.
Best Women's Beginner Hiking Boots
Embarking on your first hiking adventure? The right footwear can make or break your experience. As a newbie, it's essential to find a boot that offers a blend of comfort, durability, and support without overwhelming your feet. Let's dive into some of the top picks for beginner hikers:
A unique blend of trail running shoe and hiking boot, the ALTRA Lone Peak is designed for those who want the best of both worlds. Its foot-shaped toe box allows your toes to spread out naturally, reducing the risk of blisters. The balanced cushioning means that your heel and forefoot are at an equal distance from the ground, promoting better alignment and less strain on your foot. It also means that it feels like you're walking on clouds! 🤤 The grippy outsole helps you stay upright, even on slippery trails.
These are my favorite hiking shoes I've ever had. They are incredibly comfortable trail shoes that my feet never get tired in. I never get blisters in them (knock on wood ✊) and they never make my feet hot. The roomy toe box means that my toes never rub on each other or the shoe. They are the best hiking shoes, hands down.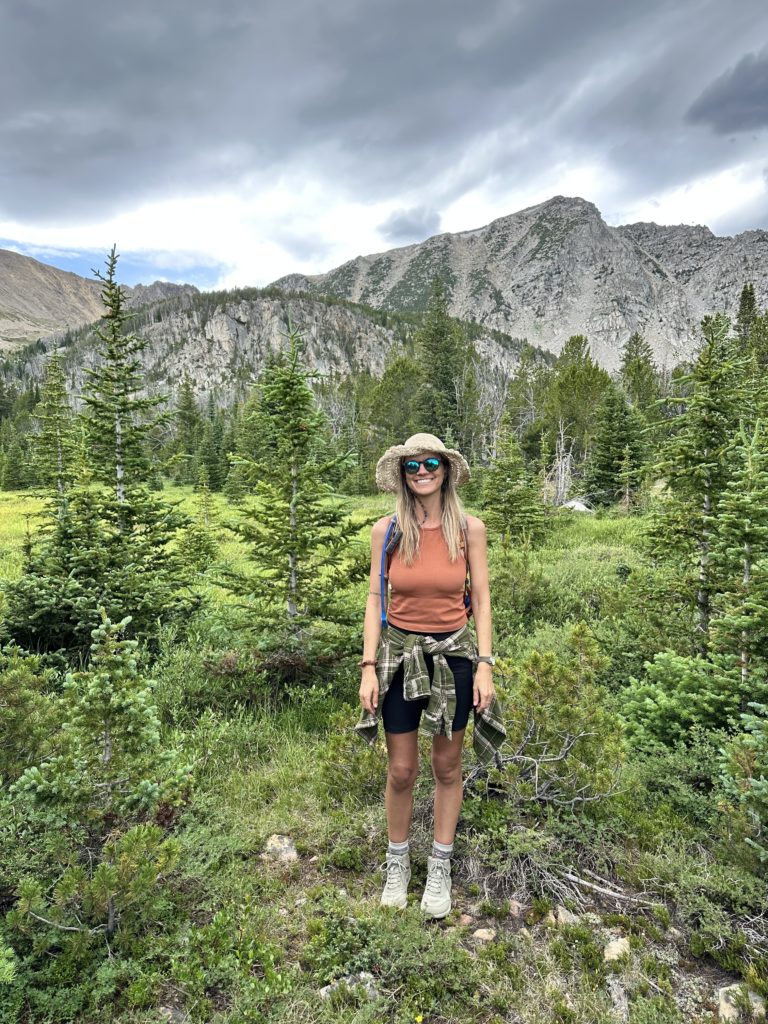 That being said, on long hikes when I'm getting tired and dragging my feet, I have slightly twisted my ankles a few times. Nothing major happened and I caught myself in time, but the softer ankle support may have been a factor. If that's something that worries you, then take note.
Personally, I like the flexibility because I feel like I can feel the ground better that way and catch myself more easily. With heavier and stiffer hiking boots, I sometimes feel like I have blocks on my feet and can't feel the ground.
ALTRA once again appears on this list of recommendations because they ✨ get it ✨. Designed with the modern hiker in mind, these shoes boast a comfortable fit and a durable design that can tackle any terrain. The zero-drop platform promotes a natural foot strike, and its grippy outsole means you stay grounded on those tricky trails. Plus, the breathable upper keeps your feet cool, even on those long summer hikes.
These are great trail runner shoes for beginners, which is what they're designed for. They're extremely lightweight and offer quality grip for rocky trails. They're suitable for wide or narrow feet, but people with wide feet will especially love anything from ALTRA.
They're also a really good pair of trail shoes for beginners in general. They fit almost regular sneakers but can handle rough terrain. And did I mention how comfortable they are?!
I'm telling you. ALTRA gets it.
A favorite among many beginner hikers, the Moab 2 offers excellent breathability, making it perfect for those hot summer hikes. Its Vibram sole provides solid traction, while the air cushion in the heel absorbs shock and adds stability.
These hiking shoes are great on rough terrain with the protective toe cap and flexible with the pigskin leather.
I never used these myself but I included them in this list because one of my very good friends who is OBSESSED with hiking and all things outdoors had these hiking shoes for years. She wore them on many trails that we tackled together and loved how long they lasted. (She's actually the same friend that introduced me to Altras when I complained about my wide feet!)
This waterproof boot is not only stylish but also functional. Its lightweight design doesn't sacrifice support, and the cushioned midsole means that they're comfortable for longer hikes.
These are solid beginner hiking boots that will provide all of the comfort, support, stability, and durability you're looking for. In fact, I had an older version of these when I was a beginner hiker years ago. I loved the stability and knowing that I could stomp through whatever came my way, like muddy trails or flooded creek crossings. They're also great for cold weather.
I don't have particularly sweaty feet, though, so I wasn't too bothered by the lack of breathability in these waterproof boots. But if you have sweaty feet, then you might not like something quite so enclosed.
If you're just starting out and looking for a reliable pair of hiking shoes, the KEEN Women's Targhee 2 is a fantastic choice. These shoes are not only stylish but also super durable, ensuring your feet stay dry and comfortable even on those unexpected rainy days. The grip is top-notch, so you can confidently tackle those slippery trails. Lots of people like t its snug fit and the added ankle support, making it perfect for those longer hikes.
Plus, with KEEN's reputation for quality, you know you're getting a shoe that's built to last.
These would be great backpacking boots because they provide the ankle and arch support that you need for longer hikes. If you plan to go on a lot of backpacking trips, then you might want to give these a try.
I've always had a really comfortable experience with Keen as someone with wide feet and I really love the traction as well. I only found them to be a bit bulky after a while and have been slowly coming into more and more lightweight hiking boots.
How to Choose the Best Hiking Shoes For Beginners
Embarking on a hiking adventure with the wrong shoes is like setting off on a road trip with a flat tire – it's bound to put a damper on the experience. Now, you don't need to splurge on a fancy, custom-made pair, but making sure that your shoes are snug, aptly fitting, and tailored for your hiking terrain is the most important thing you can do when choosing a pair of hiking boots or shoes.
Think of it this way: a classic, full-leather boot might look rugged and appealing, but it can be stiff and heavy, making your journey more strenuous. Instead, consider the nature of your hike.
Are you treading on well-maintained trails with a light pack? A pair of trail runners might be your best bet. But if you're venturing into rough terrains or carrying heavier loads, the support of a mid-cut boot will be invaluable.
In fact, most hiking enthusiasts that have been doing this for a while have a different pair of hiking boots for each "need". I have a few pairs of hiking boots myself! So don't feel like this is a final decision that you'll be trapped in for years to come.
Caring for Your Hiking Shoes
Just like any treasured possession, your hiking shoes need a little TLC to keep them in tip-top shape. After each hike, give them a good brush down to remove any dirt or debris. This isn't just about keeping them looking fresh; it's about preserving the material and ensuring they remain waterproof.
If they get wet, resist the urge to place them near a heater or in direct sunlight. Instead, stuff them with newspaper and let them air dry naturally.
And every once in a while, treat them to a waterproofing spray, ensuring they're ready and raring for the next adventure.
Common Mistakes Beginners Make When Choosing Hiking Shoes
One common mistake is prioritizing style over function. While it's tempting to choose a shoe based on looks, it's important to focus on features like support, grip, and durability.
Another error is buying shoes that fit too tightly, assuming they'll stretch over time. In reality, a snug fit can lead to painful blisters and discomfort on the trail. Plus, you'll want room for socks and foot swelling 🙂
Lastly, don't be swayed solely by price. Investing in high quality hiking boots can make a significant difference in your hiking experience, making your hiking journey a lot safer and more comfortable.
Common Questions
Okay, now that we've gone through everything you want to look for when shopping for the best hiking shoes for beginners, let's go through some questions that I've had along my hiking journey that I think you might have now.
How should hiking shoes fit?
Finding the right fit for your hiking shoes means they should be snug, but not too tight. Your toes should have enough room to wiggle, especially since feet tend to swell a bit during long hikes. A good fit is crucial not just for comfort but also to prevent blisters and foot fatigue.
PRO TIP: Always try on hiking shoes with the socks you plan to hike in, and if possible, test them on an inclined surface to ensure your toes don't hit the front of the shoes.
Are hiking shoes or boots better for beginners?
Hiking shoes are generally lighter and more flexible, making them great for day hikes and less rugged terrains. They're also easier to break in. A good hiking shoe will be great for beginner hikers who plan to walk well beaten paths without uneven terrain.
Hiking boots provide more ankle support and are often more durable, ideal for rough terrains and multi-day treks. For beginners, it's essential to consider where you'll be hiking most often. If you're starting with short, casual hikes, hiking shoes might be the way to go. But if you're diving into more challenging hikes right away, investing in hiking boots might be a wise choice.
How to break in new hiking shoes?
Breaking in new hiking shoes is like getting to know a new friend – it takes time and patience. Start by wearing them around the house or for short walks in your neighborhood. This helps soften the material and mold the shoes to your feet. Gradually increase the distance and ruggedness of your walks. And remember, always wear the socks you plan to hike in. With this process, your shoes are trail-ready, minimizing the risk of blisters and discomfort by the time you hit the trail.
My ALTRA trail shoes never needed much breaking in, just sayin' 😉
Can I use running shoes for hiking?
While running shoes are designed for speed and agility, hiking shoes are crafted for stability and protection on uneven terrains. Running shoes might be tempting due to their lightweight nature, but they often lack the necessary traction, support, and durability for hiking. So, while it's possible to use them for light trails that don't have any uneven terrain, for more challenging terrains, it's always recommended to wear shoes specifically designed for hiking for safety and comfort.
If the feel of a running shoe is really important to you, then I recommend going with the ALTRA Women's AL0A548E Lone Peak 6 Trail Running Shoe.
Final Thoughts
Good beginner hiking boots will provide the stability and cushion that you deserve for a safe and comfortable hike. Whether that's a hiking boot, which will stand up to the demands of backpacking trips and longer hikes, or a hiking shoe, which makes for versatile and lightweight outdoor footwear that can handle rough terrain, is up to what your hiking journey looks like. I hope my tips and recommendations help you find the best beginner hiking boots for YOU!