The 7 Best RV Grills for Your Next Adventure
I've been living in my parents' RV for the last month while I'm hanging out in Montana, so I've been getting really familiar with the needs of RV living.
I've also been grilling like a mofo all around these mountains.
I'll share with you all of the things you need to consider when shopping for a portable RV grill. Then I'll recommend some RV grills based on a few different lifestyle factors!
And lastly, I'll give you a few tips for maintaining your portable grill so that you don't accidentally cause yourself any headaches down the road.
How to Choose the Right Portable RV Grill For Your Setup
Here are some key factors to consider when choosing the best portable grill for your RV adventures.
Size Matters
You're going to want a grill that fits comfortably in your RV without taking up too much space. Remember, every inch counts when you're on the road. Consider the dimensions of the RV grill when it's fully assembled and when it's packed away. Some grills may look compact, but once you set them up, they could take up more space than you'd like. Check how many square inches you have available for your portable RV grill before committing to one.
Weight Watch
If you're looking for more than just an RV grill, consider portable camping grills. I've included a few in this list, but basically the lighter the grill, the easier it will be to move around. This is especially important if you plan on taking it out of the RV for some beachside or campsite barbecuing. But don't sacrifice durability for lightness. You want a camping grill that can withstand the bumps and jolts of the road.
Fuel Type
Most portable grills use either propane or charcoal. Propane grills will heat up quickly and are easy to clean, but you'll need to ensure you have enough gas for your trip. Charcoal grills, on the other hand, give that classic smoky flavor but require more cleanup. Electric grills offer the convenience of simply plugging in and getting to grilling. Choose the portable grill that suits your cooking style and convenience.
Cooking Area
If it's just you and a partner, a smaller RV grill might do. But if you're feeding a family or plan on hosting cookouts, you'll need a grill with a larger cooking surface area. Remember, it's not just about the number of burgers you can fit on the RV grill, but also about managing different cooking temperatures for different foods.
Top 7 Best RV Grills for Camping
These portable RV grills are 👌 Let's find the right RV grill for you.
KEY TAKEAWAY: This portable grill is the best with its flat griddle design. You can cook everything from pancakes to burgers, making it super versatile. The downside? It's a bit heavy and takes up more space.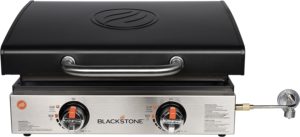 Pros: Versatile, large cooking surface.
Cons: Heavy, takes up more space.
First off, this portable grill has a sleek, stainless steel design that's not just for looks – it's built to withstand the rigors of outdoor cooking. In fact, it's been sitting outside of my RV for the past month in the wild Montana weather and, well, it's still going strong.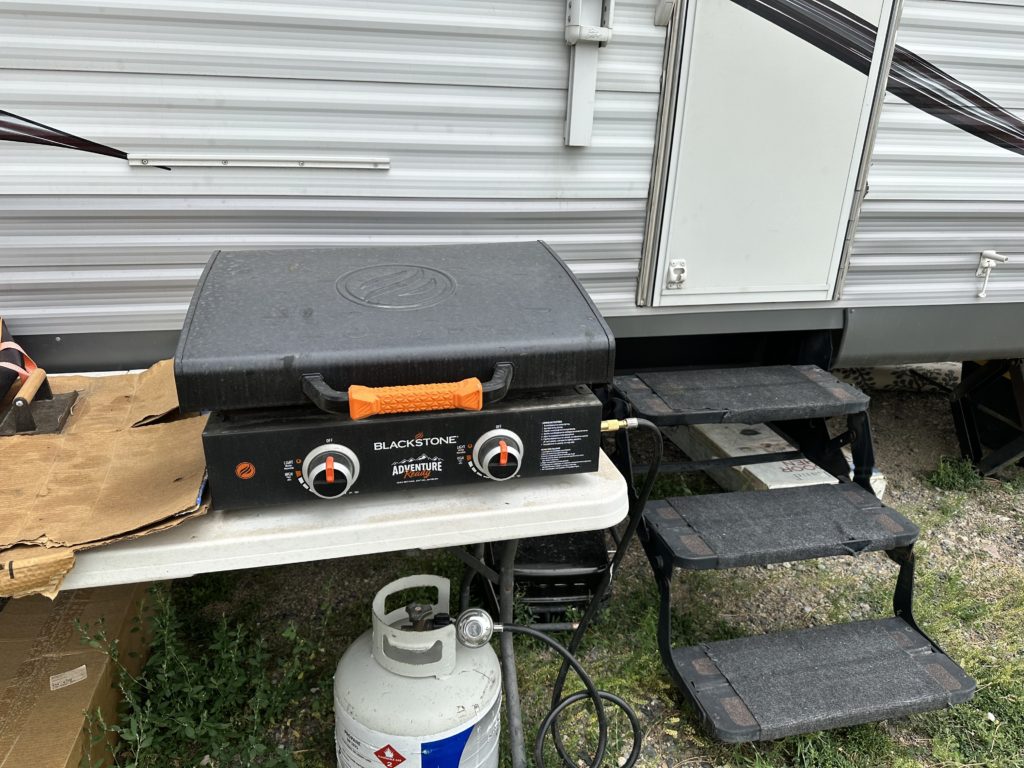 This portable gas grill is a beast, boasting 12,000 BTUs and a 22-inch cooking surface area. That's enough space to cook up a feast for your whole crew.
But what really sets the Blackstone 1813 apart is its versatility. It's not just a grill – it's a griddle, too. That means you can whip up everything from burgers and hot dogs to pancakes and eggs. It's like having a full kitchen on your RV.
It's compact and easy to transport, making it perfect for camping, tailgating, and, of course, RVing. We took it up to a lake in Montana for the Fourth of July and had breakfast.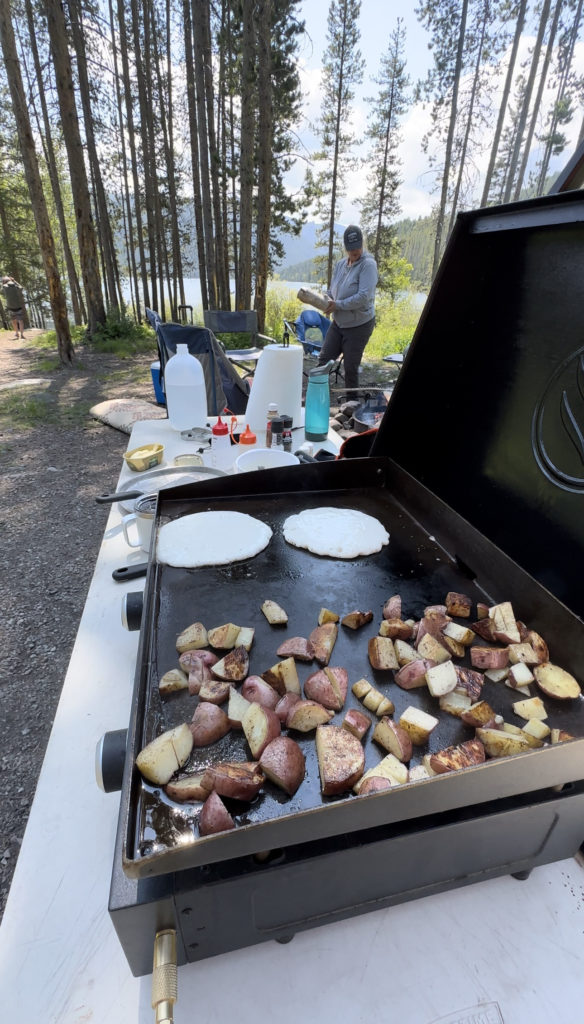 However, it's not all sunshine and rainbows. Some people reported issues with the grill arriving with damage to the hood. But Blackstone's customer service was praised for quickly resolving these issues, sending replacement parts and ensuring customers were satisfied.
For what it's worth (and I think it's worth a lot), this is actually my brother's grill and he LOVES it. He has convinced a few of his friends to get one as well. This man can grill and he can camp anywhere up here… and this is his favorite grill!
KEY TAKEAWAY: This little beauty is compact, portable, and packs a punch with its 8,500 BTU-per-hour burner. It's perfect for small gatherings and easy to clean, making it a top pick for RV campers. However, it might not be the best choice for large groups.
Pros: Compact, powerful, easy to clean.
Cons: Not ideal for large groups.
The Weber Q1000 is a master of quick, even heating. It might be small, but don't let that fool you. This grill packs a punch with its robust cooking power. It's easy to use, heats up swiftly, and offers excellent heat distribution, ensuring your food is cooked to perfection every time.
But what really sets the Weber Q1000 apart as a perfect grill for camping is its build quality. It's a Weber, so you know you're getting a well-crafted gas grill that's built to last. It's sturdy, durable, and designed to withstand the rigors of travel. Plus, it's reasonably easy to clean, which is always a bonus when you're on the road.
Just remember, this is a portable grill designed for convenience and mobility. It's not going to have the same flame size as a full-sized backyard grill.
KEY TAKEAWAY: This portable propane grill is a road trip champion. It's easy to set up, has a large cooking surface, and the interchangeable cooktops are a huge plus. But, it's on the heavier side, so keep that in mind.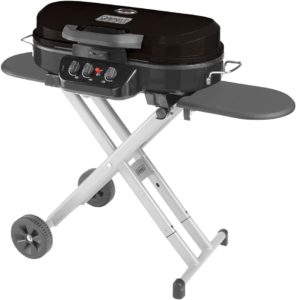 Pros: Easy setup, large cooking surface, interchangeable cooktops.
Cons: Heavy.
The Coleman RoadTrip 285 isn't just a grill, it's a portable feast machine. With a whopping 285 square inches of grilling space, you can cook up a storm for the whole crew. It's got three adjustable burners, giving you more precise control over your grilling. And with a range of 3,250 to 20,000 BTUs, this grill can handle anything from delicate fish to thick, juicy steaks.
But what really sets the Coleman RoadTrip 285 apart is its portability. The stand-up design makes it easy to set up anywhere, and when you're done, it folds up into a compact size that's a breeze to transport. Plus, it's got rugged, off-road wheels that can handle any terrain. So whether you're tailgating at the big game or cooking up dinner at the campsite, the Coleman RoadTrip 285 has got you covered.
KEY TAKEAWAY: This gas grill is a great option for those who prioritize portability. It's lightweight, compact, and easy to carry. However, its small size means it's not the best for large meals.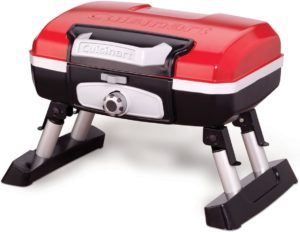 Pros: Highly portable, lightweight.
Cons: Small cooking surface.
This little dynamo is the perfect blend of convenience and quality, making it an absolute must-have for your next camping adventure.
Don't let its petite size fool you. The Cuisinart CGG-180T packs a punch with its 5,500 BTU burner and spacious 145 square inch grilling area. It's enough to cook family-sized meals, yet compact enough to fit in the smallest of spaces. Whether you're grilling up some juicy burgers, skewered veggies, or even a whole chicken, this compact grill has got you covered.
What I love about this gas grill is its portability. With its briefcase-style handle and lightweight design, it's a breeze to carry around. Plus, its sturdy aluminum legs provide excellent stability, so you can set it up on any surface without worrying about it toppling over.
But what truly sets the Cuisinart CGG-180T apart is its efficiency. It heats up quickly, cooks evenly, and cools down fast, making it perfect for those spontaneous BBQ parties. And with its easy-to-clean porcelain-enameled grate, the after-party cleanup is a cinch.
KEY TAKEAWAY: This grill is designed specifically for RVs. It mounts directly to your RV and includes a bracket for hanging. It's a great space-saver, but it's not as portable as other options.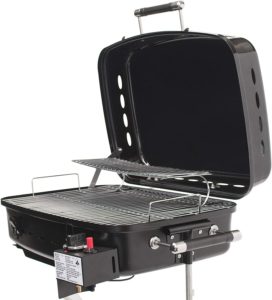 Pros: Space-saving, designed for RVs.
Cons: Kinda bulky for transporting.
This trailer mounted BBQ grill is a complete grilling station designed with the RV traveler in mind. It comes with a bracket that mounts directly onto the side of your motorhome, RV, or trailer, turning any spot into your personal cookout haven.
This portable grill isn't just convenient; it's powerful too. With a 12,000 BTU output, an adjustable flame controller, and a generous 214 square inches of grilling surface, you'll have all the tools you need to cook up a storm. Plus, it features an upper grill deck for even more cooking versatility.
One of the standout features of the Flame King YSNHT500 is its adaptability. The hanging rack doubles as legs, making the grill free-standing. This means you can take it off your RV and set it up for tailgating or camping.
Safety is also a priority with this grill. It's designed with locking retainer pins to secure it on the mounted bracket, and a dual locking lid ensures secure storage.
As for compatibility, the Flame King YSNHT500 works with Flame King hose model# 100395-72 for connecting to your RV system, and model# LPRH8 for connecting to any standard Propane cylinder.
KEY TAKEAWAY: This little beauty is the perfect companion for any RV trip. Compact yet mighty, it's designed to deliver a top-notch grilling experience no matter where you park your home-on-wheels.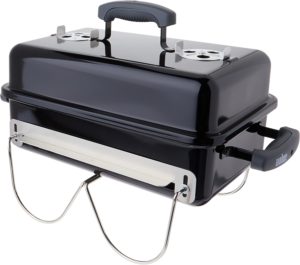 Pros: Highly portable, efficient grilling.
Cons: Handle durability isn't great, quick coal burn.
This compact charcoal grill is a fan favorite for a reason. It's small enough to fit in the tightest of storage spaces, yet it doesn't compromise on the grilling area.
The grill's sturdy construction ensures it can withstand the rigors of outdoor cooking, and the heat-resistant handles mean you can move it around without worrying about burning your hands.
But what sets this portable charcoal grill apart is its portability for a charcoal grill. The folding legs not only make it compact for storage, but they also lock the lid in place for easy and safe transport. So whether you're grilling at the beach, tailgating at a game, or just cooking dinner at your campsite, the Weber Go-Anywhere Charcoal Grill lives up to its name.
KEY TAKEAWAY: This is the fastest, easiest, and most portable electric grill on the market.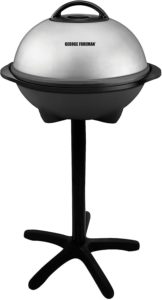 Pros: The grill heats up 35% faster than its counterparts, easy cleanup.
Cons: The grill can feel a bit unstable, some spattering.
This portable electric grill heats up 35% faster than its counterparts, ensuring you get to enjoy your grilled delicacies without the long wait. And when it comes to cleaning, it's a breeze. The grill comes with removable plates that are dishwasher-safe, making post-meal cleanup as easy as pie.
The grill plates are coated with George Tough nonstick coating, which not only ensures your food doesn't stick but also stands up to both cooking and cleaning. This is a huge plus for those who dread the scrubbing and scraping that usually comes with grilling.
One of the standout features of this electric grill is its adjustable heat range. Whether you want to keep your food warm or sear your steaks to perfection, this grill has got you covered. The electric heat can be adjusted from low to high to suit your cooking needs.
The design of the compact grill is also worth noting. It has a subtle slope, with channels that draw accumulated fat or other liquids into a tray just below the surface. This means you can enjoy healthier meals with less fat. Plus, the high domed and vented lid creates a circular flow of hot air to ensure even cooking. This is particularly important when you're cooking a large roast or whole chicken.
The portable grill can be used either on a tabletop or on its pedestal, making it versatile for both indoor and outdoor use. And while the electric grill is sturdy, it's also a bit top-heavy, so you'll want to be careful if you're grilling in a high-traffic area or near kids.
Tips for Using Your Grill For Camping
When you're out in the great outdoors, nothing beats the taste of a meal cooked on a grill. But to make sure your RV camping grilling experience is as smooth and enjoyable as possible, here are some practical tips and advice:
Prep Ahead: Before you hit the road, prep your meals at home. Marinate your meats, chop your veggies, and have everything packed in reusable containers. This not only saves time but also reduces the mess you'll have to clean up later.
Choose the Right Grill: Not all camping grills are created equal. Consider your needs and choose a grill that's portable, easy to set up, and has enough cooking space for your group. Remember, the best RV grill is the one that fits your camping style and culinary preferences.
Safety First: Always set up your RV grill in an open area away from your RV and any flammable materials. Keep a fire extinguisher nearby and never leave your grill unattended when it's on.
Clean After Each Use: Cleaning your RV grill after each use will prolong its life and ensure it's ready for your next BBQ. A simple scrub with a grill brush and some warm soapy water can do wonders.
Cover Up: If your RV grill came with a cover, use it! It will protect your grill from the elements and keep it in good shape for many camping trips to come.
Frequently Asked Questions
How To Clean And Maintain An RV Grill?
After each use, make sure to give your RV grill a good scrub with a grill brush to remove any leftover food particles. Don't forget to empty the grease tray – nobody wants a grease fire on their hands. Every few months, give it a deep clean. Disconnect the propane tank, remove the grill grates and give them a good scrub with a wire brush and some soapy water. Wipe down the inside of the grill with a damp cloth. 
What Are The Safety Precautions When Using An RV Grill?
Always set up your grill in an open area, away from your RV and any flammable materials. Keep a fire extinguisher nearby, just in case. Never leave your grill unattended when it's on, and make sure it's completely cool before packing it away. And remember, grilling is a lot like sunbathing – it's best done outdoors. Never use your grill inside your RV or any enclosed space to avoid carbon monoxide poisoning.
How To Choose The Right Size Of An RV Grill?
If you're a solo traveler or a couple, a smaller, portable grill might be just the ticket. But if you're traveling with a larger group or you're the designated grill master for your RV park, you might need a larger grill with more cooking surface. Also, consider your storage space. You don't want your new grill to take up all the room in your RV. So, measure your available space before making a decision.
Is There A Difference Between Gas Grills And Propane Grills?
The terms "gas grill" and "propane grill" are often used interchangeably, but there's a slight difference. Gas grills can run on either propane (LP) or natural gas (NG), while propane grills are specifically designed to run on propane gas. So, all propane grills are gas grills, but not all gas grills are propane grills.
The Bottom Line
These are the best portable camping grills out there right now. No matter which of these RV grills you choose, you'll get a good one. These are generally the kinds of portable grills you can choose from:
Electric grills
Gas grills
Charcoal grills
The most popular type are gas grills (more specifically, propane grills). These are like the perfect marriage between electric grills and charcoal grills. They give you a nice fire-cooked experience that comes with a charcoal grill with the ease and convenience of an electric grill.