51 Car Camping Tips For a Safe And Easy Road Trip
I've spent countless nights under the stars, nestled in the back of my RAV4. I've woken up to stunning sunrises, cooked meals in the wilderness, and explored places I'd never have reached on foot.
Car camping has also taught me valuable skills. I've learned how to plan and prepare for trips, how to cook meals with limited resources, and how to stay safe while camping in remote areas.
These experiences have not only enriched my travels but also made me a more resourceful and resilient person.
These car camping tips and tricks will allow you to do the same for yourself!
My Top Car Camping Tips
Before we get into the many car camping hacks, here are a few quick and dirty car camping tips to start:
Pack warmer than you think you'll need, but lightweight. You'll appreciate this on cold nights!
Get more lighters than you think you'll need.
Consider getting a handheld torch if you plan to make campfires.
Test out your sleep setup a few times before taking off. A good night's rest goes a looong way.
Turn off the lights in your car so that you can leave your doors open without draining your car battery.
Try to keep a full tank as much as possible through your entire trip. There are some stretches without gas stations, some gas stations are too crowded or the price is too high, and you really never know where you might accidentally make a wrong turn. Having a full tank gives me peace of mind.
Bring only what you need. Overpacking can lead to clutter and discomfort.
Keep your car tidy. This not only makes your trip more enjoyable but also safer.
Download your Google maps before you begin your road trip so that you don't have to rely on cell service.
Using window covers not only provides privacy but also adds an extra layer of safety. I've shared a detailed guide on how to cover car windows for sleeping on my blog.
Having a reliable internet connection can be a lifesaver in case of emergencies. If you have reliable cell service, then that can work well. But if you're out of range for your cell service, then you'll need a few other things to make sure that you're always connected. Check out my post on how to get Wi-Fi while camping for some tips.
Always have a plan B. Whether it's an alternative safe location to sleep or a backup power source, being prepared can make your car camping experience much safer and more enjoyable.
Car Camping Hacks For Conserving Water
You've typically got limited water (and space) while car camping, so it helps a lot to get smart about conserving water on your car camping adventure. After living out of my car and various RV trailers for the better part of the year, here are my best car camping hacks for conserving water:
Wipe dishes with a damp cloth and barely any water instead of submerging in water.
When brushing your teeth, take water into your mouth as your last step, then stuff the toothbrush in there and give it one more scrub with the water still in your mouth. This rinses the toothbrush and your mouth without using water for each step.
Car Camping Hacks For Saving Space
Sleeping in your car means that a lot of space is taken up by you and your sleep system. Here's how to maximize space:
Smash cans, twist bottles, stuff soft plastics in a used plastic bottle. They take up too much space without doing this and get out of control quickly.
Store bulky items under your sleeping platform. This is where I keep my backpacking and hiking gear, which I don't use daily.
I'm considering getting a cargo box to put on top of my RAV4 to make more space for camping essentials inside of my car, and keep everything else up top.
Car Camping Setup Tips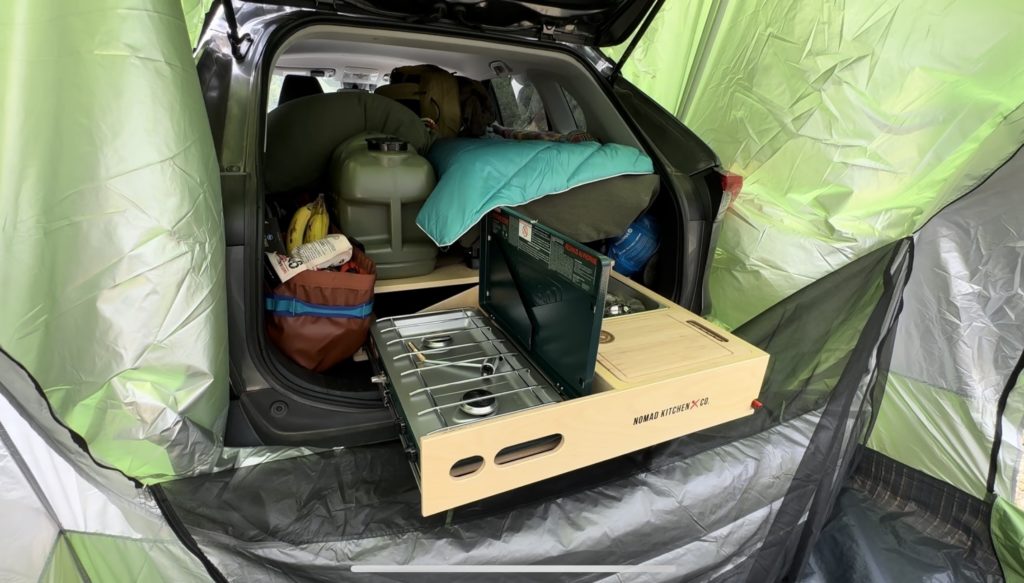 My biggest tip after my car camping trip is to get the right car camping gear. Based on my own car camping needs, here is some of the essential camping gear that made a massive (positive) difference in my experience:
Buy levelers for your car for uneven campsites.
Get a sturdy SUV tent, totally worth it! I went with the Hasika SUV Tent. Unlike tent camping, where you sleep in the tent, I use the SUV tent as a living space during the day.
100% get window coverings for insulation, I use Reflectix insulation.
A comfortable bed is one of the most important factors for me at this point. I started out with an inflatable sleeping pad but it was awful. I've since upgraded to the HEST Foamy mattress pad and it has made all the difference in the world! If you have space, then you can pop an air mattress into the back of your car.
A comfortable sleeping bag that is appropriate for the weather.
A folding table makes a major difference in comfort and convenience. I really like this foldable KingCamp table.
Get yourself a stargazing chair, a hammock, and a few other lightweight seating options for an extremely comfortable space.
Battery powered lights, a head torch, and a solar powered lantern make things a lot easier on dark, cold nights.
Get a two burner stove that can slide under your storage when it's not in use. I like this camp stove, but you can get any camp stove that fits with your setup.
A solar power station is extremely helpful to have on hand, no matter how much you actually need it. I really like my Jackery Explorer 1000.
This messware kit has been absolutely essential for me and my kitchen. It's easy to clean and store, doesn't stain, and is sturdy!
You can see all of my car camping essentials in my blog post about my RAV4 car camping conversion.
Feminine Hygiene Tips for Car Camping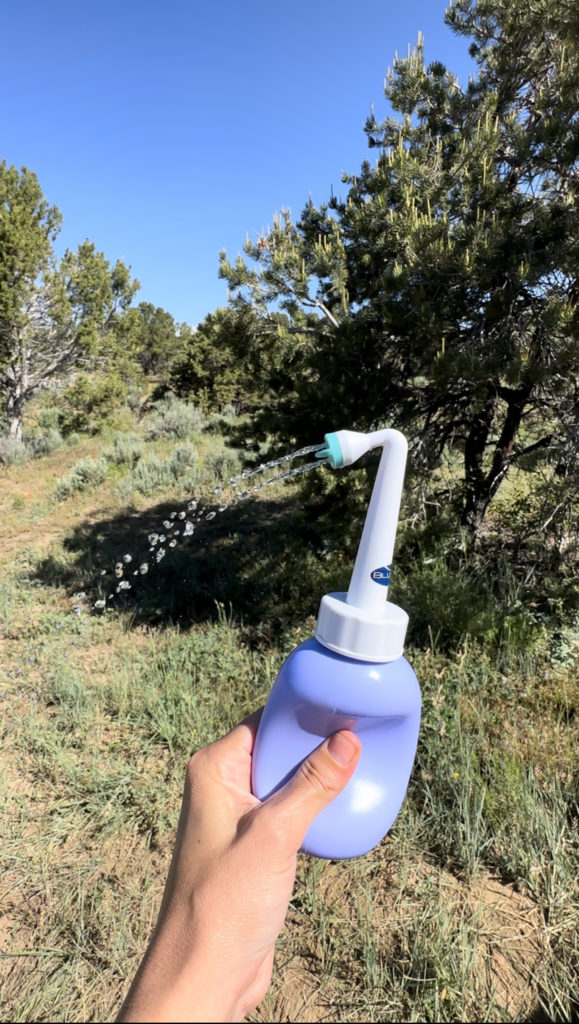 Having a collapsible water basin for sponge baths is the untold luxury of car camping.
A travel bidet is perfect for keeping your private parts clean when you are deep in your car camping trip.
Keep hand sanitizer in your front door, near your kitchen supplies, and next to your poo shovel. Trust me.
I really like this Scrubba Portable Wash Bag, which allows me to wash my clothes in a pinch. I usually save a big load for wash-and-fold service at a laundromat, but accidents happen. Period leaks happen. My-favorite-tank-getting-smelly happens.
Heat safe water bottles are great for when you have menstrual cramps. Boil water quickly in a Jetboil and pop it into your heat safe water bottle for quick cramp relief.
Read through my guide to camping essentials for women for way more tips 😉
Safety Tips for Car Camping
Car camping is an exciting way to explore the great outdoors, but it's essential to prioritize safety, especially when you're sleeping in your car. Here are some tips to ensure a safe and enjoyable car camping experience.
Choose Safe Locations to Sleep
When it comes to car camping, your choice of location can significantly impact your safety. Here are some safe places to consider:
Campgrounds And RV Parks: These should be a safe bet, but not all campgrounds allow you to sleep out of your vehicle. A quick phone call before you arrive will ensure you don't find yourself out in the cold.
Highway Rest Stops: These can be a great place to stop, stretch, and get some rest. However, not all rest stops allow overnight stays, so it's important to do a little research on state highway websites before your trip.
Walmart Parking Lots: Most Walmart stores welcome overnight parking unless there's a sign indicating otherwise. It's always a good idea to double-check with the store manager.
Truck Stops: These also allow overnight parking and offer services like Wi-Fi and showers. However, keep in mind that trucks can be noisy, so pack a set of earplugs if you choose this option.
Make sure to choose a safe and legal place to park overnight, such as designated campgrounds or certain public lands. Always check local regulations before you settle in for the night.
Safety Tips for Women Car Camping
As a woman, car camping can feel intimidating, but with the right precautions, it can be a safe and rewarding experience. Here are some tips:
Choose a Safe Location: Research your camping spot beforehand. Use resources like iOverlander and Freecampsites.net to find safe and legal places to sleep. I use The Dyrt to scope out free campsites and read the reviews, which often include safety details.
Trust Your Gut: If a location or situation doesn't feel safe, trust your instincts and move on. The beauty of car camping is that you can always drive away if you need to.
Stay Aware: Always be conscious of your surroundings. Avoid getting out of your car in unfamiliar areas at night.
Share Your Location: Share your location with a trusted friend or family member so someone knows where you are.
Lock Your Doors: Always lock your doors when you're inside your vehicle, and keep your keys handy. If you hear someone messing with your vehicle, you can sound the alarm from your key fob. This is also just a really nice feeling when camping in bear country.
Stay in Well-Lit Areas: When parking for the night in a city, choose a spot that's out of the way but still in a well-lit area. This can deter potential intruders.
Prepare for Emergencies: Carry jumper cables and a car emergency kit. Have a roadside assistance service, like AAA. This car emergency kit has it all!
Self-Defense: Consider carrying self-defense items like mace or bear spray, especially if you're camping alone.
Food and Drink Tips for Car Camping
When it comes to car camping, food and drink are not just about sustenance, they're part of the adventure! Here are some tips to make your culinary experience on the road enjoyable and hassle-free.
1. Master the Art of Campfire Coffee
There's nothing quite like sipping a hot cup of coffee while surrounded by nature. But how do you make coffee while camping? It's simpler than you might think. The best tasting coffee comes from my Nanopresso. For more details and reviews on the best way to make camp coffee, check out my post on how to make coffee while camping.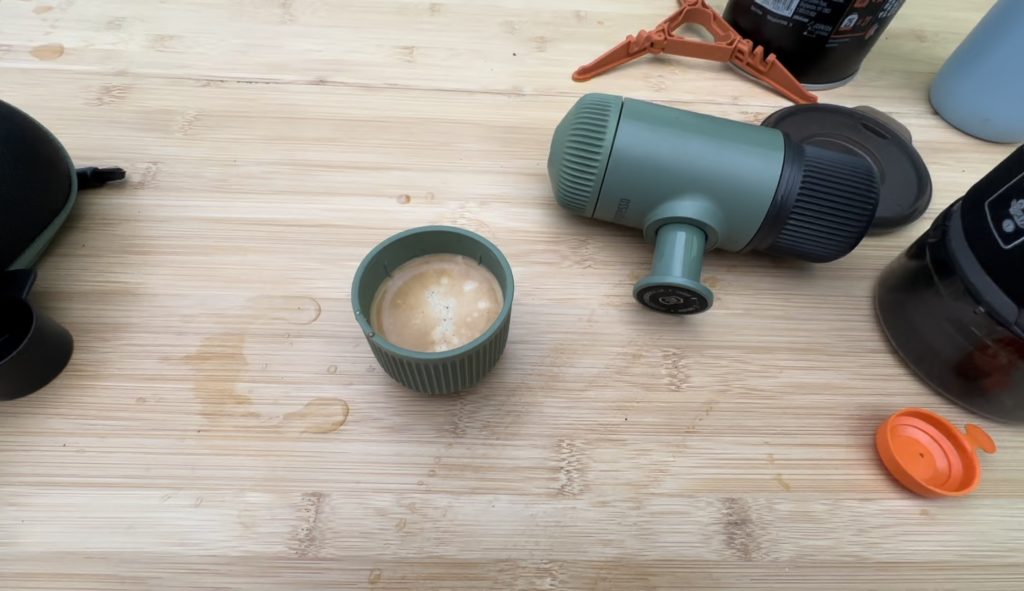 2. Plan Your Meals
Before you hit the road, plan your meals and snacks. Consider meals that are easy to prepare and don't require a lot of ingredients or utensils. Sandwiches, canned goods, and easy-to-cook items like veggie dogs and burgers are great options for a road trip. See more of my road trip snacks I recommend!
3. Pack a Cooler
A good cooler is essential for car camping. It keeps your perishables fresh and your drinks cold. Pack items that can spoil quickly at the bottom, where it's coldest, and use ice packs or ice to keep the temperature down. Remember to replenish the ice as it melts. I like this small cooler because it's super compact, but it doesn't keep food that cold. But it does work for keeping things fresh!
4. Bring Plenty of Water
Staying hydrated is crucial, especially if you're camping in hot weather or engaging in physical activities. Bring more water than you think you'll need for drinking, cooking, and washing up. I really like this 8 gallon water container. I try to fill it up at natural springs or water refill stations. If you're camping in a location without access to potable water, consider bringing a water purifier or water purification tablets.
5. Practice Leave No Trace
Remember to pack out all your trash, including food scraps, to keep the camping area clean and prevent attracting wildlife. Consider using reusable dishes and utensils to minimize waste. Use RV toilet paper (and pack it out!) to save space in your garbage.
6. Secure Your Food
If you're camping in bear country, then you need to store food securely. Always secure your food, either in your car or a bear-resistant food storage container, to prevent attracting animals to your campsite. A food bag hanging system works perfectly for this.
7. Enjoy Local Delights
Part of the fun of traveling is trying local foods. Check out nearby towns and try their local specialties. You can also visit local markets to see local shops and get fresh produce and unique regional items for your meals.
Conclusion
I'll continue to add to this as time passes since I'll be living on the road for a better part of the year! Drop a comment with any questions or car camping tips that you think should be added!