How To Get WiFi While Camping: A Comprehensive Review
If you're thinking about using your cell phone for a WiFi connection while camping, then I'm here to save you.
I've lived outside of the US for the last 10 years and come back periodically for epic road trips to visit friends and family. I work remotely so I always need good internet signal… which means that I've researched a lot of options and tried a handful.
I'll share with you my favorite ways to get wifi while camping, which cell phone providers can get you by, what mobile hotspot device to look for, and other (better!!) ways to get solid internet access while camping.
Here's how to get WiFi while camping that actually works.
My Personal Experiences with Camping WiFi
First things first: I use Starlink. It's expensive, I know. I didn't want to use it because it's expensive, big, heavy, and honestly I just feel really self-conscious when I have it set up in an epically beautiful and remote location because it's like… aren't you here to enjoy the outdoors?
Yeah, I am. And I get to do it while I'm working too… not just when I'm on vacation or on a camping trip.
But I've tried a few different cell phone plans and cell phone tower boosters, all of which failed miserably in providing a solid connection while also being out in the wild. Sure, they work when I'm close to a city but why the hell would I want to be close to a city??
As they say, more data, more problems. (Wait, is that how it goes?)
I've tried these options for internet while camping:
Verizon network (sucked and expensive)
Mint Mobile (same as Verizon but cheaper, with limited hotspot data)
WeBoost (honestly, didn't even notice a difference… you need to be close to cell phone towers for it to work and whenever I am close to a tower my phone works fine anyway)
✨ Starlink ✨ (expensive but the GOAT for satellite internet with the best coverage)
I don't really get any commissions from most of these solutions and definitely not from Starlink, so you can trust that this is just based on my experience car camping. Homegirl really does want to help you get outside with solid internet while camping!
Now that I've cut to the chase, let me go through excruciating detail about every single WiFi option while camping.
The Best Options For WiFi For Camping
Getting internet while camping really depends on what kind of camping you're going to be doing (and how you'll be using the internet!). Everything I'm writing here is based on me being a remote worker who works online as an independent contractor. So it's important that I have strong internet for video calls, streaming, uploading, and general work.
I typically work a few days a week for around 6 hours on those days. Maybe even less than that… but it's a good reference point for you here.
Starlink: A Portable Satellite Internet Solution for Campers
Portable satellite internet is the tits (Aussie slang for ya!) and it is my number one recommendation for remote workers. Especially if you're doing video content. I can use as much internet as I want with a reliable connection everywhere I go.
Satellite internet is a fantastic solution for campers who love to venture off the beaten path (AKA rural areas). It works by sending and receiving data from a small satellite dish on Earth to an orbiting satellite, which then sends the data to a network operations center that connects to the Internet. This means you can get internet access virtually anywhere on Earth, as long as you have a clear view of the sky.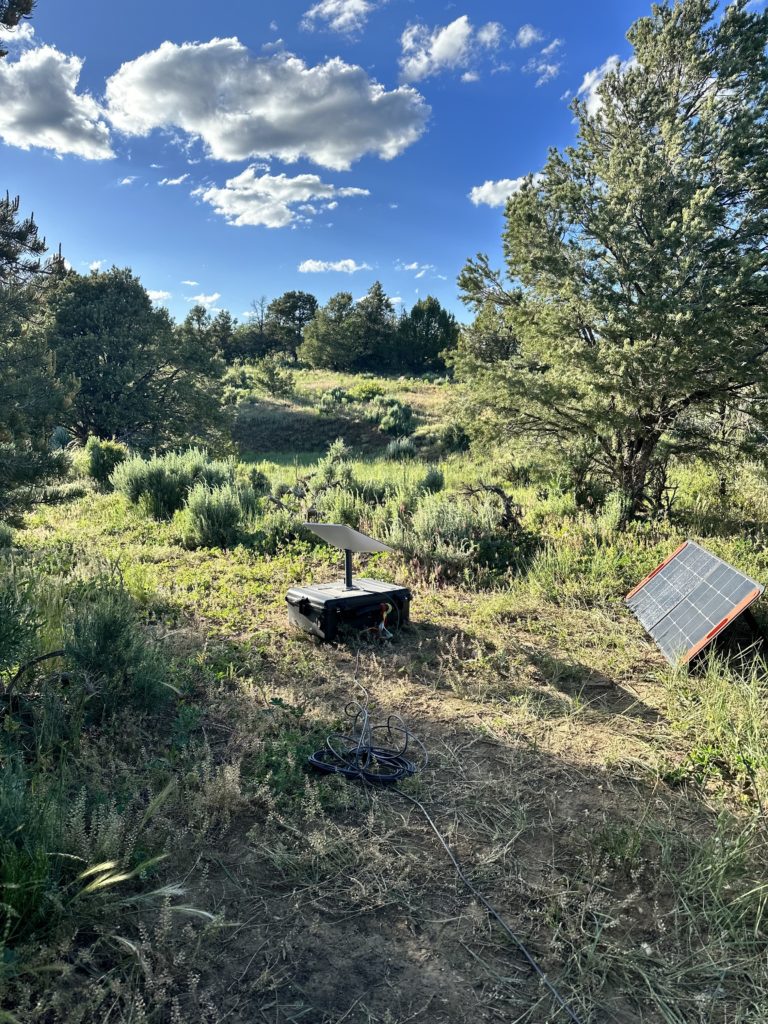 This solution is ideal for campers who find themselves in remote locations, far from cell towers or traditional Wi-Fi sources. Brands like Starlink, HughesNet, Viasat, FreedomSat, Network Innovations (MobilSat), Expedition Communications, and Outfitter Satellite offer satellite internet solutions that can keep you connected, even in the most remote locations.
However, it's important to note that while satellite internet is widely accessible, its reliability can vary. Weather conditions, physical obstructions, and the specific location can impact the quality of the connection.
This is where it gets a little tricky (but still wayyyyyy better than the other solutions). I didn't have a great signal at one campsite because I was up against the trees and didn't have a consistent clear view of the sky. So now I search for campsites with a wide opening… but this invites high winds 🙃 So while the internet is fantastic with Starlink, it also means you might have to compromise on other campsite comforts, like shade and protection from the wind.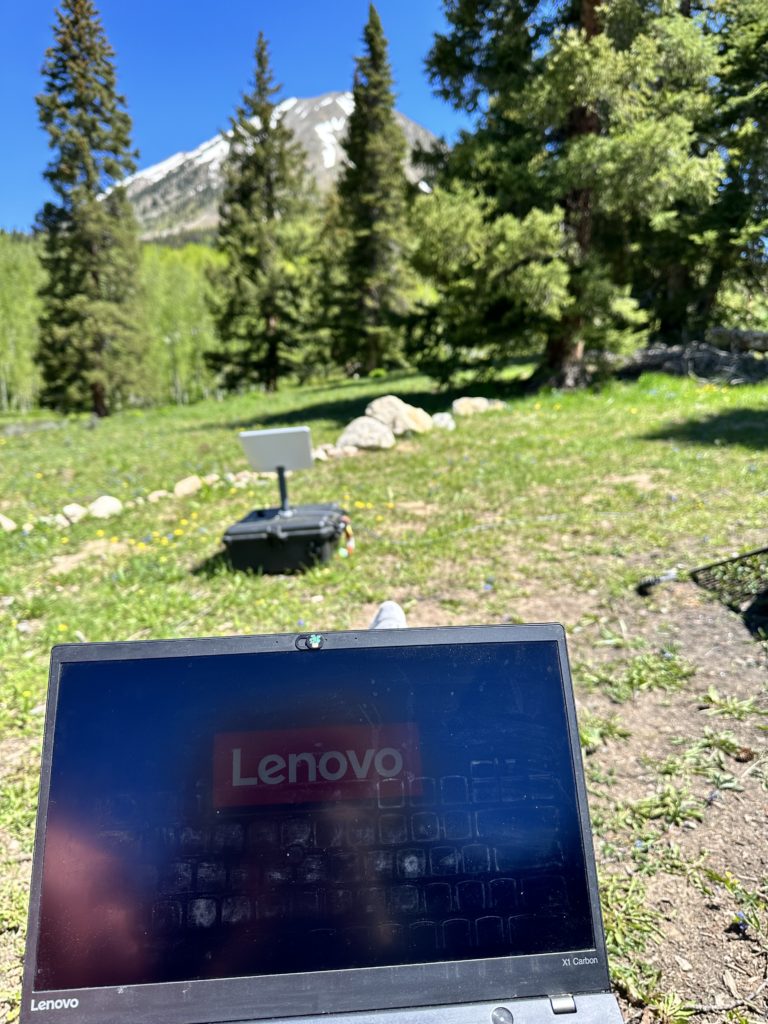 Satellite Internet Providers Offering This Solution:
Reliability Rating: 10/10 (Starlink). The reliability rating for these solutions can vary greatly depending on the specific location and weather conditions. So far, I've had excellent results with Starlink.
Cell Tower Extenders: A Potential Pitfall
Cell tower extenders, also known as cell signal boosters, are a popular choice for campers who want to stay connected while on the road. These devices work by capturing weak cell signals, amplifying them, and then rebroadcasting the stronger signal within your RV or camping area. This can significantly improve your cell signal strength, leading to better call quality, faster data speeds, and fewer dropped calls. It would also, in theory, improve your internet signals too.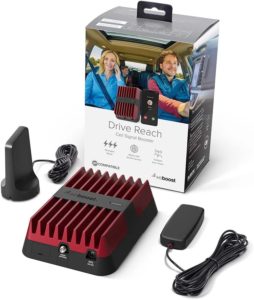 Brands like WeBoost, KING Extend, and Bolton Technical offer a range of cell phone antenna booster and tower extenders, each with their unique features and benefits. For instance, WeBoost's devices are known for their easy installation and effective signal boosting, even in areas with weak cell coverage. On the other hand, KING Extend offers a cell signal booster specifically designed for RV use, boasting a range of up to 32 times the signal strength of a typical cell phone alone.
The effectiveness of these devices largely depends on the proximity to a cell tower. If you're camping in a remote area with no nearby cell towers, a cell tower extender may not be able to improve your signal. Factors like the terrain and weather can also affect the performance of these devices.
For this exact reason, I haven't had much success with solution. I experienced unreliable and slow speeds, which didn't cut it for work. However, it was sufficient for checking stuff on my phone (though still with slow speeds).
Brands Offering This Solution:
Reliability Rating: 5/10. These brands generally receive positive reviews from users, with an average reliability rating of around 7 out of 10… but my experience with WeBoost has been so unreliable and honestly unhelpful that I wouldn't rely on this if you're working remotely like I am.
Portable WiFi Routers: An Emerging Solution
Portable WiFi routers are a fantastic solution for campers who need reliable internet access on the go. The first time I ever used one of these was actually in Thailand and it worked great!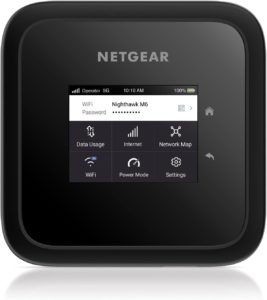 These compact devices work by connecting to cellular networks via a SIM card, much like your smartphone. The router uses its built-in antenna, or in some cases, an external one, to receive and transmit data to nearby cell towers. This means you can create your own private WiFi network, wherever you are, as long as there's cell coverage.
These routers are ideal for campers because they're easy to set up, portable, and can connect multiple devices at once. This makes them perfect for families or groups of friends who want to stay connected during their camping trip.
Brands like Netgear Nighthawk M1, and Google Fi offer portable WiFi routers that are well-suited for camping. For instance, the Netgear Nighthawk M1 provides fast 4G LTE internet speeds and can connect up to 20 devices at once, making it a great choice for larger groups.
However, there are a few considerations to keep in mind. First, these routers require a SIM card and a data plan, which can add to the overall cost. Second, their effectiveness depends on the proximity to a cell tower. If you're camping in a remote area with no nearby cell towers, a portable WiFi router may not be able to provide a strong internet connection. This is actually the biggest drawback I had in Thailand… it only worked where I already had access to the internet.
Lastly, while these devices are generally reliable (with an average reliability rating of 8/10), their performance can be affected by factors such as terrain and weather. So, while portable WiFi routers are an excellent solution for many campers, it's important to consider your specific needs and camping location before making a decision.
Brands Offering This Solution:
Reliability Rating: 8/10. The reliability of these brands is generally high, with most offering easy setup, stable connections, and the ability to connect multiple devices. However, the performance can vary depending on the proximity to a cell tower and the specific data plan used.
Phone Hotspots: A Handy Tool for Internet Access
Phone hotspots are a popular solution for campers who need internet access on the go because most of us already have it! They work by sharing your phone's cellular data with other devices, essentially turning your phone into a mini Wi-Fi router. This is an easy solution if you have a good data allowance, and most mobile hotspots can connect up to 10 devices.
However, it's important to note that using a phone hotspot can quickly drain your phone's battery, so it's best to have a charging solution on hand. The speed and reliability of the connection depend on the cell service in the area. If you're camping in a remote location with poor cell service, your phone hotspot may not work as well.
Last year when I road tripped around Utah, Montana, Wyoming, Idaho, and Colorado, I had Verizon and used that as a hotspot…. Which did NOT work in most places I was visiting. It only worked near cities, which was pretty unimpressive considering how expensive Verizon is.
Now, I use Mint Mobile, which is super affordable, and get the same access as Verizon in most places honestly. I don't use it as a hotspot and instead rely on my Starlink.
Another thing to consider is the limitations of your cell phone plan. For example, with Mint Mobile, I can only hotspot up to 5G (or else I have to pay for more). Some mobile phone plans have unlimited data usage as a hotspot… so look into that before committing to something.
Brands Offering This Solution:
Reliability Rating:
Visible: 8/10
AT&T: 9/10
T-Mobile: 9/10
Verizon: 9/10
Boost Mobile: 8/10
Mobile Hotspot Devices: A Compact Internet Solution
These little heroes provide a reliable internet connection while you're out in the wilderness. The best part? They have their own battery, so you don't have to worry about draining your phone's battery while staying connected. Talk about convenience!
Just remember, the speed and reliability of your internet connection with a mobile hotspot device depend on the cell service available in the area (again 😒). So, it's a good idea to check the coverage maps of different carriers to find one that offers a strong signal in your camping destination.
Mobile hotspot devices work their magic by connecting to a cellular network, allowing you to access the internet while on the go. They are portable, versatile (connecting multiple devices at once), and often have a longer battery life compared to phone hotspots. Just keep in mind that you'll need a SIM card and a data plan to make them work their wonders.
Brands Offering This Solution:
These mobile hotspots from reputable brands provide reliable internet connectivity and various features such as touch screens, SIM-swapping flexibility, and support for multiple carriers. Whether you're looking for fast 5G connectivity, broad compatibility, or the ability to switch providers, these hotspots are excellent options to consider for staying connected while camping.
Reliability Rating: 6/10. Mobile hotspots generally offer reliable internet connectivity while camping, with user-friendly interfaces and affordability, relying on cellular networks for access. However, the strength and coverage of the cellular network in the camping area can affect the overall reliability of the connection.
Internet USB Devices: A Plug-and-Play Option
When it comes to staying connected while camping, USB Wi-Fi adapters can be a lifesaver. These adapters allow you to easily add wireless capabilities to a desktop PC or upgrade the Wi-Fi performance of an older laptop. Whether you need smooth streaming, uninterrupted video calling, or a reliable internet connection, USB Wi-Fi adapters can provide the solution.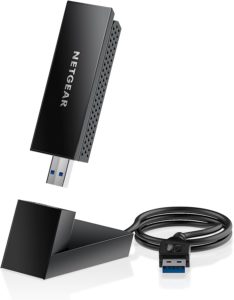 Brands Offering This Solution:
Each USB Wi-Fi adapter comes with its own set of features and performance capabilities, so you can choose the one that best suits your needs. Whether you're looking for high speeds, long-range coverage, affordability, or compact design, there's an option for every camping situation.
Reliability Rating: 6/10. USB internet devices provide reliable connectivity while camping, offering ease of use and portability. They rely on cellular networks and offer a convenient plug-and-play setup, making them a reliable option for accessing the internet on the go. But once again, it depends on access to towers, making it less reliable.
WiFi Extenders: Boosting Your Internet Range
This nifty device grabs the WiFi signal with its trusty exterior antenna mounted on your rig and rebroadcasts it within your cozy RV.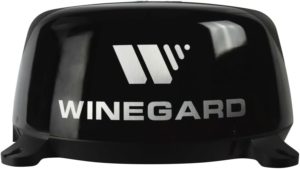 But let's be honest, WiFi extenders aren't flawless. They have their quirks and limitations. If the network you're connecting to is slow or congested, your connection might suffer too. However, they can still come to your rescue and provide a better connection than going without them. They're like a beacon of hope when you need to access distant or weak networks that would otherwise be out of reach.
WiFi extenders have a special power: they expand the range of a WiFi signal, allowing you to venture further and stay connected. Whether you're relying on campsite WiFi or using a portable WiFi router, these magical devices boost your signal strength and help you conquer WiFi challenges in the great outdoors.
Brands Offering This Solution:
Reliability Rating: 6/10. Wi-Fi extenders can help improve Wi-Fi signal at a campsite, extending the range of your network, but their reliability is dependent on the quality and congestion of the existing Wi-Fi network being extended. While they can be a helpful solution, slow or congested networks may impact the connection quality provided by the extender.
Working Without WiFi: Strategies for Offline Camping
Ah, the thrill of going off the grid and venturing into the realm of offline camping! But fear not, intrepid adventurer, for we have some strategies up our sleeves to help you navigate, stay entertained, and be productive, even without the luxury of WiFi.
Downloading maps, entertainment, and work documents for offline use.
When you're heading into areas where WiFi signals fear to tread, it's wise to arm yourself with essential tools and resources that don't rely on an internet connection. Here are some tips to ensure you're well-prepared for your digital detox:
Offline maps are your trusty guides: Before embarking on your camping journey, download maps of the areas you'll be exploring. Many popular map apps offer offline functionality, allowing you to access directions and navigate without an internet connection. So whether you're conquering a hiking trail or finding your way back to the campsite, your trusty offline maps have got your back.
Entertainment for the digital downtime: Before leaving the land of WiFi, download your favorite movies, TV shows, podcasts, and ebooks onto your devices. This way, you'll have a stash of entertainment to enjoy during those quiet evenings under the stars or cozy nights in your tent. Who needs WiFi when you have a captivating story or gripping podcast episode?
Work offline like a pro: If you need to be productive while offline, make sure to download and sync any necessary work documents, spreadsheets, or presentations before setting off. Cloud storage services like Google Drive or Dropbox often have an offline mode, allowing you to access and edit your files without an internet connection. So even if you're miles away from the nearest WiFi hotspot, you can still conquer your work tasks like a digital trailblazer.
Using a GPS device for navigation.
When you're deep in the wilderness, relying on good old-fashioned navigation skills can be quite the adventure. But for those seeking a little technological assistance, GPS devices can be your guiding light. Here's how you can navigate like a pro without a hint of WiFi:
Get a dedicated GPS device: Consider investing in a dedicated GPS device designed for outdoor activities. These rugged devices come with preloaded maps, waypoints, and other nifty features to help you find your way. Some even offer topographic maps, so you can conquer those challenging terrains with confidence. With a GPS device by your side, you'll be navigating through the wilderness like a seasoned explorer.
Utilize smartphone GPS apps: If you prefer to use your smartphone for navigation, there are GPS apps available that work offline. Simply download your preferred GPS app, download the necessary maps for offline use, and let your phone's GPS receiver guide you on your journey. Just remember to conserve battery power and bring along a backup power source like a portable charger.
Remember, venturing offline offers a chance to immerse yourself fully in nature, to engage in conversations with fellow campers, and to disconnect from the digital world. So embrace the freedom, savor the simplicity, and let the offline adventures begin!
Frequently Asked Questions
What is the best wifi option for camping?
If you're staying in a campground or RV park, they might offer WiFi, but be sure to inquire about its reliability and coverage. If you're a bit of a tech-savvy adventurer who craves flexibility, consider getting a personal WiFi hotspot or a portable router with a data plan. These nifty devices allow you to bring your own personal WiFi hotspots wherever you wander, even to the most remote corners of the wilderness. Otherwise, I whole-heartedly recommend satellite internet.
Can I get WiFi in the wilderness?
While WiFi availability in the wilderness is about as rare as spotting a unicorn, there are ways to tame the connectivity beast. Some campgrounds do offer WiFi access, so it's worth checking if the place you're heading to provides this service. For a more independent approach, you can explore options like satellite internet or mobile data plans with good coverage in the area. Just keep in mind that speeds and reliability may vary based on your location and the service provider, so prepare for a bit of a digital adventure.
How can I improve cell service while camping?
Luckily, I've been on the road for awhile so I have a few tricks up my sleeve to help you conquer this challenge:
Seek higher ground: In the realm of cell signals, elevation is your ally. Climb to higher ground, such as hills or elevated areas in your camping spot, to get closer to those magical cell towers in the distance. Remember, the higher you go, the better your chances of catching a stronger signal.
Embrace the power of a cell phone signal booster: These mighty devices are like personal trainers for your cell signal. They consist of an external antenna to capture the weak signal, an amplifier to pump it up, and an internal antenna to spread the boosted signal within your camping kingdom. With a signal booster by your side, you'll be waving goodbye to dropped calls and buffering screens.
Keep your phone charged and smiling: A low battery can be a real buzzkill for your phone's connection. Make sure to keep your trusty sidekick charged and ready for action. Consider packing a portable charger or a solar-powered charger to juice up your phone when an outlet is as elusive as Bigfoot.
Are cell phone signal boosters worth it for camping?
Cell phone signal boosters can indeed be worth their weight in gold for your camping adventures. By amplifying weak signals, they transform a frustrating connection into a smooth sailing digital experience. However, before diving into the signal booster realm, evaluate how frequently you camp in areas with weak signals and whether staying connected is crucial for your adventures. If you find yourself often in signal-challenged spots and need reliable connectivity, a signal booster might be a worthy investment.
How can I boost the WiFi signal at a campground?
These trusty devices grab the existing WiFi signal and pump it up to cover a larger area. Equip yourself with a WiFi booster or repeater. These devices work wonders by capturing the campground WiFi signal and amplifying it to extend the range and improve coverage in your camping area. Simply set it up, and voila! You'll be enjoying a more robust internet connection to stream your favorite campfire tunes or share envy-inducing sunset photos on social media.
Can I get high-speed internet in an RV?
If you're dreaming of high-speed internet in your RV, the possibility exists, my friend. However, it depends on your network carrier's service and coverage. If you find yourself in a 4G or 5G coverage area and your carrier offers a solid connection, you can experience the thrill of high-speed internet right inside your RV. To embark on this digital joyride, consider these steps:
Alternatively, invest in a quality WiFi router and signal extender specifically designed for RVs, like the Alfa WiFi Camp Pro 2 Mini. This little powerhouse can help you conquer slow connections by providing a reliable and amplified WiFi signal within your RV. It's like having a WiFi oasis on wheels!
Or, if you can swing it, Starlink will provide you with high-speed internet access anywhere.
What is the best WiFi option for an RV?
The Alfa WiFi Camp Pro 2 Mini is a compact and reliable WiFi router and signal extender is highly recommended for RV enthusiasts. I personally recommend Starlink, though, because there is literally nothing that can make it not work well except for tall trees…. Which you can easily work around.
Summing Up How To Get Wifi While Camping
Getting WiFi while camping is totally doable with the right tools and strategies. My pick? Satellite internet. With satellite internet options like Starlink and HughesNet to portable WiFi routers and phone hotspots from brands like Netgear and Google Fi, there are plenty of choices out there. USB internet devices and WiFi extenders can also help, but they have their limitations. Just remember to consider coverage, reliability, and your specific camping needs when making your choice.
So, whether you're a digital nomad, a remote worker, or just someone who wants to stay connected in the great outdoors, there's a WiFi solution for you. Plan ahead, download offline resources, and get ready for an adventure without sacrificing your internet access. Share your own experiences and tips with fellow campers to help them find the perfect WiFi setup. Happy camping and happy surfing!