13 Pros and Cons of Living in California For Solo Female Nomads
As a nomad, I've been living abroad for a very long time and now I'd like to come home. I'm from California so it will always be a comfortable and fun place for me. I wouldn't say it's my favorite but there is just so much to do there and all of my family is there, so I've looked pretty hard at the pros and cons of living in California.
I'm from the Central Valley, went to grad school in Southern California, and lived in Sacramento (Northern California) for about 8 months in 2018…
…so I feel like I've got a pretty good feel for everything California has to offer, both in nature and in local cultures.
While I'm pretty committed to living in the West Coast, I don't think that I will be living in California this time around. I based this decision on a few things that are important to me (and so probably a lot of nomads and solo female travelers).
These are my priorities in order of importance:
taxes & affordability
local culture & friendliness (and the dating scene)
environmental quality
population and traffic
women's wellness laws
I love California and think it's a fun place to live if you have lots of money! If that's you, then head there for a week or two to check it out some of my points for yourself.
Book your upcoming trip on this booking platform✈️
Pros of Living in California
The pros of living in California are so damn good that I gave my home state a try back in 2018. Here are my favorite parts of California that make me dream of living there again one day.
Scenic beauty and diverse landscapes
We have some of the most diverse landscape in the entire country (I said what I said!). California has nine national parks in all, most of them known from around the world. And most of them are in the mountains, holding some of the most epic forests on the planet!
Think: Yosemite National Park, Redwood National Park, Sequoia National Park, and Kings Canyon National Park.
Joshua Tree National Park and Death Valley National Park show off our other-worldly desert landscapes. Channel Islands National Park shows off our coast.
And outside of the national parks, the Sierra Nevada Mountains (my stomping grounds) just stretch on forever and are filled with hiking trails.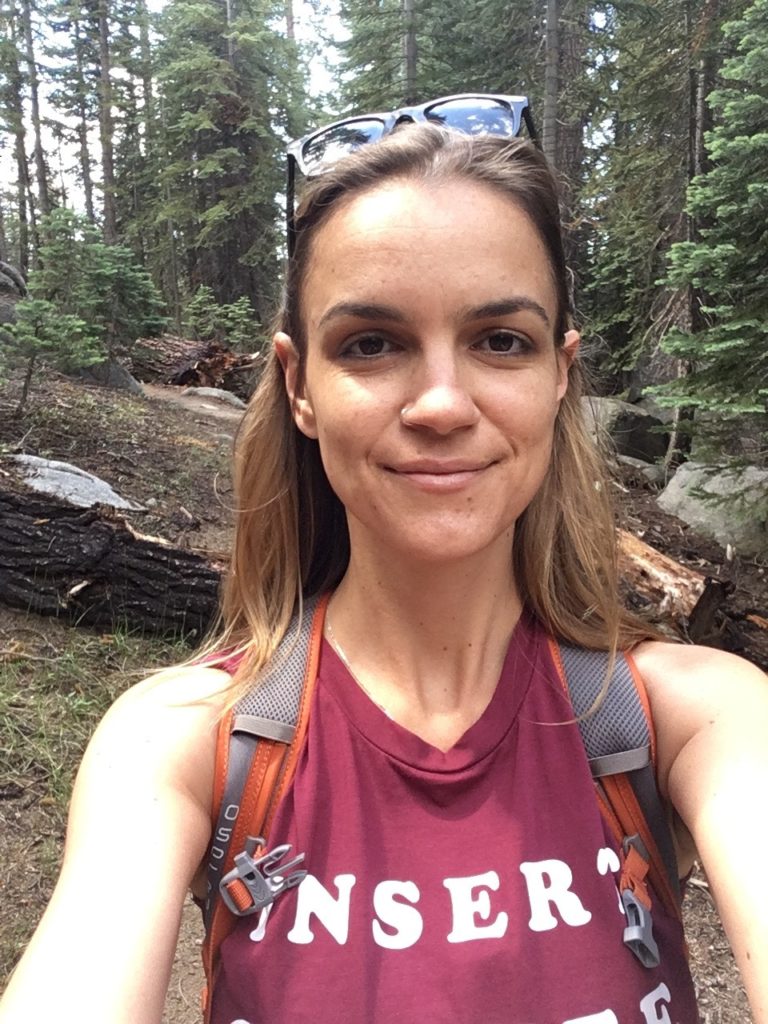 Anywhere there aren't mountains, there are rolling hills filled with oak trees. I mean 😍
If you're into surfing (I am not), then you have and entire coast with steady waves rolling in from the Pacific Ocean to play on.
California boasts a massive variety of landscapes, from stunning beaches and deserts to mountains and forests, making it an absolute playground for outdoor enthusiasts like myself.
This weighs heavily for me and in my books, California wins in natural beauty.
Pleasant climate
Many parts of California enjoy a Mediterranean climate with mild winters and warm summers, making it a popular destination for people seeking year-round outdoor activities and sunshine. (hi, me 🙋)
For me, the entire west coast has perfect weather but especially California.
Where I'm from in the Central Valley, it is very dry and very hot in the summer. But as they say, it's "a dry heat" so it's pretty manageable if you don't stand in direct sunlight for too long.
When I lived in Los Angeles, the weather wasn't too hot or cold. Sometimes it got pretty misty and cloudy, being on the coast and all. But otherwise it is sunny and in the 70s for most of the year.
The sunny weather in California is only replaced by fog on cooler mornings and massive snow dumps in the mountains during the winter. But, again with the dry air, it's not bone-chilling cold weather like on the East Coast. It's more of a let's-get-out-and-ski-some-fresh-powder cold weather.
The golden state gets its name from a few things but I'd like to think its from all of the sunshine.
Go check it out for yourself! Book a fun tour in California and get to know it.
Cultural diversity
California is one of the most diverse states in the entire country and that makes it a fun place to explore.
You'll find the most diversity in California cities, like Los Angeles, San Francisco, San Jose, or San Diego.
Down around San Diego (and the Mexico border), you'll find Mexican culture in almost everything you do, from the food to the style of buildings to the people you see around you.
In the San Francisco Bay Area (and Silicon Valley), you'll find more Eastern cultures, thanks to the job opportunities and massive port.
Los Angeles is literally anyone from anywhere who wants to try to make it in the entertainment industry, so there is a lot of good food and quirky establishments (like bath houses and lounges).
You've got the pot farmers in northern California and the migrant workers in central California, bringing in all kinds of people from around the world yet again.
Aside from the economic opportunities that people are chasing, California also has an epic education system. The golden state is home to Caltech, Stanford, UC Berkeley, USC (my alma mater!), UCLA, and more. So people from around the world are also chasing the education in California.
It's not just about ethnicity, either. There are all kinds of communities calling California home. California cities are some of the biggest bases for LGBTQ+, Vegan, and other communities that sometimes don't feel very comfortable or safe in other cities or states.
I imagine New York has a similar level of cultural diversity, but I really haven't seen anything quite like the diversity in California in all of the places I've visited and lived around the world.
Make a road trip out of it and explore all of the cultural pockets of California!
Local Cultures
California living is only fun if you're surrounded by other people who are fun to be around (California is pretty crowded, so, you know, gotta make sure we vibe). Overall, I really like the California culture.
I think that's why I enjoyed living in Australia for so long. People living in California, like those living in Australia, know they have some of the best Great Outdoors and so they like to play in it whenever they can.
Not everyone, but there's a good portion of the population like that. That's probably why it's the healthiest population in the US.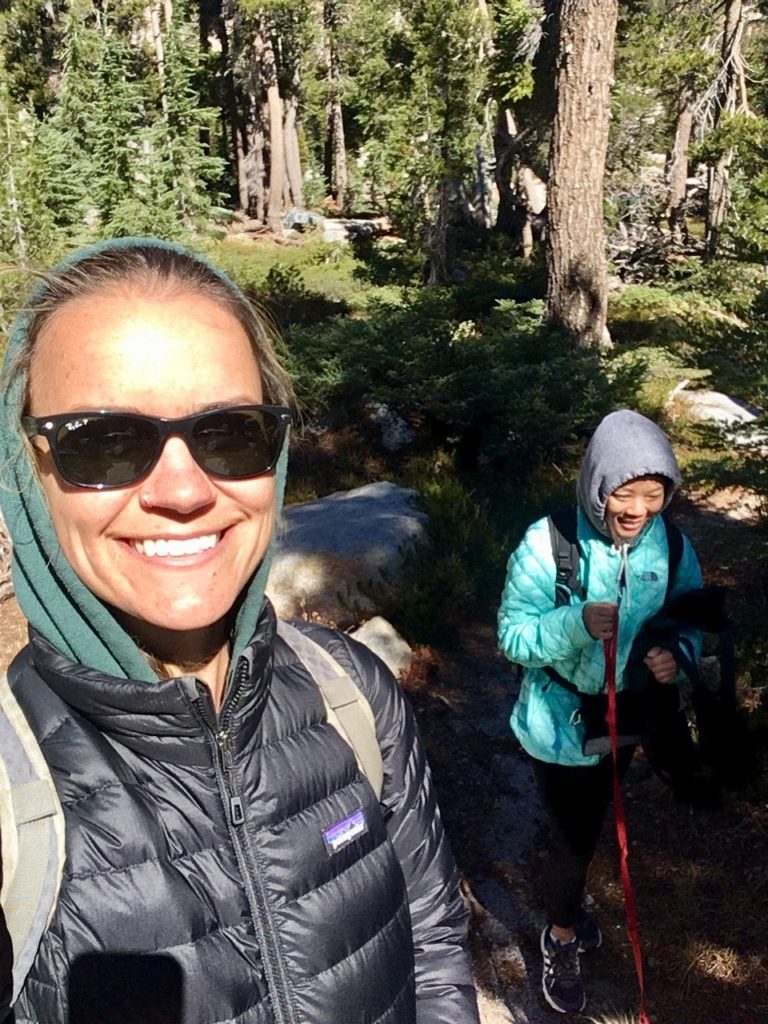 The surf culture on the coast (especially in Southern California) and the mountain culture (especially in Northern California) makes everything super casual. Also, weed has been legal forever there so most people are tokin' throughout the day and just enjoying the natural beauty and warm weather.
That also happens to be my culture, so I quite enjoy it. And if I'm going to be dating in this new location, then I kinda want to be around dateable people like that.
Efforts to Improve Environmental Quality
This is important to me because if a state is going to be collecting my tax dollars then I'd like them to be going to environmental programs. While most of California is actually very conservative (holding onto the rural mentality though it's not quite rural anymore), many of its environmental laws are progressive.
California has long been a leader in environmental protection and remediation. The state released their NetZero plan in 2022, which promises "to build out a 100% clean energy grid, achieve carbon neutrality by 2045, ramp up carbon removal and sequestration, protect Californians from harmful oil drilling, and invest $54 billion to forge an oil-free future while building sustainable communities throughout the state."
All that being said, we'll see in my "California cons" list why these efforts just don't cut it for me thanks mostly to climate change already making the state unlivable.
Easy To Get To And From
Just because I'm looking to settle down a bit doesn't mean that I won't be on the go all the time. It's important to me that wherever I live, I can come and go easily. California has both LAX and SFO, making it easy to get literally anywhere in the world. It also has a lot of other major cities connected by a pretty straightforward highway system (you basically go North to South).
Women's Health
As a woman, it's important to me that I'm in a place that is safe and supportive of women. I may want children one day and I need to know that there is no arbitrary law written by a fanatical group of insecure lunatics deciding whether or not I can get the treatment I want for my pregnancy and birth.
Here are some key laws impacting women's health in California:
Reproductive Rights: California provides comprehensive protection for women's reproductive rights, including access to abortion services. The state does not impose mandatory waiting periods, ultrasounds, or counseling requirements for women seeking an abortion. Additionally, California law requires health insurance plans to cover abortion services without any additional cost-sharing.
Contraceptive Coverage: California mandates that health insurance plans cover a wide range of FDA-approved contraceptives without copayments, coinsurance, or deductibles. The law also requires insurance plans to cover over-the-counter contraceptives, such as the "morning-after pill," without a prescription.
Pregnancy and Parental Leave: California provides extensive pregnancy and parental leave protections, including the California Family Rights Act (CFRA) and the Pregnancy Disability Leave (PDL) law. These laws guarantee job-protected leave for eligible employees for pregnancy, childbirth, or related medical conditions, and bonding time with a newborn or newly adopted child.
Breastfeeding: California law protects the rights of breastfeeding mothers, allowing them to breastfeed their children in any public or private location where they are otherwise authorized to be. Employers are required to provide reasonable break time and a private space for breastfeeding or expressing milk, separate from a bathroom.
Maternal Health: California has enacted various laws to improve maternal health outcomes, such as requiring hospitals to implement evidence-based practices to reduce maternal morbidity and mortality rates, and establishing the California Maternal Quality Care Collaborative (CMQCC) to improve maternity care quality.
Domestic Violence and Sexual Assault: California has robust laws to protect victims of domestic violence and sexual assault, including restraining orders, mandatory arrest policies for domestic violence incidents, and criminalizing non-consensual distribution of intimate images (also known as "revenge porn").
These laws, along with many others, demonstrate California's commitment to promoting and protecting women's health and well-being.
Cons of Living in California
And now we get to the cons of living in California 👎 While I absolutely love California for the reasons above, these reasons below are big enough that I will not be living in California anytime soon.
High cost of living
California has a reputation for its high cost of living, especially in popular cities like San Francisco, Los Angeles, and San Diego. Housing, utilities, and transportation tend to be more expensive compared to other states.
Housing prices and rental prices are insanely high. The affordable housing shortage is a crisis that I don't see California resolving anytime soon (or ever).
The housing market is particularly wild. The median home price is over $700,000, which needs almost $80,000 as a down payment. So until you have that, you're left with renting a one bedroom apartment for $1,500 – $2,000 a month… in "smaller" cities. If you want to live in the San Francisco Bay Area, then be prepared to fork over even more for even less square footage.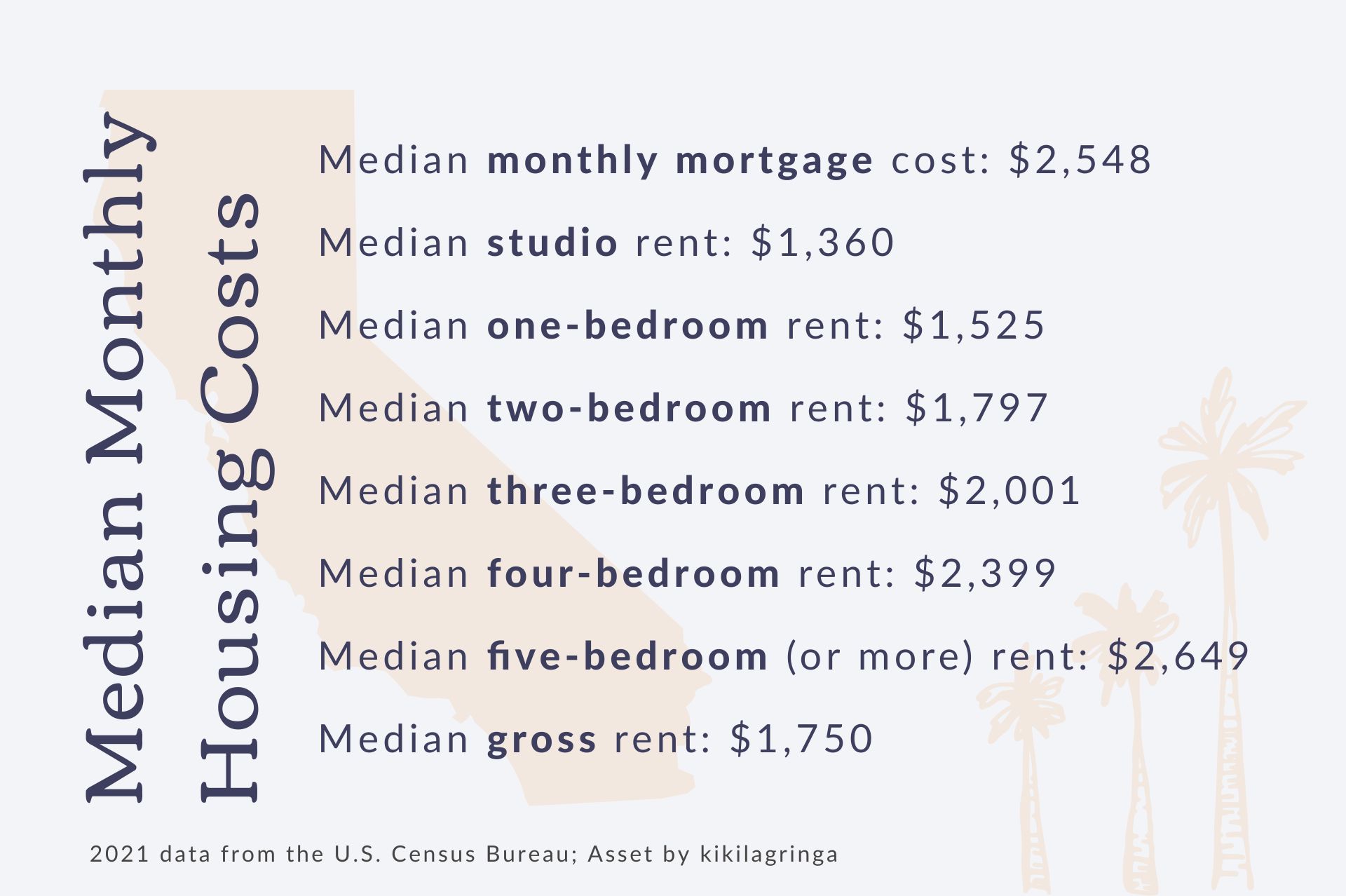 Average utilities across the state are $380 per month and an average of $322 per person per month for food. Not only that, but the taxes are high (more on that in a bit), healthcare is absurdly high, and even the prices of fun things (like theme parks and movie theaters) are high. California has the highest gasoline taxes in the country too!
The next thing they'll be charging for is the dirty air to breathe.
I get it, the state is overpopulated and it's getting pretty expensive to stay afloat. I don't know, I'm not sure how this happened. But it's just not worth it to me because my goal is to be outside as much as possible, not slaving away to cut-throat clients just so that I can pay rent each month. I'd also like to save money so that I can spend it how I damn well please. No, thank you.
You can check it out for yourself, though. Go get a taste of what certain towns are like and see if the rental prices are okay for you!
Find the perfect home rental for your upcoming trip here 🏠
Traffic and transportation
Traffic congestion and long commute times can be a significant issue in larger cities, leading to a more stressful daily routine for some residents. I remember driving from Santa Monica to downtown LA on the 10 and it would take over an hour each day. On holidays, when nobody is driving, it would take 10 minutes.
Having driven in a lot of crazy cities before, I think LA drivers are pretty good and respectful, so if you have to be in traffic then it's a good place to do it.
You'll just need to factor in a lot of extra time each day to get to where you're going and also find parking.
When I recently visited LA, I wanted to take the new rail that they built since the last time I was there but it just wasn't safe. I didn't feel safe enough to use it by myself in certain parts of the city and I just don't want to feel like that in a place I live.
Try it out for yourself and rent a car for a California road trip 😉
Natural disasters
California is prone to various natural disasters, such as earthquakes, wildfires, and droughts, which can pose challenges for residents.
I've had so many friends and family have to evacuate their homes, some of them losing their homes to wild fires. The earthquakes are generally pretty tame, but sometimes they're massive and considering the last major earthquake was over 30 years ago, California is due for another soon. The fault line runs right through the San Francisco Bay Area, which is the most densely populated area of California.
The drought is another major and ongoing natural disaster. I grew up with water shortages and rolling blackouts so that the state could conserve its resources enough for everyone to survive. It's a little too Dune-ish for me.
Tax rates
A state that dazzles with its sun-kissed beaches, majestic mountains, and entrepreneurial spirit. But, as with all good things, there's a price to be paid.
If you're an LLC owner, like me, then you'll find that the Golden State extends its warm embrace with an $800 annual franchise tax. It's a small token of gratitude for the pleasure of doing business in this land of opportunity. As for personal income taxes, California's progressive tax rates range from a modest 1% for the humbler income brackets to a rather attention-grabbing 12.3% for those who've struck it rich.
So I have my LLC and I want to look very carefully at where my money will go.
In California, LLCs are subject to several taxes and fees. While this is NOT advice or even official information, here's a summary of the main taxes that LLCs typically pay in the state:
Annual Franchise Tax: All LLCs operating in California are required to pay an annual franchise tax of $800 to the California Franchise Tax Board. This tax is due regardless of the LLC's income or activity.
LLC Fee based on Total Income: In addition to the annual franchise tax, California LLCs may be subject to a fee based on their total income derived from California sources. This fee is calculated as follows:

$0 for total income of $250,000 or less
$900 for total income between $250,001 and $500,000
$2,500 for total income between $500,001 and $1,000,000
$6,000 for total income between $1,000,001 and $5,000,000
$11,790 for total income of $5,000,001 or more

Pass-through Taxation: By default, LLCs are considered pass-through entities for tax purposes. This means that the LLC itself is not subject to federal income tax. Instead, the income, deductions, and credits flow through to the LLC members, who report this information on their individual income tax returns. California follows this federal tax treatment, so LLC members are responsible for paying personal income taxes on their share of the LLC's profits. As mentioned earlier, California has a progressive personal income tax rate ranging from 1% to 12.3%.
Employment Taxes: If the LLC has employees, it will be responsible for withholding and paying employment taxes, such as federal and state income tax withholding, Social Security, and Medicare taxes, which can add up.

Federal Income Tax: Employers must withhold federal income tax from employees' wages based on the employee's Form W-4. The amount withheld depends on the employee's income, filing status, and number of allowances claimed.
State Income Tax: California employers must also withhold state income taxes from employees' wages. The withholding rates depend on the employee's income and filing status, following California's progressive income tax system, which ranges from 1% to 12.3%.
Social Security and Medicare Taxes (FICA): Employers are required to withhold Social Security tax (6.2%) and Medicare tax (1.45%) from employees' wages. Employers must also contribute an equal amount for Social Security and Medicare taxes, making the total Social Security tax 12.4% and the total Medicare tax 2.9%.
California State Disability Insurance (SDI): Employers must withhold SDI contributions from employees' wages at a rate determined by the California Employment Development Department (EDD). The SDI tax rate for 2021 is 1.2%, with a taxable wage limit of $128,298 per employee.
California Employment Training Tax (ETT): Employers must pay ETT, which funds employment training programs in the state. The ETT rate for 2021 is 0.1% with a taxable wage limit of $7,000 per employee.
California Unemployment Insurance (UI) Tax: Employers are responsible for paying UI tax, which provides temporary financial assistance to unemployed workers. The UI tax rate varies depending on the employer's experience rating and the state's schedule. In 2021, the UI tax rate ranges from 1.5% to 6.2% on the first $7,000 of each employee's wages.
Let's not forget the sales tax, which flutters gracefully between 7.25% and 10.25% depending on the location.
The taxes in California are much higher than the national average and can be suffocating for a lot of people.
Overpopulation
Some areas in California, particularly major cities, are densely populated, which is what causes all of its problems, like traffic congestion, pollution, and strain on public resources and infrastructure.
And while I love California culture, there's also an underbelly of California culture that is impatient, entitled, and competitive. It's weird. California residents seem to be so mesmerized by the Golden State that they actually think they're the state themselves. Like they're better than everyone because they're from California even though they'll probably complain about it because that's also what Californians do.
I think this subculture comes from the fact that it's overpopulated and overpriced. Everyone is in a rat race to make ends meet and do what they really want to be doing, which is getting to the outdoors. But with all of the traffic and competitive industries (hello, Silicon Valley), there's a lot of pressure to get it all done as quickly as possible.
So you end up with a bunch of agitated people bumping into each other. As friendly as most people will be, there's an underlying tension everywhere you turn.
I don't blame them, it's hard there right now. But it can also be such a downer and I don't really want to be around that.
Safety And Crime
Theft and assault are so insanely common in California that you could probably ask a handful of California residents if they have a story about theft and they will have one ready and waiting.
According to latest California Crime Report by the California Department of Justice, crime rates in California are mostly on the rise:
📈 The violent crime rate increased 6.7 percent in 2021 (from 437.0 in 2020 to 466.2 in 2021)
📈 The property crime rate increased 3.0 percent in 2021 (from 2,114.4 in 2020 to 2,178.4 in 2021)
📈 The homicide rate increased 9.1 percent in 2021 (from 5.5 in 2020 to 6.0 in 2021)
📉 The burglary rate decreased 5.3 percent in 2021 (from 365.4 in 2020 to 346.2 in 2021)
📈 The rape rate increased 8.6 percent in 2021 (from 33.8 in 2020 to 36.7 in 2021)
📈 The motor vehicle theft rate increased 8.2 percent in 2021 (from 422.4 in 2020 to 457.1 in 2021)
📉 The arson rate decreased 4.4 percent (from 29.6 in 2020 to 28.3 in 2021)
Burglary and arson decreased, I guess, but I don't really care when homicide and rape have increased by almost 10% each. Again with the NO THANKS.
Final Verdict 🚫
As if I need to tell you: it's a big fat no for me. California living is not worth the issues that come with it. BUT if you have enough money to isolate yourself from these issues, like by hiding away in a cabin in Lake Tahoe, then go for your life! Enjoy the Golden State for me 🙂
Ready to check out California? Book your upcoming trip and see the Golden State for yourself!
Find the perfect accommodations for your upcoming trip here ✈️