Granola Girl's Guide To Summer Hiking Clothes For Women
Summer hiking is the best hiking… only if you have the right hiking clothes.
A thick shirt or un-breathable pants can ruin a good trail when hit with the summer sun. Staying cool is one of the most important goals when hiking in the hot summer months.
Well, after hiking alone as a woman all summer long, I've got a few recommendations on summer hiking clothes for women.
I'll teach you everything I've learned about what makes the perfect summer hiking gear so that you can avoid the mistakes I've made!
The Essentials of Hiking Outfits for Women
When it comes to women's hiking gear and clothes, or any type of clothing really, I'm always going to want to keep sustainability in mind. That's why I like Patagonia as an outdoor gear brand; I can always count on the brand to make sustainably-minded business choices.
While that's not always an option, it's the perspective I'll take throughout this post. Here's your detailed guide to choosing eco-friendly hiking outfits:
1. Material: Choose Sustainable Fabrics
The fabric of your hiking clothes plays a crucial role in your comfort and the environment. Opt for breathable, quick-drying, lightweight fabrics. Eco-friendly materials like recycled polyester or organic cotton are excellent sustainable choices choices.
Recycled polyester is made from recycled materials like plastic bottles and old garments. It's durable, wrinkle-resistant, and dries quickly. Organic cotton, on the other hand, is grown without harmful chemicals, making it better for your skin and the environment.
Synthetic materials, however, tend to work best at wicking moisture and keeping your body cool. In fact, it works so well that it's the first thing I recommend on my list below (Patagonia Cap Cool Daily Graphic Long-Sleeve Shirt). That's also why I go with brands like Patagonia, so that way I can feel at peace with my decision to purchase synthetic materials.
2. Weather-Ready: Be Prepared for Temperature Changes
Dressing appropriately for the weather is key to a comfortable hike. For summer hikes, choose light-colored, loose clothes that reflect sunlight and keep you cool.
Look for clothes with UV protection to shield your skin from harmful sun rays. I also always wear a hat and sunglasses for added protection. For sunscreen, I choose an eco-friendly zinc-based sunscreen that's free from harmful chemicals and is reef-safe.
Even in summer, temperatures can fluctuate, especially if you're hiking at high altitudes or in the early morning or evening. Layering your clothes allows you to adjust to changing conditions.
Start with a moisture-wicking base layer to keep sweat away from your skin. If it's a bit chilly, add an insulating middle layer made of fleece or merino wool. And always carry a lightweight, waterproof outer layer in case of unexpected rain showers.
I always brings extra clothes on my day hikes. Summer thunderstorms roll through in the afternoon and often bring freezing hail with it. I like having warm clothes ready to go just in case I get caught in something.
These are my usual my base layers (and everyday wear, honestly):
Then my middle layer and outer layer I stuff in my day pack:
I also always pack a warm little beanie just in case:
3. Comfort First: Prioritize Fit and Freedom of Movement
Your hiking clothes should allow free movement and be extremely comfortable. The fit depends on your hike – strenuous hikes might need more form-fitting clothes that won't snag on branches or rocks. Choose clothes with a bit of stretch to allow for a full range of motion. That's why I love the Patagonia Maipo 8in Short and prefer shorts over hiking pants.
The same goes for a good pair of hiking boots or shoes. I need my hiking boots to be flexible yet sturdy… and wide enough to accommodate my caveman-like feet. If something is annoying about your hiking boots, then it will only become more annoying the longer the hike. My recommendation: prioritize the comfort of your hiking boots.
4. Functionality Matters: Look for Useful Features
When choosing hiking clothes, functionality is as important as style. Look for clothes with added features like UPF protection, insect repellent, or ventilation panels.
UPF protection helps block harmful UV rays, while insect repellent can keep pesky bugs at bay. Ventilation panels, usually found under the arms or at the back, can provide extra breathability.
Also, pockets can be handy for carrying small items like a map, snack, or your phone. Just make sure they have secure closures to prevent anything from falling out. I like the Patagonia Maipo 8in Short because I can fit my phone in its own pocket and my car key in the other. These hiking shorts are tight enough that the items don't fall out.
Don't worry, you don't need to look like an absolute nerd in your hiking outfit. Here are my favorite hiking clothes this summer that I look cute in (IMHO).
Top Picks for Summer Hiking Clothes for Women
Women's hiking clothes are often cute but leave a lot to be desired. As people back in Australia once told me: American style is so functional. It lacks style and character.
But the truth is, when I'm on a backcountry trail in Montana, I'm more concerned about breathability and sun protection than I am about looking cute. So these are the cutest women's hiking clothes that I've found that also offer a lot of protection.
Hiking Shirts For Women
I always start my outdoor adventures with a good tank top, then a lightweight long sleeve shirt over that. I bring a flannie with me in case temperature drop and a down jacket in case temps really drop.
These are some of my favorite shirts for warmer weather.
Out of all of my favorite hiking clothes, this is my favorite item. This versatile technical long sleeve shirt is designed for use on the trail or the water, making it a great choice for your summer hiking adventures.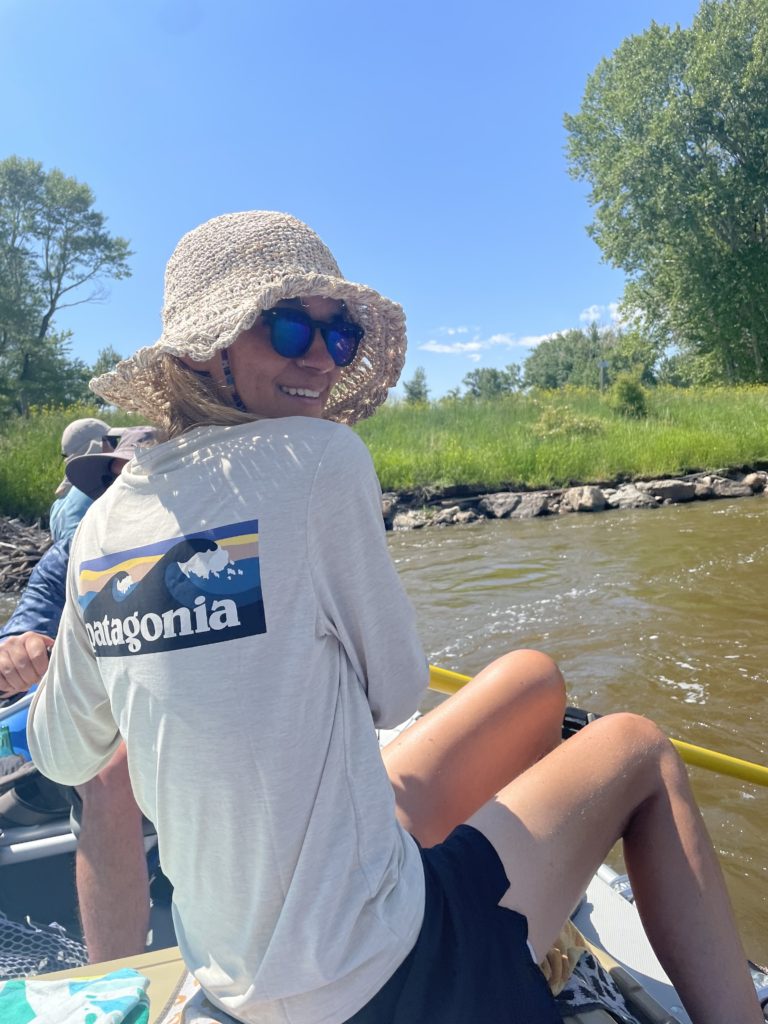 The shirt is made from stretchy, quick-drying fabric with HeiQ Pure odor control, ensuring you stay comfortable when you're working hard in conditions ranging from cool to hot. The long-sleeve design provides extra sun protection.
Available in Boardshort Logo/Current Blue X-Dye and Boardshort Logo Light Plume Grey/White, this shirt is as stylish as it is functional. And with Patagonia's commitment to responsible sourcing, you can feel good about your purchase.
Made with 100% recycled polyester and Fair Trade Certified sewn, this shirt is a testament to Patagonia's commitment to sustainability. So, whether you're hiking, camping, or just enjoying the great outdoors, the Patagonia Cap Cool Daily Graphic Long-Sleeve Shirt is a great addition to your summer hiking wardrobe.
This hoodie is not just about looking good on the trails, but also about providing the comfort and sun protection you need for your sunny day adventures.
Whether you're casting for brookies in sunlit sections of the river or figuring out boulder problems on a blazing summer afternoon, the Tahoe 2 Sun Hoodie is your go-to piece. Crafted with a moisture-wicking, sun-blocking fabric, this hoodie keeps you covered and comfortable while chasing your passions on warm, bluebird days in the great outdoors.
The UPF 50+ rating helps protect against damaging UV rays, and the integrated thumbholes provide maximum coverage from the sun. The stretchy blend moves with you as you cast, climb, or run, making it a versatile addition to your summer hiking wardrobe.
The Destination Crew Top is made from ultra-soft synthetic jersey, brushed on both sides for a dreamy feeling whether you're on the road or on the trail. The fabric features wicking technology for extra comfort while you're active, ensuring you stay cool and dry even on the most challenging hikes.
The regular fit and cropped length give this top a stylish edge, making it a versatile piece that transitions seamlessly from trail to town. Available in Egret and Turbulence colors, this top adds a touch of chic to your hiking outfit.
The top also boasts a UPF 50+ rating, offering additional protection against the sun's harmful rays.
This tank top combines the softness of cotton with the performance of synthetic fiber, making it perfect for active summer days.
The Capilene Cool Trail fabric is designed to give you enhanced breathability and moisture-wicking performance, taking the sting out of working out in high temperatures. The tank top design allows for maximum airflow during movement, and a drop-tail design ensures consistent coverage while you move.
One of the standout features of this tank top is the Polygiene anti-odor technology, which prevents unwanted odors from building up. This means you can stay fresh even on long hikes.
Hiking Sports Bras For Women
I really like my lightweight bra by Patagonia. For whatever reason, my extremely large breasts haven't been very sensitive in recent years, so I don't need a super strength sports bra to hold them in place when I hike anymore. So this first bra is what I wear hiking these days, but I'm including a stronger sports bra for my girls who need extra support.
This bra is all about comfort and functionality, designed to provide all-day support without the hassle of clasps, wires, or migrating straps. You'll barely notice it's there, and gone are the days of removing your bra the second you get home.
The non-slip racerback straps won't dig into your skin beneath a pack, and the nylon blend wicks away moisture on hot summer days. Plus, with Polygiene odor control, you can make the most of your support between laundry days. The Barely Bra also comes with removable cups, allowing you to customize your appearance.
This bra is designed with a blend of Merino wool and polyester, ensuring you stay cool and dry even on the most strenuous hikes. The Intraknit's 3D construction provides a high degree of flexibility and breathability, making it perfect for those long, adventurous days on the trail. The seamless design and performance-ready racerback cut ensure a comfortable fit that moves with you, while the engineered knit cups offer enhanced shape and support.
Hiking Bottoms For Women
Comfortable hiking pants or shorts are surprisingly hard to come by for me. I'm quite tall and so I need bottoms that can actually fit my inseam without by extremely baggy. These are my favorite hiking shorts and pants for warmer weather.
Designed with day treks and overnight adventures in mind, these shorts are all about comfort and functionality. The low-profile waist sits discreetly under your pack's hip belt, ensuring no uncomfortable rubbing or chafing. Plus, the bungee drawcord keeps these shorts firmly in place, no matter how much you're moving around.
The Stoic Ripstop Cargo Short is made from a featherweight material that wicks away moisture, providing a cooling sensation just when you need it. With cargo pockets primed for your phone, snack bar, or other quick-grab essentials, you'll have everything you need right at your fingertips.
These shorts are made from a durable blend of 92% polyester and 8% spandex, striking the perfect balance between durability and stretch. The athletic fit and 4-inch inseam provide a flattering look without sacrificing mobility, making them a great choice for any hiking or backpacking trip.
The Maipo 8in Short is made from 81% recycled nylon and 19% spandex, making it a choice you can feel good about. But don't think that because it's eco-friendly, it's any less high-tech. These shorts come with integrated technology that makes them moisture-wicking and anti-odor, ensuring you stay fresh and comfortable, even on long hiking or backpacking trips.
The miDori bioSoft treatment aids in moisture wicking, keeping you dry and comfortable, while the HeiQ Pure anti-odor treatment ensures you stay fresh, no matter how hard you're working.
These shorts are form-fitting and hit at the knee, providing a flattering and comfortable fit. The 8-inch inseam is a great length for hiking, providing plenty of coverage while still allowing for full range of motion.
The Trailfarer Shorts are made from an ultralight, sweat-wicking material that keeps you dry and comfortable, even on the most strenuous hikes. The four-way stretch ensures a movement-friendly fit, allowing you to navigate the trails with ease.
But these shorts aren't just about performance. They're also about making a positive impact on the environment. Made from 90% recycled polyester sourced from coastal plastic, these shorts help reduce waste and protect our oceans.
The shorts also feature a DWR (Durable Water Repellent) treatment that repels light moisture and stains, ensuring you stay dry and your shorts stay clean. The front elastic waistband with drawcord provides a secure fit, while the rear buttoned pocket offers a handy place to stash small items.
For those cold weather hikes or more rugged trails, the Patagonia Caliza Rock Pant is a fantastic choice. These pants combine durability and comfort, making them perfect for any hiking adventure.
The Caliza Rock Pant is made from a blend of 93% organic cotton and 7% spandex. This combination ensures the pants are not only durable and able to withstand frequent encounters with rugged terrain, but also stretchy and comfortable to wear.
One of the standout features of these pants is the soft knit waistband. It provides a secure fit and lays flat beneath a harness or pack waist belt, ensuring you stay comfortable throughout your hike.
The pants also feature an articulated design that works with your harness, not against it. This means you can move freely and comfortably, no matter how challenging the trail.
The adjustable cuffs keep out updrafts and help prevent fabric snagging, while the front and rear pockets are designed for comfort with a harness.
These shorts are a fantastic choice for those hot summer hikes, combining style, comfort, and functionality in one package.
Helly Hansen is known for their innovative technologies and design that meet the needs of outdoor enthusiasts, so you can trust that the Tech Trail Short will stand up to your most challenging hikes.
Hiking Socks For Women
We don't always think of hiking socks when we think of the best hiking clothes… but a good pair of socks can go a long way on the trail.
These socks offer lightweight cushioning for on-trail support, while the fabric provides excellent ventilation for your active lifestyle. Plus, they're made from a partially recycled fabric blend, so you're doing your bit for the environment too!
Add a splash of color to your hiking outfit with these wool socks on. Made in the USA with responsibly sourced Merino wool, these socks regulate temperature naturally for enhanced comfort. Plus, they're lightweight and perfect for an active lifestyle.
These technical socks by Darn Tough are designed for involved hiking adventures. The merino wool blend wicks moisture and controls temperature, while the fun design shows your love for the outdoors. Plus, they're durable and odor-resistant!
These breathable, lightweight socks are perfect for all-day summer hiking comfort. They offer a performance fit that eliminates slipping, bunching, and blisters. Plus, the Merino wool construction naturally wicks moisture for fresh feet.
Hiking Hats For Women
Ever since living in Australia (the land of hot weather), a good sun hat has been a part of my everyday wear… especially with my hiking outfits on the trail. While I like my straw hat, I think this one would be a lot more appropriate to wear hiking.
The Patagonia Quandary Brimmer Hat i's a sun sombrero designed for both water sports and casual wear. Made with water-resistant nylon (65% of which is recycled – yay for sustainability!), this hat is ready to take on high heat, windy ridges, and even rough waters.
The Quandary Brimmer Hat features a wicking sweatband with an anti-odor treatment, so you can say adiós to those sweaty, smelly hat problems. The brim not only floats but also has a dark underbill to reduce glare, making it perfect for those sunny hikes.
But what about fit and comfort? Patagonia has got you covered. The hat has dual adjustability for a secure fit, including a toggle on the back and an adjustable chin strap to keep the hat in place, even in the wind. Plus, it boasts a mesh lining and vented crown for boosted breathability, keeping you cool on the trail.
Hiking Shoes For Women
The best hiking shoes are those that will not be a pain in your ass. I have super wide feet and short toes, so I've had my fair share of painful hiking shoes. Luckily, I've finally found two brands (Altra and Chaco) that work for me. So keep in mind that I'll include my favorite hiking shoes here based on my wide feet.
I have a pair of hiking boots, hiking sandals, and water resistant hiking shoes for winter hiking… and here's what I wear hiking in the summer:
The Lone Peak Hiking Boot is designed with your comfort in mind. The breathable mesh upper ensures your feet stay cool and dry, even on those hot summer hikes. Reinforcements add durability to the boot, making it a reliable choice for any terrain.
I loooovvveeee these boots. They're like walking on clouds and they are so breathable that I hardly notice I have shoes on at all. The grip is great and the ankle support is good without being suffocating… which, as you can see in this pic, is super important to me because homegirl as some all natural THICKNESS in the ankles. Most boots (and lamentably any kind of shoes that wrap around the ankle) are too tight for me here. NOT ALTRA.
One of the standout features of this boot is the Footshape toe box. This design allows your toes to spread naturally, providing stability and support on uneven ground. With my wide feet, this has been a very exciting feeling. My toes have s p a c e.
The Altra Ego midsole is a game-changer. It combines cushioning and support to keep your feet comfortable on long hikes. Say goodbye to sore feet at the end of the all day hike!
The LP Alpine Hiking Shoe features durable canvas and suede uppers that not only look great but also offer protection from the elements. I love these hiking shoes because they work great as trail running shoes too.
One of the unique features of this shoe is its 0mm drop, which encourages a natural stride. This design, coupled with a cushioned midsole, ensures all-day comfort and energy return. So, whether you're hiking for hours or exploring a new city, your feet will thank you.
The shoe's rugged sole provides reliable traction on varying terrain. From rocky trails to slick city streets, you can trust these shoes to keep you steady on your feet. Plus, the roomy toe box allows your toes to splay naturally, adding to the overall comfort and stability of the shoe.
This laid-back and versatile adventure sandal is as ready for your summer hiking trails as it is for a casual day out in the city. Its lightweight design makes it a perfect fit for any of your everyday adventures – be it running errands, strolling through a park with friends, or even splashing in puddles.
At least that's how I wear them.
Since my feet are impossibly wide, they don't fit in any shoe, which means that I get blisters often. Literally, even shoes I wear daily will give me blisters if I walk long enough.
Not these bad boys. This is the first pair of sandals I've ever worn that I could wear immediately and have never given me a single blister. EVER. (Don't wanna jinx myself…)
The adjustable straps with a buckle allow for customizable comfort, ensuring your feet feel as good as they look. The women-specific Luvseat footbed offers durability and all-day usage, while the Chaco-grip with a 3mm lug depth ensures optimized traction, keeping you steady on your feet no matter where your adventures take you.
I love these sandals so much that I wear them for most things this summer. They're great for relatively easy hikes (not for rocky terrains or bearing weight) and since they're waterproof, they're perfect for lakes and rivers. I like the lighter color because it makes them less noticeable on my feet, but there are tons of color options available!
Frequently Asked Questions