37 Stocking Stuffers For Hikers (For Women)
If you are responsible for coming up with stocking stuffers for an outdoor enthusiast in your life, then this list should help you. Not only am I an outdoor lover myself, but I've also spent a lot of time outdoors this summer on a months-long road trip while living out of my RAV4.
I used my outdoor gear heavily and discovered lots of other neat things that made my life a lot more comfortable.
I've compiled everything here that could feasibly fit in a Christmas stocking. Here is my complete list of the best stocking stuffers for hikers this holiday season.
Safety Items
The best outdoorsy stocking stuffers are things that your little outdoor enthusiast are things that she buys last but needs the most. Like safety items. If your outdoorsy person hits longer trails with big mileage and elevation gain, then these are essential items for safety.
Portable Charger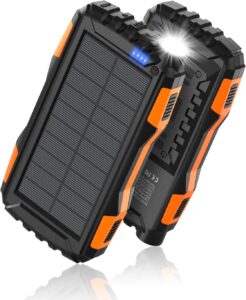 A portable charger is great for peace of mind, mostly, especially when venturing into canyons where it's hard to get a good cell phone signal. This can drain the battery life quickly and, especially worrisome in the event of an emergency, it renders your device useless.
Compact and lightweight, these chargers are easy to carry and can provide multiple charges for smartphones, GPS devices, or headlamps. They are particularly useful for long and technical hikes where access to power sources is limited. A portable charger is a must-have to keep communication lines open and navigation tools running.
Garmin Mini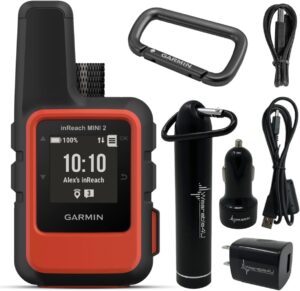 The Garmin Mini is a compact satellite communicator that offers peace of mind on any hiking trip, especially backpacking trips. It enables two-way messaging, live tracking, and SOS capabilities, even in remote areas without cell service. This device is invaluable for technical hikes and backcountry adventures, ensuring that help is just a message away in case of emergency. Its lightweight design makes it a practical addition to any hiker's gear.
It does require a subscription service, but you can pause it when you're not using it. I always have mine on me, especially as a solo hiker and camper.
Navigation Tools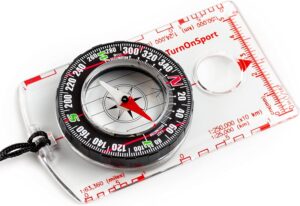 While we all rely on GPS devices and technology, navigation tools like a compass and topographic map are helpful for finding your way, especially in unfamiliar or challenging terrain. They are reliable and don't rely on battery power, making them a safe choice for long, remote hikes. Even on easier trails, having these tools can enhance your understanding of the landscape and improve your navigation skills. While they may not be necessary except for in an emergency, they are a great educational stocking stuffer for hikers of all levels.
Whistle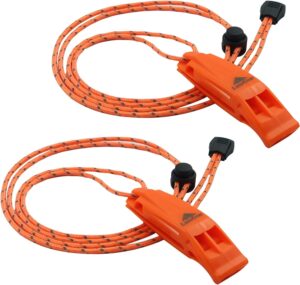 A whistle is a simple yet powerful safety tool for hikers. Its loud, piercing sound can be heard from far away, helping to attract attention in case of emergency or if you get separated from your group. It's lightweight, easy to carry, and useful on all types of hikes, from casual walks to technical climbs. Every hiker should have a whistle attached to their backpack for easy access, anyway.
Utility Knife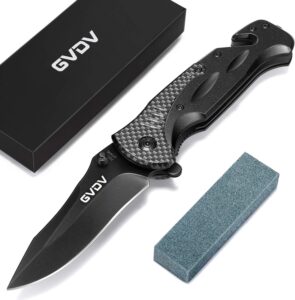 If you've ever owned a knife yourself, then you know how handy these are. They are so practical with many uses, like personal safety, opening packets of snacks, breaking glass open in case of emergency, cutting cloth if needed, cleaning your nails… you name it, it'll find its way in your day. I personally like having something like this on hand since I do so many hikes and camping trips on my own. I keep it in my side pocket in case I need it for safety. Compact and durable, a multi-tool is a versatile gift for any hiker.
First Aid Kit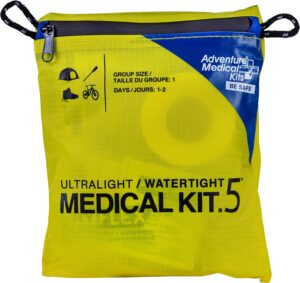 A compact first aid kit is equipped to handle minor injuries and ailments. It should include bandages, antiseptic wipes, blister bandages, and other essentials. This is a must-have for all types of hikes, as accidents can happen anywhere, especially blisters, cuts, and burns if you're cooking on the trail. A first aid kit ensures that you're prepared to handle these accidents easily.
The good news is that even if your outdoor lover already has one, odds are that certain supplies (like band aids or blister pads) are running low.
Flint Fire Starter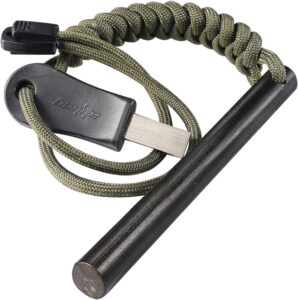 A flint fire starter is a reliable way to start a fire, crucial for warmth and cooking, especially in survival situations. It works in all weather conditions, making it a dependable choice for technical hikes and backcountry adventures. Even on shorter, casual hikes, knowing how to start a fire is a helpful skill. While there are tons of other ways to start a fire, like with those little fire starter sticks, a flint fire starter is a practical and educational gift for hikers that will work in any situation. It's also the more sustainable option as far as fire starters go.
Moleskin
Moleskin is a hiker's best defense against painful blisters, providing slight cushioning and protection against rubbing shoes. They are great to have on hand for long hikes and when breaking in new hiking boots. Compact and easy to apply, they are a must-have in every hiker's first aid kit. I go through these pretty quickly, thanks to my wide Flinston-esque feet, so if your outdoor enthusiast also has wide feet then she for sure will appreciate these.
If she has wide feet, then you might check out these hiking shoes too. They're the only shoes I've ever had that didn't give me some kind of blister. Ever. But I digress.
Mini Sewing Kit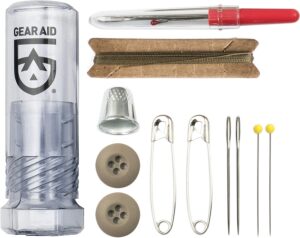 A mini sewing kit can be a trip-saver if outdoor gear or clothing tears while on the trail. It's small, lightweight, and easy to use, making it perfect for long hikes and camping trips. Even on shorter hikes, it's a handy tool to have for unexpected repairs. It's also helpful in case of major cuts that need sewing, but that's a little too Bear Grylls for your average hiker 😉
Bear Bell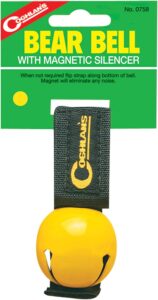 Since living in Montana, I've been a bit paranoid on my solo hikes because this is major bear territory. Having a bear bell has given me so much more peace of mind that I can finally enjoy those long solo hikes.
A bear bell is a simple yet effective tool to alert wildlife, particularly bears, of your presence, helping to avoid surprise encounters. It's especially useful in areas with dense vegetation where visibility is limited. The bell is lightweight and can be easily attached to a backpack. It's a great safety item for hikers venturing into bear country.
Hydration Powder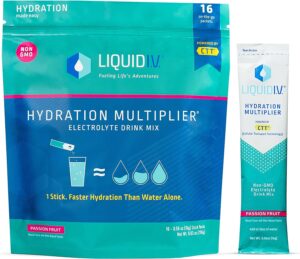 Hydration powder helps to replenish electrolytes lost through sweat, keeping hikers energized and hydrated. It's particularly useful for long, strenuous hikes in hot weather. The powder is lightweight, easy to carry, and can be mixed with water. This is especially appreciated by endurance athletes, if you've got a runner in the mix.
Life Tent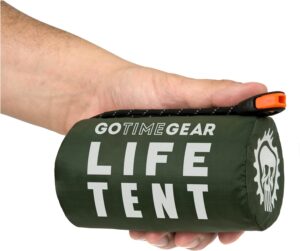 A life tent is an emergency shelter that can be a lifesaver in unexpected situations. It's compact, lightweight, and reflects body heat, providing warmth in cold conditions. While it's something hikers might not think to buy for themselves, it's an invaluable item for long, remote hikes where the weather can change rapidly.
Hygiene Items
The perfect stocking stuffer is the item that your outdoors person didn't know she needed. That's exactly what's in this section. I've been a solo traveler around the world for almost a decade. Think: India, Nicaragua, Cambodia, and other places where certain hygiene items were realllllllly handy. I found that they worked perfectly for my hiking and camping trip too.
Travel Bidet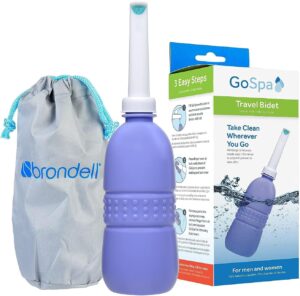 A travel bidet is seriously my favorite thing ever. I used it a lot during my summer road trip through the national parks, when I wasn't bathing regularly. Compact and easy to use, it's a discreet solution for when nature calls, and you're far from any facilities. It's particularly useful for long hikes and camping trips where access to restrooms is limited.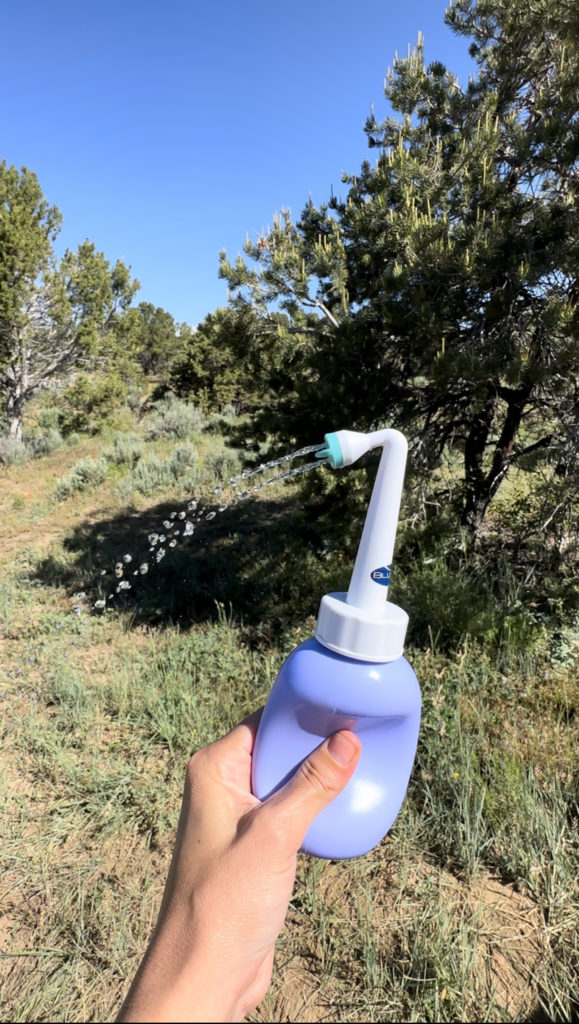 Lots of people will be recommending those little pee cloths instead. I've even been gifted some myself but I never use them because, to me, that's kinda gross. It's a lot nicer to rinse yourself with fresh water.
Menstrual Disc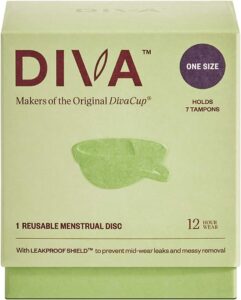 This is not the same as a menstrual cup. This is a disc, which fits soooooooooo much better than the cup. I change mine every 12 hours and haven't had a single leak since I started using this model. It's also insanely easy to remove, making it a quick and clean process. If your outdoor enthusiast bleeds, then they will love this no matter what.
A menstrual disc offers a reliable and comfortable solution for women hiking during their period. It's discreet, leak-proof, and can be worn for up to 12 hours, providing peace of mind on the trail. This is an excellent option for long hikes and multi-day trips.
Palmer's Lip Balm
If you're hiking, then your lips are chapping. It's as simple as that. And you'll likely go through tubes and tubes of it. So it's always a welcome item in my hiking gear. I really like Palmer's lip balm, it's a nourishing and protective option for keeping lips moisturized and safe from the elements. Its cocoa butter formula soothes and heals dry, chapped lips, while SPF protection prevents sunburn.
Hand Sanitizer
Hand sanitizer is a nice thing to have on hand, providing clean hands before meals or after bathroom breaks, even when water isn't available. A small, travel-sized bottle is easy to carry and use on the go. It's useful for all types of hikes, promoting health and hygiene on the trail. Hand sanitizer is a practical and appreciated stocking stuffer for pretty much anyone, but especially outdoor lovers.
Body Glide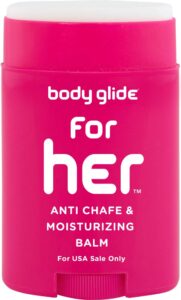 Body Glide is an anti-chafing balm that prevents painful skin irritation caused by friction. It's easy to apply, long-lasting, and sweat-resistant, making it perfect for long hikes and strenuous activities. It's especially useful for hikers prone to chafing or those tackling challenging trails.
Luxury Hiking Stocking Stuffers
Alright, here's where the stocking stuffer ideas get a little luxurious, meaning your outdoors person will absolutely love them. These items are useful and make a hiker's life a little bit better 🙂 I put together this section based on stuff I didn't realize I needed and also stuff that just made things a whole lot more fun.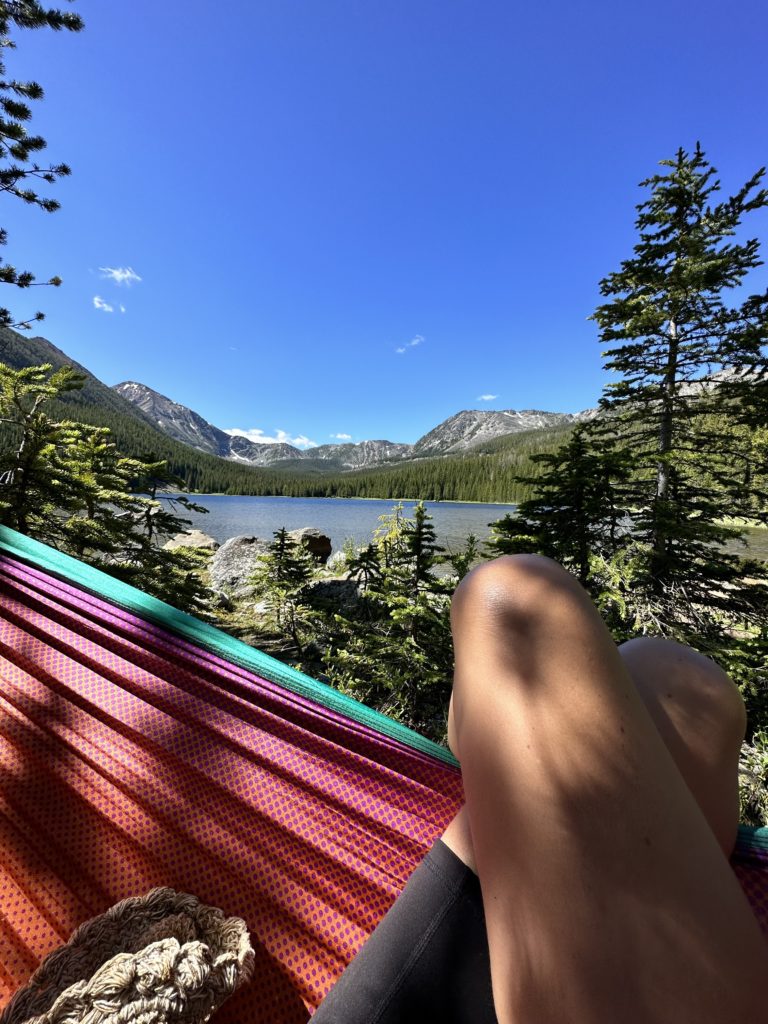 Hammock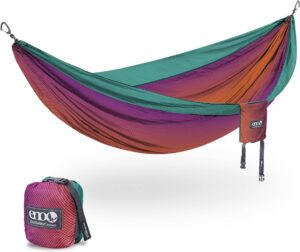 I cannot tell you how much I use my hammock. It is one of my essential hiking items because what is a hike without a good lay in the hammock at the peak?? A hammock offers a comfortable and relaxing way to enjoy the great outdoors, providing a perfect spot to rest and soak in the surroundings. Compact and lightweight, it's easy to carry on any hike and set up between two trees. This is one of my favorite stocking stuffers because I know just how much joy it will bring to anyone who receives one on Christmas morning.
Smartwool Socks
Smartwool socks provide exceptional comfort and temperature regulation, making them a luxurious choice for hikers. The merino wool blend wicks away moisture, preventing blisters and keeping feet dry. They are perfect for all types of hikes, offering superior cushioning and support. Gifting Smartwool socks shows a thoughtful consideration for the recipient's comfort on the trail.
Hot Cocoa Packets
If I know anything about outdoor enthusiasts, it's that they love a good warm drink. This requires boiled water, so hey why not get them a Jetboil too 😉 But my gift idea here is based on the absolute treasure it was to randomly make a warm drink either on the side of the road where there's a great view or at the end of a long hike, back at my car. It felt so special, like I had a luxurious moment to appreciate everything and also drink chocolate. The same thing for instant coffee. A few instant coffee packets will be your outdoor lover's favorite unexpected treat.
Nanopresso
Same as above, I love making little treats for myself wherever I can. Sometimes I like to stop and enjoy an espresso in the middle of a long drive, or bring my Jetboil and Nanopresso with me on a short hike to an epic view. It's not the most lightweight hiking gear but it sure does make things seem a little more special!
Merino Wool Socks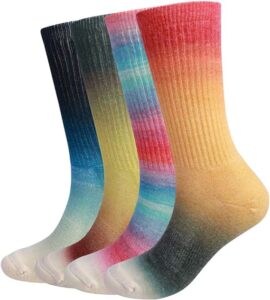 Merino wool socks are a staple for hikers, known for their softness, breathability, and odor-resistant properties. They help you stay warm in cold weather and stay cool in the heat, making them versatile for any hiking adventure. I like these socks because they come in fun colors!
Compact Binoculars
All that lounging in hammocks means that I am sipping in all the sights of nature around me. Countless times I've said "damn I wish I had binoculars right now." COUNTLESS. Even so, I still don't have a pair because they aren't all that essential. So this is the perfect gift that outdoor enthusiasts will for sure appreciate but probably don't already have.
Compact binoculars bring the beauty of nature closer, allowing hikers to observe wildlife and distant landscapes in detail. They are lightweight and easy to carry, adding an educational and enjoyable element to any hike.
Map of Local Trails
I once met an old man at Mt. Rainier who was telling me about all the wildlife he saw around the park. He whipped out a map with all of the trails and picnic areas in the park and pointed out the best spots to view wildlife. I thought that was soooooo handy and made a note to do the same back home in Montana.
A map of local trails is a valuable resource for hikers, helping them to plan adventures and explore new areas safely. It's also a thoughtful gift that encourages outdoor exploration and adventure. Search for local maps on Amazon here.
Backpacking Chair
A backpacking chair provides a comfortable place to sit and relax during breaks, or back at the car after a long hike. I've eaten many sandwiches in this backpacking chair 🙂 Compact and lightweight, it's easy to carry and set up. It's even easier to store. I keep mine in my car in case I want to pull over and make a little espresso somewhere. This is the chair I sit in to enjoy my drink, but it can easily be carried up a trail for the same reason.
Wildlife Identification Guide
This is a really fun way to enjoy the outdoors. I love taking pictures of things I see or recording sounds, then looking it up later when I get home. A bird book or wildlife identification guide would be the perfect stocking stuffer for hikers who like to nerd out like me.
Plant Identification Guide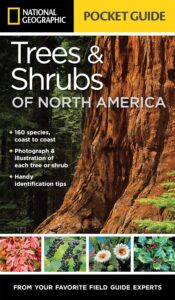 A plant identification guide is another epic option for hikers interested in learning about the flora of the regions they explore. I love looking up plants and trees in the area, but sometimes it's hard to describe a specific type of tree to search engines. A book with pictures makes it a whole lot easier and worthwhile.
Bandana or Buff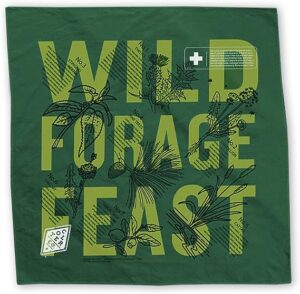 A bandana or buff is a versatile accessory for hikers, providing sun protection, sweat absorption, and even serving as a makeshift bandage in emergencies. It's pretty useful, so even if your outdoor lover doesn't wear it, she'll find another way to use it.
Carabiners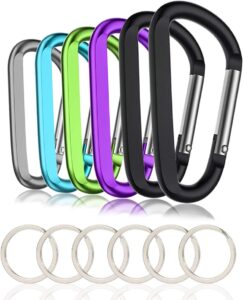 Carabiners are a handy tool for hikers, useful for attaching gear to backpacks or securing items together. They are lightweight, durable, and come in various sizes. This is an item I never really bothered with until this year and now I can't imagine not using them. They are soooo handy! I can clip things onto my backpack, like shoes, a hammock, my GPS device, water bottles… you see how useful? They're also helpful in general for outdoor gear, which generally has lots of loops and clipping opportunities in general.
Stuff Sacks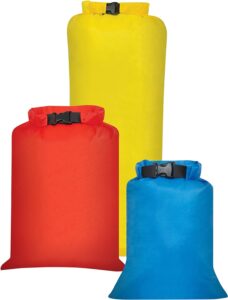 Stuff sacks help to organize and compress gear, making packing and finding items in a backpack easier. They are lightweight, durable, and come in various sizes, making them perfect for all types of hikes. I like keeping my snacks in one, my devices in another, and my warmer layers in a third. All of that goes in my backpack and then I can easily grab what I need without pulling apart my entire pack. It also keeps things extra dry in case it rains suddenly (which happens a lot in the mountains).
Water Filter Straw

A water filter straw provides access to clean drinking water, filtering out contaminants from natural water sources. It's a compact and lightweight solution for hydration, helpful for long hikes and backcountry adventures where you don't want to carry all your water with you. I also used this traveling through India so that I didn't have to buy so many plastic water bottles. It's crazy useful!
Bath Salts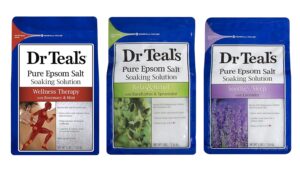 Bath salts offer a soothing and relaxing way to recover after a long hike, easing muscle soreness and promoting relaxation. I looooove taking baths for almost any reason, but especially after long hikes. I like Dr. Teal's brand because it smells nice.
Justin's Classic Almond Butter Packets (Gluten-Free)
If you're into gifting snacks, then check out my epic list of road trip snacks for lots more ideas. But if you want my top recommendation, it's these Justin's Classic Almond Butter packets. They deliver a quick energy boost and a dose of protein to keep muscles fueled. These convenient, single-serving packets are perfect for all types of hikes, from short day trips to long, strenuous adventures. They're the perfect gift for pretty much anyone who needs to refuel on the go.
Hippeas Organic Chickpea Puffs (Gluten-Free)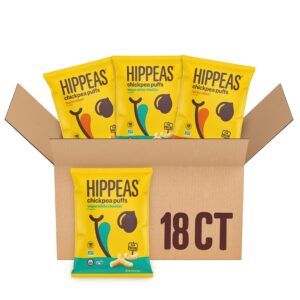 Hippeas Organic Chickpea Puffs are a light and crunchy snack that's both delicious and nutritious. They are gluten-free and packed with protein and fiber, which is good for sustained energy on the trail. Their compact packaging makes them easy to stash in a backpack, and they are suitable for all types of hikes.
Pocket Picnic Blanket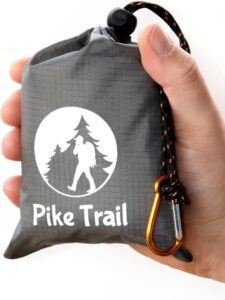 A pocket picnic blanket provides a clean and dry space to rest, eat, or enjoy the scenery. Compact and lightweight, it's easy to carry on any hike. And as you now know how I feel about impromptu snacks and meals out in nature, this is one of those perfect outdoorsy stocking stuffers for foodies like me.
Guide to Forest Bathing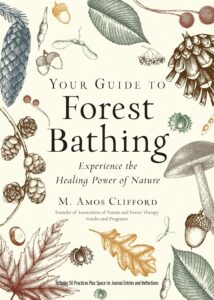 A guide to forest bathing introduces hikers to the practice of mindful nature immersion, enhancing well-being and connection to the natural world. If your outdoor lover is witchy like me, then she will eat this up I swear to god.
Crop Rib Tank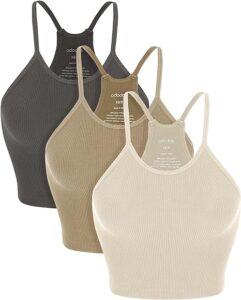 A crop rib tank is a stylish and comfortable top that is versatile enough for both the trail and casual wear. I go through these so fast, I need to replace them after a year usually. So your girl for sure could use a fresh one at some point, making it a reliable stocking stuffer. My favorite part is that it's flattering on everyone.
Other Gift Ideas For Outdoor Adventures
No gift guide would be complete without mention of these items, which are 100% essential but don't quite fit into the stocking stuffer size group. Anyway, here are some of my favorite outdoor items that any outdoor enthusiast will love this holiday season.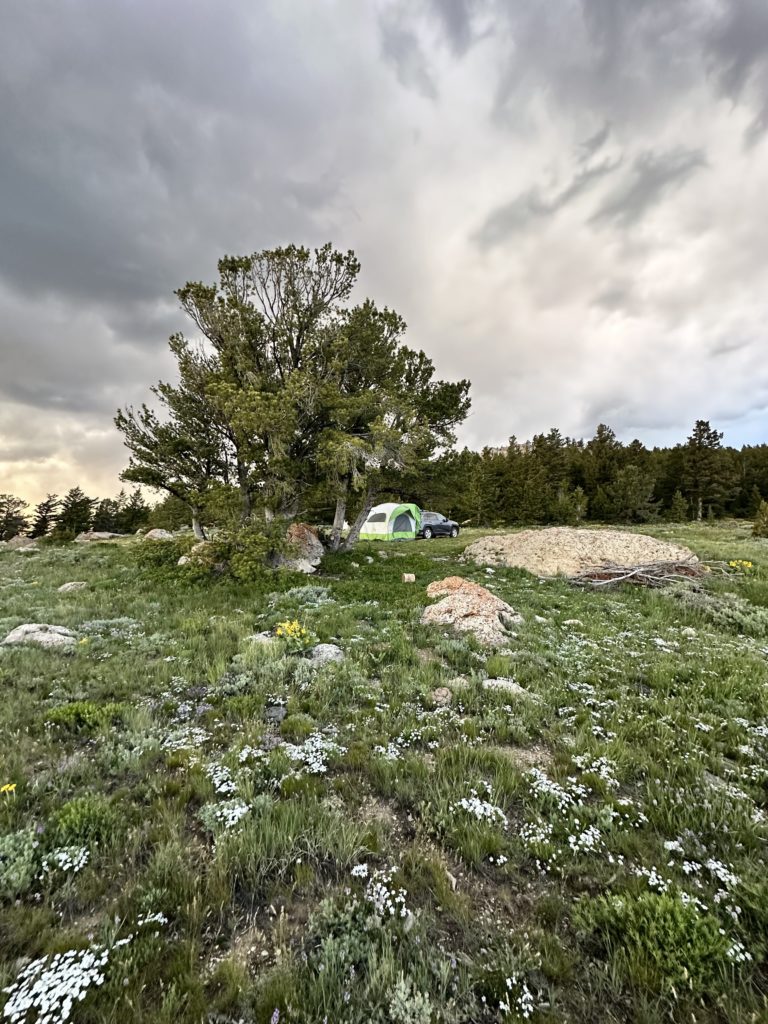 Closing Thoughts
I hope you liked these stocking stuffer ideas! Want more gift ideas? Check out these camp essentials for women to see exactly what I use on all of my outdoor adventures.