8 interesting things to do in Guanajuato City
We recently visited Guanajuato City in the state of Guanajuato Mexico. It was about a four and a half hour bus ride from Guadalajara, where we've been living the last few months.
When I told our landlord that we'd be gone for a few weeks to visit Guanajuato City, she got very excited and then said we had to visit San Miguel de Allende while we were there.
And boy do I get her excitement. Guanajuato and San Miguel de Allende are absolute gems.
An UNESCO World Heritage Site, Guanajuato serves as an important location in the rebellion that led to Mexican Independence from Spanish rule. Though the Spanish were defeated, the architecture from the colonization remained, giving Guanajuato (and much of Mexico) the adorable "pueblo magico" look that it's known for.
Settled at about 6,700 ft elevation, the air is thin and fresh. It's tucked into a cranny of mountains in Central Mexico, all of which are rich with minerals including silver.
The result?
A bustling town rich in Mexican history, culture, and art.
The Guanajuato university breathes life into the place, giving it a fresh take on everything, but especially the food and nightlife.
I searched for things to do in Guanajuato and came across dozens of recommendations, so it was hard to choose what to do while there for a week.
I didn't get to it all, but the things I did get to were incredible. Here's what we saw.
Ride The Funicular and see El Pipila
The funicular was surprisingly the least interesting part of this (though take it, the hills are steep) and El Pipila was the most interesting part of exploring Guanajuato centro. I'm not one to research a place too much before I go there, so I was surprised to learn an important piece of Mexican history and what the Pipila monument represented. Father Miguel Hidalgo led the Mexican people through towns San Miguel and Celaya before eventually sacking the rich mining town Guanajuato.
El Pipila, a nickname for his deformities, became an unexpected hero during the insurrection. When the Spanish caught wind of Miguel Hidalgo and his army, they locked themselves in a warehouse made of stone with all of their riches and hid. The warehouse was impenetrable on account of the stone, but the door was wooden, making it Hidalgo's best shot for entering.
El Pipilia strapped a massive stone to his back to protect himself from the Spanish troops shooting at anyone who got near, then carried a torch up to the entrance to the fortress. He lit the wooden door on fire and allowed the rebellion to enter the fortress and defeat the Spanish.
They put up the Pipila monument to commemorate this historical moment in the infancy of the Mexican War.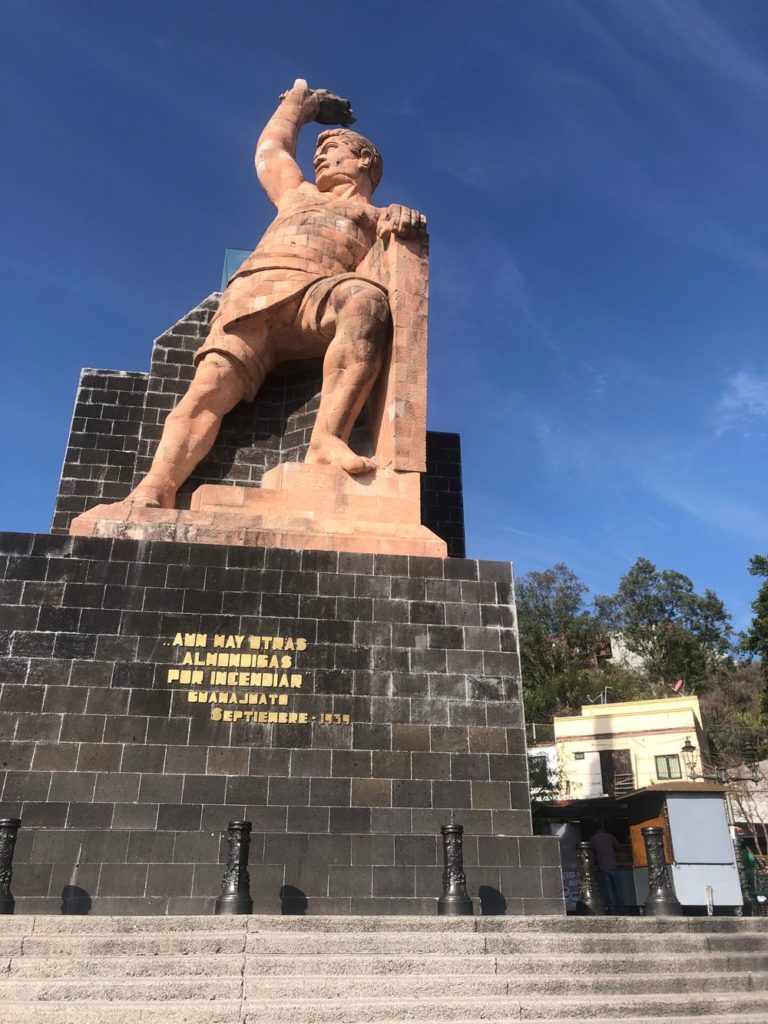 The views from the top are spectacular, but honestly you get views from virtually every part of the town. Especially if you stay in an Airbnb at the top of the hill. There are a few different shops and stands at the top, giving the Pipila monument a fun energy.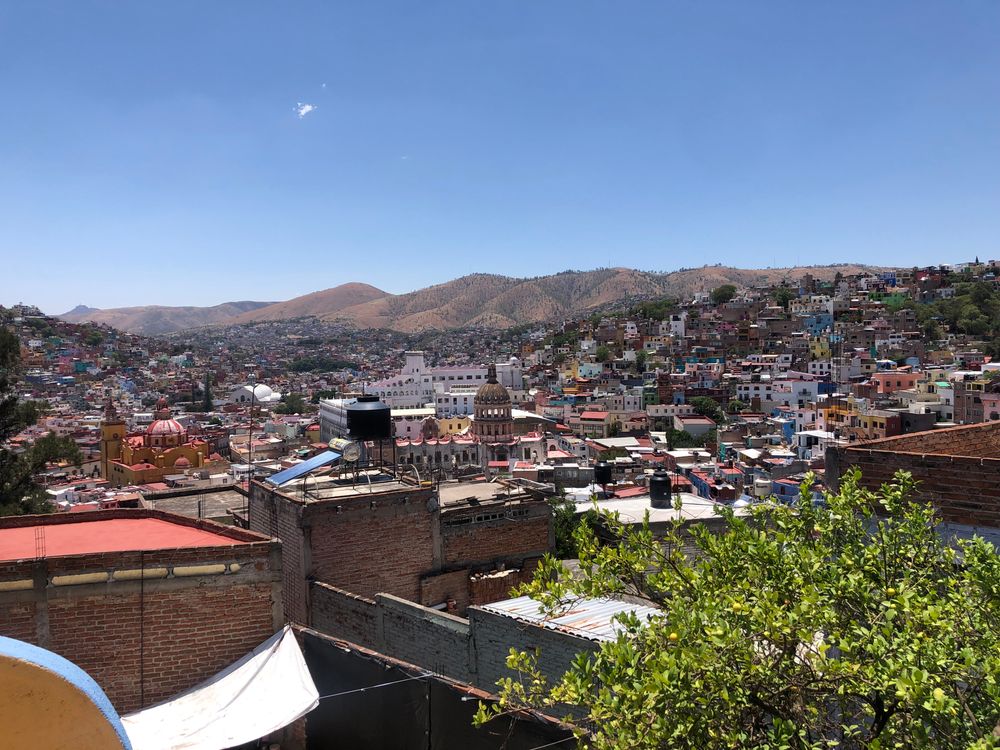 I recommend going early in the day before the crowds are there. Otherwise, it's pretty packed throughout the day (and also really hot).
Walk to La Bufa
This was the thing we most looked forward to and, honestly, we didn't actually do. First, Guanajuato City is extremely hilly and very high in elevation. Anywhere you walk to is a massive workout. Without even trying, I lost a fairly decent amount of weight and supercharged my appetite.
That's just how the city is.
And that's also why I was too sore to climb an even steeper mountain than the hill I had to walk just to get back to the Airbnb every night.
Coincidentally, the people renting the apartment beneath our accommodation were scouting Guanajuato as a place to retire to, so they already had some connections to the expat community there. They invited us to play frisbee golf with them, which was at the base of La Bufa.
Roy, the man who brought us along, was extremely fit. He walked down the side of the mountain we were staying on, through the city center, then up the opposite hill that led straight up to the base of La Bufa.
On the open dirt at the base of the mountain were 18 frisbee golf holes scattered throughout the dry desert landscape. It is there where I learned how to play and also got badly sunburned.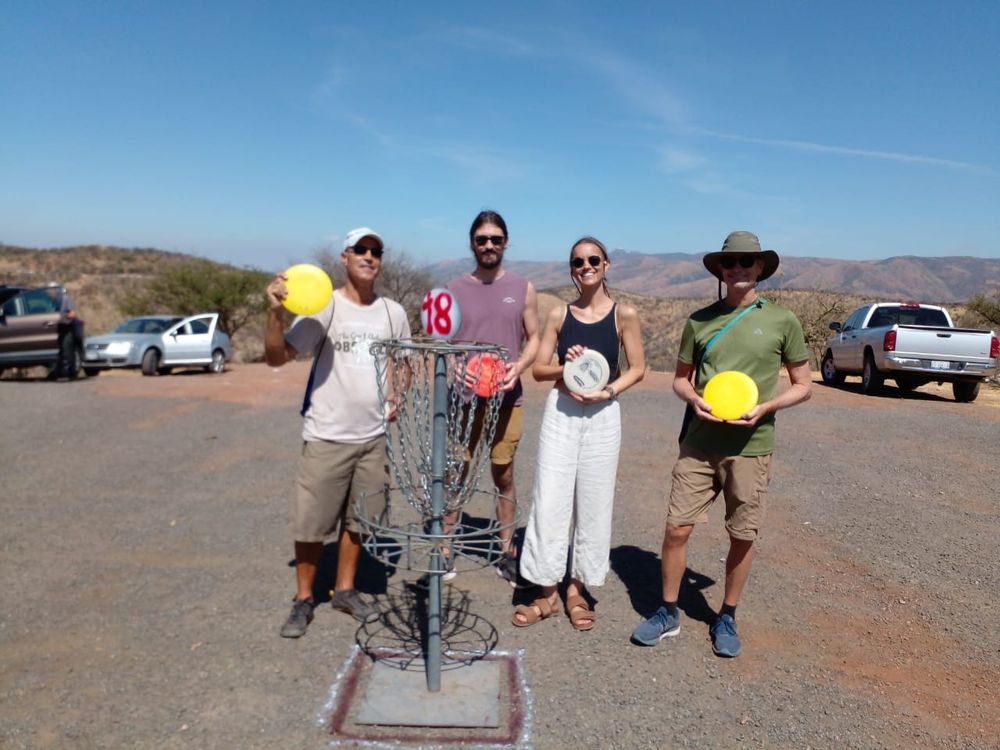 Afterward, we walked back to someone's house and had homemade mango kombucha while sitting on the deck that overlooked downtown Guanajuato.
After a few minutes, they left for Leon to go leather shopping (seriously cheap leather in Central Mexico) and we hobbled down to the city center for some lunch.
The entrance to the trail at La Bufa was at the back of where we were playing. You can park your car there, if you're renting. If you take a taxi, this is probably where they'll drop you. You can easily walk there like we did but if you're not pretty fit then it will be a hell of a climb from the bottom of the hill.
Attend a Game at The Baseball Stadium
The same soon-to-be retirees who invited us to play frisbee golf also recommended attending a baseball game while we were there. Brody had never seen a baseball game in person before (being Australian and all), so it was a very exciting experience for me to witness him experience a big part of our collective culture in the Americas.
We both got some aguas frescas with flor de jamaica and sat off the first base line, right next to the woman selling food. We watched as families poured into the stadium, then ordered the different foods the vendors offered.
Pork skin sandwiches and dorito nachos and beer seemed to be the most popular items sold.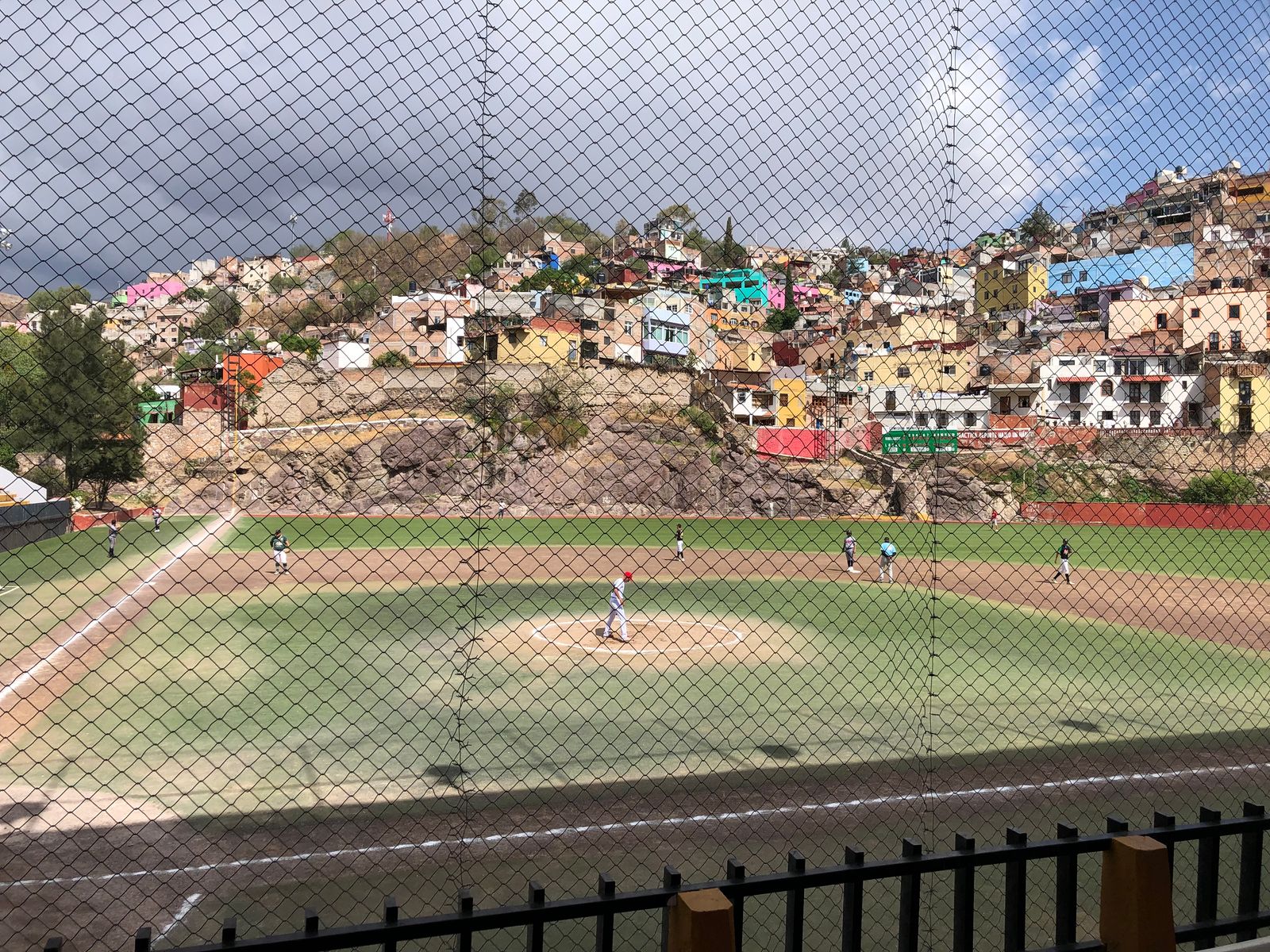 The backdrop was a colorful neighborhood that climbed a steep hill facing away from the stadium. The bright blue sky and fluffy white clouds gave it a real perfect look, like it might have matched the Hollywood expectations that Brody must have had about baseball.
Small children ran around the stands and the crowds cheered and teased the local players. Everyone laughed and had a generally good time.
Games usually start around 4:00 p.m. and tickets are only 35 pesos each. We walked by the stadium during the day and asked the manager when the games were. He said everyday at 4 p.m. though I'm not sure if that meant everyday this week or everyday of the year. I recommend checking when you arrive to make sure that you can make one while you're there.
Visit the Museo Iconografico del Quijote
The Don Quixote Iconographic Museum is one of my favorite museums I've been to. I had heard that the Diego Rivera Museum wasn't all that interesting so opted to skip that and instead opted for this Don Quixote themed museum. It was interesting to both see the story of Don Quixote through artwork and also see the many different styles and interpretations of the story in the individual pieces. The collection displayed all mediums and were collected by medium and scene. Some of the stuff was wildly impressive.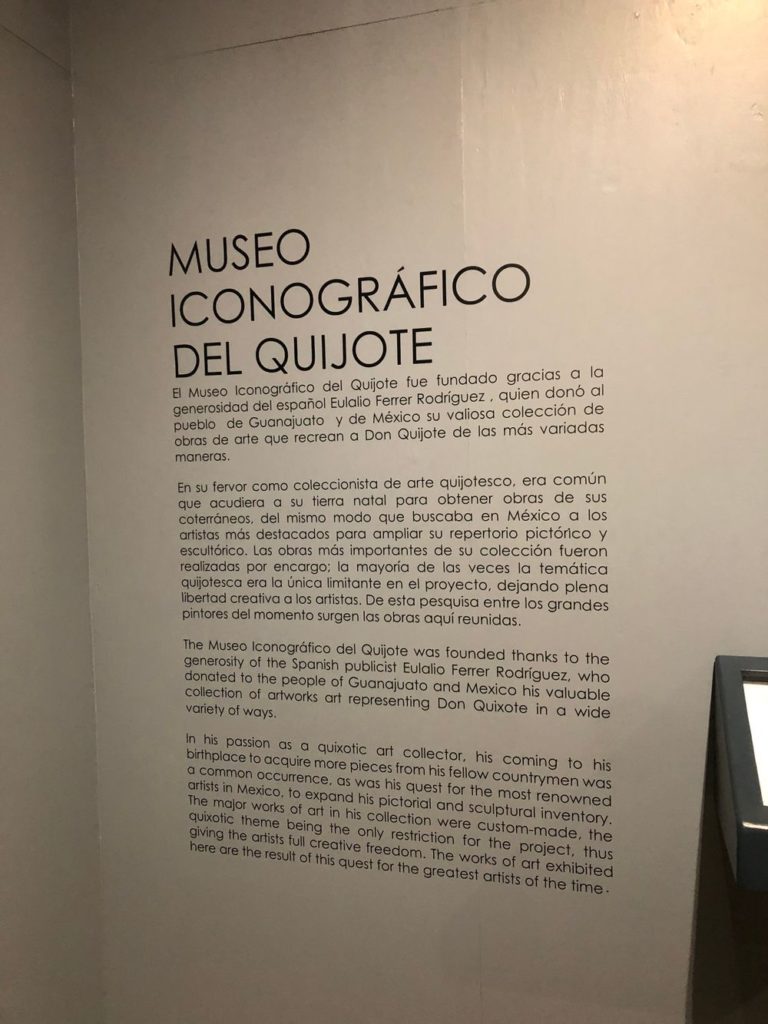 The Don Quixote Iconographic Museum itself is set in an old colonial style building with an open courtyard in the middle. The rooms are large and filled with light. The pieces are spectacular and the setting is beautiful, perfect for a midday reprieve from the sun.
Visit The Mummy Museum (if you're up for it)
Listen, I was excited to see the Mummy Museum, so I walked all the way to that end of town and waited in line for it. Once inside, they crammed us into a dark hallway like sardines and the tour guide sped through his memorized speech about the five or six dead people locked inside the glass case in front of us. When you put it like that, taking away the romanticized view of mummies, it's actually really disturbing. I felt claustrophobic and couldn't wait to get out.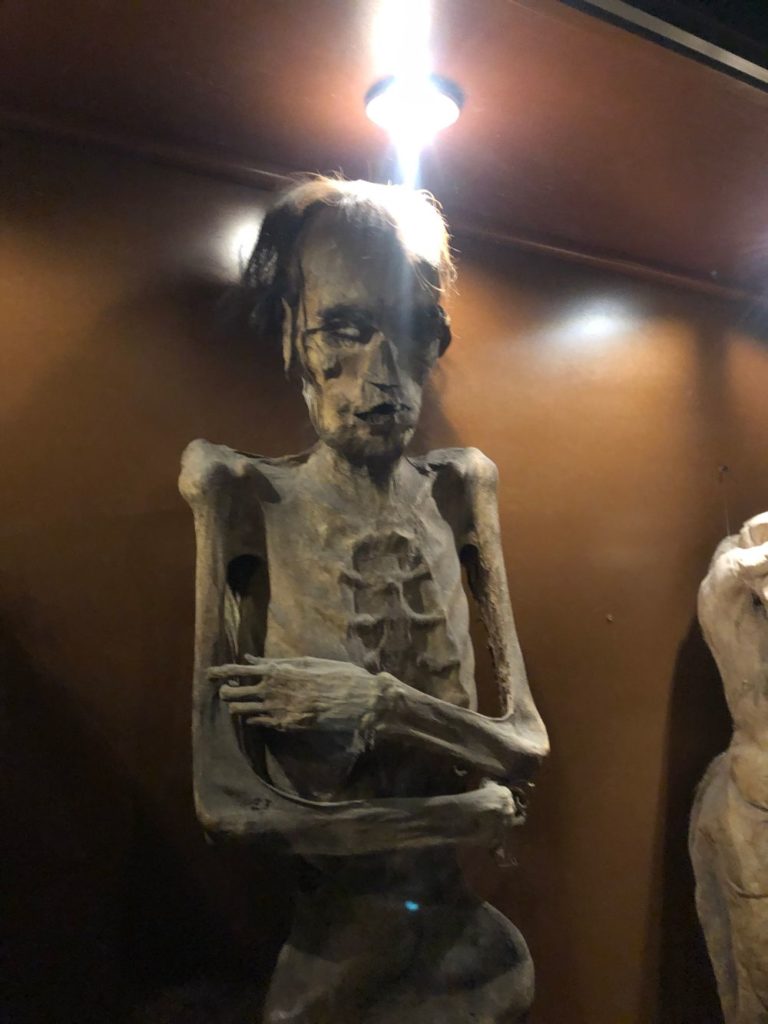 If you're into that kinda stuff, then go for it. I was unexpectedly not.
Get Lost in the Streets
This place is easy to get lost in with all of the winding alleyways. But that's actually kind of the fun of it.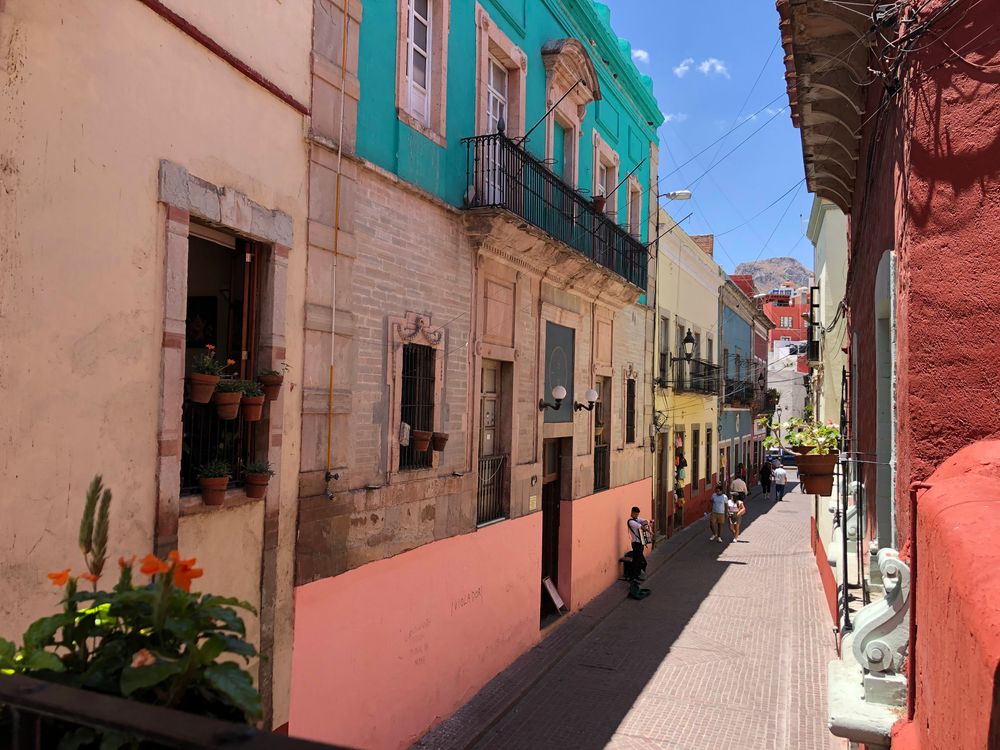 Pass by all of the most beautiful buildings (like the impressive Teatro Juarez) and cross the bridges over Guanajuato River.
Get some fresh produce, cheap lunch, or leather goods at the Hidalgo Market. Watch the Sunday parades led by one of the many churches celebrating the coming together of new (Catholicism) and old (indigenous traditions) through dance and music in the street.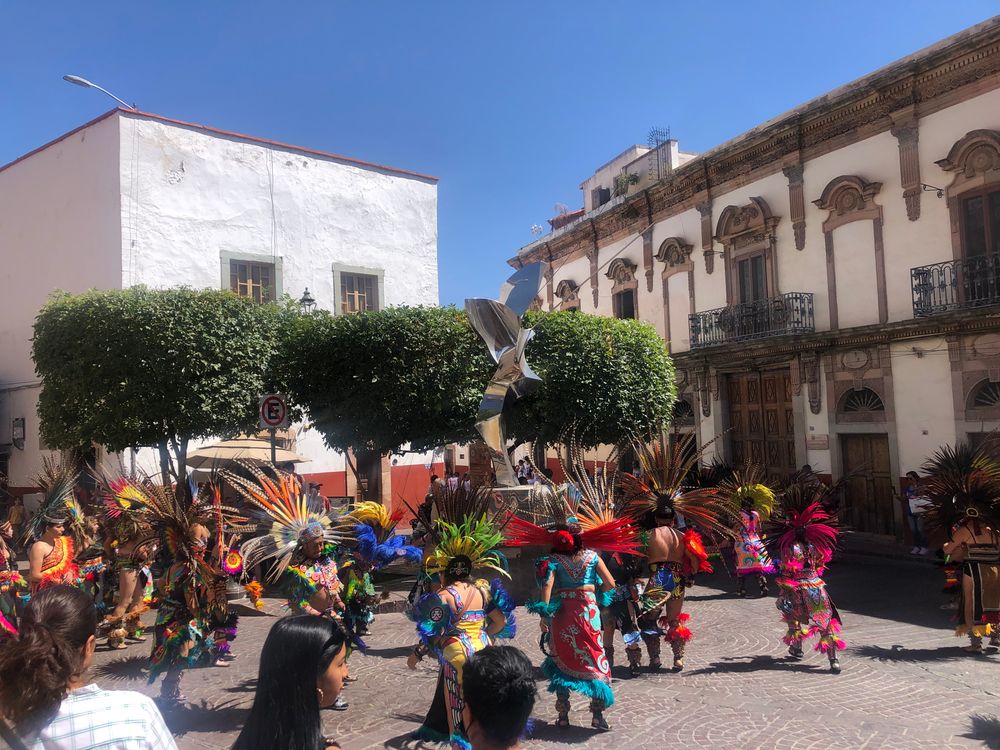 Eat lunch at an outdoor restaurant overlooking El Jardin de la Union. Just be there, experiencing everything. This was my favorite part of staying in Guanajuato, just getting lost in the whimsical city.
Find the perfect home rental for your upcoming trip here 🏠
Go Shopping
Because of the location in Central Mexico, the area is full of silver, making it a popular material for local artists and jewelers to work with. All of the markets and shops are full of beautiful and artistic finds.
Eat Out
Guanajuato was surprisingly hip… but as I'm learning, all of Mexico seems to be a lot cooler than I expected. Everywhere we go, there are trendy restaurants, cafes, bars, and social activities. Our favorite vegan-friendly place to eat was at Habibti Falafel. We both just really missed falafel and have happily had so much (delicious) Mexican food since being here that we were excited to find this gem. We ate at a few other places as well and everywhere we ate was delicious.
Honorable Mentions
We went to Callejon del Beso and it wasn't really that interesting. There was a line to take pictures at it and a bunch of men trying to sell you tours, photos, and other gadgets related to Callejon del Beso tourism. Plus, the entire city pretty much looks as colorful and romantic as this little passageway.
We also never made it to Cristo Rey, though I had wanted to. The reality is that it's just too far outside of town to be bothered with it. There was so much to do right in the old town center.
The same with the Valenciana Mine. Because of the mining history in Guanajuato State, I had hoped to visit a mine while there. But I honestly just couldn't bring myself to leave Guanajuato City while there for such a short period of time.
Find the perfect accommodations for your upcoming trip here ✈️
Places worth visiting nearby
And, of course, the best thing about Guanajuato: its proximity to San Miguel de Allende. It's a quick hour away and buses leave the station for SMA regularly. We went there after Guanajuato centro, but I'll share more about that in another post.
It's also fairly close to Mexico City where you can see a Lucha Libre in real life, explore ancient ruins, taste some of the best food in the entire country (and world), visit monumental museums, and soooo much more. Visiting Guanajuato from Mexico City would make a very full and beautiful trip to Mexico, indeed.
Read more about Mexico