Best Things to do in Oaxaca City Mexico For A Vegan Digital Nomad
I've lived in Mexico for the last year and Oaxaca city (located in Oaxaca state) is my favorite place I've visited so far. Remarkably, Oaxaca has retained a lot of its indigenous Mexican culture, making it a unique stop in all of Mexico.
Local markets, food stalls, local art, beautiful handmade (and all natural!) textiles, and delicious food are what make Oaxaca city so damn enchanting.
While I can't say that I've enjoyed living in Mexico (Guadalajara, specifically), Oaxaca city helped me fall in love with Mexico in a way that I didn't think was possible.
As a digital nomad, I worked a lot while I was there so I didn't "tick all the boxes" like most travel bloggers do. Instead, I focused on the mezcal tasting, delicious Oaxacan cuisine, and indigenous cultures while I was there.
Here's what I saw and recommend for you when you visit Oaxaca city too!
Find the perfect accommodations for your upcoming trip here ✈️
Brief overview of Oaxaca City
Oaxaca City is a vibrant city in southern Mexico known for its rich culture and history. With a heritage that dates back to pre-Columbian times, the city is home to a diverse mix of indigenous and Spanish influences.
Oaxaca City has a rich and diverse indigenous culture that is deeply rooted in its history and can be seen throughout the city today. The Zapotec and Mixtec peoples have lived in the region for thousands of years, and their influence can be seen in the city's local dishes, textiles, and crafts.
The indigenous markets are a must-visit for anyone interested in learning more about the local culture, where you can find handmade crafts and textiles made using traditional techniques passed down through generations.
Oaxaca is also famous for its unique cuisine, which combines indigenous ingredients and cooking methods with Spanish and Mexican flavors. Traditional dishes like mole negro, tlayudas, and tamales are a testament to the city's rich indigenous heritage. Visitors can also experience the indigenous culture firsthand through events like the Guelaguetza Festival, which showcases traditional music, dance, and clothing from the region's many indigenous communities.
The city is also known for its production of mezcal, a type of agave-based alcohol that is widely popular in Mexico.
With its deep cultural roots and vibrant indigenous culture, Oaxaca City is a unique and enriching destination for anyone interested in Mexico's rich history and heritage.
With its stunning baroque church, Templo de Santo Domingo, and its bustling market, Mercado de Benito Juarez, there is no shortage of things to see and do in Oaxaca City. Whether you're interested in its cultural heritage, rich history, or delicious food, this city is a must-visit for anyone looking to experience the essence of Mexico.
Best Things to do in Oaxaca City Mexico
In case you're wondering, you don't really need to speak Spanish to get around. While I do speak Spanish, most tour operators and restaurants I visited spoke enough English that English-only visitors could get by comfortably.
Stop By The Templo de Santo Domingo
The Templo de Santo Domingo in Oaxaca City is a stunning baroque church that is known for its rich history and stunning architecture. Built in the 16th century by the Dominicans, this church has stood the test of time and continues to be one of the city's most important landmarks. Its ornate façade, grand altarpieces, and intricate sculptures are sure to leave you breathless and make you feel like you've stepped back in time.
But this church is not just a pretty face – it also has a rich history that is intertwined with the city's own. It was once a cultural and religious center, hosting concerts, plays, and other events. Today, it is a popular tourist destination and a must-visit for anyone interested in Mexican history and architecture.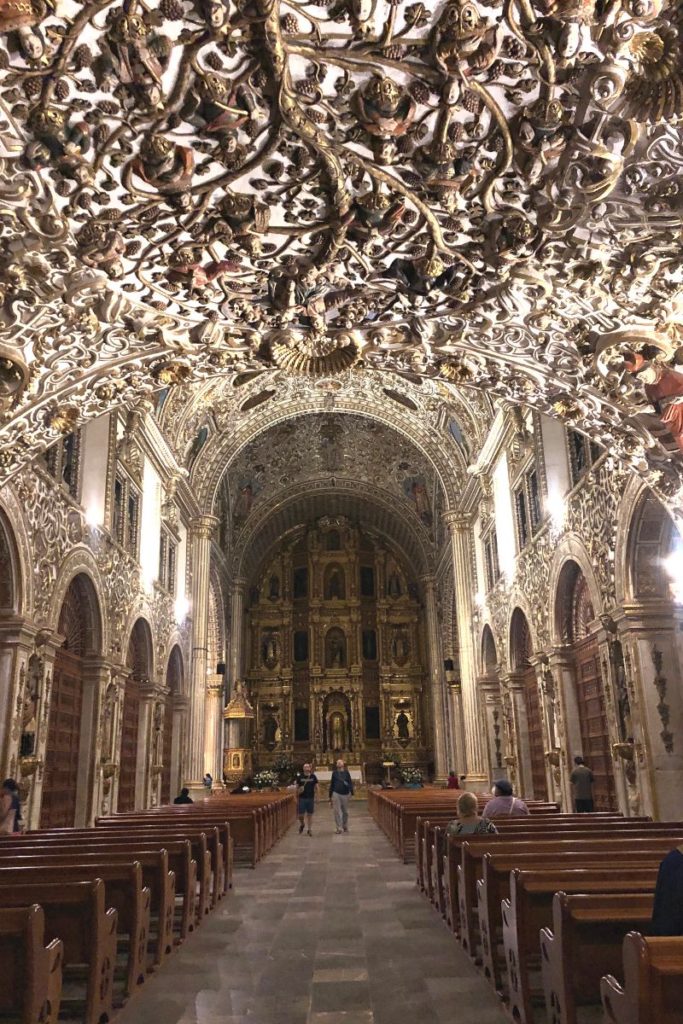 Visiting the Templo de Santo Domingo is a unique experience that will leave you with a greater appreciation for Mexico's rich cultural heritage. Admission is free, but it's always a good idea to bring a small donation to help preserve this beautiful piece of history. The temple is open every day from 9 AM to 6 PM, so you can visit at your leisure. Just make sure to dress appropriately, as this is a place of worship.
There is a botanical gardens attached to the Santo Domingo church, which was unfortunately closed the whole time we were there. But everyone says it's gorgeous. I peaked through the fences and to be honest wasn't too interested in the desert landscape, but hey, to each their own.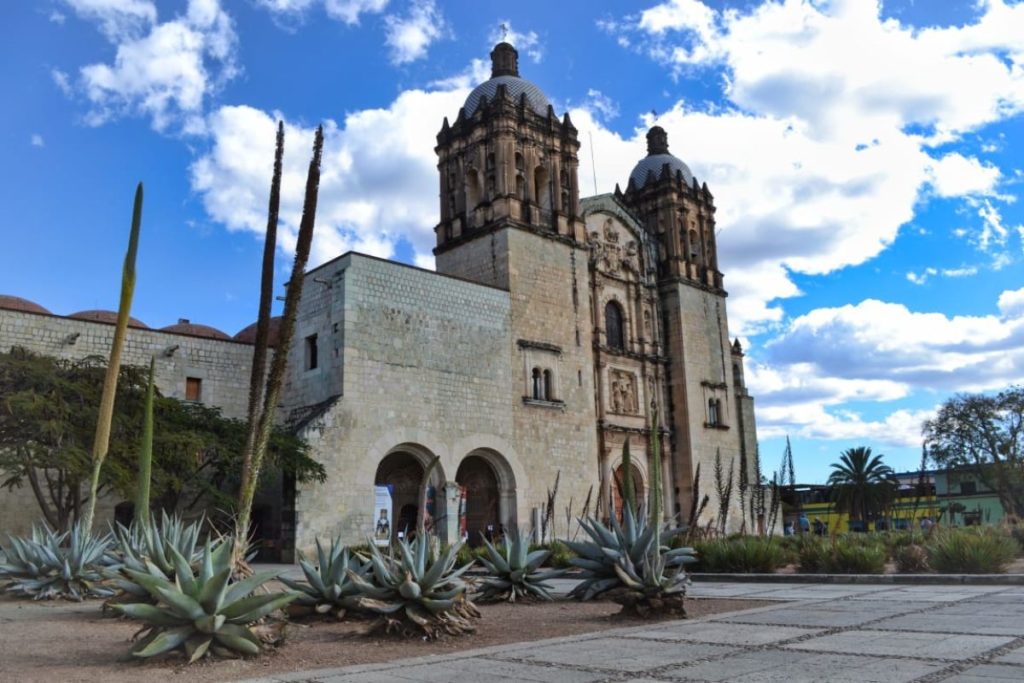 I liked sitting on the benches outside of Santo Domingo church for the people watching… there is a lot going on and it's all fun to watch!
So, pack your sense of wonder and your camera, because the Templo de Santo Domingo is an experience you won't forget. Just imagine standing in the same spot as conquistadors, priests, and Oaxaqueños for centuries – it's like taking a walk through history!
Go Mezcal Tasting At A Mezcaleria
Mezcal is a traditional Mexican spirit that has been produced in Oaxaca for centuries. Made from the heart of the agave plant, mezcal is known for its smoky and complex flavor profile that is distinct from its more well-known cousin, tequila.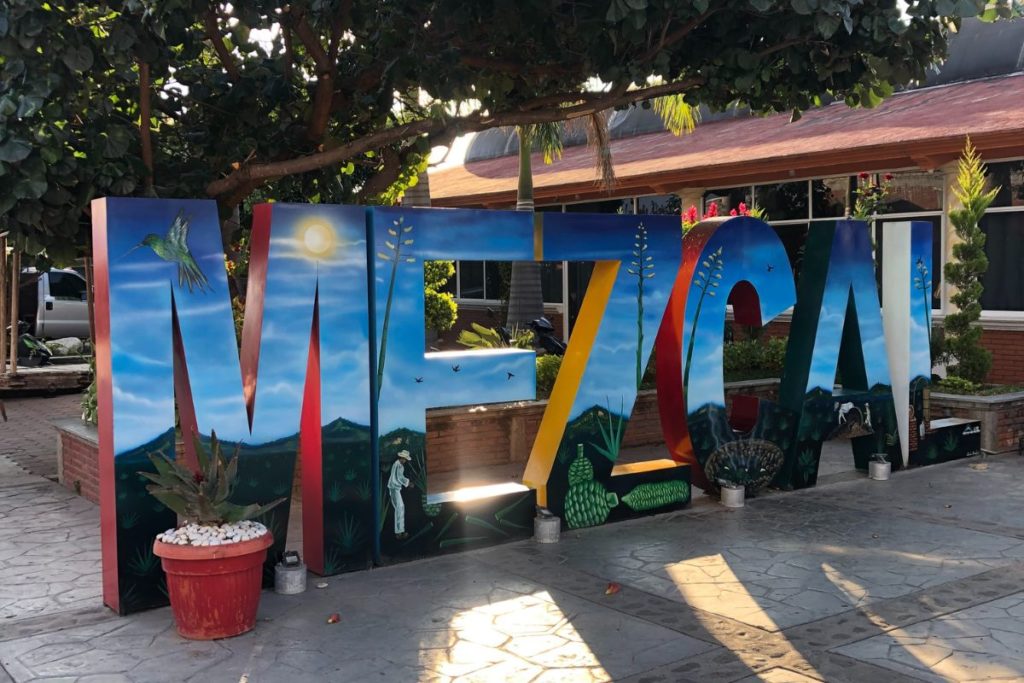 Oaxaca is considered the mezcal capital of Mexico, with a rich history and tradition of producing some of the finest mezcals in the world. The production process is labor-intensive, involving slow roasting the agave hearts in underground pits, before being crushed and fermented. The resulting spirit is then double distilled, resulting in a smooth and flavorful drink that is a true reflection of Oaxacan heritage.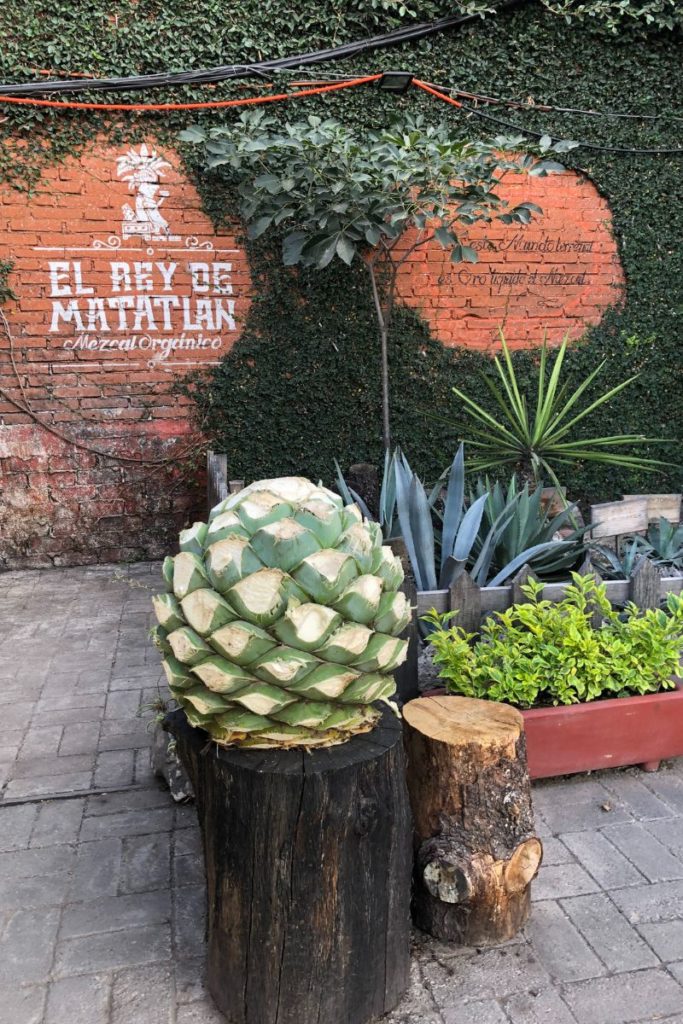 If you're a fan of mezcal, then Oaxaca City is the place to be. There are many mezcalerias throughout the city that offer tastings and serve a wide range of mezcals, from smooth and mild to bold and smoky. Some of the best mezcalerias in the city include Mezcaloteca, La Mezcalerita, and La Mezcalería.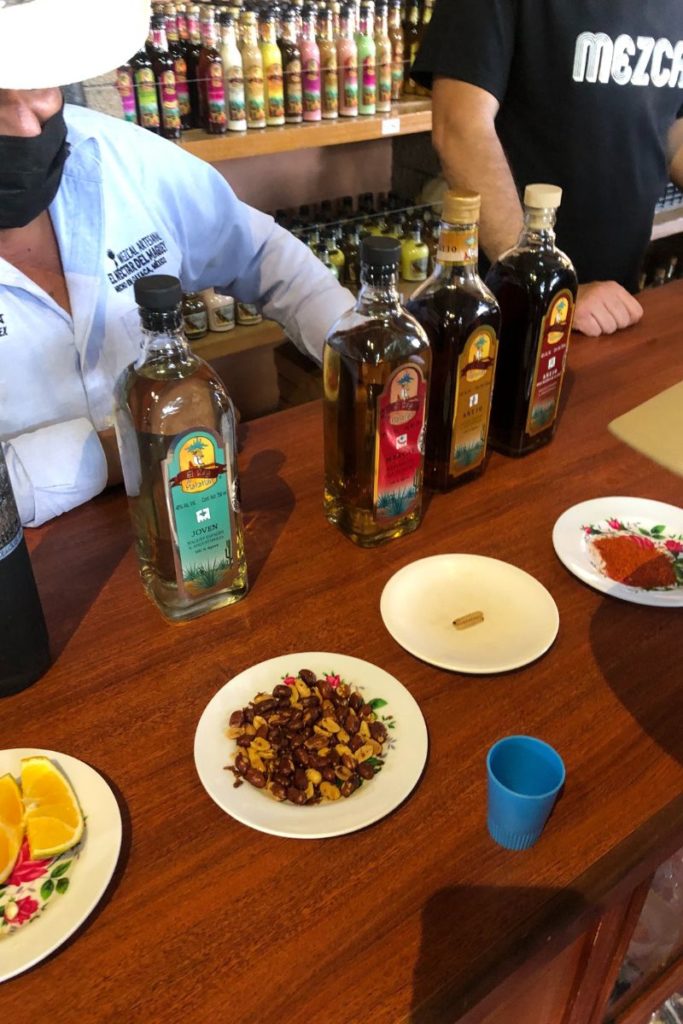 I booked a mezcal tour with a small tour operator I found while walking around Oaxaca's main square. You can find it here: C. de J. P. García 203
When trying mezcal, it's best to start with a milder variety (aka an older bottle) and work your way up to the bolder and smokier flavors (the "young" varieties). You can also try pairing mezcal with traditional Oaxacan food, like tacos or tlayudas, to enhance the flavor. Many mezcalerias also offer tastings, where you can try a range of mezcals and learn about their production process.
So, grab a designated driver (or a taxi!) and get ready for a wild ride on the mezcal express. Just remember, mezcal is meant to be sipped slowly and savored, so take your time and enjoy the journey. And if you're feeling brave, try a shot with a worm at the bottom – it's a true Oaxacan experience!
See The Street Art
Oaxaca City is a vibrant and colorful city, with a thriving street art culture that showcases the talent and creativity of local artists. From large murals to intricate street art installations, the city is a visual feast for anyone who appreciates art.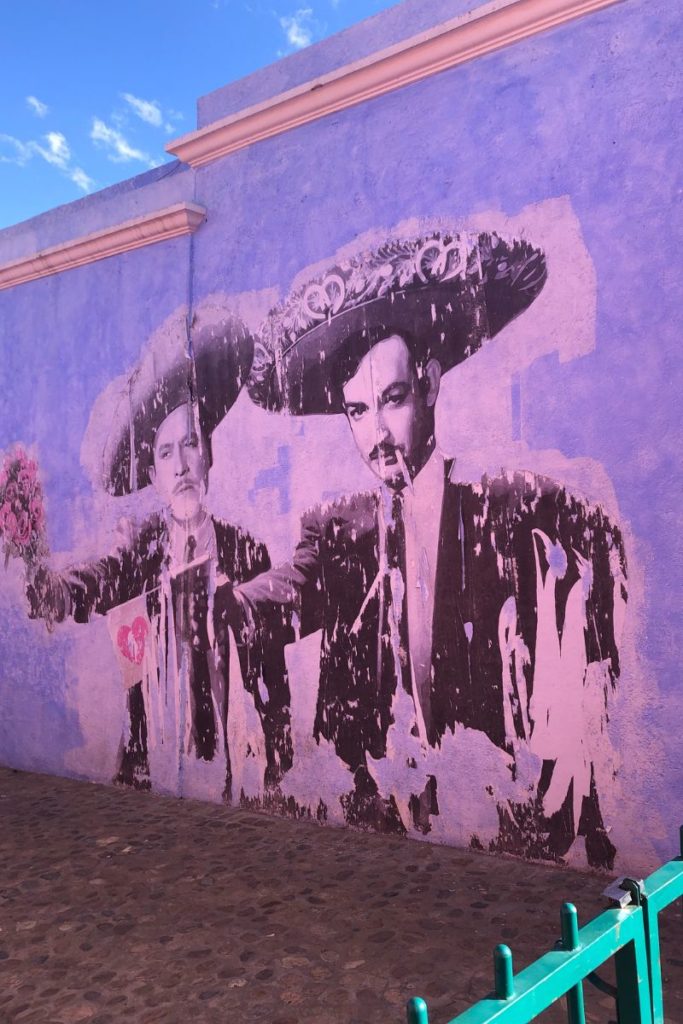 One of the best places to see street art in Oaxaca is in the historic center of the city, where the colorful buildings and narrow cobblestone streets provide a beautiful backdrop for the art. You can also find street art in the neighborhoods of San Felipe del Agua and Xochimilco, where the community has embraced street art as a way to express their culture and heritage.
The significance of street art in Oaxaca goes beyond just beautifying the city. It's a way for artists to express their opinions and share their stories with the community. The street art scene in Oaxaca is a reflection of the city's rich cultural heritage, and it highlights the unique blend of indigenous, colonial, and modern influences that make Oaxaca such a special place.
If you're looking to explore the street art scene in Oaxaca, some of the best locations include the corner of Macedonio Alcala and Morelos, the street art murals in San Felipe del Agua, and the street art alley in Xochimilco. And don't forget to bring your camera – you'll want to capture the beauty of the street art for posterity!
So, lace up your walking shoes and get ready for a colorful and inspiring adventure through the streets of Oaxaca. The street art scene in the city is a true celebration of the local culture and heritage, and it's an experience that you won't soon forget.
Visit Hierve el Agua
Hierve el Agua is a unique and breathtaking natural wonder located just a short day trip from Oaxaca City. It's a mineral spring that has over time created two petrified waterfalls – one of which towers over 90 meters high. The site is a true testament to the power of nature, and it's an awe-inspiring sight to behold.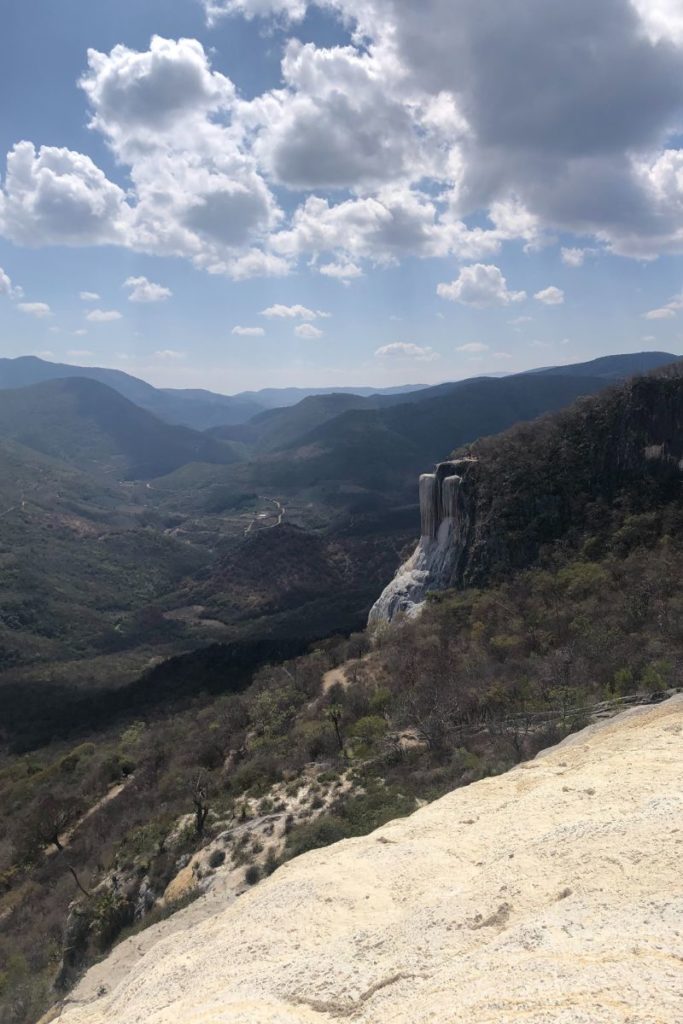 Visiting Hierve el Agua is a must for anyone traveling to Oaxaca, as it provides a chance to escape the hustle and bustle of the city and immerse yourself in the stunning natural beauty of Mexico. Not only are the petrified waterfalls a sight to behold, but there are also several natural pools at the site where you can take a dip and enjoy the cool, clear water.
To get to Hierve el Agua, you can either rent a car or book a tour from downtown Oaxaca City. The drive takes about 2 hours, and the road is well-paved, so it's an easy and scenic journey. When you arrive, you'll have the option to hike to the top of the petrified waterfalls or simply relax by the pools.
One tip for visiting Hierve el Agua is to plan your trip in advance, as the site can get busy during peak tourist season. And, if you're feeling adventurous, pack a picnic and make a day of it!
PRO TIP: Be sure to bring plenty of sunscreen, as there is limited shade at the site. I got pretty sunburnt and my friend Lulu, a dermatologist, was quite disappointed in herself for not having sunscreen with her!
Overall, a visit to Hierve el Agua is an unforgettable experience, and it's a must-see attraction for anyone traveling to Oaxaca. So, grab your hat and water bottle, and get ready for an adventure to one of Mexico's most stunning natural wonders.

Learn About Oaxaca's Textiles
Oaxaca is famous for its rich textile traditions, and it's a hub for some of the most beautiful hand-woven textiles in Mexico. From hand-woven rugs to intricate table runners, the textiles of Oaxaca are a true work of art and a reflection of the region's indigenous roots.
Some of the most popular textiles from Oaxaca include hand-woven rugs made from wool, which come in a range of colors and patterns. The region is also known for its brightly colored table runners and napkins, which are hand-embroidered with intricate designs. Additionally, Oaxaca is home to a number of master weavers who produce beautiful hand-woven clothing and accessories.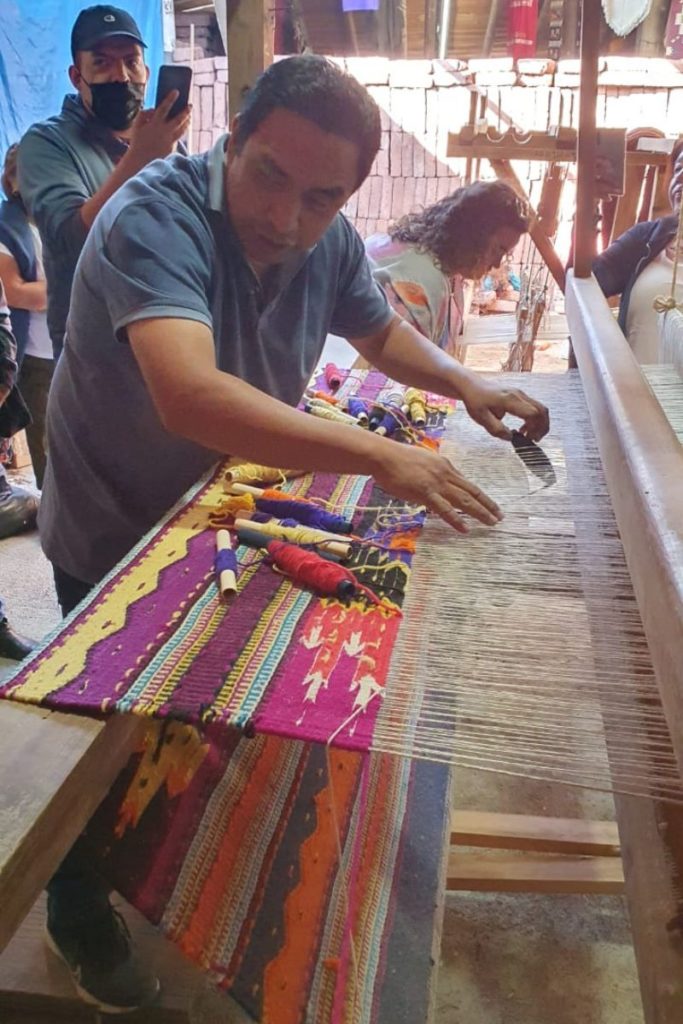 If you're looking to buy textiles in Oaxaca, there are several great places to shop. The Mercado de Benito Juárez is a great place to start, as it's a vibrant market filled with vendors selling textiles, food, and other local goods. Another great option is to visit one of the many weaving cooperatives in the city, where you can meet the artisans who create the textiles and see the process up close.
We bought almost $600 worth of textiles to take back to friends and family 😊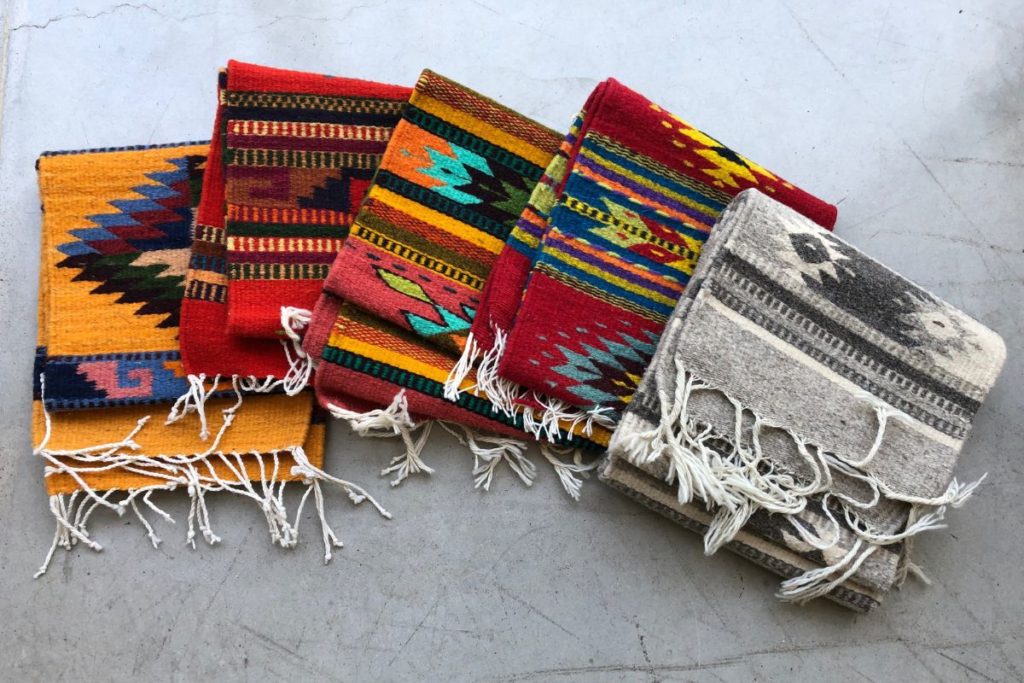 When shopping for textiles in Oaxaca, it's important to keep in mind that quality varies widely, so be sure to shop around to find the best deals. If you're looking for authentic, high-quality textiles, it's best to buy from a reputable vendor or shop. And, if you're a bargain hunter, be sure to try your hand at bargaining – it's a common practice in Mexico, and you may be able to get a better deal on your purchase.
Overall, Oaxaca's textile traditions are a major part of the region's cultural heritage, and they're a must-see for anyone interested in Mexican arts and crafts. So, if you're visiting Oaxaca, be sure to take some time to explore the city's vibrant textile scene and bring home a unique piece of Mexico's rich cultural heritage.
See El Tule, the largest and oldest tree (in the world?)
The Tule Tree, located in the town of Santa Maria del Tule, is one of the most famous landmarks in Oaxaca, Mexico. This massive tree, which is a species of cypress, is considered to be one of the largest and oldest trees in the world. In fact, its trunk has a diameter of over 40 feet and its branches stretch out over 140 feet, making it a truly awe-inspiring sight.
In fact, it's so big that I had a hard time fitting it into a picture!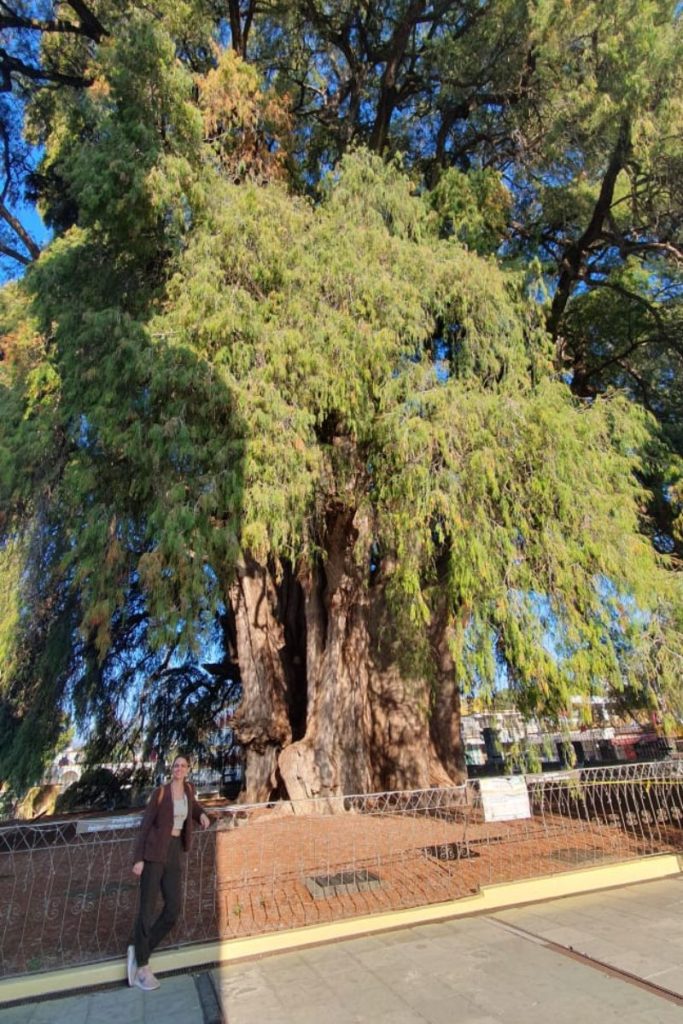 The Tule Tree is of great significance to the people of Oaxaca, as it has been a part of their culture and history for thousands of years. It's also considered to be a symbol of strength and resilience, as the tree has survived numerous natural disasters and is estimated to be over 2,000 years old.
Visiting the Tule Tree is a must-see for anyone traveling to Oaxaca. The tree is located just a short drive from the city, and there are several ways to get there, including private transportation, taxis, and local buses. When visiting the tree, be sure to take your time to explore the surrounding area and appreciate the tree's size and beauty.
Indulge in Oaxacan Food
Oaxacan cuisine is considered one of the most diverse and flavorful in Mexico, and for good reason! The city is known for its rich and complex dishes that are packed with unique flavors and ingredients.
One of the most popular dishes in Oaxaca is mole negro, a rich and flavorful sauce made from a blend of chiles, spices, and chocolate. This sauce is traditionally served over chicken or turkey, and is considered a true delicacy.
Another must-try dish in Oaxaca is the tlayuda, a large crispy corn tortilla topped with beans, cheese, meat, and a variety of other ingredients. This dish is similar to a pizza and is a staple of the local cuisine.
Tamales are also a popular dish in Oaxaca, and are made from masa (corn dough) that's filled with a variety of ingredients, including meats, cheese, and vegetables. These are usually served as a quick and easy meal, and can be found at street vendors throughout the city.
For those who are looking for the best restaurants and street vendors in Oaxaca, there are plenty of options to choose from. I was actually surprised by all of the fine dining options too!
Some popular restaurants include Casa Oaxaca, La Biznaga, and Los Danzantes, which are known for their delicious food and upscale atmosphere. For a more casual experience, be sure to check out the street vendors in the Mercado de Benito Juarez, where you'll find a wide variety of street food and drinks.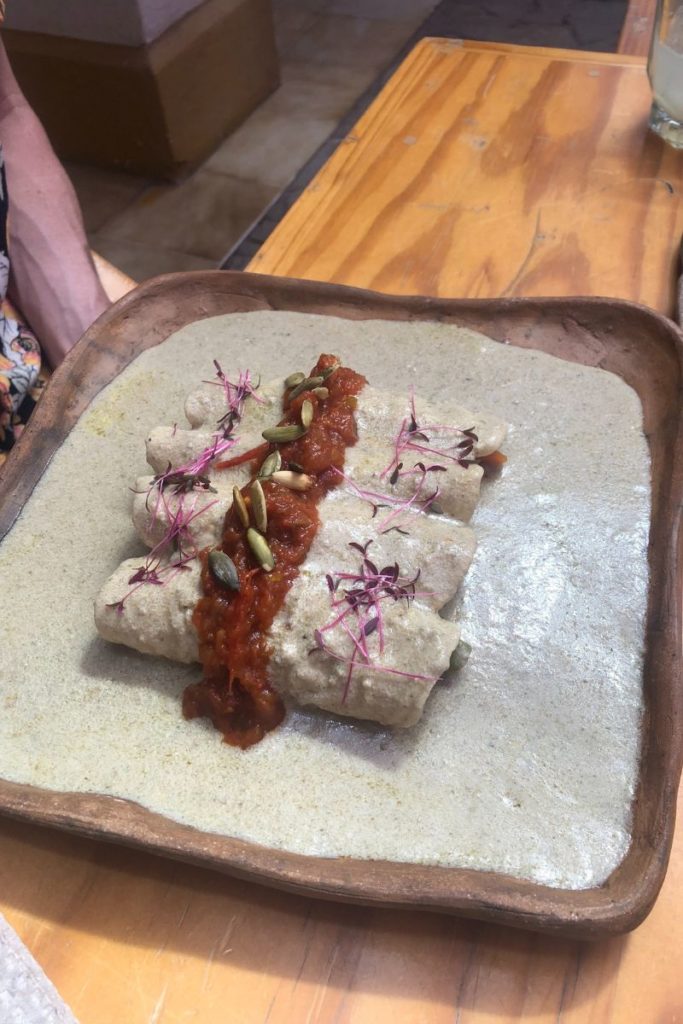 The two restaurants that I absolutely recommend as a vegan traveler are:
Hierba Dulce – Traditional Oaxacan dishes that are 100 % plant-based, served with artisanal drinks that are just soooo good.
La Petrona Café Bistro – While this is not at all traditional food or even Mexican for that matter, they do have the best coffee in the whole city. If you know me at all, then you know that this is the most important thing I scout upon arriving at any place. It's right across from Museo Textil de Oaxaca, making it a perfect little spot to sip and explore.
Overall, Oaxaca's cuisine is a true celebration of flavor and tradition. So, whether you're looking for a fancy restaurant or a quick street food fix, there's something for everyone in this vibrant city.
PRO TIP: Take a food tour to experience all of the different flavors of the traditional dishes. I'm vegetarian, and mostly vegan to be honest, so food tours are unfortunately never a good fit for me.
Shop at Mercado de Benito Juárez
The Mercado de Benito Juárez is a bustling market in the heart of Oaxaca City that will make your taste buds dance with joy! This market is a feast for the senses, with colorful stalls selling everything from local food and drinks, fresh produce, to textiles and handcrafted goods.
If you're a foodie, then this market is heaven on earth! You'll find vendors selling delicious traditional Oaxacan dishes like tlayudas, tamales, and mole negro, as well as sweets like the famous tejate. And don't forget to wash it all down with a cold glass of agua fresca or a shot of mezcal!
Oaxaca shopping is the tits; you'll find a treasure trove of textiles, pottery, and other handcrafted goods. From woven baskets to hand-embroidered table runners, there's something for everyone. And if you're a seasoned bargain hunter, then you'll love haggling with the vendors for the best price. Just remember to be polite and keep your bargaining skills sharp – these vendors are experts at getting the best deal!
The Mercado de Benito Juárez is at the city center and open every day from 9 AM to 6 PM, so you can come and explore at your leisure. Just be prepared to dodge a few elbows and watch your purse or wallet – this is a busy market, after all! And remember, the early bird gets the worm (or the best tlayuda, in this case!).
So, grab your sense of adventure and your appetite, because the Mercado de Benito Juárez is an experience you don't want to miss.
Things I wish I'd done while in Oaxaca city
Take a cooking class
A cooking class in Oaxaca City is a great way to immerse yourself in the local cuisine and learn about traditional cooking techniques. I got a little bit of a cultural explanation at the authentic Oaxacan restaurants I ate at and it made me wish I had taken a cooking class myself. It turns out there is a lot of tradition and meaning in the ingredients they use!
During a class, you can expect to learn about the local ingredients and spices that are used to create flavorful dishes, as well as get hands-on experience preparing several traditional Oaxacan dishes. These classes are a fun and interactive experience, and a great way to expand your cooking skills while also learning about the local culture and cuisine.
Tried the traditional hot chocolate
I chased soy lattes more than any other kind of drink and, as a result, my caffeinated visit did not include the rich traditional hot chocolate that Oaxaca is known for.
Oaxacan hot chocolate is a staple of the local cuisine and holds great significance in the cultural heritage of the city. Made from locally-sourced cocoa beans, this rich and flavorful hot chocolate is prepared using traditional techniques that have been passed down through generations. It's considered a symbol of the region's history and cultural identity, and is a staple of local life and traditions.
Additionally, the preparation of hot chocolate is considered an art form in Oaxaca, with many families using special tools and techniques to create the perfect cup. The hot chocolate is also often served with other traditional treats, such as sweetbreads or biscuits, and is enjoyed as a communal experience, bringing families and communities together.
In short, Oaxacan hot chocolate is much more than just a delicious drink – it's a cultural symbol and a deeply ingrained part of local life and traditions.
Visit Puerto Escondido
My friend Lulu and her husband were visiting Oaxaca city, which is why I went down there in the first place. A few days into their visit, they took a night bus to Puerto Escondido while I lamentably stayed behind. (Oaxaca city was too enchanting for me to leave!) I say "lamentably" because Lulu sent me a barrage of pics and videos of them enjoying the salty air and sunshine for the rest of their trip.
Don't make the same mistake as I did. Take the bus to Puerto Escondido. While it's a bit too far for a day trip, it's close enough to include in your visit to Oaxaca city.
Take a free walking tour
A walking tour of Oaxaca City is a great way to explore the city's rich cultural heritage, history, and architecture. It would be especially great to book a walking tour with a local guide so that you can get the history and traditions with it too.
During a walking tour, you can expect to:
Visit historical landmarks and monuments, such as the Templo de Santo Domingo and the Zócalo, the city's main square.
Discover the city's vibrant street art scene, with a focus on the colorful murals that adorn the walls of buildings and public spaces throughout the city.
Visit local markets, such as Mercado de Benito Juárez, to sample traditional foods and drinks, shop for textiles, and learn about the local economy and culture.
Take in the city's stunning colonial architecture, including its charming colonial-style buildings, plazas, and courtyards.
Learn about Oaxaca's rich cultural heritage and history, including its indigenous roots and the unique blend of indigenous and Spanish influences that have shaped the city over the centuries.
Overall, a walking tour of Oaxaca City is a fun and interactive way to experience the city's vibrant culture, history, and architecture, and to gain a deeper understanding of the city and its people.
Find the perfect home rental for your upcoming trip here 🏠
Common questions
What is the best time of year to visit Oaxaca City?
The best time of year to visit Oaxaca City depends on personal preferences and travel goals. Here are a few things to keep in mind:
Spring (March to May): This is a great time to visit if you want to experience the city's vibrant wildflowers and enjoy warm weather without the summer crowds.
Summer (June to August): Summer is peak tourist season in Oaxaca City, with hot temperatures and the busiest crowds. However, this is also a good time to attend festivals and cultural events.
Fall (September to November): This is a great time to visit if you want to avoid the summer crowds and experience cooler temperatures. This is also a time when the city's markets and street vendors offer a wider variety of foods.
Winter (December to February): Winter is a good time to visit if you are interested in the city's Christmas and New Year celebrations, but it can be chilly and the days can be short.
Ultimately, the best time of year to visit Oaxaca City depends on your travel style and interests, so be sure to do some research and choose the time that works best for you!
What kind of food and drink can I expect to find in Oaxaca City?
Oaxacan cuisine is renowned for its complex flavors and recipes. Be sure to try one of the many varieties of mole – a traditional dish composed of chili peppers, spices, nuts, seeds and chocolate that comes in many different colors – as well as tlayudas; think pizza but with a crispy tortilla base instead! Another classic dish is chapulines: fried grasshoppers seasoned with garlic, lime juice and chili powder.
If you're looking for something sweet, look no further than the numerous pastries and desserts that Oaxaca has to offer. Flan made with cajeta (goat's milk caramel), tres leches cakes, empanadas with chocolate or fruit fillings- all make for delicious treats. Wash it down with a smooth cup of mezcal or tejate – a pre-Hispanic drink made from corn, cacao beans and mamey seeds – and your sweet tooth will be satisfied!
How safe is Oaxaca City for tourists?
Listen, I've been living in Guadalajara which is decidedly not safe so anything compared to Guadalajara feels safe to me.
Oaxaca City is generally considered a safe destination for tourists, but like any large city, visitors should always be cautious and aware of their surroundings. Crime rates in Oaxaca City are lower compared to other Mexican cities, but tourists should still take common-sense precautions, such as avoiding walking alone at night, keeping valuables in a safe place, and being aware of pickpocketing.
It's also important to be aware of your surroundings when exploring the city, especially in less crowded areas or at night. Additionally, it's recommended to take official taxis, rather than using unregistered cabs, to ensure your safety.
It's also a good idea to check the latest travel warnings and safety updates from the Mexican government or your home country's foreign office before traveling to Oaxaca City. With proper precautions, you can enjoy a safe and memorable trip to this vibrant and historic city.
What is the cost of living in Oaxaca City?
The cost of living in Oaxaca City is relatively low compared to other Mexican cities and many popular tourist destinations. Visitors can expect to find affordable accommodations, dining options, and transportation, making it an attractive destination for budget travelers.
For example, a basic hotel room can cost around $20-30 per night, while a meal at a local restaurant can cost $5-10. Taxis and local transportation are also relatively cheap, with fares starting around $2-3.
However, it's important to note that prices may vary depending on the time of year, your travel style, and your destination within the city. For example, more upscale restaurants, activities, and hotels may be more expensive, while street vendors and local markets can offer more affordable options.
Overall, Oaxaca City offers a high quality of life at a relatively low cost, making it a great destination for budget-conscious travelers.
What is the weather like in Oaxaca City?
Oaxaca City is home to some of the most diverse and unique weather on the planet. It's a place where you can experience all four seasons in one day! From blistering hot summers to chilly winter days, Oaxaca City has it all.
The city enjoys a semi-arid climate with an average temperature of 72°F (22°C). Thanks to its high elevation, temperatures are usually much cooler than other cities in Mexico throughout the year. The warmest months are between June and September when temperatures reach up to 90°F (32°C). During winter months (November through February), temperatures cool off but rarely drop below 50°F (10°C). While there is no snowfall here, rainfall peaks during summertime with an average of 11 inches per year.
What are the cultural customs and norms in Oaxaca City?
Oaxaca City, the most populous city and capital of Mexico's southern state of Oaxaca. It is known for its warm climate, vibrant culture and deep-rooted traditions.
Oaxaca's cultural customs come from a rich and diverse history of indigenous, colonial, and modern influences. The indigenous cultures of the Zapotec and Mixtec civilizations, which have roots in the region for thousands of years, have shaped much of the city's traditional customs and beliefs.
When the Spanish arrived in the 16th century, they brought their own religion, language, and customs, which were integrated into the existing indigenous culture. Over time, this mix of indigenous and colonial influences has evolved into the unique and diverse cultural heritage of Oaxaca.
In more recent years, the influence of modern Mexico and globalization has also played a role in shaping Oaxaca's cultural customs and norms. Despite these modern influences, the city remains proud of its rich history and traditional customs, many of which are still practiced and celebrated today.
Is Oaxaca City a family-friendly destination?
If you're looking for a family-friendly destination that offers something for everyone, Oaxaca City is the place to be! This vibrant city in Mexico boasts an amazing climate and an array of cultural attractions for all ages. Whether your family loves exploring historical sites, trying out delicious Mexican cuisine, or simply relaxing on the beach, Oaxaca City has it all.
The beauty of Oaxaca City lies in its combination of old-world charm and modern sophistication. The city is home to some incredible ancient ruins, including the centuries-old Monte Alban pyramid complex and the stunning Zapotec ruins at Mitla. But there's no need to feel left behind if history isn't your thing – this lively city also provides plenty of fun activities such as shopping, sightseeing tours, and nightlife experiences that will keep your entire family entertained!
What kind of accommodation options are available in Oaxaca City?
Oaxaca City offers a variety of accommodation options to suit different budgets and preferences. Some popular options include:
Find the perfect accommodations for your upcoming trip here ✈️
Hotels
There is a wide range of hotels in Oaxaca City, from budget-friendly options to luxury accommodations. Many hotels offer traditional Oaxacan architecture and features, as well as modern amenities like swimming pools and on-site restaurants.
These are the top rated luxury hotels in the area:
Quinta Real Oaxaca – $450/night. Calle 5 De Mayo 300, Oaxaca, OAX, 68000
Casa Bonita Hotel & Luxury Residence – $155/night. Calle Catalina 102, Oaxaca, OAX, 68020
Palacio Borghese Hotel Boutique – $355/night. Allende 208, Col. Centro, Oaxaca, OAX, 68000
These are the top rated budget hotels in the area:
Hotel Patio Pombo – $30/night. 110 Miguel Cabrera Centro, Oaxaca, Oax., 68000
Casa Yunenisa – $33/night. Prolongacion de Iturbide No. 410, San Felipe del Agua, Oaxaca, OAX, 68020
Hotel Cantera Real – $43/night. Libres No. 404, Centro Histórico, Oaxaca, OAX, 68000
Bed and Breakfasts
Bed and breakfasts are a popular choice for travelers looking for a more personal and intimate experience. Many B&Bs offer a unique and charming atmosphere, as well as locally sourced breakfast options.
Bkl – $64/night. 217 C. de Mariano Abasolo Centro, Oaxaca, Oax., 68000
Ayook – $77/night. Francisco I. Madero 112, Colonia Centro, Oaxaca, OAX, 68000
Casa Mayo – $80/night. 105 Nayarit La Paz San Felipe, Oaxaca, Oax., 68020
Hostels
Hostels are a budget-friendly option for travelers looking to save money on accommodation. Many hostels in Oaxaca City offer shared rooms and communal spaces, making them a great option for solo travelers and backpackers.
Ticuchi Hostal – $16/night. Av Jose Maria Morelos 1105, Ruta Independencia
El Cielo Oaxaca – $39/night. Avenida Benito Juarez, N. 402
Azul Cielo Hostel – $15/night. Arteaga Num: 608 Centro
Entire homes
Vacation rentals, such as apartments and villas, are another popular option in Oaxaca City. These offer a more private and independent experience, as well as more space and amenities than a traditional hotel room. I always use VRBO because it's easy and honestly usually the cheapest option.
Overall, Oaxaca City offers a diverse range of accommodation options to suit different needs and preferences, from budget-friendly to luxury options. It is always advisable to book in advance to ensure availability during peak travel seasons.
Find the perfect home rental for your upcoming trip here 🏠
The perfect 7-day itinerary in Oaxaca
Final Thoughts
A quick flight from Mexico City, Oaxaca city is the best place in Mexico to experience an authentic, humble, and inviting Latin America.
Read more about Mexico