The 6 best vegan restaurants in Guadalajara, Mexico
Originally published April 2022
I just moved to Mexico a couple of months ago after spending almost 3 years in Australia. I loved Australia for many reasons but I never found a single Mexican restaurant that reminded me of home (Central Valley, California).
Sure, they had tacos and burritos…
…but it wasn't Mexican food.
So when my girl Ally moved to Guadalajara at the end of 2021 and I started hearing about all of the tortas ahogadas, chilaquiles, and street tacos made with fresh ingredients, I obviously had to move there too.
So here we are, two months into living in Guadalajara and I've tried as many restaurants as I could since being here.
What I especially like about eating at vegan restaurants in Guadalajara is that they all serve traditional Mexican food, the kind of Mexican cuisine that you'd see at any regular restaurant around here. Unlike many vegan restaurants in the US that seem to lose their flavor the more vegan they are, the vegan restaurants here seamlessly blend into the Guadalajara restaurants all around them, only incidentally not having any meat or dairy in their dishes.
Latin America makes being vegan easy like that: so much of the diet is based on local ingredients, some variation of refried beans, rice, and salsa.
And in Mexico, this list includes tortillas.
These are the best vegan restaurants in Guadalajara so far.
La Flaca
Av. Miguel Hidalgo y Costilla 1500, Ladrón de Guevara, Lafayette, 44600 Guadalajara, Jal., Mexico
https://www.instagram.com/flaca.mx/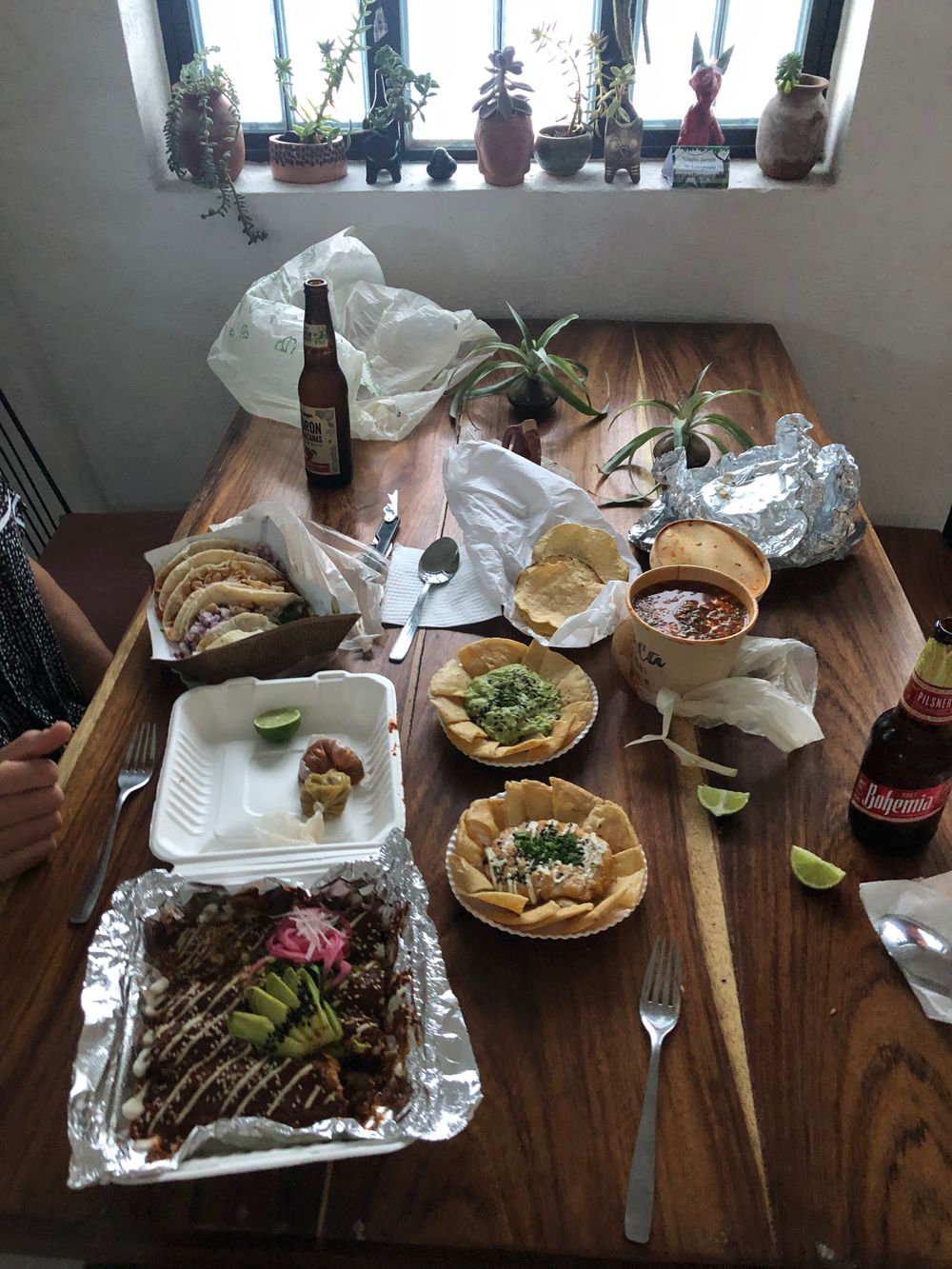 I love this place. I mean, I've basically tried everything on the menu. I even have my order saved on Uber Eats. Like, I love this place.
I like it because it's 100% vegan and the dishes are still traditional Mexican food you'd find on the menu in regular restaurants. If you choose to dine in, then you'll have a nice space surrounded by plants and very attentive staff. Order a drink and both the guacamole and bean dip for the entradas.
My favorite dish is between the sopa de tortilla and the torta ahogada. My partner's favorite dish is the plate of enmoladas, which is like a sinful enchilada dish with a rich mole sauce.
For dessert, we get the pastel de la casa every single time, even ordering double so that we can take some home for the next night. So maybe this is actually my favorite dish.
What I've eaten there:
Entradas
Guacamole
Frijoles Refritos
Bebidas Frias
Tejuino – this was a bit strong for me, I prefer the tejuino from the street more than from La Flaca
Cerveza
Michelada
Platos Fuertes
Setas en su Jugo
Torta Ahogada – perfect for hangovers
Pozole
Enmoladas
Sopa de Tortilla
Tacos
Tacos de Barbacoa de Berenjena
Taco de Alambre de Soya
Taco de Asada de Soya
Taco de Papas con Chorizo
Taco de Frijoles con Requesón
Taco de Birria de Hongos
Taco de Hongo Adobados
Taco de Tofu en Salsa
Postres
Pastel de la Casa – the best of the best thing in the entire city
La Vegana Garnacha
C. Juan N. Cumplido 13, Col Americana, Zona Centro, 44100 Guadalajara, Jal., Mexico
https://www.instagram.com/laveganagarnacha/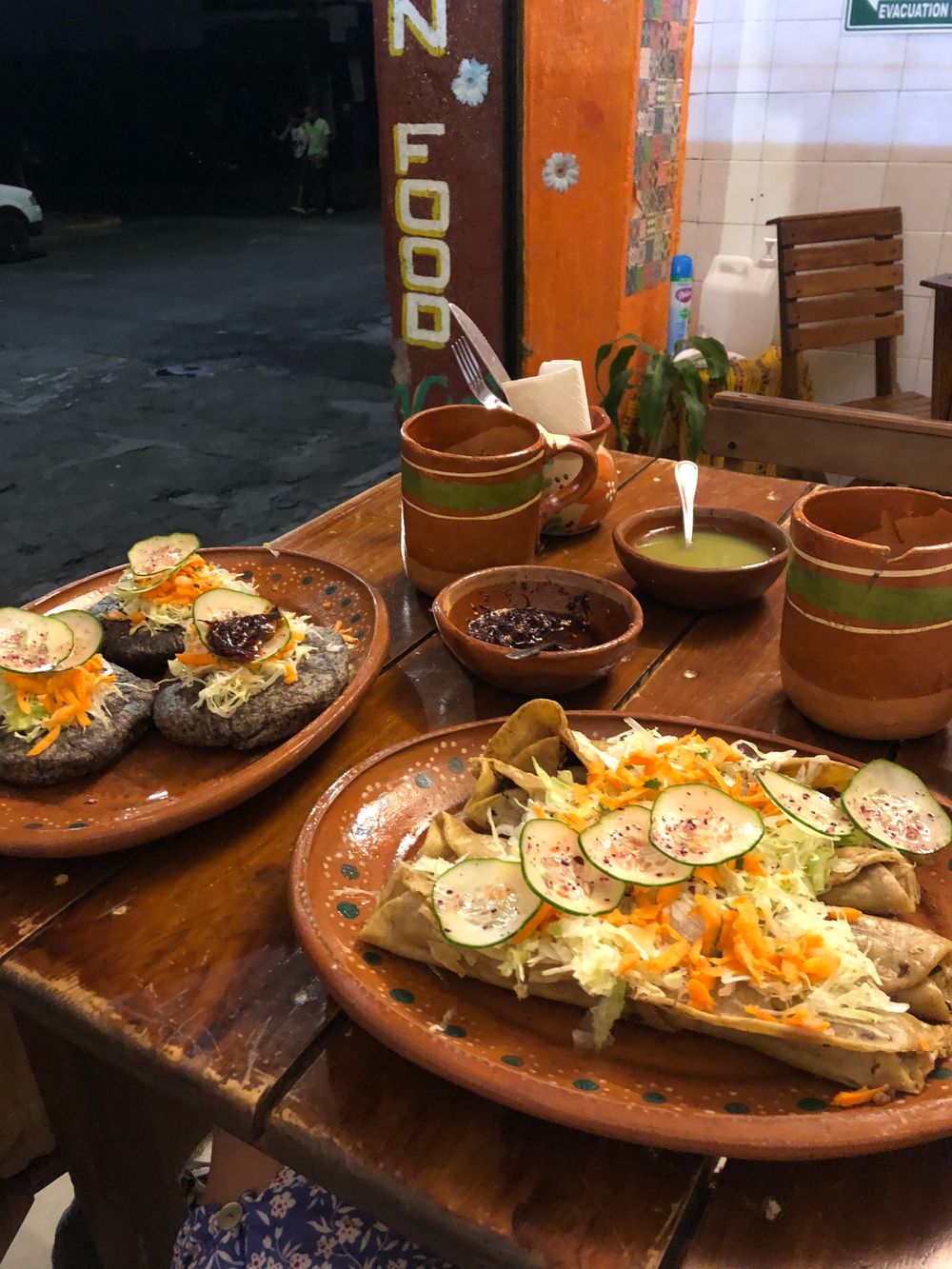 I want this place to be my favorite restaurant in Guadalajara, really. This place knocked it out of the park when it comes to flavor and portion sizes. Serving authentic Mexican food with the freshest ingredients (think: crunchy lettuce), La Vegana Garnacha is still one of my favorite vegan restaurants in this city.
The problem?
Their service is atrocious. While everyone was friendly enough, it felt like a game of who-is-gonna-catch-my-eye-first while trying to get anyone's attention when we first arrived, when we wanted menus, when we wanted to order, when we wanted to pay, and when we wanted to leave.
If you're not in a hurry, then stop by on your way to Expiatorio Park for the night markets. The restaurant overlooks the street leading up to the university and church at the park, making it a relaxing spot to people watch and wait for your (delicious) food.
What I've eaten there:
Flautas – surprisingly, my favorite dish
Enchiladas Rojas
Gordita
Tostada
Tacos
Enfrijoladas
Choclo y Maíz Cocina Vegana
Calle Gabriel Ramos Millán #37, Ladrón de Guevara, Ladron De Guevara, 44600 Guadalajara, Jal., Mexico
https://www.instagram.com/chocloymaiz/
Where La Flaca has stolen first place for dinner, Choclo y Maiz has taken top position for breakfast. While Choclo y Maiz certainly have traditional Mexican food on the menu (think: quesadillas, lonche, enchiladas, tacos, and chilaquiles), they also have some classic vegan restaurant type food…
…that blows other vegan restaurants out of the water. Their waffles are where they shine. We walk there on the weekends to indulge before heading out to our daytime activities. The restaurant is always packed, yet somehow has room.
The space is quite large with a few seats by the street. The further in you go, the hotter it gets so I recommend finding a seat toward the front.
What I've eaten there:
Waffles
Waffle vegano, manzana flameada mantequilla vegana, frutos rojos y cajeta vegana – this will blow your mind, I swear to god
Waffle vegano, platano, manzana canela, flameados en mantequilla crema de cacahuate y almendras
Waffle vegano con fresas y frutos rojos con crema batida miel maple y almendras
Chilaquiles
Tacos
Pastor
Asada
Hongos
Barbacoa
Tamales
Jamaica
C. Lope de Vega 123, Arcos Vallarta, 44130 Guadalajara, Jal., Mexico
https://www.instagram.com/jamaica_cafeandrecords/
Jamaica is the first restaurant we went to and it isn't even a Mexican restaurant! Just like the name implies, the food is based on Jamaican cuisine in bite sized portions.
The entire space and vibe is worth visiting, with an outdoor patio at the back of the restaurant as well as the front, and a record shop upstairs. They have live events on occasion and always seem to be busy.
What stands out to me the most are the Collie Flowers, which are cauliflower wings in a delicious batter and mixed with an even more delicious sauce. The other thing that really sent me were the corn ribs, which were like barbecue ribs made of corn. SO GOOD. I also had a few of the veggies tacos and a spiked punch bowl to share with our friends.
What I've eaten there:
Entradas
Collie Flowers
Corn Ribs
Spliff Potatoes
Ceviches
Tacos
Comalli Cooperativa
Juan Manuel 765, Zona Centro, 44100 Guadalajara, Jal., Mexico
https://www.instagram.com/comallicooperativa/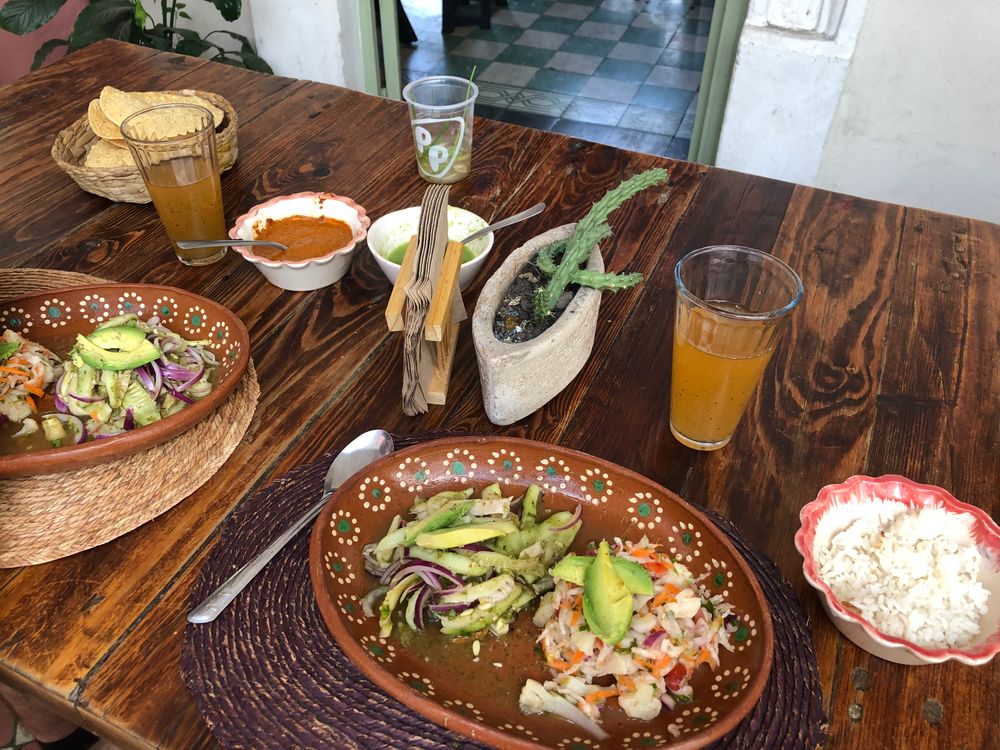 This adorable little restaurant is a co-op run by a sweet family just on the outside of the centro area. It is like the quintessential Latin America experience, to me, with a millennial twist. They create a menu of the day with the freshest ingredients and then that's what you eat when you get there. They recommend a price to pay for the meal, according to what you can afford. There isn't much seating but it didn't feel as if it'd ever run out of room: everyone who came shared tables with other patrons, wishing us all "provecho" as they joined.
When we were there for lunch, we had the aguachiles and ceviche, which was exactly what we needed on the hot day.
We tried to go there a few other times but they didn't open on time (at 2 p.m.), which is fairly normal in Latin America. It just so happened that we were walking around the area and were starving right around opening time, so we could not wait a second longer to eat. Finally, we planned to eat there for lunch in less dire times and it was definitely worth the wait.
La Ambivalencia Taquería
C. Argensola 293, Arcos Sur, 44500 Guadalajara, Jal., Mexico
https://www.instagram.com/la_ambivalencia_taqueria/
Now, this is as close to a standard Guadalajara Mexican restaurant as you'll get on this list as it's just a regular ole' taqueria that also has amazing vegan options. We ordered delivery from here a few times, so I haven't actually eaten there in person yet. I like them because they're fast, usually open, and honestly they're the best god damn tacos I've ever had.
When the food arrives, the fillings are in separate boxes and each box is stuffed with a corn tortilla stack that lasted us for days. It's a pretty simple menu, mostly just tacos, but that's enough if you like tacos.
What I've eaten there:
Updated List After Living Here For One Complete Year
Goy's Burgers
Miguel de Cervantes Saavedra 197 Local 2 Americana, Lafayette, 44160 Guadalajara, Jal.
https://www.instagram.com/goysburgers/
Goy's Burgers is a vegan burger joint with the best vegan burgers in the whole world. Not the tastes-like-vegan-burgers kind burgers, although no disrespect to those delicious things.
These burgers are the greasy kind. The kind that gets juicy on the grill and then is slathered with melted cheese and some kind of sauce. And there are pickles. Oh my god it's so good.
As we are packing up our apartment to leave Guadalajara, we're ordering in a lot. And Goy's has made a back-to-back appearance it's THAT GOOD. (We got some beers too, that's why it's even more expensive…)