8 Hand-Picked Ashtanga Yoga Teacher Training Courses For The Perfect Experience
I've worked in the yoga travel industry for a long time now. I've traveled to many of the places I list below and have toured some of the schools myself.
I've worked virtually with many of them.
All this to say: I know a thing or two about recommending a yoga teacher training course.
An Ashtanga yoga teacher training program is a little bit different. It teaches an entire yoga system that requires an established daily practice to begin with.
So I want to take the time help you find the right yoga instructor course that will enhance your experience and entry into Ashtanga Yoga!
If you already know allllll about what an Ashtanga yoga course entails and you just want the insider tips on which courses are best, then jump ahead to the next section: 8 Best Ashtanga Yoga Teacher Training Courses 
Full disclosure, I used to work with BookRetreats, the platform I'll be using to make these recommendations. Everyone over there really loves what they do and cares about your experience, so I can happily say it's the company I genuinely recommend. They also guarantee the lowest price, so you'll get the best savings with BookRetreats. And if you end up booking with them, you'll get a free online yoga retreat where Yours Truly leads a traditional Hatha Tantra yoga class. 💃
Choosing an Ashtanga Yoga Teacher Training
Ashtanga Yoga is an engaging ballet of breath and movement, teaching the execution of each yoga asana with precision and rhythm. This system methodically progresses through a series of asanas, each linked to the next through breath, enabling a practitioner to cultivate inner awareness, strength, and flexibility in every pose, or asana, transforming the practice into a deeply personal journey of self-discovery.
Originating from the ancient Indian wisdom, traditional philosophy, Ashtanga Yoga was popularized in the modern world by Sri K. Pattabhi Jois during the 20th century. But why does this matter when it comes to choosing an Ashtanga YTT? Simply put, the closer we are to the source, the deeper and more authentic our understanding becomes. This is particularly true for a yoga system as nuanced and intricate as Ashtanga Yoga.
When we think about authenticity and tradition, it's hard not to think about Mysore, India – the birthplace of Ashtanga Yoga. The Ashtanga Yoga Institute in Mysore, led by Sharath Jois, the grandson of Pattabhi Jois, has maintained its position as one of the most sought-after YTTs. This is where the lineage continues in its purest form, with the YTT program grounded in the same methods that Pattabhi Jois used.
But it's not just about Mysore. We can find gems of Ashtanga yoga teacher training courses sprinkled all around the globe, each providing an enriching and culturally diverse perspective on the practice.
PRO TIP: If it's important to you to teach yoga under the Yoga Alliance, then look for a registered yoga school. This will allow you to be Yoga Alliance certified upon successfully completing your Ashtanga yoga teacher training course.
8 Best Ashtanga Yoga Teacher Training Courses
I'm going to focus on destinations in India, where I truly believe that you'll have the most impactful experience. I'll also include a few other destinations that a lot of students really enjoy (think: Bali).
That way, you can take your pick for the best Ashtanga yoga teacher training experience!
Find the cheapest flight for your upcoming trip here ✈️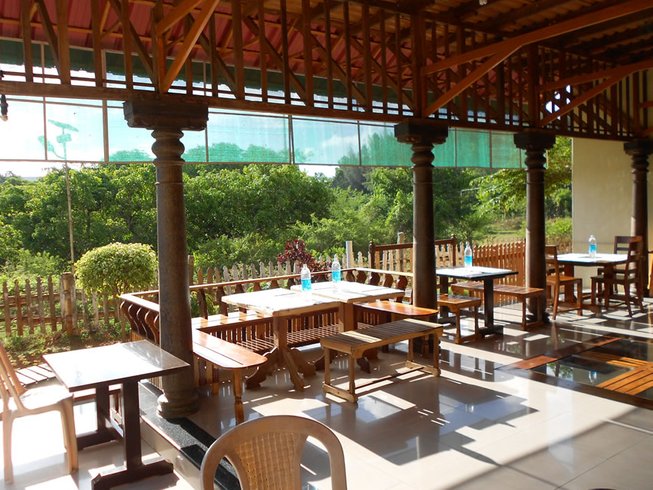 Location: Yoga with Srinatha, #14, Contour Rd, Gokulam 3rd Stage, Gokulam, Mysuru, Karnataka 570002, India
Setting: Authentic yoga ashram
Yoga Styles: Hatha Yoga, Vinyasa Yoga, Ashtanga Yoga, Mysore Yoga
Cancellation Policy: A reservation requires a deposit of 25% of the total price. The deposit is non-refundable, if the booking is canceled. The rest of the payment should be paid on arrival.
Dates: Custom
Who this is for: The yogi who wants to learn the craft straight from the source.
Immerse yourself in the enriching experience of this Ashtanga yoga course nestled in the spiritual heart of India – Mysore. This city, known as the Ashtanga Yoga Capital of the world, offers an authentic immersion into the yogic lifestyle that is transformative and enriching. This isn't just a teacher training program; it's a deep dive into a cultural and spiritual journey that takes you to the roots of yoga.
Each day in this month-long course is a blend of physical practice, philosophical exploration, and self-discovery. You'll master alignment in Hatha yoga with the morning sun, flow through the Ashtanga primary series as the city winds down, and explore the ancient wisdom of yoga philosophy and Ayurveda. Beyond the mat, Mysore's vibrant culture offers an enriching backdrop, with bustling markets, serene temples, and aromatic food stalls waiting to be explored. Choosing this teacher training means embracing an unmatched perspective of yoga, rooted in the very city where it was nurtured and grown – a transformative journey that resonates with what a true yogi seeks in a YTT.
Find the cheapest flight for your upcoming trip here ✈️
Location: Rishikesh, Uttarakhand, India
Setting: Rishikesh ashram
Yoga Styles: Ashtanga Yoga, Dynamic Yoga, General Yoga, Vinyasa Yoga, Hatha Yoga, Yin Yoga
Cancellation Policy: This training offers free cancellation up to 1 day before training start date
Dates: Monthly
Who this is for: The yogi who wants to live, breathe, and be yoga for one entire month.
I completed my 200 Hours in Rishikesh and so I can whole-heartedly recommend it as the place to get your yoga instructor certification, no matter the yoga style.
And Drishti Yoga School is one of the most established yoga schools in the region. So yeah, you know you'll be getting an incredible yoga teacher training experience with this program.
Under the guidance of highly trained and experienced instructors, you'll learn about intelligent sequencing and how to craft your own yoga classes, alongside a thorough exploration of yoga's rich philosophy.
Your yogic diet will be "ashram food", which is a fragrant mix of wholesome, yogic, and vegan meals. But it's not all rigorous training; there's also time to relax, to let your learning sink in, and to enjoy the chaotic-yet-inspiring surroundings of Rishikesh.
Drishti Yoga School really knows what they're doing when they create a nurturing environment that fosters an intimate learning experience. Class sizes ranging between 10-15 students, making this Ashtanga Vinyasa Yoga training an intimate experience.
Location: Bali, Indonesia
Setting: Bali resort
Yoga Styles: Vinyasa Yoga, Ayurveda Yoga, Ashtanga Yoga, Hatha Yoga, Nidra Yoga, Yin Yoga
Cancellation Policy: This training offers free cancellation up to 1 day before training start date
Dates: Monthly
Who this is for: The yogi who wants the ultimate Bali resort experience without sacrificing the quality of education.
Escape to the Island of Gods and immerse yourself in a transformative 23-day, 200-hour Ashtanga, Vinyasa, Hatha, and Yin Yoga Teacher Training course in the picturesque Bali, Indonesia. This course stands out with its comprehensive course curriculum including not just multi-style yoga asanas, but also Pranayama, Yoga Anatomy, Body Alignment, Meditation, and Yoga Philosophy.
The program is hosted by YogMantra Bali, the only 5-star yoga school in Bali, and offers an unparalleled 10 hours of classes daily, ensuring an intense, immersive experience. 🤯
The yoga teacher training takes place amidst Bali's stunning tropical glory, a perfect backdrop to deepen your practice and learn from accomplished yoga masters.
What I really like about this yoga teacher training is that you'll be introduced to Ayurveda, with a focus on healing and Ayurvedic cooking. Your culinary journey will be an exploration of lip-smacking vegan and vegetarian Balinese cuisines, and a unique opportunity to explore Ayurvedic and Herbal food.
If you haven't had Balinese food yet then you're in for a treat 🤤
This retreat is more than just a yoga training; it's a chance to completely change your lifestyle, embrace healthier food choices, and deepen your understanding of holistic wellness practices. Whether you're a beginner, an intermediate practitioner, or an advanced yogi, this Ashtanga yoga teacher training offers the chance to learn, grow, and most importantly, transform amidst the calming splendor of Bali.
Location: Varkala, Kerala, India
Setting: Tropical beach ashram
Yoga Styles: Ashtanga Yoga, Hatha Yoga, Iyengar Yoga
Cancellation Policy: This training offers free cancellation up to 72 hours after booking
Dates: Monthly
Who this is for: The yogi looking for a deep and rich connection with tradition
This may be the nicest yoga school or ashram you'll find in India (trust me). Kerala, known for its deep-rooted Ayurvedic traditions and serene backwaters, provides a deeply spiritual and tranquil environment, making it a ✨ perfect spot ✨ for immersive yoga learning.
This Ashtanga yoga teacher training at Yoga Sangha is designed for dedicated practitioners who wish to assist others in transforming their lives through yoga.
I really like that the program teaches a unique blend of Ashtanga and Hatha, drawing from the dynamic, meditative quality of Ashtanga and the alignment-focused approach of Hatha.
The training, provided by experienced Yoga Alliance certified instructors, is not just focused on perfecting asanas; it immerses you in yoga philosophy, meditation, pranayama, and provides practical teaching tools. They also guarantee small groups so that you can get personalized attention and a sense of community with the other students.
The most special part (IMHO) is the unique setting of Kerala, known for its Ayurvedic heritage. This Ashtanga teacher training offers an opportunity to explore the connection between yoga and diet, with the chance to learn yogic food preparation and experience the sattvic diet firsthand.
A Yoga Teacher Training in Kerala is a journey into the very heart of yoga, a chance to connect deeply with the tradition and philosophy of yoga in one of its birthplaces.
Location: Arambol, Goa, India
Setting: Beach ashram
Yoga Styles: Ashtanga Yoga, Hatha Yoga, Iyengar Yoga, Nidra Yoga, Vinyasa Yoga, Kriya Yoga, Restorative Yoga, Yin Yoga
Cancellation Policy: This training offers free cancellation up to 30 days before the training start date.
Dates: Monthly
Who this is for: This training is perfect for those who want a balance of rigorous yoga training and an immersive cultural experience.
Nestled in the heart of Arambol, this retreat will immerse you in the lively Goan spirit while offering a serene space for deep yoga practice and self-discovery.
Imagine starting your day with invigorating Ashtanga flows, as the rising sun paints the sky with breathtaking hues. The surrounding lush greenery and soothing sounds of nature will amplify your inner zen during meditation sessions. 😍
This Ashtanga yoga teacher training isn't just about yoga; it's a cultural feast. Between classes, you can explore Arambol's bustling markets, chill at the famous hippie cafes, or take a rejuvenating dip in the Arabian Sea. The retreat's strong sense of community attracts a diverse mix of yogis, so be ready to forge some life-long bonds and share enriching conversations over delicious, wholesome meals.
The laid-back and open-minded vibe of Arambol syncs perfectly with the retreat's holistic approach to yoga, making this an ideal choice for adventurous souls, culture enthusiasts, and serious yogis wanting to deepen their practice in a vibrant, stimulating setting.
Find the cheapest flight for your upcoming trip here ✈️
Location: Ko Samui District, Surat Thani, Thailand
Setting: Tropical island
Yoga Styles: Ashtanga Yoga, Hatha Yoga
Cancellation Policy: This training offers free cancellation up to 60 days before the training start date.
Dates: Monthly
Who this is for: The water babies that love the heat and lots of sunshine.
This isn't your average Ashtanga yoga teacher training. Imagine a place where traditional Indian yoga meets tropical tranquility. A place where each sunrise invites a new day of deepening your practice, learning, and self-discovery. You'll wake up to the gentle lull of ocean waves, practice amidst the lush, green foliage, and learn under the clear, blue skies of Ko Samui.
Ko Samui is the most island-y tropical-y vibe you will ever find anywhere in the world. All you see is blue water behind rolling hills of lush jungle spotted with tall palm trees. And fancy resorts.
Sounds like a dream, right?
The folks at Yoga Nisarga aren't just about teaching you yoga; they're about immersing you in a lifestyle. They're all about wholesome living, from sattvic, locally-sourced vegetarian meals to the core principles of Yoga Sutras. Here, you'll feel the unity of mind, body, and spirit.
Location: Los Caños de Meca, Andalusia, Spain
Setting: Spanish coast
Yoga Styles: Ashtanga Yoga, Power Yoga, Vinyasa Yoga
Cancellation Policy: BookRetreats offers free cancellation for up to 72 hours after booking.
Dates: Monthly
Who this is for: Yogis dying for an excuse to get a European adventure
Embrace the sun-kissed charm of Spain while diving deep into your yoga journey in picturesque Los Caños de Meca, Andalusia. It's giving European romance vibes and the bae is YOU.
Picture yourself waking to the warm Spanish sun, diving into invigorating Ashtanga practice, and absorbing knowledge from experienced teachers. Imagine the camaraderie in intimate groups of 12, fostering bonds that transcend this Ashtanga yoga teacher training.
Experience the harmonious blend of rigorous yoga training and the calming Andalusian vibes. Let the untouched beauty of the surrounding landscapes inspire your practice and nourish your soul. This isn't just yoga training; it's a journey into the heart of Spain, a retreat into serenity, and a step towards becoming a confident yoga teacher.
Find the cheapest flight for your upcoming trip here ✈️
Location: Maui, Hawaii, United States
Setting: Tropical summer intensive
Yoga Styles: Ashtanga Yoga
Cancellation Policy: This training offers free cancellation up to 1 day before training start date
Dates: Monthly
Who this is for: Yogis with an established yoga practice and limited time.
The 14-Day 200Hr Ashtanga & Ayurveda Yoga Teacher Training Course (TTC) in Maui, Hawaii, is the ideal immersive experience for both aspiring yoga practitioners and established yoga teachers.
This is ideal for yogis who already have an established yoga practice and limited time to complete an Ashtanga training. It will be intense and it will be demanding. But you know what they say about pressure and diamonds 💎
With a blend of in-person training and additional online support via Zoom, this course is perfect for those with an established Ashtanga or equivalent vinyasa yoga practice, who are ready for an intensive, supportive, and transformative learning experience.
The course deepens your understanding of Ashtanga Vinyasa Yoga and Ayurveda, offering you a holistic view of these ancient practices, making it perfect for those interested in integrated wellness and therapeutic yoga.

Still not sure which Ashtanga Yoga teacher training is right for you?
Ashtanga Yoga, often described as a dynamic, physically demanding practice, is an exquisite symphony of breath, body, and spirit. Embracing it as a path to becoming a teacher requires dedication, resilience, and an unwavering love for the practice. The training is intense, transformative, and profoundly rewarding, but it's essential to understand what this journey truly demands.
Firstly, it's important to recognize the physical demands of Ashtanga Yoga. As a practice built around a series of specific yoga postures linked with the breath, it's going to put your body through a rigorous routine. You'll be working your muscles, enhancing flexibility, and building core strength.
So it helps if your body is prepared for this and that you have a good baseline of physical fitness. If you're someone who loves challenges and strives to push past physical boundaries, this might just be the perfect fit for you.
But don't let the physical intensity deter you if you aren't a top athlete! Ashtanga Yoga is as much about the mind as it is about the body. The discipline, concentration, and mental fortitude you'll develop throughout the training are equally important.
The perseverance to continue the practice when it's challenging, the patience to accept your body's limitations, and the humility to learn and grow – these mental aspects are at the heart of Ashtanga.
Remember, it's not about performing the perfect posture; it's about the journey there. So, if you feel a deep, resonating connection with Ashtanga, even if your physical prowess isn't at its peak, you're still a good candidate. After all, yoga is about unity and balance, not competition.
Finally, consider your intention. If you're passionate about Ashtanga and feel a calling to share its benefits with others, if you're committed to deepening your personal practice and understanding of yoga, and if you're open to the profound transformation this journey offers, then you're on the right path.
Listen to your heart. Is it leading you to the mat, to this path of knowledge, strength, and self-discovery? If yes, then an Ashtanga yoga teacher training might just be your next adventure. It's challenging, it's intense, but it's also an immensely rewarding journey that can lead you to depths of strength and awareness you never knew existed within you.
Final thoughts
I hope you found the right Ashtanga teacher training program for you! If not, then go take a look at all of the Ashtanga yoga teacher training courses available around the world here: Top Ashtanga Yoga Teacher Training Courses Around The World
No matter which course you choose, you'll gain a deeper understanding both of the practice and yourself. If you have a sincere desire to learn, then you can't really go wrong!