Leavenworth In Winter: Outdoorsy Leavenworth Activities (+ Vegan Reccos)
Leavenworth, Washington State – a town that's like Disneyland for people who love bratwursts and beer steins.
I spent a winter weekend there, snowshoeing my way through picturesque trails and stuffing my face with vegan goodies.
Who knew such a quaint, Bavarian-style village could offer so much entertainment?
I swear, the locals were all in on the joke and they put on a show just for us tourists. But I'm not complaining – visiting Leavenworth really was an adventure unlike any other, and it left me with a newfound appreciation for the weird and wonderful places that our world has to offer.
First, I'll through my personal experience snowshoeing and where I recommend eating. Then, I'll go through all of the Leavenworth activities you'll want to keep in mind as you plan your next winter trip.
⛰️ Book your Leavenworth adventure on this activity booking platform.
Snowshoeing in Leavenworth
Full disclosure: I'm not what you'd call a seasoned snowshoer. When my friends lent me a pair of snowshoes for our weekend trip to Leavenworth, I was excited – but also a little nervous. I mean, I'm all for outdoor adventures, but strapping giant tennis rackets to my feet and trying to climb a steep and snowy hill? That's a different story.
We trekked the Skyline Lake Trail, which was a quick and dirty trail that led us straight to epic views. I even got to test out my new winter gear outfit.
The first part of the trail was a real challenge for me – I felt like I was barely making any progress, and my legs were burning like I'd just done 100 squats. But I'm nothing if not determined, so I soldiered on.
And then, suddenly, everything changed. We got off the groomed road and onto the backcountry trail, and it was like stepping into a winter wonderland.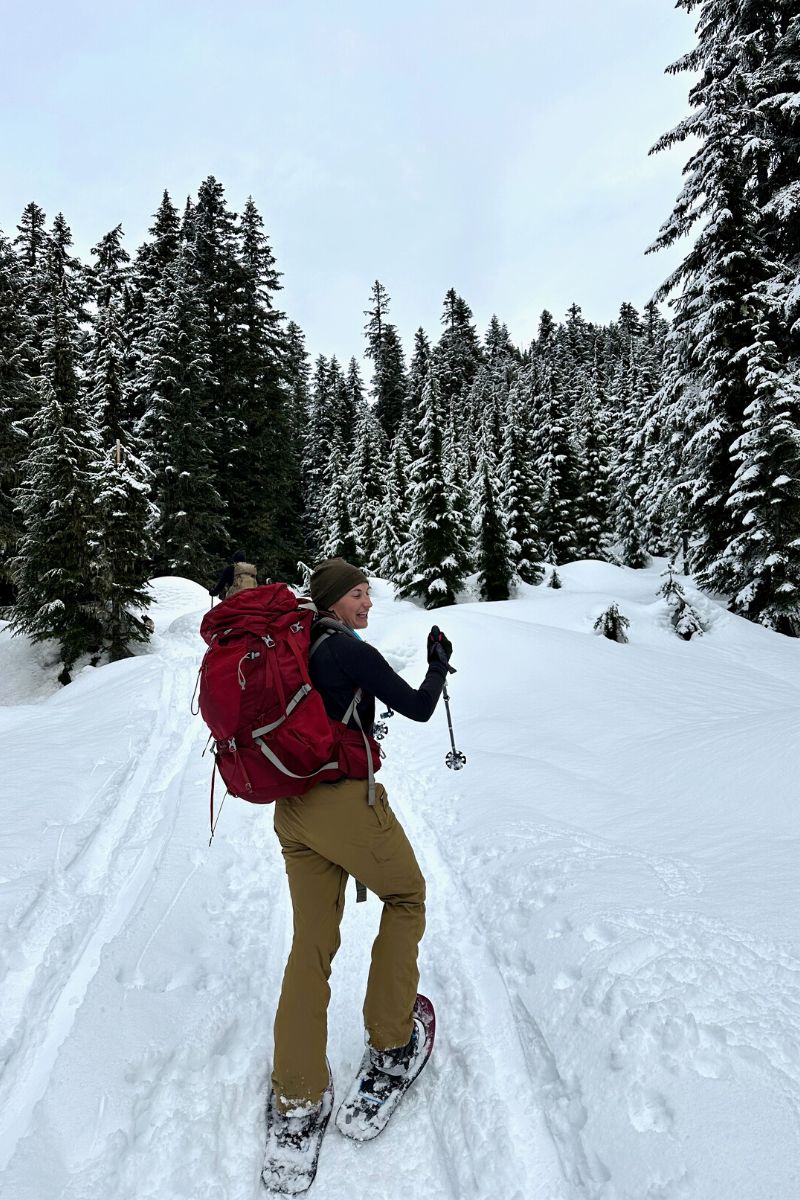 The snow-covered trees loomed overhead, and the only sounds were my own breath and the gentle crunching of snow beneath my feet. I felt like a character in some kind of fairy tale.
The trail was challenging, no doubt about it – there were steep inclines and tricky descents that had me questioning my life choices – but the natural beauty of the Cascade Mountains made it all worthwhile. We took breaks to catch our breath and snap some photos, and each time we turned a corner or crested a hill, the view was even more breathtaking than before.
So, if you're up for a challenge and want to experience the true winter wonderland that is Leavenworth, I highly recommend strapping on some snowshoes and hitting the backcountry trails. Just make sure you're prepared for a workout, it's basically winter hiking with sandbags attached to your feet. And don't forget to bring a camera, because the views will blow you away.
Here are a few other popular nearby snowshoe trails that I've got my eye on for my next time in Leavenworth in winter:
There are SO many things to do when visiting Leavenworth and with all of the snowshoe trails meandering through the Cascade Mountains, I really think snowshoeing will be the highlight of your winter trip.
Vegan Dining in Leavenworth
When I found out that Leavenworth, Washington was a Bavarian-style village, I have to admit, I was intrigued. As a vegan traveler, I was curious to see how I'd fare in a town known for its meat-centric cuisine. But I quickly discovered that Leavenworth had plenty of vegan-friendly options to choose from.
Now, I have to admit – I wasn't fully vegan on this particular weekend. I occasionally indulge in some fish, cheese, and eggs. But the fact that there were so many vegan and gluten-free options available in downtown Leavenworth, was a pleasant surprise.
One of my favorite spots was München Haus, a local sausage spot with a cozy outdoor seating area and fire pits. Don't let the name fool you – they had plenty of vegan options on the menu, including vegan brats with an impressive selection of toppings. I loaded mine up with sauerkraut and many mustard flavors and savored every bite.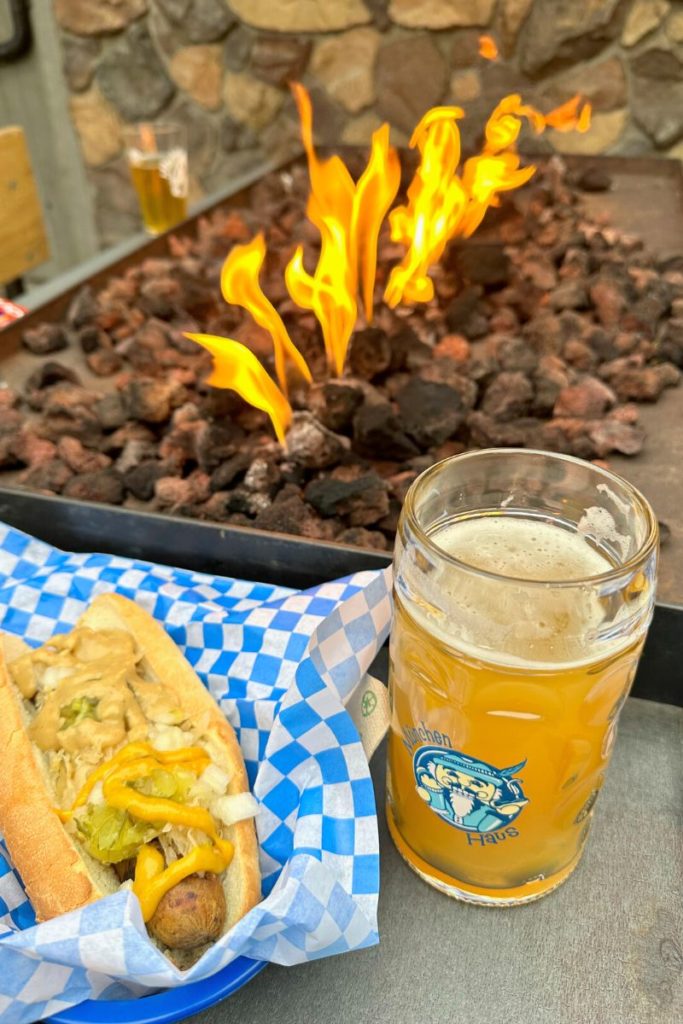 Another standout was the Yodelin Broth Company and Beer Garden. This cozy beer garden had a welcoming atmosphere and plenty of vegan and gluten-free options. I had the salmon bone broth with salmon and a soft-boiled egg. 🤤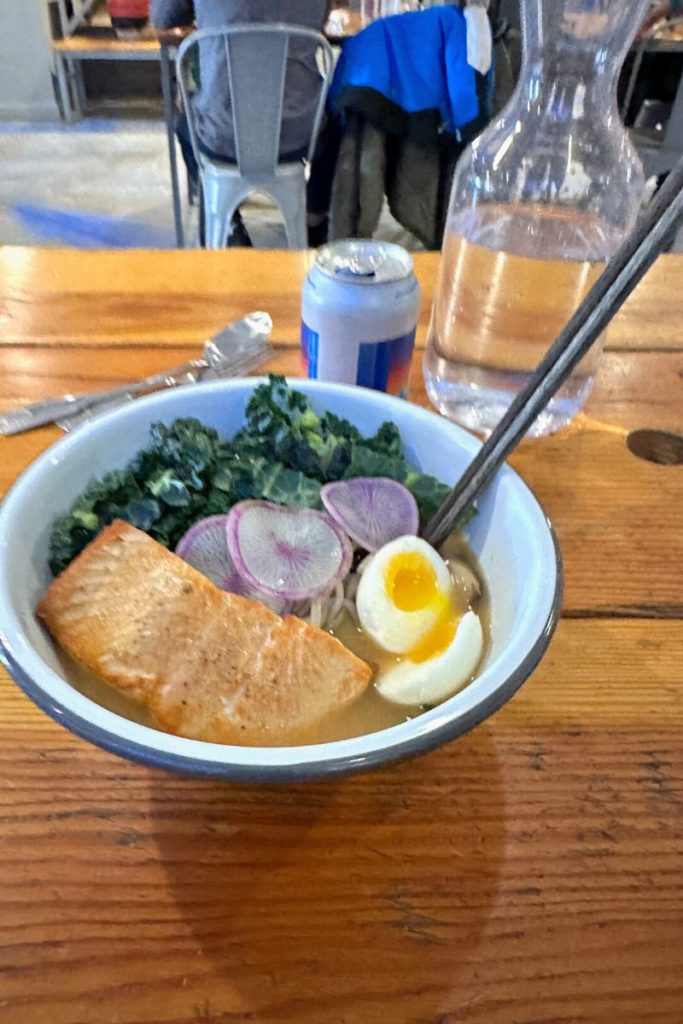 And when I needed a caffeine fix, I stopped by Argonaut Coffee and Biscuits, a cute little coffee shop with plenty of vegan and gluten-free options. Their soy milk latte was the perfect start to my day of snowshoeing.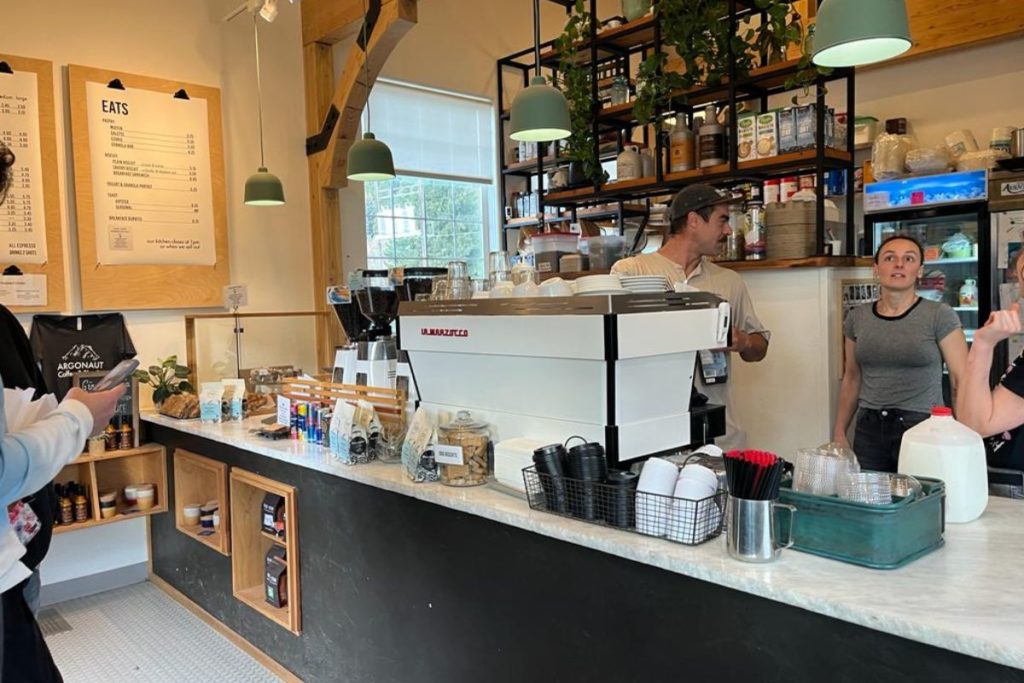 Whether you're a die-hard vegan or just looking to mix things up, Leavenworth's dining scene has something for everyone.
Other Winter Activities in Leavenworth
One thing you can say about the winter months in Leavenworth is that it's never boring. The village offers a wide range of outdoor activities to suit all levels of ability and interest, and with the right planning, you can have a weekend jam-packed with fun and adventure.
Downhill Skiing and Snowboarding
For the adrenaline junkies among us, Leavenworth is a gateway to some of the best ski resorts in the Pacific Northwest. Stevens Pass and Mission Ridge are two of the most popular, with runs for all skill levels and plenty of amenities to keep you fueled up and ready for action.
When: Season runs from mid-November to April, weather dependent
Cost: Varies by resort and day of the week, check websites for up-to-date pricing
Where to get information: Stevens Pass and Mission Ridge
Snowshoeing and Cross-Country Skiing
For those who prefer a slower pace, Leavenworth's many trails offer a chance to explore the natural beauty of the Cascade Mountains. Whether you're snowshoeing or cross-country skiing, you'll be rewarded with stunning views and a chance to experience the serenity of winter in the mountains.
When: Cross-country skiing and snowshoe trails are open when there is enough snow cover, usually from mid-December to late March
Cost: Free to access trails, rentals available at local outfitters
Where to get information: Leavenworth Chamber of Commerce or local outfitters such as Der Sportsmann and Osprey Rafting
Nordic Skiing
Whether you're a seasoned pro or a total newbie, there are many options for Nordic skiing in and around Leavenworth.
Leavenworth Ski Hill
The Leavenworth Ski Hill is a favorite among skiers and snowboarders alike, offering a range of runs for all skill levels. From gentle slopes for beginners to more challenging terrain for the seasoned experts, the Ski Hill has something for everyone. And even better: the Leavenworth Ski Hill is a popular spot for both downhill and Nordic skiing, with over 8 km of groomed trails for all skill levels.
With stunning views of the Cascade Mountains as a backdrop, it's no wonder why so many people flock to this winter wonderland each year.
When: Season runs from December to March, weather dependent
Cost: Day passes start at $10 for children and $20 for adults
Where to get information: Leavenworth Winter Sports Club
Icicle River Trail and Plain Valley Nordic Trails
The Icicle River Trails and the Plain Valley Nordic Trails offer longer and more challenging options for Nordic skiers. Both of these trails are located within a 30-minute drive from Leavenworth.
Ice Skating
There's something magical about skating outdoors, and the Kahler Glen Ice Rink offers the perfect setting to get your skate on. Located in Lake Wenatchee, the rink is open for most of the winter season and is a real-life ice skating rink on top of a frozen lake!
Snowmobiling
For those who crave a little more speed, snowmobiling is a popular activity in Leavenworth. Several local outfitters offer guided snowmobile tours through the surrounding wilderness, providing an adrenaline-pumping adventure through the snow-covered landscape. From the thrill of carving through powder to the stunning views of the surrounding mountains, snowmobiling is an activity that will leave you breathless in more ways than one.
Christmas Lighting Festival
If you're one to get a little starry-eyed with holiday spirit, then don't miss the annual Christmas Lighting Festival. For three weekends in December, the village is transformed into a winter wonderland, with thousands of twinkling lights, live music, carolers, and a visit from Santa himself. While the tradition began with Christmas lights, it has become a fun festival enjoyed by all who visit Leavenworth in winter.
When: Three weekends in December
Cost: Free to attend, some activities require tickets
Where to get information: Leavenworth Chamber of Commerce or the Christmas Lighting Festival website
Winter Wine Walk
If you're looking for a more adult-oriented activity, consider the Winter Wine Walk. Held in February, this event offers a chance to sample local wines and explore the village's many shops and boutiques.
When: February
Cost: Tickets required, prices vary
Where to get information: Leavenworth Chamber of Commerce or the Winter Wine Walk website
Winter Karneval
The Karneval is an annual celebration held in Leavenworth, inspired by the German Mardi Gras tradition. It's a festive event filled with music, dancing, and plenty of German-inspired food and drinks. Visitors and locals alike don colorful costumes and masks, and parade through the streets of the village. The event is family-friendly, with activities for children, as well as a beer garden for the adults. It's a great way to experience the Bavarian culture and have some fun with friends and family.
When: February
Cost: Free to attend, some activities require tickets
Where to get information: Leavenworth Chamber of Commerce or the Karneval website
Shopping in Downtown Leavenworth
Ah, downtown Leavenworth. It's like stepping into a snow globe – except this one is filled with people wearing lederhosen and dirndls. Yes, you heard that right – the whole town is done up like a Bavarian village, complete with timber-framed buildings and storefronts with names like "Der Sportsmann" and "The Hat Shop."
I loved all of the little shops filled with handmade arts, really cute clothing, and outdoor gear.
It's a feast for the senses – the smell of sausages sizzling on the grill, the sound of oompah music wafting through the air, the sight of twinkling lights and snow-capped mountains all around you.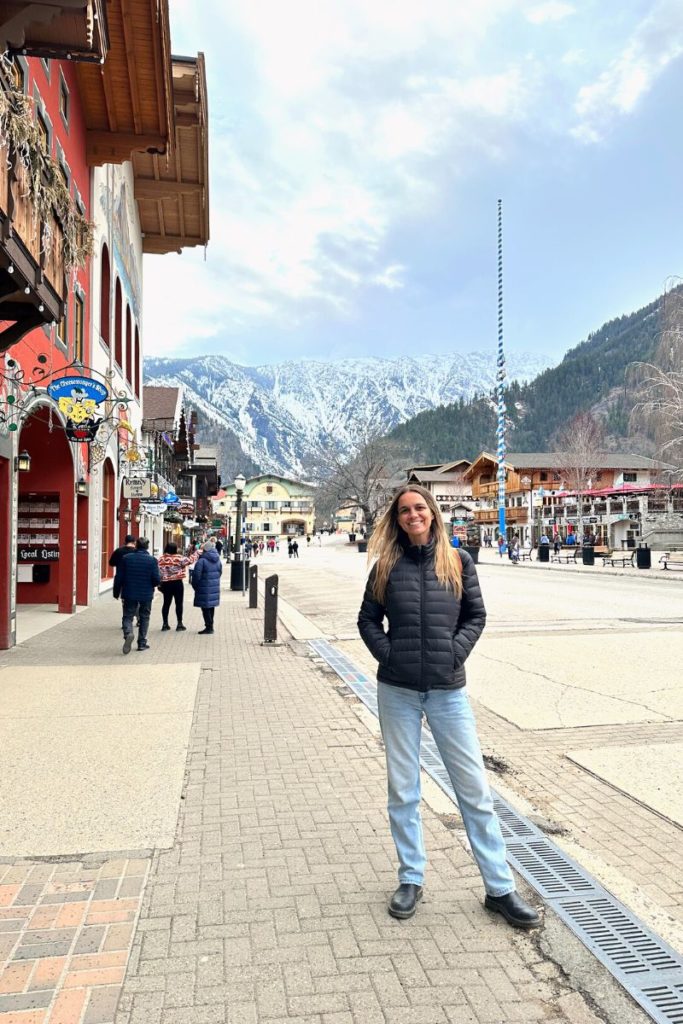 If you're looking for a unique shopping and dining experience, downtown Leavenworth is the place to be. Just don't forget your lederhosen.
When: Year-round
Cost: Varies by store but I found prices to be a little high
How to Get There
I took the Greyhound bus from Seattle to Leavenworth and it was alright. The bus station was kinda a disaster and there were a lot of people grumbling outside the locked doors of the station as they waited all morning for their bus to show up.
Mine showed up just fine, luckily. It smelled and it was a strange experience but it worked. I've bused through Central and South America AND Southeast Asia. So I am no stranger to uncomfortable bus rides. Even so, I felt this Greyhound experience from Seattle was kinda gross.
It was also a pain to lug my suitcase around the cobblestone streets just because I couldn't check in early. I 100000% recommend renting a car for the weekend if you can swing it.
Otherwise, here are all of your options:
By Greyhound Bus: Board this stately coach at one of their many stations throughout the Pacific Northwest, and be whisked away to the dreamy realms of Leavenworth. Check schedules and routes at the Greyhound website (www.greyhound.com) to find the most convenient option for your journey.
By Train: For those seeking a more nostalgic mode of transport, consider the romantic allure of the train. The Amtrak Empire Builder line offers a scenic ride to Leavenworth from Seattle, Portland, and even Chicago. Be sure to book your ticket in advance at the Amtrak website (www.amtrak.com) and prepare to marvel at the breathtaking vistas that unfold before you.
By Car: If the open road beckons and the freedom of four wheels is your desire, then a road trip to Leavenworth is just the ticket. From Seattle, take Highway 2 eastward through the magnificent Cascade Mountains, a journey of approximately 2.5 hours. Along the way, you'll encounter charming towns, picturesque landscapes, and perhaps even a friendly hitchhiker or two.
By Air: For those who prefer to soar through the skies, the nearest commercial airport to Leavenworth is the Pangborn Memorial Airport (EAT) in Wenatchee, Washington. Several airlines offer flights to this cozy, regional hub. Once you've touched down, rent a car or arrange for a shuttle to complete the final 30-mile leg of your journey to Leavenworth.
Lodging Options in Leavenworth
Lodging – the sweet promise of a cozy bed, a warm shower, and a refuge from the harsh winter elements. And in Leavenworth, there's no shortage of options to suit every taste and budget. Whether you're looking for a rustic cabin in the woods or a luxurious resort experience, there's a lodging option for everyone. So let's dive in and find your perfect winter retreat!
For a hotel or resort experience
The Bavarian Lodge is a great option if you're looking for a charming, Bavarian-themed hotel with complimentary breakfast. Prices range from $150 to $300 per night depending on the room type and time of year.
The Enzian Inn is another popular choice, offering an indoor pool and hot tub, as well as a complimentary breakfast buffet. Prices range from $170 to $300 per night depending on the room type and time of year.
Find the perfect accommodations for your upcoming trip here ✈️
For a budget-friendly stay
Der Ritterhof Inn is a cozy inn located just a short walk from the heart of Leavenworth, making it a great option for those who want to explore the village on foot. Rooms are spacious and comfortable, and the inn offers a complimentary breakfast each morning. There's also a hot tub on the property for guests to enjoy. Room rates start at around $100 per night and go up to $200+ per night for larger rooms with more amenities.
The Alpen Rose Inn offers a charming Bavarian-style atmosphere with affordable rates. Rooms feature cozy decor and comfortable amenities like pillow-top mattresses and free Wi-Fi. The inn also offers a complimentary breakfast each morning and is located within walking distance to the village center. Guests can also enjoy the indoor pool and hot tub. Room rates start at around $90 per night and go up to $200+ per night for larger rooms with more amenities.
For a cozy cabin or vacation rental
Leavenworth Vacation Homes offers a range of cabins and vacation rentals to suit different group sizes and budgets. Properties can come with features like hot tubs, fireplaces, and mountain views. Prices range from $100 to $500 per night depending on the size and amenities of the property.
LOGE Cabins Leavenworth is a unique lodging option that offers cabins, hotel rooms, and hostel-style bunk rooms. It's perfect for outdoor enthusiasts with its proximity to nearby ski resorts, as well as its amenities like bike and ski storage, outdoor fire pits, and a hot tub. Prices range from $100 to $300 per night depending on the night.
Find the perfect home rental for your upcoming trip here 🏠
For a tranquil stay along the Wenatchee River
If you're looking for a cozy place to stay along the scenic Wenatchee River, you're in luck. There are several lodging options that offer beautiful views and a tranquil atmosphere. I personally like using VRBO to find accommodations these days as Airbnb has lost its mind with fees lately.
I find that most accommodations are on both VRBO and Airbnb, but VRBO is a lot less pretentious. Here are a few of my favorite planes to check out…
The River's Echo is a popular choice, with cabins and rooms nestled right along the riverbank. Each cabin is equipped with a kitchenette and fireplace, and there's even a hot tub on the property.
Another great option is the Wenatchee River Institute, which offers affordable rooms with shared bathrooms and communal spaces for guests to relax and connect.
For a more luxurious stay, check out the Sleeping Lady Mountain Resort, which offers spacious rooms and suites with river views, as well as a spa and wellness center. Regardless of where you stay, you'll be treated to the peaceful sounds of the river and the stunning beauty of the Cascade Mountains.
Closing Thoughts
Leavenworth is both for the adrenaline junkies and the whole family. It's for the advanced skiers and those looking for the tubing hill. And this is just during winter in Leavenworth. When summer comes around, you've got whitewater rafting, mountain biking, backpacking, and more beer gardens. And the Autumn Leaf Festival AND Oktoberfest in the Fall 😍
Read more about Exploring The United States