Grand Canyon In One Day: What's Worth Visiting
We made a Grand Canyon day trip on our way from Phoenix up toward Zion. So I'll give you our one-day Grand Canyon itinerary, but know that there is so much more that you can see when visiting the Grand Canyon.
We entered at the South Rim entrance and paid the hefty entrance fee of $35.
We worked our way toward the East entrance and never stopped in the Grand Canyon village because, well, we only had one day to spend and I didn't want to spend it in shops or restaurants.
Instead, we just stopped at all of the viewpoints along the way.
As much as you can plan a perfect itinerary for one day in the Grand Canyon, I generally think the national park is built for you to explore it easily.
So here's what we did 🙂
Getting To The Grand Canyon (South Rim To Grandview Point)
Since the North Rim is closed during winter (and we were coming from the south anyway), we entered Grand Canyon National Park via the South Rim entrance. The drive from Flagstaff, AZ takes about 1.5 hours. Arrive early to avoid crowds and ensure parking availability.
Grandview Point is located on the South Rim of the Grand Canyon, and can be accessed by car via AZ-64. Once you enter the national park, turn onto Desert View Drive and then begin your epic one day in the Grand Canyon.
Once you get onto Desert View Drive, you literally can't miss Grandview Point… you have to drive by it.
Parking and shuttle bus
The parking situation at Grandview Point can be limited, especially during peak season (summer and holidays). Peak season at the Grand Canyon typically runs from late May through early September, with the busiest months being June, July, and August.
During this time, the park can experience large crowds and heavy traffic, particularly at popular viewpoints, visitor centers, and hiking trails.
The Grand Canyon National Park's South Rim Shuttle Bus system offers several routes that cover different areas of the South Rim, stopping at various points of interest, including visitor centers, viewpoints, and trailheads. The shuttle buses run throughout the day, with the Village Route running every 15 minutes from early morning to late at night, and the other routes operating on a seasonal schedule. The shuttle bus is free of charge and included in the entrance fee to the park, and it is wheelchair accessible, making it a convenient and affordable option for visitors to explore the Grand Canyon.
You can get more shuttle bus info here.
If you're looking to avoid crowds and enjoy a quieter experience, consider visiting the Grand Canyon during the off-season (late fall through early spring). While winter weather can be unpredictable and some facilities may be closed or have reduced hours, visitors can enjoy stunning views and peaceful surroundings with fewer crowds.
We came during March after a big snow storm. While it was really cold, it also meant that there were NO crowds and plenty of parking. It was also just so beautiful to look at.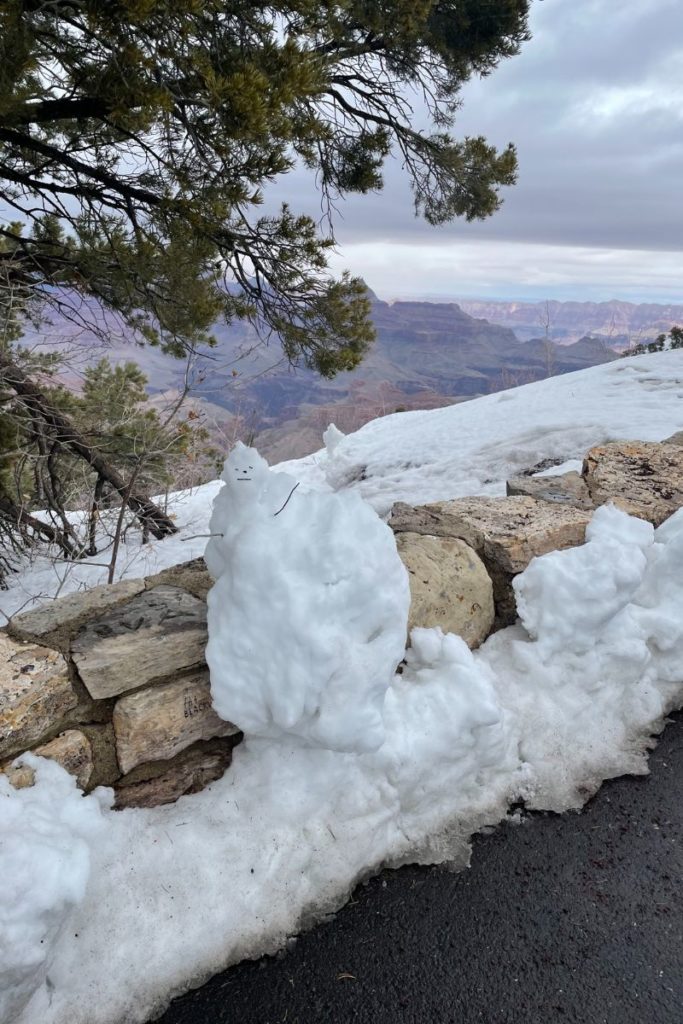 Just be sure to check the weather forecast and dress appropriately for cooler temperatures.
I used ADOT to check the road conditions during our trip.
There is a parking lot located near the viewpoint, but it can fill up quickly. If the parking lot is full, visitors may need to park farther away and walk to the viewpoint. I definitely recommend that you arrive early in the day to secure a parking spot.
There are no additional parking lots specifically designated for Grandview Point, but there are a few other options nearby:
Grandview Trailhead Parking Lot (View On Map): This parking lot is located just east of Grandview Point on AZ-64, about 0.25 miles away. It provides access to the Grandview Trail and can be used as an overflow parking area for Grandview Point. However, keep in mind that the trailhead can also get crowded, especially during peak season.
Moran Point Parking Lot (View On Map): Moran Point is another popular viewpoint located about 2.5 miles west of Grandview Point. It offers similar views of the canyon and can be accessed by car via AZ-64. There is a parking lot at Moran Point, and visitors can also hike between Moran Point and Grandview Point on the Tonto Trail, which is a scenic 4.4-mile round-trip hike.
Desert View Visitor Center Parking Lot (View On Map): Desert View is located about 25 miles east of Grandview Point on AZ-64, and offers stunning views of the canyon and Colorado River. The Desert View Visitor Center has a large parking lot that can accommodate RVs and buses, and visitors can also explore the historic Watchtower and nearby hiking trails.
Keep in mind that parking availability can be limited during peak season and holidays, and it's always best to arrive early in the day to secure a parking spot.
There are restrooms located near the parking lot at Grandview Point, as well as at the nearby Grandview Trailhead. It's always a good idea to use the restroom before starting a hike or exploring the area. You should also bring your own water and snacks, as there are no food or drink options available at Grandview Point.
We entered the Grand Canyon at the South Rim entrance and made our way toward Grandview Point, stopping at all the other viewpoints along the way.
While I am rather fond of warm weather, I can't get over how special this winter experience was.
On the way out of the park, we also stopped at this old watchtower that was beautifully designed and gave epic (warm) views of the canyon.
After leaving the park, we stopped at Begay's Navajo Jewelry at Little Colorado River Gorge Overlook and had a lovely chat with the guy there. He and his family make all of the jewelry using techniques passed down for generations.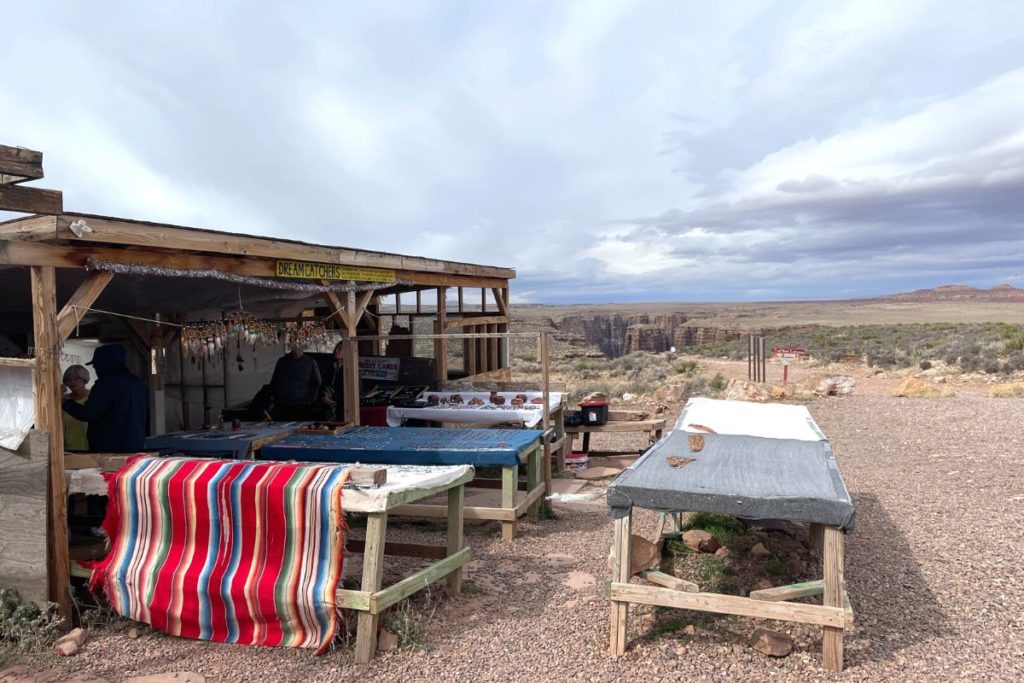 A quick walk to the overlook gave us yet another amazing view of the "little" Colorado River. There are tunnels underneath the canyon that are filled with flowing water, so it's actually quite dangerous to hike around the canyon floor.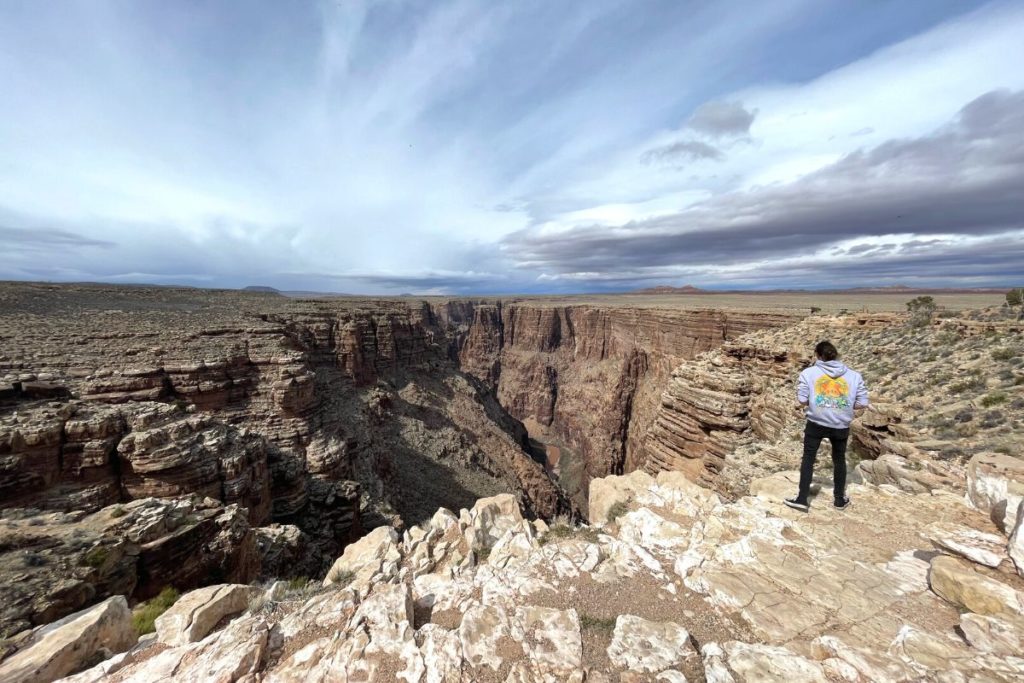 We drove to Page for dinner and stopped at Horseshoe Bend on the way. It now has a $10 entrance fee, though it has improved massively since the last time I was there.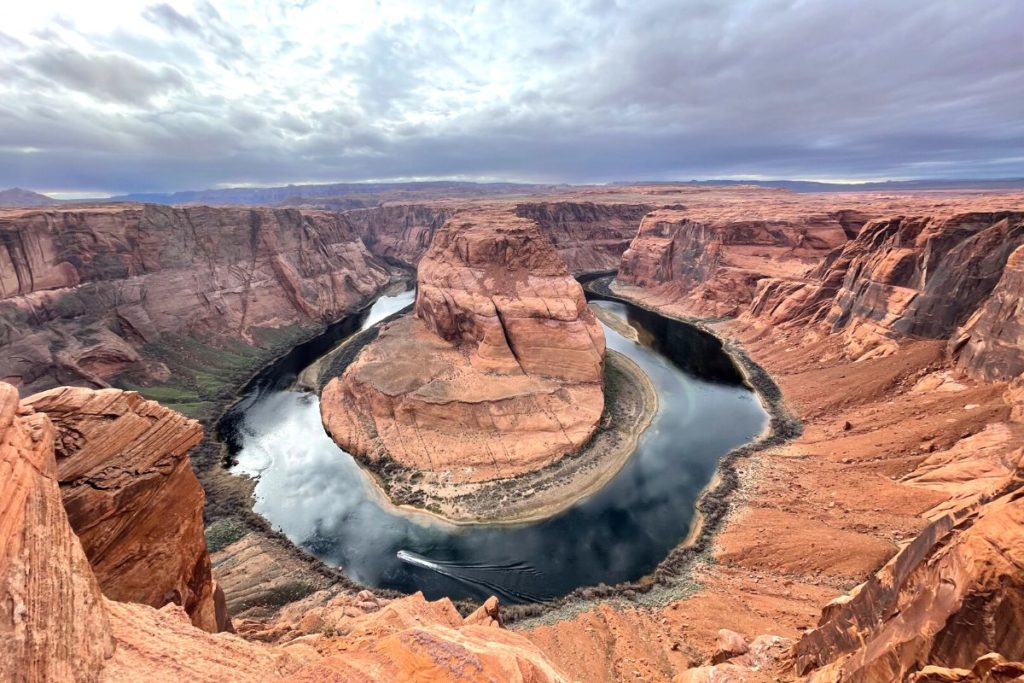 The cloud coverage really made it a beautiful view.
We went to El Tapatio for some delicious Mexican food. It had vegan and gluten free options and was honestly so freakin' delicious. 10/10 would recommend.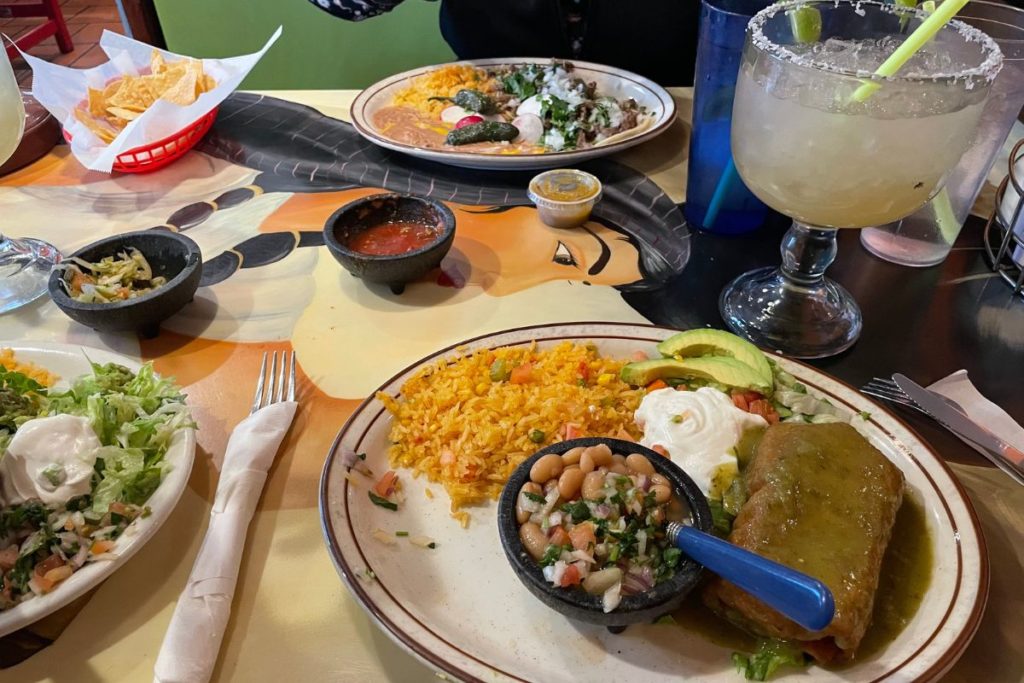 What to Bring
Comfortable walking shoes
Sunscreen, hat, and sunglasses
Water and snacks
Camera or phone for taking photos
A jacket or sweater, as temperatures can be cooler at higher elevations. It is important to come prepared, even for a short hike.
Trails at South Rim
There are several easy hikes near Grandview Point that offer stunning views of the Grand Canyon. The last time I was at the Grand Canyon, I just chose the closest trail and hiked down for a couple of hours before turning around and heading back up.
Aside from booking an entire permit or guided trip through the Grand Canyon, you can really only hike so much.
This time around, I just soaked in the views.
As for the trails near Grandview Point, here are a few options:
Remember to bring plenty of water, wear comfortable shoes, and stay on designated trails to ensure a safe and enjoyable hiking experience.
If you want other kinds of adventure tours, then I recommend these guided trips through the Grand Canyon.
Safety Tips
Here are some important safety tips to keep in mind when going on a day hike in the Grand Canyon:
Know your limits: Choose a hike that is appropriate for your fitness level and experience. It's better to start with an easier trail and work your way up to more challenging hikes.
Stay on designated trails: Straying off the designated trails can be dangerous and damaging to the environment. Stick to marked trails and follow all posted signs and warnings.
Bring plenty of water: Staying hydrated is essential in the Grand Canyon, particularly during the hot summer months. Bring plenty of water and drink it regularly throughout your hike.
Wear appropriate clothing and footwear: Dress in layers and wear comfortable, sturdy footwear with good traction. The terrain can be steep and rocky, so hiking boots or shoes with good grip are recommended.
Pack a first aid kit: Bring a basic first aid kit with essentials like bandages, antiseptic, and pain relievers.
Watch your step: The Grand Canyon's trails can be steep and uneven, so watch your footing carefully. Use trekking poles if you need extra stability.
Be aware of wildlife: The Grand Canyon is home to a variety of wildlife, including snakes and other dangerous animals. Keep a safe distance and avoid disturbing or feeding wildlife.
Check the weather forecast: Weather conditions in the Grand Canyon can change quickly and unexpectedly. Check the forecast before your hike and be prepared for changes in temperature, precipitation, and wind.
Let someone know your plans: Before you begin your hike, let someone know where you're going and when you expect to return. Check in with them when you return to let them know you're safe.
By following these safety tips, you can ensure a safe and enjoyable day hike in the Grand Canyon.
Find the perfect home rental for your upcoming trip here 🏠
Other Tips
The conditions at the Grand Canyon can vary greatly depending on the time of year. Here are some things to keep in mind when preparing for a day trip:
Temperature: During the summer months (June to August), temperatures at the Grand Canyon can exceed 100 degrees Fahrenheit, particularly in the inner canyon. It's important to stay hydrated and avoid hiking during the hottest part of the day. In the winter months (December to February), temperatures can drop below freezing, particularly at higher elevations. Be sure to dress in layers and bring warm clothing.
Weather: The Grand Canyon is located in a high desert environment, which means weather conditions can change quickly and unpredictably. Be prepared for sudden thunderstorms, high winds, and dust storms. Check the weather forecast before your trip and bring appropriate gear, such as a rain jacket or windbreaker.
Altitude: The Grand Canyon ranges in elevation from 2,000 to 8,000 feet, which can cause altitude sickness in some visitors. Symptoms can include headaches, nausea, and dizziness. If you're traveling from a lower elevation, give yourself time to acclimate before hiking or engaging in strenuous activity.
Sun exposure: The Grand Canyon receives intense sunlight year-round, which can lead to sunburn and dehydration. Wear a hat and sunscreen, and bring plenty of water to stay hydrated.
When preparing for a day trip to the Grand Canyon, it's important to:
Wear comfortable shoes and dress in layers, as temperatures can vary greatly throughout the day.
Bring plenty of water and snacks, as there are limited food options within the park.
Consider bringing a map or guidebook, as cell phone reception can be limited in some areas.
Finally, be sure to follow all park rules and regulations, and stay on designated trails to ensure a safe and enjoyable visit.