Flight Price Alerts: How to Save Money on Your Next Trip
I travel a lot and everyone always asks how I can afford it. Besides the fact that I work in digital marketing, I also book cheap flights and accommodations.
Now that I'm in my 30s, though, I can really swing the hostel scene and Spirit flights like I used to. So I spend a fair amount of time checking airfare prices and using flexible price alerts to get the best price.
I gotta admit that it helps that I have flexible dates and if you have a degree of flexibility then you can benefit from my method too.
So I'll go through all of my favorite sites and apps for tracking prices so that you can easily find a good flight deal on your next trip!
Pre-Booking Tips
Just a quick moment to mention that if you have a credit card that earns you points, then this is a good time to use it. If you don't have one, then I recommend getting one either with your favorite airline or with Chase (my preferred card) and start racking up rewards.
You can shop for flights within the Chase platform and use your points towards flights, though this doesn't really get you a great deal with long flights. I find that the prices are often inflated and eat through your points. BUT for shorter flights to nearby destinations, it's great. You can go a lot of places without spending a dime!
My favorite part about this card, though, is that you can use it for shopping on Amazon (yes, Amazon!). I like to purchase flights with this card and use the points on regular purchases… so the savings on this flight end up being compounded from both my tips later in this post the Chase Ultimate Rewards points!
When you pay for travel with your card, then you get double the points. It actually comes in real handy when traveling:
No foreign transaction fees: Use your card abroad without worrying about additional fees; you'll save money on international purchases.
$50 annual hotel credit: Receive up to $50 in statement credits each year for hotel stays booked through Chase Ultimate Rewards.
5x points on Lyft: Earn a total of 5x points on Lyft rides until March 2025, boosting your rewards balance.
No blackout dates or restrictions: Book travel through Ultimate Rewards with no restrictions; if a seat's available, it's yours.
Unlimited points: Accumulate as many points as you want without expiration, as long as your account is open.
Ennismore hotel benefits: Enjoy VIP perks at select hotels, such as a complimentary 4th night, room upgrades, late check-outs, priority cabana reservations, and a $30 food and beverage credit.
2x points on travel: Earn bonus points on travel purchases like airfare and hotels, making every trip even more rewarding.
Now you can earn 80,000 bonus points with the Chase Sapphire Preferred® credit card. If you apply and get approved, we can both earn rewards:
Now, as for scoring a great deal on flights, let's go through my favorite ways to find cheap flights.
Method 1: Airline websites
One great way to stay informed about flight prices is by signing up for email alerts on airline websites. It's a simple process that can save you a ton of time and even save money too in the long run.
To get started, simply visit the website of your preferred airline and look for a section dedicated to email subscriptions or other travel deals and alerts. Enter your email address and any other information that may be required, such as your name and travel preferences. From there, you'll start receiving regular updates about flight prices, sales, and other special promotions. It's that easy!
One of the biggest advantages of using airline websites for flight alerts is that you'll be getting the information directly from the source. This means you'll be the first to know about any new deals or discounts, and you'll be able to book your flights before they sell out. Additionally, many airlines offer loyalty programs or memberships that can provide additional benefits such as priority boarding, free checked bags, and access to airport lounges.
Some of the best domestic airlines to sign up for email alerts with and to consider for memberships include Delta, United, and American Airlines.
By signing up for email alerts and taking advantage of these membership programs, you can save big on flights and make your travels even more enjoyable.
My favorite international airlines and their respective programs are:
These programs offer a variety of benefits for international travelers, including the ability to earn and redeem miles for flights, upgrades, and other perks. Some also offer elite status for frequent flyers, which can provide even more exclusive benefits like lounge access and priority check-in.
Method 2: Price comparison websites
Price comparison websites like Kayak, Skyscanner, and Google Flights are great resources for finding the best deals on flights. In addition to searching for flights, these websites also offer the ability to set up price alerts for specific routes and travel dates.
Visit the website of your preferred price comparison site and enter your travel details (i.e. departure and arrival cities, travel dates, number of passengers, etc.) into the search fields.
Once you've found a flight that meets your criteria, look for an option to set up a price alert. This will typically be located near the flight details or on the flight search results page.
Click on the "Set price alert" or similar button and enter your email address and any other required information. You may also be prompted to set a price threshold, which is the maximum amount you're willing to pay for the flight.
Once your price alert is set up, you'll receive email and push notifications when the price of the flight changes. You can then decide whether to book the flight at the new price or wait for a better deal.
Setting up price alerts on price comparison websites is a simple and effective way to stay informed about flight prices and find the best deals. Just remember to check your email regularly and act quickly when you receive an alert about a flight deal or a price drop, as these deals can sell out quickly.
Here are some tips and tricks to help you make the most of price comparison websites:
Be flexible with your travel dates: Price comparison websites often allow you to search for flights over a range of dates, so try experimenting with different travel dates to find the best deals.
Use the "Explore" feature: Many price comparison websites offer an "Explore" or "Everywhere" feature that allows you to search for the cheapest flights to destinations all over the world. This can be a great way to find inspiration for your next trip and snag a great deal in the process.
Set up multiple price alerts: If you're flexible with your travel dates, consider setting up price alerts for multiple date ranges. This will increase your chances of finding a great deal and allow you to compare prices across different travel periods.
Use the "Nearby airports" feature: If you're traveling to a major city, consider using the "Nearby airports" feature to search for flights to smaller airports in the surrounding area. These flights may be cheaper than those to the main airport and can save you money. And don't be afraid to get creative. Your departure and arrival airports don't necessarily have to be the same.
Book directly with the airline: While price comparison websites can be a great resource for finding deals, it's often best to book directly with the airline once you've found a flight that meets your needs. This will ensure that you receive any loyalty program benefits and can make changes to your itinerary more easily.
Kayak
Kayak is like the Swiss Army knife of travel websites. It's got everything you need to plan your next trip, from flights to hotels to rental cars and beyond. And when it comes to cheap flight alerts and price alerts, Kayak definitely delivers.
To get started with Kayak's flight alerts, all you need to do is create an account and select the airports and dates for your search.
Toggle on the flight price tracker by tapping the bell icon on the top right corner of your screen and follow the prompts. You will know that you have successfully set up an alert with the bell icon turns white.
You can find all of your saved alerts by going to your Profile then Price Alerts.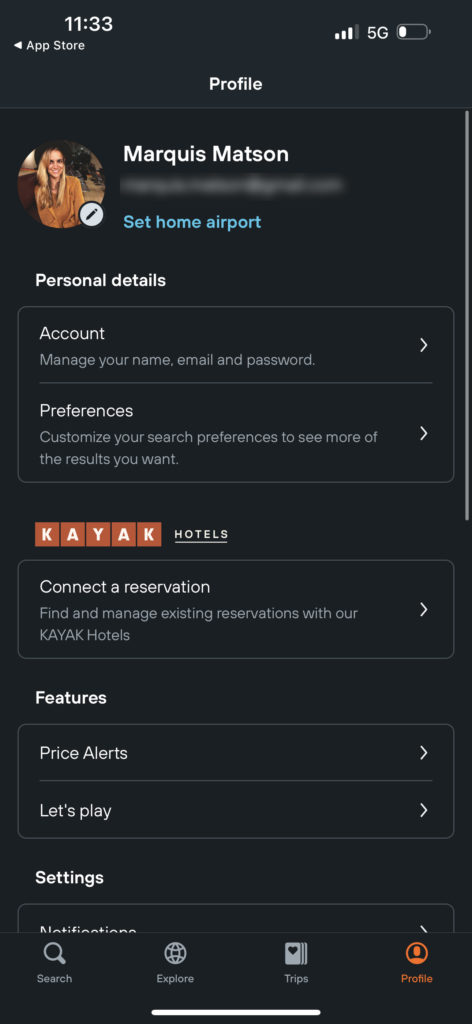 What's great about Kayak's price alerts is that they're fully customizable. You can set alerts for specific routes, travel dates, and even airlines. And if you're a bargain hunter like me, you'll love the fact that Kayak shows you historical price data for each flight, so you can get a sense of whether you're getting a good deal or not.
SkyScanner
Setting up flight price alerts on Skyscanner is super easy. Just search for your desired route and travel dates, and then look for the "Get Price Alerts" button. It's like hitting the jackpot on a slot machine – you'll get notifications when the price drops and be able to swoop in and book your flights at a steal.
What I love about Skyscanner's price alerts is that they're fully customizable. You can set alerts for specific dates, airlines, departure times, and even layover durations. Plus, Skyscanner shows you a handy graph of the flight prices over time, so you can see whether the price is likely to drop further or start to rise.
I downloaded the app onto my phone to set up price alerts for an upcoming trip I have. I will be leaving from either Phoenix or Santa Fe, so I'd like to track flight prices from those two locations.
Start by clicking on "Flights".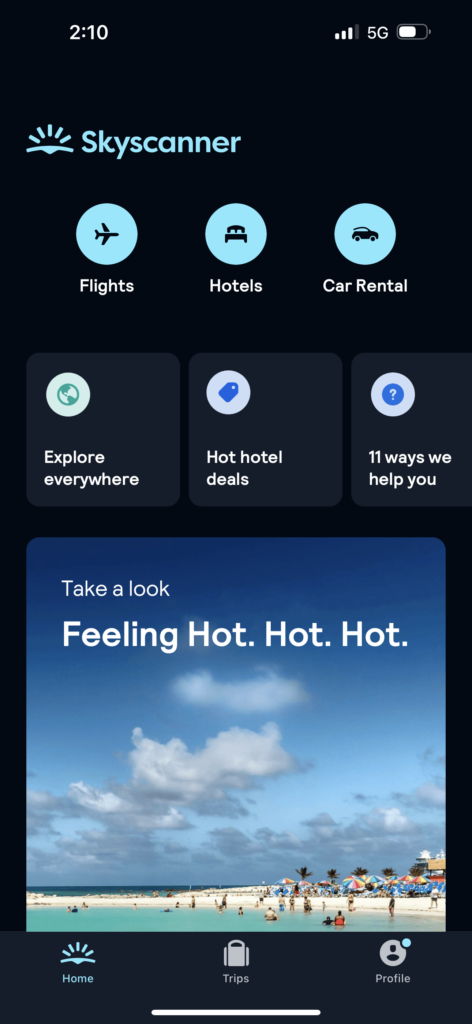 Then put in your destination and dates. Adjust the filters to find exactly what you want.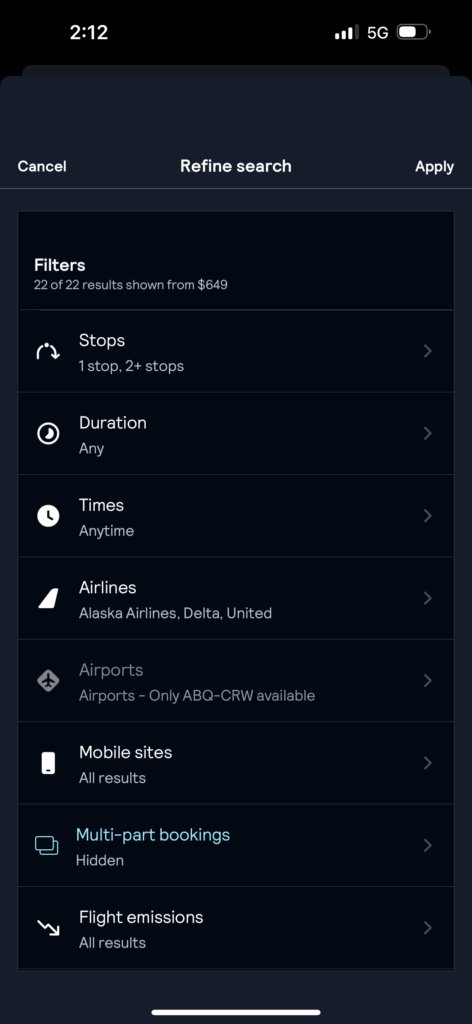 Next, click the little bell symbol in the bottom left hand corner to add an alert for this search.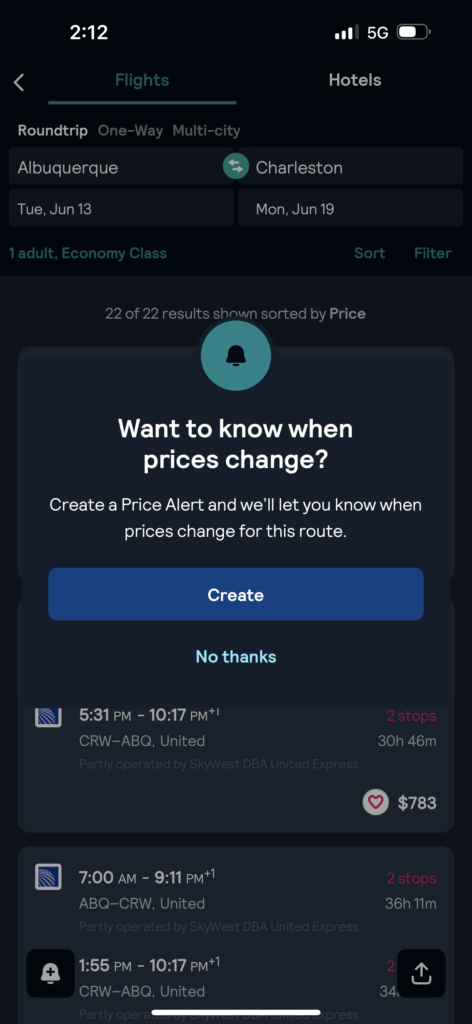 You can later check on your alerts by clicking on Profile > Your trips > Price Alerts.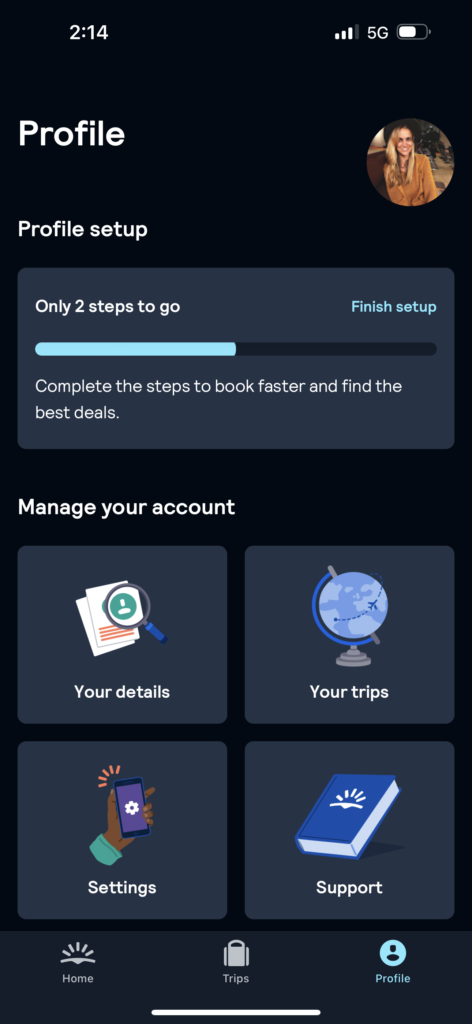 Google Flights
This is my favorite flight search engine because, well, Google and I have a special relationship (remember, digital marketing). Google has decades of expertise to build upon, from the way their bots crawl the internet to their testing methodologies for presenting information in the most helpful way possible.
What sets Google Flights apart from other flight price alert services is its user-friendly interface and advanced search features. You can search for flights based on a variety of criteria, including airline, flight duration, and layover time.
I also like the little graph that shows recent price changes so that you can see whether or not you're purchasing at the highest price in recent history.
And the best part? Google Flights provides real-time updates on flight prices, so you can book at the optimal time and take advantage of the best flight deals, as soon as they become available.
Setting up flight and price changes and alerts on Google Flights is a breeze. Just search for your desired route and travel dates, and then toggle the "Track Prices" button. It's like planting a seed that will grow into a beautiful money-saving tree.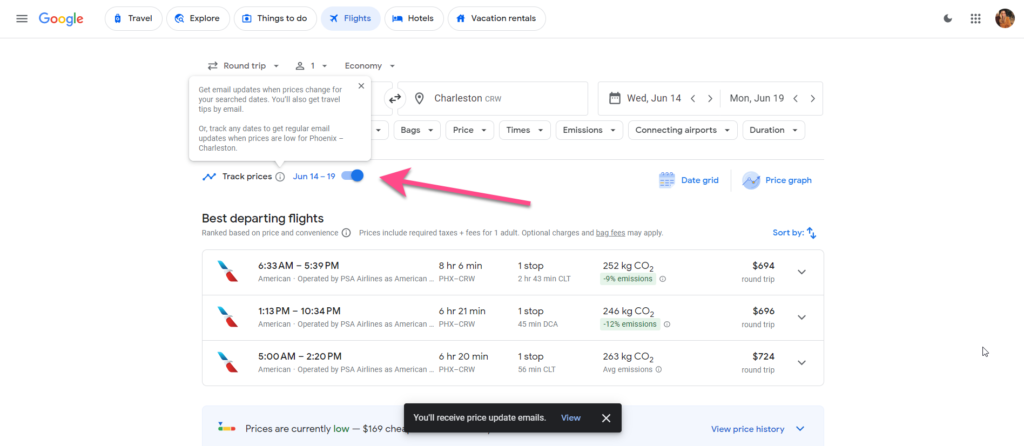 Airfarewatchdog
Airfarewatchdog is a website that specializes in finding the best deals on tracked flights. The site offers a variety of tools to help you save money on your travels, including a fare alert service that notifies you when prices drop on specific routes.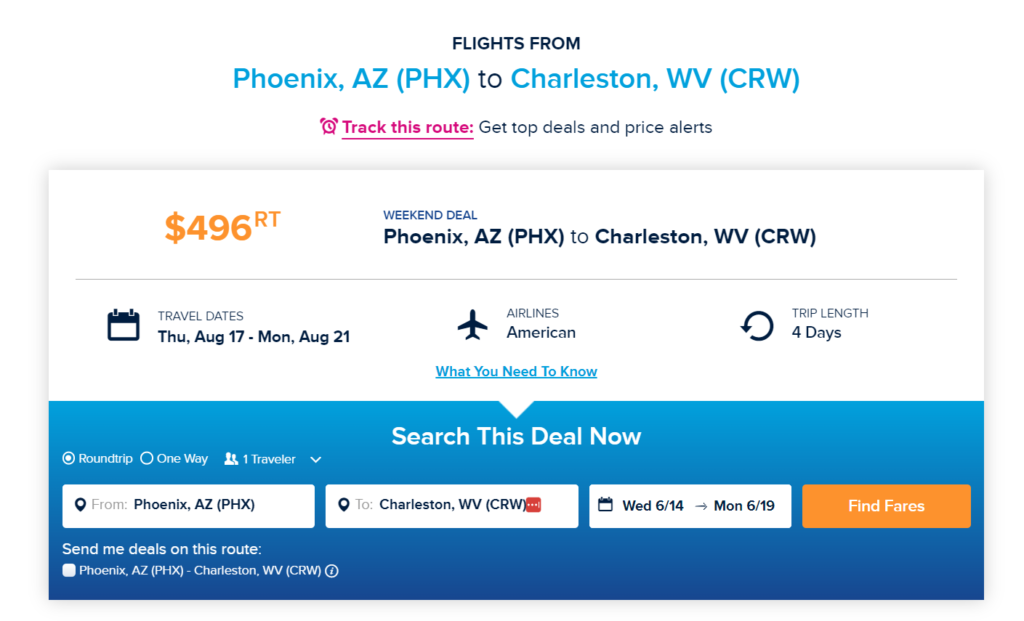 What sets Airfarewatchdog apart from other flight alert services is its focus on finding hidden deals and discounts that you might not find elsewhere. The website employs a team of experts who scour the web for the best deals and share them with users via the fare alert service and other resources on the site.
If you sign up for their alerts, that's exactly what you'll receive: the daily deals on your exact flight path. Click on "Track this route" to prompt the email opt-in.
If you opt to click "Find Fares" instead, it will underwhelmingly take you to this 1990's-esque page with links to other price hunting tools for you to basically f*%k off if you're not willing to give them your email address.
To use Airfarewatchdog's fare alert service, simply enter your desired route and travel dates into the search fields on the website. Then, sign up for fare alerts and wait for notifications when prices drop.
Method 3: Mobile apps
Best flight price tracker apps:
Final thoughts
Get cheap flights on your next trip… or at least the best flight deal at the moment. Post-COVID, airfare has exploded and I don't see it returning to original prices anytime soon. Until our salaries match inflation, I guess this is the best way to afford a life worth living!